Palm Springs / Joshua Tree KOA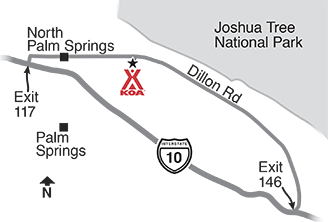 From Interstate 10, Exit Palm Dr. Turn North and continue 3.1 miles to Dillon Rd. Turn East (Right) and continue 3.9 miles to the park entrance on your right. 
GPS: N33.924806, W116.433342
Get Google Directions
Located just 10-miles from Palm Springs, Ca and 45-minutes to the entrance of Joshua Tree National Park.
In the subtropical paradise of southern California's Coachella Valley, the Palm Springs / Joshua Tree KOA offers guests a variety of amenities and activities in a beautifully landscaped resort-style setting. All RV sites are full hook-ups, or enjoy one of the new tent sites or deluxe cabins.
We pride ourselves on making sure that once you arrive you can stay active throughout the day with our many activities or just lounge around the pool letting go of the stresses of everyday life. Desert Hot Springs area Natural Therapeutic Hot Springs, discovered by Cabot Yerxa on a piece of land appropriately called Miracle Hill is where our campground derives its healing waters for our large swimming pool and three hot tub spas.  These waters have transformed the Desert Hot Springs and Palm Springs area into the popular vacation areas they are today.
This area is a mecca for golfers, with more than 80 golf courses open to the public and challenged by some of the best golfers in the world. There are over fifty-miles of hiking trails in nearby San Jacinto Wilderness or trek through the ancient sacred Indian Canyons. Joshua Tree National Park 45-minutes North of the campground showcases spectacular Joshua Trees and rock formations, perfect for rock climbing and bouldering. The resort city of Palm Springs is just 12-miles from us and offers a variety of shopping and dining including the famous El Paseo drive filled with shops and boutiques. Or spend a day at the outlet malls with over 200 stores. How about trying your luck at the many Indian Casinos located in Coachella Valley?
Be sure to visit the Aerial tramway that transports you up 2,643 ft to a spectacular view of the entire valley. We're also home to a myriad of Museums including the General George Patton museum, the critically acclaimed Palm Springs Art Museum and the Sunny Land Museum which many US presidents have called home during visits to our valley. Just down the road is world-class tennis featuring the BNP Paribas open.  And, of course, Coachella is the home to the Stagecoach and CoachellaFest Music Festivals. There are just so many things to do and see around this newest addition to the KOA-family of campgrounds, you'll want to come back often and stay awhile!
Like us on Facebook to stay up to date on what's new and hot deals!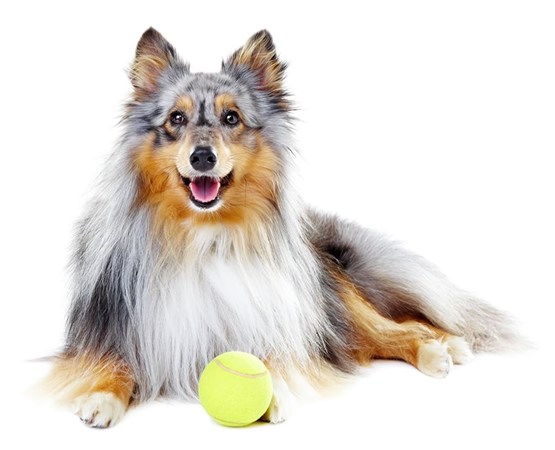 Campground Amenities
50 Max Amp
Pool (Open Year-Round)
Hot Tub/Sauna
Mini Golf
Pavilion
Bike Rentals ($)
Dog Park
More About Amenities
Ways to Stay
What Others Are Saying
Kinda out of the way. Well maintained. Showers, bathrooms and laundry room very clean. Dogs welcome. Amenities were not open... 9/1/2021
- Kat Williams on Google
I'm always here 8/28/2021
- Eli Coolie on Google
Big park, few people! Pool and spa not operating 9/29/2021
- Jeffrey Vaillant on Google
Very relaxing beautiful scenery spacious spots very clean will stay longer next time 10/17/2021
Almost perfect....a little grass would have been nice but overall very well kept and clean and space size is nice. Great views also. 10/17/2021
All the staff was super friendly and hospitable during our stay. We really appreciated the campsite and how clean everything was too. 10/17/2021
Great place! 10/17/2021
Very clean facilities, sorry the hot tubs were broken loved the warm pool 10/16/2021
Really enjoyed our stay, the staff was accommodating and helpful. Facilities were clean, sites were large and selection was good for shade. 10/16/2021
Park is great and staff very nice. We stay here because of the hot spring tubs but they were not working. 10/16/2021
Great park. Very clean and well maintained. No cable TV hookup. Slow WiFi internet speed. 10/16/2021
Very clean and senic 10/15/2021
Nice get away from home. Closest KOA in Southern California. Looks like they did some upgrades. I'll be back there again soon. Only minor issue is how warm the swimming pool is. I like to swim laps in cooler water. 10/15/2021
Awesome! Easy to use and really nice 10/15/2021
Great as always. Excited to see the new improvements. Very happy bathrooms are being cleaned and stocked on Sundays again. Customer service is top notch. Unsure why one soap and one towel dispenser don't work in ladies restroom... 10/14/2021
Very convenient setup with lots of amenities. Laundry room and a sink to wash clothes by hand? Amazing. Bathrooms consistently clean. The gift shop, mini golf and multiple sports courts looked great. I personally enjoyed the pool and hot spas the most... 10/13/2021
We liked the stay however the spring hot tubs were not all open and the jacuzzi motors were not working. 10/13/2021
Great campground in a great oocation. 10/12/2021
More Reviews

KOA Rewards Program
Do more of what you love - camping - and reap the rewards when you join the KOA Rewards program! From camping discounts at KOA campgrounds to additional savings offers from our partners, you can quickly see how the $33 pays for itself and more!
Exclusive Benefits:
10%* off your daily registration rate all year long at 500 KOA Campgrounds throughout North America
Rewards points that accumulate for cash off future KOA camping stays
Free** night of camping during KOA Rewards Weekend at participating KOAs
...and Much more!
Learn More
Latest Hot Deal
Weekly Stay 6, Get 7th Free
Come enjoy the beautiful southern California desert.  Settle into the Palm Springs/Joshua Tree KOA for a week long stay and enjoy 1 night free.  You will love the heated hot tubs and swimming pool, staffed activities, and close proximity to downtown Palm Springs.  
Book This Hot Deal
More Hot Deals
Campground Events
More Events
Local Area
Two distinct desert ecosystems, the Mojave and the Colorado, come together in Joshua Tree National Park. A fascinating variety of plants and animals make their homes in a land sculpted by strong winds and occasional torrents of rain. Dark night skies, a rich cultural history, and surreal geologic features add to the wonder of this vast wilderness in southern California. Come explore for yourself.
Places to GoFind out about different parts of the park, from must-see spots like Skull Rock and Keys View to the quieter areas around Cottonwood Spring and Black Rock Canyon.Things to DoThere's so much to do in Joshua Tree! Whether you're interested in a short nature walk or a strenuous backpacking trip, stargazing or joining a ranger-led tour of Keys Ranch, or something else entirely—you'll find information and inspiration on these pages.
More
Daily activities:  Check our website for updated events, programs, or demonstrations.Timing is important:In the desert, the morning can begin quite cool, but by noon, temperatures may be uncomfortable. It is recommended that you allow 3-4 hours to see the park and participate in some of the daily activities.The best time to see your favorite animals:Visitors who come to The Living Desert in the early morning are in for some delightful surprises! In the cool of the morning, most of the animals on exhibit are at their peak activity. Playing, some eating breakfast, catching the wind for the scent of other nearby animals, stretching and prowling. As the day warms up, so do the birds of prey, fanning out their huge marvelous wings to the sun. The tortoises and lizards come out of their hiding places to feel the gentle warmth. Warthogs and javelinas rout and romp in the morning hours, contentedly grunting during nap time in the midday sun. Meerkats seem to play all afternoon, each taking a turn being the lookout, while the others scamper about. Late afternoon is the wake up call to nocturnal creatures. The cheetahs often climb to the top of their ridge and majestically watch the sun set.Clothing:Make sure you wear comfortable walking shoes, preferably closed toe. Dress accordingly to the season. Summer days can reach well above 100 degrees F / 37 degrees C. Even though most visitors think less clothing means cooler body temperatures, this is not true. Long sleeve 100% cotton shirts are the best to keep you cool. Allowing sweat to completely evaporate from your skin will make you hotter and dehydrate quicker. Hats, sunscreen, even an umbrella is recommended for all seasons. Winter day temperatures sometimes warrant a jacket or sweater. For the health, safety and comfort of all guests, shirts and footwear must be worn at all times. Provocative, revealing, or offensive clothing and bathing suits are prohibited. Disguises, costumes, or articles of clothing that conceal a visitor's identity are also prohibited. Park admission may be denied if clothing is deemed by management to be inappropriate.
Website
More
What's at the top?There are two restaurants, a cocktail lounge, observation decks, a small natural history museum, two theaters showing State Park and tram construction videos, a gift shop, Magic Memories for photo viewing, and over 50 miles of hiking trails along with other nature activities.How long does the tram ride take?Approximately ten minutes in each direction.
Website
More
Experience Palm Springs' world-famous collection of mid-century modern architecture on a personal tour with Trevor O'Donnell, one of the area's most knowledgeable, experienced and entertaining guides. Palm Springs is a living museum with hundreds of homes and buildings designed by some of the 20th century's finest architects. Join Trevor for a fascinating exploration of the city's magnificent collection. Learn about a remarkable group of architects, builders and Hollywood celebrity clients, and listen to the back stories that add life, humor, intrigue and awe to Palm Springs' extraordinary concentration of modernist buildings.Tours run daily at 10:00 AM from "Just Modern" in the Uptown Design District (just north of Downtown Palm Springs). Private tours and group tours by advance reservation.
Website
More
More Local Area Information
Campground Blog
Campground Awards and Programs

© 2021 Kampgrounds of America, Inc.
Sours: https://koa.com/campgrounds/palm-springs/
Palm Springs / Joshua Tree KOA General Information
Meet Your Hosts
Our favorite part of managing this campground is watching it grow into its potential. It's like our home and we're really invested in it. Our guests are like family and we pride ourselves on guest customer service and facilities.
Roger and Joannie have been full time RVers for the past 30-years and spent the past 12-years right here at the Palm Springs / Joshua Tree KOA! They bring innovation and a passion for delivering a great camping experience from adding recreation and guest activities to finding new ways improve RV and Tent sites.
Originally from Helena, MT, Roger and Joannie have traded in fly fishing for hiking in Idlewild and taking in the therapeutic waters of the local natural hot springs. They are devoted grandparents and are a wealth of knowledge for great restaurants in Palm Springs.
Sours: https://koa.com/campgrounds/palm-springs/general-information/
Palm Springs / Joshua Tree KOA Site Types
Deluxe Cabin (Full Bath with Tub & Shower), KOA Patio ®
Beautiful NEW Deluxe Cabins that are perfect for couples or families. Enjoy a large king-size bed in the main bedroom, walkthrough full bath, and sleeping loft with room for 4 more! Enjoy the stunning desert sunsets from your covered front porch, and relax under the stars at your own gas fire ring.
Description
Sleeping Loft
2 Bed-Single Beds
1 Bed-Queen Bed
1 Bed-King Bed
Linens Provided
1 Bedroom
Features
Partial Kitchen
Full Bath with Tub & Shower
Amenities
Refrigerator
Cooktop
Microwave
Cookware / Utensils
Dishware / Utensils
Keurig Coffee Maker
Shampoo/Conditioner
Hairdryer
Air Conditioning
Heat
2 Televisions
Patio
Hard Surface Patio
Deck
Patio Furniture
Additional Seating
Fire Ring
Gas Grill
Other
Internet (WiFi)
No Pets Allowed
Sours: https://koa.com/campgrounds/palm-springs/site-type/lodging/
The Shops of El Paseo - Palm Desert, CA 92260
Visit the new Palm Springs / Joshua Tree KOA and stay in a desert oasis.
Plan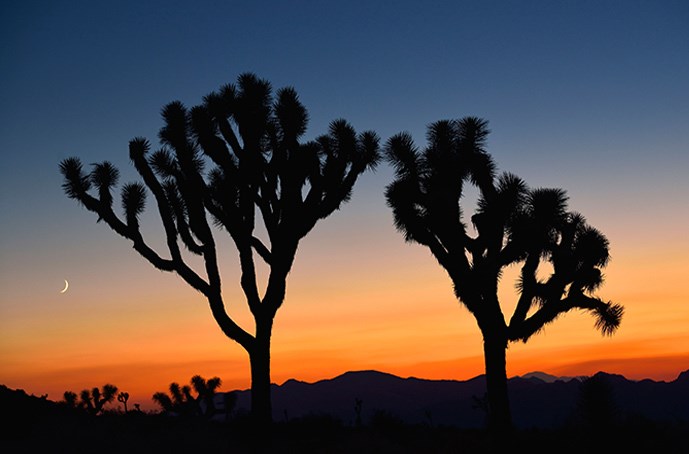 Located just 10-miles from one of California's most popular destinations – Palm Springs – Palm Springs / Joshua Tree KOA (formerly the Desert Pools RV Resort) makes the most of the subtropical paradise of Coachella Valley. But that's not all this location has going for it, owned by the Bell family's Kampground Enterprises, Inc, this KOA is also conveniently located near one of the nation's most popular national parks.
"Joshua Tree National Park has become an increasingly popular destination in recent years. It saw an extra half-million visitors in 2016 and the national park campsites regularly sell out," Josh shares. "We're glad to offer a camping option with 45-minutes of the park entrance."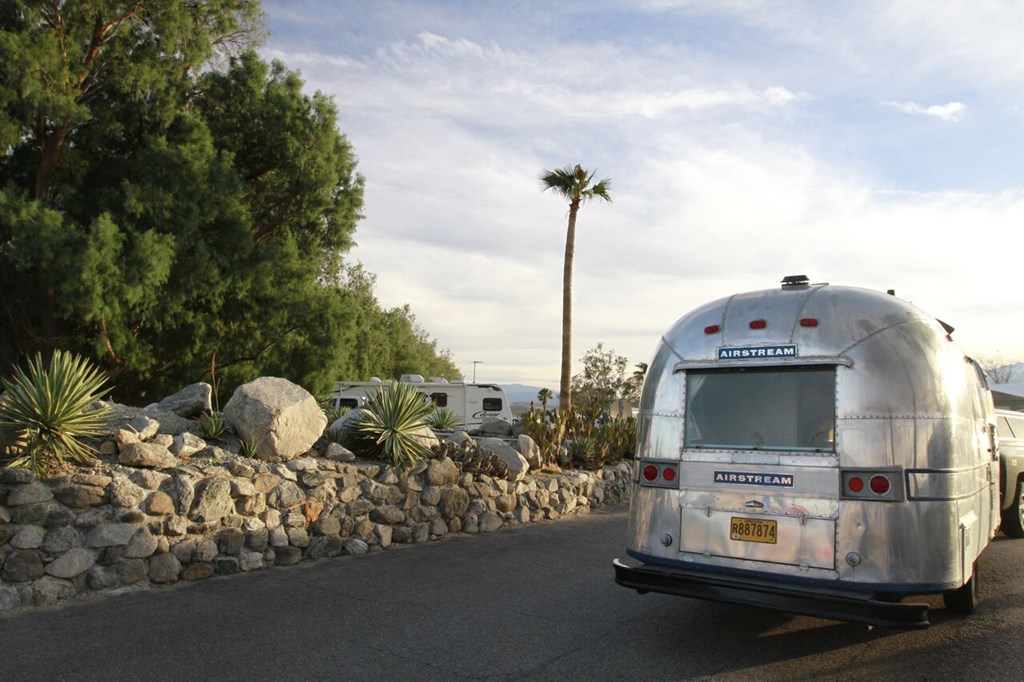 Manager Joannie Stevens agrees, "After spending the day hiking in the dessert, rock climbing or taking a scenic drive through the park guests are always glad to come to a campground with lots of amenities. The ice cream is especially popular."
Some of the many amenities at the campground include a relaxing resort-style pool and three hot tubs, all fed from therapeutic natural hot springs. Pickleball, horse shoes, shuffleboard, billiard and rec room, fitness room and a variety of activities are also available. Bike rentals, miniature golf and a playground are perfect for kids, and a newly completed Kamp K9 awaits four-legged campers.
"We've added a new Kamp K-9, tent sites with water and electric, new picnic tables, and propane campfires since traditional fires aren't allowed in the desert," notes Josh.
They've also added a new WiFi system and a store with a small gift shop that Josh says, "our repeat guests have really noticed and appreciated."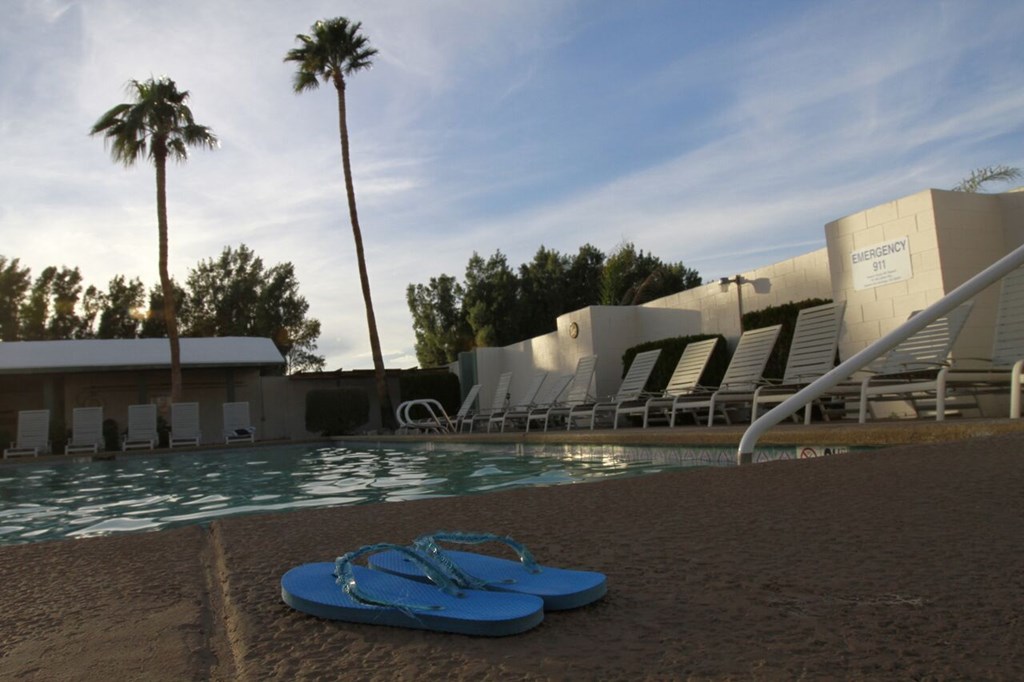 Those guests present a wide range of visitors from families to international travelers to a vibrant snowbird community. For the latter group, the fact that the campground is non-membership is a big draw.
"We are excited to offer a campground location in Palm Springs/Palm Desert that is a non-membership park–so everyone is welcome whether for an overnight stay or all winter long," says Joannie. "That means we can offer great family camping experiences and still maintained the active snowbird community that has been here for many, many years."
To serve their overnight campers and snowbirds alike, the campground offers newly installed Tent Sites in addition to comfortable RV Sites with 50-amp service and full hookups. Deluxe Cabins, which feature private baths, full kitchens and linen service are also popular with camping guests.
In fact, the popularity of Deluxe Cabins means more will be added in addition to a host of other updates. "In the year ahead, we'll add 16 Deluxe Cabins, new Glamping Tents and new Deluxe Patio Sites," Josh announces. "Those will enhance the experience of our existing pickleball courts and hot spring-fed, resort-style pool and spa."
Located at 70405 Dillon Road in Desert Hot Springs, the Palm Springs / Joshua Tree KOA is one of more than 500 open-to-the-public KOA campgrounds in the Kampgrounds of America system in the U.S. and Canada. The campground welcomes seasonal guests as well as overnight visitors and is pleased to offer discounts and Hot Deals. It is open year-round.
For more information, please phone 760-251-6555 or visit www.koa.com. Reservations are available online or by phoning 800-562-9681.
---
Save
Save
Save
GET YOUR COPY OF !
Each month, direct to your email inbox, we'll send the best camping news, tips, recipes and more, to enhance the camping lifestyle you love so much.
Sours: https://koa.com/blog/palm-springs-joshua-tree-koa/
Palm desert koa
.
Paradise in the Desert - The Palm Springs / Joshua Tree KOA
.
You will also be interested:
.
1
2
3