Salon Decorating Ideas: 4 Do's and 3 Donts
The hair and beauty industry, by its very nature, is all about appearance. This means your salon will often be judged on its appearance. Not only this, but social media now makes image a huge selling point of your salon, with stand-out interiors attracting hundreds of Instagram followers. So, make sure your décor is a statement about who you are and what you're all about
Here at Salons Direct, we love seeing hair, beauty and barbering businesses getting creative with their image we even have a whole series called Salon Design of the Month where we take a look at some of the most impressive salon interior designs across the country!
So, if you want to pick up some salon decor ideas, take a look at some do's and don'ts of how to go about decorating yours
Salon Decorating Ideas
Do: Think of your clientèle
Successful salons have a picture of their ideal customer and then offer services and price points that will attract them. The same applies with your salon design. After upmarket clients? Consider marble counters and chandeliers. Will your chief client type be health and well-being clients looking for massage treatments? Create a tranquil environment with relaxing water features that will sooth your clients during their treatment.
Do: Pick a theme
Again, make sure the design or theme and salon furniture you go for reflects your ideal clientèle. For example, an uber trendy city professional will have different tastes to a middle aged lady in a rural village. Depending on which you are going for, decorate accordingly.
The lists are endless but here are a few popular salon design ideas you might like
Related: As Seen in Salons! Our Lotus Salon and Barber Chairs
1. Pretty in Pink
Pastel, Millennial pink is a hugely popular salon decor trend at the moment. Super soft and feminine, Instagram is booming with images of salons with these girly tones like Rose & Wild's instantly recognisable salon interior. Try and put your own spin on this design idea so you don't blend in with the crowd.
2. Floral & Fabulous
Big and beautiful floral displays are another popular salon decor idea that has been popping up everywhere from highstreets to Instagram feeds. Not only do they look great in your client's pictures, but they can also act as a gorgeous centerpiece that your salon becomes known for like Nails by Annabel's floral nail bar.
Did you know Nails by Annabel has her own bestselling range of acrylic nail supplies at Salons Direct? Shop Glitterbels to take a look!
3. Bold and Beautiful
Bright colours give vibrancy and life to a salon. Go with bold contracts and shapes to create a salon design that really stands out. Pixie Hair & Beauty channeled some retro vibes to give her salon decor some individuality.
4. Eco Elegance
If your salon places importance on your eco credentials, you might want to reflect this in your salon decor. Why not take some salon design ideas from Buller + Rice who are known both for their sustainability and their chic interiors. Bring in plants and soft woods to lift the mood of the room and upcycle items for decor that is both beautiful and keeps in line with your ethics.
5. Trendy and Modern
Keep your salon feeling hip with a modern salon design that appeals to your fashion-conscious clients. Blue Tit salons boasts salon decor inspired by loft apartments of Brooklyn, perfectly nailing the up-and-comping scene of the salon location.
6. Keep it Classic
A salon decor idea that works particularly well in barber shops, why not channel some old-school glamour? Sid Sottung has done just this with his barber shops and academies, creating a design that reflects his own personality while still being appealing to clients and trainee barbers. He used our Lotus Gilmour Barber Chair to complete his salon design.
Related: Our Lotus Eastwood Barber Chairs As Seen in Duttons Barber Shop!
Do: Be Creative
In an industry based on expression, don't be ashamed to show off your creative side. Why not refashion old styling tools? As these pics show, with a bit of TLC, your old equipment can be used to wow your salons and create a talking point.
A great example of a salon that is never too scared to be creative is our Salon Design of the Month winner Not Another Salon. Using flair, individuality and (if we may say so) fabulous furniture from Salons Direct, they have created one of the trendiest and most talked about salons in London.
Do: Consider ALL spaces
Everywhere your customer sees is a reflection on your business and needs thought and consideration. You can have the best cutting area in the world yet be let down by a dodgy coffee bar. Keep everywhere consistent, in theme and classy.
Also, don't forget your outdoor space. Using good signage and an appealing window display is a way of getting people noticing you, talking about you and most importantly, becoming a customer.
Don't: Be a clutter clogs
A cluttered salon is unorganised, messy, and unprofessional. Exactly what you don't want a client to think of you or your business. No unloved plants in the window, no five year old magazine and twee ornaments are strictly forbidden.
Don't: Look dated
A 's themed salon can undoubtedly look the part, but make sure the look is intentional. It is generally a good idea to stay away from retro furniture which can date and age your salon. To futureproof your salon, it is always a good idea to stick with modern styles.
Don't: Be afraid of art
You may not have the budget for a Rembrant but decals, murals or tasteful posters or prints are a great way to inexpensively add character and mood to your salon.
RELATED : Read about the amazing Leonardo Da Vinci ceiling murals here
Still looking for ideas?
Check out our previous winners of the 'Salon Design of The Month Awards' for some AMAZING IDEAS. Not that we like to brag but all of the winners purchased their furniture right here at Salons Direct.
Looking for even more ideas?
How to Design & Plan Your Salon Professionally With Salons Direct
The Best Salon Furniture For All Budgets
Tips for Making Your Salon Instagrammable
We've also got a whole Pinterest board teeming with salon decorating ideas and inspiration.
Looking at restyling your salon? Make sure you check out our EXTENSIVE RANGE OF LOTUS SALON FURNITURE HERE!
Sours: https://www.salonsdirect.com/blog/salon-decorating-ideasdosdonts/
9 Tips to Designing Your Dream Salon
When setting up your salon, it's easy to feel overwhelmed. From your salon layout, to interior design schemes, to price lists, to products, there are a lot of things to consider. But remember, creating your own salon is supposed to be fun! Here are 9 salon decor ideas to help you create the salon of your dreams.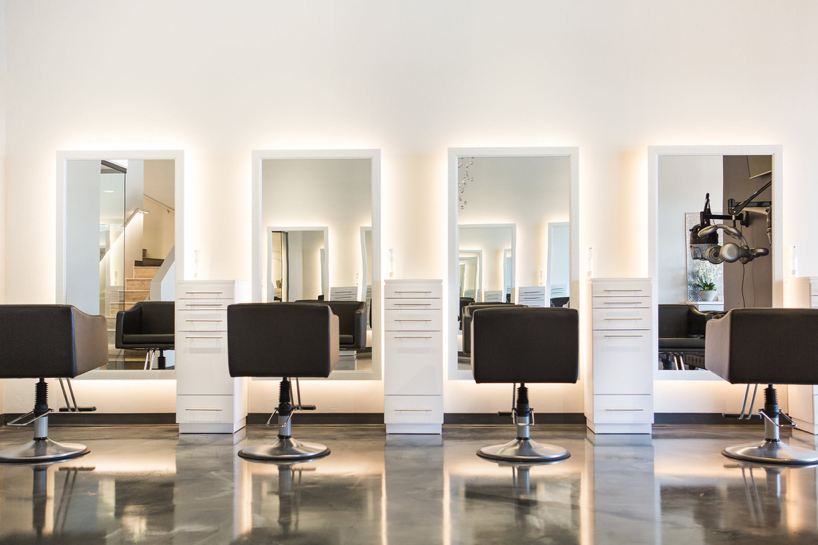 Photo: Hermosa - Edmond, OK
1. Create The Perfect Lighting
One of the most important features in your salon is light. Natural light is always preferred, but not every building is blessed with great windows. If you do have windows, great! Utilize them. Set up your space so every station can benefit from the sunlight. But if you don't have big windows, there are other ways to light your space.
When choosing light for your salon, keep in mind that the main goal is for your client to look good. If they're looking in a mirror and don't like what they see, they're not going to be happy with your service. Our Bali Tall Styling Station & Mirror (pictured above) work to help improve the lighting in your salon. For a more flattering light, choose warm bulbs instead of cool ones. When placing your lamps, make sure the shadows don't overlap where your client will be sitting. Also consider if you want behind-the-mirror lights, or if you want to have overhead lighting only, or standing lamps. Check out our salon lighting products to find the perfect lights to brighten up your salon!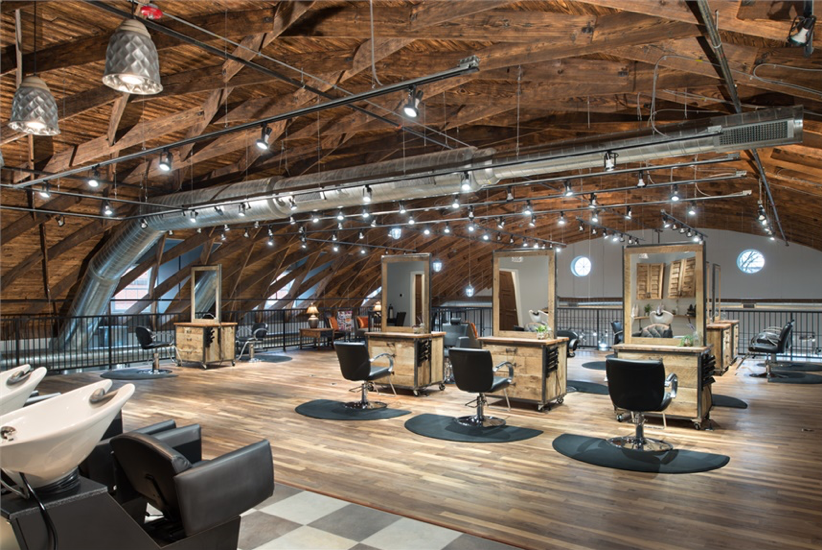 Photo: The Boulevard Hair Company - Webster Groves, MO
2. Lean Into Your Space
There are hundreds of ways you can decorate your salon's interior. Instead of overhauling everything and starting from scratch, try leaning into the look that your space already has. If you have exposed ductwork, go for a rustic vibe. If your walls or floors are concrete, give your salon a modern feel. It is also important to make sure your salon equipment matches your vibe, like the Odin Styling Chair featured above.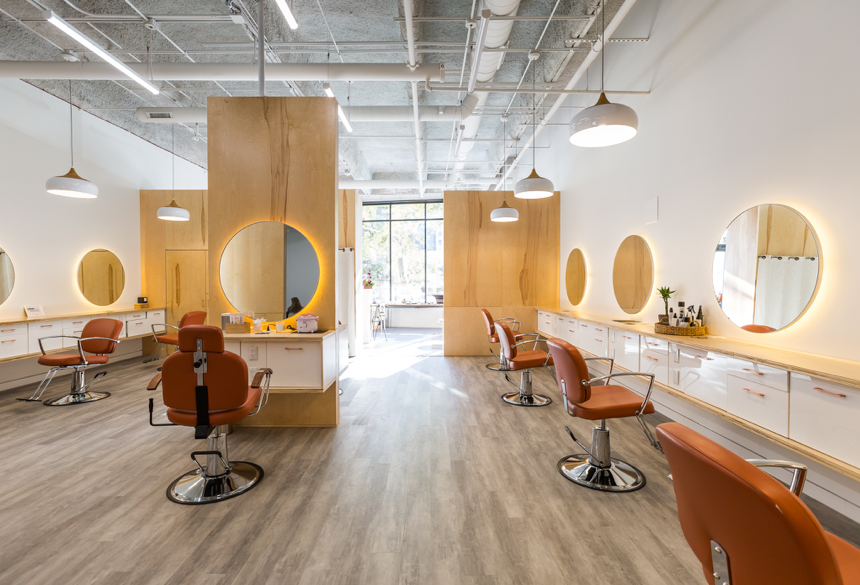 Photo: Detroit Blows - Detroit, MI
3. Reflect on Your Reflections
Every client who comes through your doors is going to be sitting in front of a mirror, so it's important to pick one that's right for you. Big, multi-station mirrors will make your space feel larger and more open, while single-station mirrors will make each spot feel more intimate. Go for framed mirrors for a homier aesthetic, or naked mirrors for a sleeker look. And remember, when you're placing your mirrors, make sure you keep your lighting in mind. You don't want your clients ending up with blinding lights in their eyes!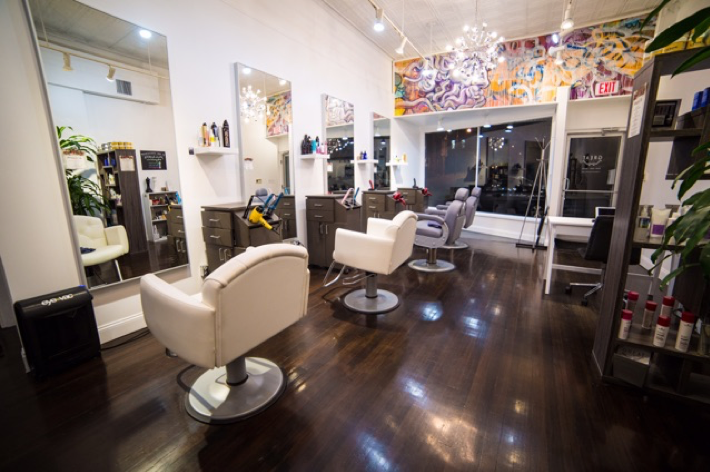 Photo: The Great Studio - Poughkeepsie, NY
4. Thinking Outside the Box
When designing your space, don't just think about the standard four walls. Expand your design to the floors and ceilings. Brighten up your space with a colorful ceiling, or make your rooms feel more spacious by painting them white. And your clients will have something nice to look at while getting their hair washed.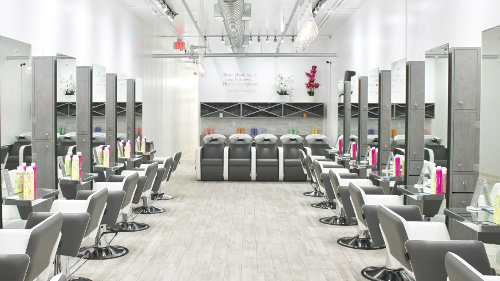 Photo: Blow Me Away - Great Neck, NY
5. Stay Cohesive
Once you've chosen your aesthetic, stick to it. You want your entire salon design to feel cohesive. If you want a shabby-chic entryway, your stations should match. If your waiting area is done entirely in blacks and whites, carry that scheme throughout the space. You don't want your clients to walk from one area to the other and feel like they've stepped into a different salon. In the salon pictured above, our client chose the Kite Styling Chair and Iconwash Backwash Unit for their matching style and color options that flow well with the rest of the salon.
6. Feel Your Flow
Similar to the cohesion of your space, you want the flow to be right, too. Think about your space from a client's point of view. Does your layout make sense? Is your waiting area in the front when you walk in, or farther to the back? Do you want your washing stations to be the first place your guests sit down, or do you want to bring them to their station and discuss their hair options first? Line up the decoration and creation of your space with the way you want the salon to function.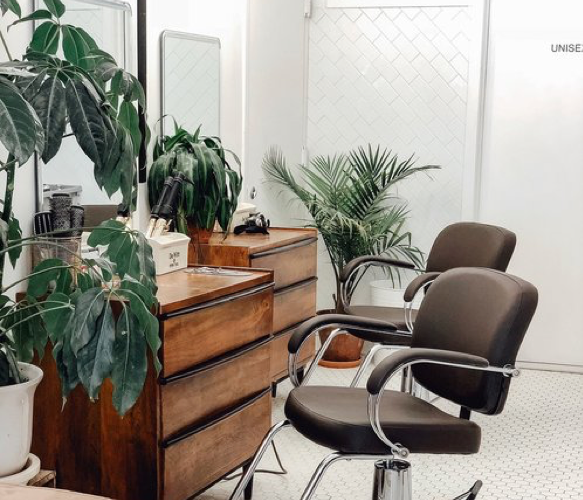 Photo: Love, Dunette - New York, NY
7. Go Green
Breathe life into your space by adding plants. Not only do they clean the air and supply oxygen, but they give any area a pop of color without being overwhelming. Bringing plants inside will also give your salon a natural, calming feel.
8. Make a Statement
If you have a bland wall that you're not sure what to do with, turn it into a statement wall. Adding a big, bold art piece will catch the eye immediately. And any art piece will work! It doesn't have to be salon-themed to tie your space together. Anything that speaks to you will do the trick.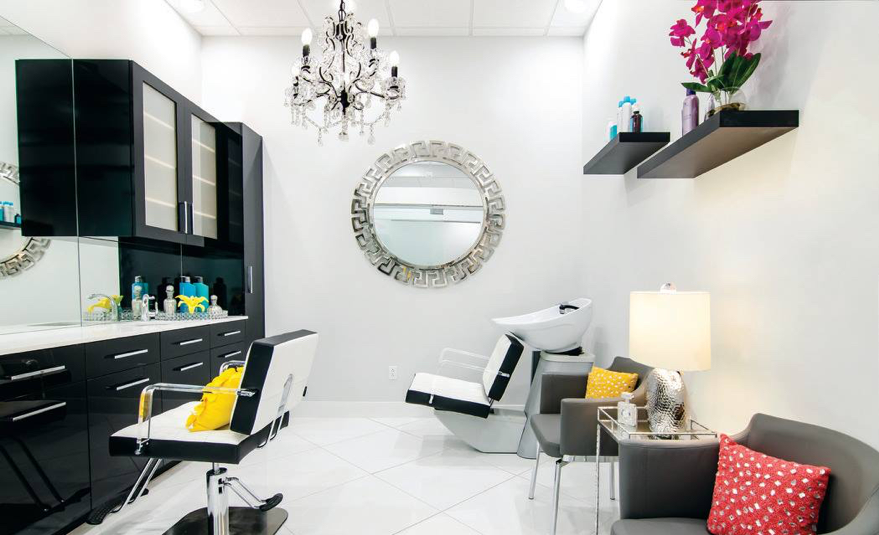 Photo: The Lab Salon Suites - North Palm Beach, FL
9. No Detail is too Small
Everything that goes into your salon matters. From the layout of the space to the colors on the walls, down to the way you display your products—every detail becomes a part of your brand. So don't skimp on the details. Make sure your towels match, your products are displayed nicely, and your stations are uniform. In the salon pictured above, even the shape and color of the Diamond Styling Chair match the cabinets and countertop style. Like we said: no detail is too small.
Designing the interior of your salon is an important, but fun and rewarding, step to take for your business. Just remember to keep the layout consistent, the energy flowing, and to remember the details — they make all the difference. If you're not sure where to begin, we can help you! Check out our free salon design and layout services page to learn more.
Sours: https://www.buyritebeauty.com/resources/salon-interior-design-ideas/
Disclosure: This post may contain affiliate links, meaning I get a small commission if you decide to make a purchase through my links, at no cost to you. Learn more
Are you looking for ways to optimize a small salon space?
Then youve landed in the right place.
Picking a small salon location is a smart call if youre opening a salon on a budget. It allows for a good address and premium salon design, while keeping costs low.
But it also comes with some challenges.
This is why Ive pulled together this list of 21 small salon design ideas to help you to pick the right salon format and design it in a way that maximizes the perception and function of your salon space.
Today, well cover the different types of small salons, small salon design ideas, how you can maximise your small salon floor plan as well as decor ideas for small salons.
The article is part of my step-by-step guide to opening a salon. If you havent done so already, I strongly recommend you check out this salon start-up guide when youre done with this article.
Small Salon Ideas: Salon Location on a Budget
Theres not one type of small salon.
You have many options when it comes to the type of small salon that you want to run.
Lets start with 5 small salon ideas and what you should consider with each option.
1. Studio Salon
Who says a salon has to have twelve chairs?
A studio salon is a great option for a startup salon.
It can have multiple chairs depending on the size of the space, but just because it's small doesn't mean that you can't have all of your needs met.
When running your salon in a confined space, it's important to consider the salon equipment youll need.
In particular, where the reception desk goes, the waiting area, chairs, shampoo bowls, dryer area, dispensary, storage area, and retail area.
But with some planning, a studio salon can be a perfect fit.
2. Home Salon
Is it one of your dreams to work in the comfort of your own home?
And do you want to minimize your salon start-up costs?
If you answered yes to either one of these questions, then opening your salon at home could be your best way forward.
The most important thing is to measure your space, no matter how big or small the areas is, when you know how much space you have, it is much easier to choose the best salon equipment that will fit into your tiny space.
You will need to have a salon chair, a professional shampoo area (not in your bathroom leaning the client's head over the sink or bathtub). No one wants to leave with a neck ache! Just because you are working from the comforts of your home does not mean that you're not professional.
Youll also need a portable hooded hair dryer, a portable styling station, and a salon roller cart/trolley. Some equipment comes with wheels, so when the equipment is not in use you can just roll it out of the way.
Once youve chosen the equipment for your home salon, you will need to decorate your home salon space.
When working with a small area stay with a cohesive scheme, paint your walls in a light, fresh color, and add a dramatic mirror. Not only do you need it for work, but it also will reflect light and open the space up to appear larger than it is.
If you dont have good natural light, then consider adding lighting fixtures.
3. Mobile Salon
The Mobile Salon has been around a while, however with clients becoming more and busier, not having the time to go to a brick and mortar and being used to ordering everything online to be delivered-from food to clothing-then why not consider a Mobile Salon.
You can buy an RV, Trailer, or a Bus and with some creative design turn it into a full-service salon.
Since the floor plan is already laid out into zones, it is easy to come up with a design that flows with space. You can have all of your equipment and tools on sight, keeping in mind that everything needs to be attached and locked down so that when you drive, there are no mishaps or damaged equipment.
A minimalistic approach to design will open up space and allow for easy movement throughout the long narrow aisle. You can still inject your own individual style into it by adding pops of color, a trendy wallpaper covering, and a majestic chandelier.
4. Shop in Shop
A smart and cost effective way to run a salon is to do it within an existing business location.
This saves you money on rent and also helps you get natural traffic to your small salon area.
This is becoming increasingly popular as more and more retailers and looking to offer a richer experience than just the traditional shop.
I took the picture here inside a retail store in Portugal where they had placed a salon chair in the corner of the store.
Hotels is another type of location that often are interested in offering beauty services within their location.
5. Tiny Sheds or Garden Sheds
Many people don't have extra room in their home but have a large property with extra green space. Adding a Garden Shed or a tiny Shed may be the way to go.
Now, I am not talking about the classic shed outback bursting with tools, bikes and anything else that doesn't have a place to go! This is a modern-day approach and another cost-effective small salon idea to working at home. Just like the home salon, small scale design is key to outfitting the shed.
Keeping in mind the color palette-again light and airy will open the space up, adding some plants are a personal warm touch. The area between the ceiling and cabinets is unused space which can be used when space is limited.
Why not build your cabinets up vertically, you can never have too much storage space in a salon!
Salon Software and Appointment Scheduler for Small Salons on a Budget
Salon Design Ideas for Small Spaces
I believe that inspiration for your interior can come from anyplace. Perhaps you have a love for all things modern, or glamorous bling, maybe you spend your weekends sifting through an antique shop.
The fact of the matter is that anything can give you a vision for the design of your salon. Let's look at a few different interiors that may inspire you.
6. Modern Design
Some feature of Modern style uses natural elements such as wood, with elements of clean straight lines, and open concept area.
Not a lot of details are used, which gives it an uncluttered clean look and certainly makes the limited space appear bigger.
7. Minimalist Design
Less is more. Really.
Sometimes more is just too much more-more stuff, more junk, more clutter, more unfruitful work! The approach here is open concept, uncomplicated forms that function easy, lots of light, the materials used can give it personality, while keeping it devoid of too many details, thus making it organized and clutter-free.
The beauty is in the simplicity of the salon, all the features working together to open the minimal space and allowing it to look as if it's larger.
8. Classic Salon Design
Even with limited space deciding on a Classic design will give you a luxurious feel. Think gilded detailed mirrors, subdued hues of beige color, wood floors come in many shades (you may consider laminate as it is much easier to clean up color stains), antiques spread throughout, sideboards can be used as stations or for displaying, and the cherry on top is a gorgeous statement chandelier.
Even with all the extra details when you choose the right pieces your salon will not look cramped.
9. Small Nail Salon Design
When designing for a limited space Nail Salon, planning out every detail is important to your success.
Let's examine small nail salon ideas.
Having a built-in bench can take up less space-hence working within the confines of a small footprint-than a pedicure chair, it is less bulky, therefore allowing for twice as many clients at the same time. It can also work as multifunctional seating to do a manicure and pedicure in unison when a client is on a time crunch or you're doing princess parties, or wedding parties.
Having a statement wall with a pop of color, or artwork can make a beautiful focal point, as well as a sparkly chandelier. The result is having a salon space that is functional and elegant.
Maximizing Your Small Salon Floor Plan
Feeling a little bit lost when it comes to the layout of your beauty salon? Let's break it down into different zones. Here are some small hair salon design ideas and floor plans, to enhance the function of your space.
Optimized Floor Plan
Why is choosing your floor plan so critical? The floor plan is the base for how your business is built. Not only does it need to be functional, yet beautiful, but it is imperative to lay it out in an effective way in order to make a good deal of money. After all, it is your business.
You need to create a floor plan to have proper equipment placement, good traffic flow, and well-defined areas such as waiting area, retail shelves, changing room, reception desk, work stations, dryer stations, shampoo bowls, separate rooms for massage and facials, color dispensary/storage area, bathroom, and break room.
Popular floor plans are an open concept with clear defined zones, or floor plans with individual rooms.
Small Salon Reception Desk and Waiting Area
The reception desk and waiting area is the first thing that a client sees upon entering the salon, it's important to make a great first impression, after all, you don't get a second chance!
When you have limited space the reception desk can be small, however, it should be organized and clean, and you should have a distinct retail zone with the products that you use, so the client can see, touch and smell them.
An appropriately sized couch or chairs for space along with a side table or coffee table and a changing area. You can also add a small coffee and tea buffet. Here you can also make an impact by using an eye-catching color to really set your salon's mood.
All of this will add a welcoming and memorable touch to your reception area.
Small Salon Hair Station
This is the heart of the salon and where all the magic happens!
Choosing the right type of station is vital to the function of your salon. In small spaces, it is smart to choose a wall-mounted station because it is narrow and takes up less space.
Having a functional chair and mat, a mirror, and the right lighting completes the station.
Small Salon Backwash Area
The backwash area is a place for relaxation for your client. And although its tempting to make this area small and leverage the space for other areas of your salon you need to allow sufficient space here.
You should allow for 32 inches left to right for each shampoo station. You should also allow 36 inch behind the station for the stylist.
You can browse my list of hair salon equipment here for recommendations on good backwash units for small salons here.
Small Salon Décor Ideas
When you walk into a salon that is showcasing beautiful marble floors and a glamorous chandelier, you immediately feel that you've stepped into luxury.
You feel this way because of the décor that has been used.
Let's take a look at some small beauty salon decorating ideas to help you choose the right one for you.
Go for Light and Airy
Feel like you're stuck in a tight boxy space? A classic way to beat the feeling is to go light. White is actually quite versatile, and it allows you many options.
Going light will open the space and make it look larger than it is. It can also work by allowing the artwork to come alive. Using many textures in the same light color scheme will keep it from being boring. The list is endless when you choose to go light.
Vibrant Color in Your Salon
Whoever said that a confined space should only be white hasn't seen a colorful salon. Another salon design idea for a small space is to use bright vibrant colors, doing this will make your salon come alive.
You can have a lot of fun here and really let your personality show. Try adding color on the interior walls, the floor, even the chairs. If a trendy clientele is your target, then go with a fun, vibrant atmosphere.
Create a Bold Statement
Don't want to go with monochromatic décor or with vivacious color? I suggest that you make a focal point by using contrasting colors.
Black and white is bold and will really catch the eye. Try a large piece of artwork on a wall that gives visual interest. Any piece or design that shows your style will work.
Just because it is a small space doesn't mean that you can't be daring!
Reflect Light with Mirrors
Small spaces need all the light that they can get. Mirrors are a salon staple; they reflect light and give more depth and the illusion of a bigger space. There are many types of mirrors to add to your salon; full length, frameless, and framed mirrors are just a few.
Whichever suits your salon esthetic, it will definitely add beauty and visual depth.
Illuminate Your Salon
One of the most important aspects of your salon is the lights. You will have many areas that need different sources of lighting, all unique to your salon's layout. A facial room does not require the same lighting that a hair station would need.
You definitely don't want to miss the mark on lighting, as a shady salon does not allow you or your client to see properly, additionally, your client needs to love what they see!
Flow for Functionality
Since you've already designed the floor plan with functionality in mind and with different zones, it should be easy to navigate your way through once you enter the salon. It's important to ensure the furniture and equipment aren't too bulky, nor put in the wrong place.
It may take a few times to find the best placement, and if an item doesn't work then remove it.
You and your client need to be able to move in your space with ease.
Organize Your Salon Space
It's imperative to keep your space mess-free. This can't be stressed enough! No one wants to walk into a salon for a relaxing experience and instead be surrounded by junk and clutter.
It's important to know how to arrange a salon, so take some time to organize the waiting and retail area, shampoo area, and hair station area.
Nothing can cause your space to look smaller than clutter.
It's the Details that Count
Every detail that's in your salon should be looked at with spaciousness in mind. Is the color scheme cohesive? Is the layout zoned well? Is the waiting area clutter-free?
All the elements should work together to maximize your salon space.
Conclusion
There are many salon decoration ideas while on a budget.
I hope the small salon ideas shared here gives you new concepts and inspiration for making the most of your small salon space.
Doe more design ideas, I recommend you check out my list of hair salon design ideas, this list of barbershop decoration ideas, or my guide to salon lighting.
If youre just in the process of opening a salon, I strongly recommend you read my free guide on how to open a salon here.
You can also browse my recommended hair salon equipment here for more salon equipment ideas for your small salon.
↓ Pin it for Later ↓
Did you find this post helpful? Share it with your friends!
Sours: https://thesalonbusiness.com/small-salon-design-ideas/
🔴 Design Ideas For Small Hair Salons
You will absolutely love these 37 different hair salon interior design ideas. Modern, contemporary, rustic, industrial - all the trendy designs featured. Check them out here.
Whether renovating or starting a new salon, you need to put a lot of thought into the design.  Today's top salons are stunning as you'll see below.
There are many styles to choose from – contemporary, modern, rustic, glam or industrial are the more popular styles.
Check out the collection of some of the best hair salon interior designs below.
1. Black and White-Just Right
The sharp contrast between black and white paired with the polished look of stainless steel gives this salon a sleek and stylish look. Add some large mirrors, fluorescent lighting, and red accents for a contemporary feel. The glossy red shelves and knobs on the white wall shelf pop and the black seating and the spray bottles on the white floating shelves.
2. Textured Walls Adds Interest
This salon gives off a soft and warm ambiance with the cream colors and wood trim and tables. Paired with square-shaped black chairs with stainless steel bases, this salon has the feel of a s barbershop. The textured wallpaper and flooring adds some interest and keeps it simple. The canister lights help to highlight certain parts of this salon and the white ceiling contrasts with the beige-colored walls and large tiled floor.
3. A Pop of Lime Green
Lime green really draws the eye to it. This salon incorporated the bright hue without overdoing it. It is perfectly paired with the shelves and cupboards, and the stainless steel of the chairs finishes off the look. The dark tiled floors and plain white walls help pull this modern look together.
4. Bright Orange and Concrete
These bright orange chairs and walls of the same color paired with concrete tables and stainless steel light fixtures create a modern look. The concrete floors and black framed mirrors bring this modern look together. It has a warm feel although there is quite a bit of concrete used in this salon.
5. Bright Fuchsia Creates an Energetic Salon
An accent wall is painted neon fuchsia paired with grey-blue walls and pale yellow walls to highlight fun details such as a mirrored clock on the wall. When paired with extra large white chunky framed mirrors in front of grey-blue styling chairs, you have a modern and stylish-looking salon.
6. White and Grey Paired with Lights
Countless adjustable flush mounted lights dot the ceiling to makes the salon feel like a stage where the customers are the stars. Sheer grey curtains hang from the ceiling, and oversized mirrors are in front of every stylist chair. The chairs are crisp white with see-through bases and armrests for a contemporary design. The mirrors glow with a baby blue light, and the light is reflected off of the semi-glossy grey textured floor. The bases of the chairs and the counters are stainless steel and reflect the light given off by the mirrors.
7. Sunshine Yellow Adds Warmth
A raised ceiling accented by detailed trim adds some interest and opens up the room. Pale yellow walls and sunshine yellow frames around large mirrors and shelves brighten up this salon and offset the black chairs, dark tile, and dark wood. The glass shelves make them seem as if they are invisible and the colors of the products on them pop against the subtle yellow that's reflected by the mirror behind them.
8. Lavender Softens a White Salon
A lavender accent wall and lavender chairs paired with black chairs and sheer grey curtains softens the bright white glossy ceiling and white walls to keep it from being too bright. The white chairs with wood armrests pop against the medium grey fabric curtain.
9. Mirrors Expand Space and reflect Light
Mirrors that cover almost all of the wall expands the space in this salon. The white walls and glossy light grey floors are complimented by the black and stainless steel chairs. Grey shelves highlight the bright red of the product packaging.
Neon Colors are Fresh and Modern
Neon yellow-green pops in this white and grey salon. Natural wood floors and accents and a striped accent wall make this Modern salon feels earthy and sophisticated, and the bright colors of the nail polish really stand out against the background. The soft glow of the lights is reflected by the large mirrors and stainless steel bases of the bright chairs.
Stained Glass Windows Go Bold
This salon features dark marbled tiled floor and rich wood cabinets and tables. Frosted white, yellow and teal diamond design of the stained glass offers a bold statement piece and compliment the wood nicely. The yellow and navy chairs and yellow shelves stand out against the dark marble and black countertop. This salon has the feel of a den or study, and you would expect customers to be lounging in their slippers and robe smoking a pipe. The metal globe pendant lights and an oval floor mirror are a nice touch. The black glossy marbled floor highlights the center of the room and adds to the richness of this salon.
Pendant Lights Add Brightness
Numerous hanging stainless steel pendant lights brighten up this salon and highlight the black and stainless steel chairs. The Medium blue walls accent the maroon chevron stripe painted on the drawers with stainless steel knobs.
Earth Tones Create Warmth
Burnt orange and olive colored walls stand out against the tiled floor and wood tables. A brick wall, pottery, and metal chairs and accents create a warm and inviting atmosphere. The light given off by the track lighting and the canister lights bounces off of the warm-colored walls and ceilings. The fans offer even more warm light, and the eclectic light fixtures create a feeling of an inn, bistro, or bed and breakfast.
Different Elements Blend Together Perfectly
Bright yellow pendant lights neatly in a row highlight the sleek black styling chairs while the copper tile backsplash of the front counter. Wood floors and textured walls compliment the seafoam walls. There is an ombre accent wall that looks like an oil painting and colors of bright blue, lime green, burnt orange, and yellow blend together to create a Mediterranean feel.
Wood and Metal Compliment Each Other
Crisp white walls pair with the warm oak tones of the framed mirrors and the counters while black and stainless steel chairs, counters and drawer pulls really pop against the background of the wood. The marbled floor has the same colors in it to compliment the rest of the room.
Simple Yet Sleek
Futuristic yellow chairs and wood shelves stand out against the white walls and tile floor. Simple white bulbs frame each of the oval mirrors that are placed in front of the styling chairs. A bright yellow pouf looks bold against the large white tiled floor.
A Pop of Pink
Fun bubblegum pink seating in the shape of lips greets customers when they visit this salon and the matching pink styling chairs really pop against the white walls and grey shelving. There is also a black tile accent on the floor that makes this salon very stylish and modern. The vanity lights around the oval mirrors stand out even when they are not lit.
A Pop of Fire engine Red
A delicate chandelier made of stainless steel orbs intricately designed to look like a strand of DNA is situated in the center of the room. It's inside a black disk that has small canister lights inside the ring. It's the centerpiece of this black, grey and white salon. The modern red chairs and ottoman really stand out against the sleek background and the black and white tile floors and shelves.
Expand Space With Mirrors
A textured grey wall that looks like alligator skin and sleek grey chairs meld with the wood accents that frame the floor length mirrors in front if the styling chairs and next to the television screens. A mirror covers the opposite wall to make this salon seem twice as big.
Sophisticated Yet Minimalistic
White walls and wood framed mirrors offer a simple and minimalist design. The dark grey tiles and black chairs offer a certain level of sophistication as well. The textured vents alternate with other tiles in the ceiling.
Sport Chic
Cream colored chairs and portable black carts stand out against the pale lavender walls and white trim. The colorful packaging of the products on the shelves and the sports memorabilia casually draws the eye to them.
Pure White and Black
This almost entirely white salon has small accents such as the diamond pattern in the floor tiles and black sections of the stylist chairs. One wall is a mirror framed in a pale grey and the stainless steel base of the chairs add a hint of shine.
Yellow and Lavender Compliment Each Other
The complimentary colors of ultra bright yellow and rich lavender happily collide with a strip of accent wallpaper that draws the eye to it. The small white items such as the door and the black clock really stand out.
White Out
An almost all-white salon makes the rectangle tiles, portable cart, and pillow of the chair pop and draws the eye to the small details such as the blinds and the baseboard heater.
Sleek and Chic
Crisp black and white salon really highlights the green of the plants and the pink and burgundy of the salon items. There is also grey in the striped wallpaper, and the mirrors open up the space and reflect the natural light.
Glossy Glossy
The glossy white ceiling and glossy grey tiled floor pairs well with the light lavender chairs and accent walls. The black and white sink, carts and shelving also pop against the clean colors while the sheer curtains cover a spacious window that filters the natural light coming in.
Interesting Light Fixtures Draw the Eye
Interesting light fixtures immediately draws the eye upward, and the brick and textured window partitions create a relaxing and earthy feel. The soft black leather chairs and wood floor and accents inspire a calming atmosphere. A red door pops in the distance.
Plants Create a Garden Feel
Brick walls and a long wooden table with plants creates a warm feeling. Candles and subtle lighting create a spa-like feel.
Plants Create a Zen Atmosphere
Metal pendant lights and black and white curtains balance the look of this salon, and the lush green plants create a relaxing Zen-like atmosphere.
Retro-Inspired
Vintage inspired gold and grey wallpaper paired with simple mirrors, and an analog wall clock reflects the natural light and the tile floor and hydraulic chairs add a retro look to the mix.
Diva Chic
A white beadboard wall and black framed mirrors paired with the black and white buttoned chairs. The simple white shelves hold colorful products and the glossy marbled tile floors make this salon super chic and modern.
Charcoal and Cream Pair Well
The charcoal grey walls, cream tables and framed mirrors pair well with the glossy oak floors. A large window lets in natural light that bounces off the mirrors.
The Barber Shop Elevated
Warm brick walls and oak ceiling and floors with a hint of gloss create a warm and inviting environment. The famous barber pattern frames the large window, and the dark brown buttery leather chairs complement the vintage look of the hanging metal pendant lights.
White and Grey
A white and grey room feels spacious and open, and the green plants add a splash of color. The wire table in the center of the room pairs well with the modern 3D accent wall. The Strip of charcoal grey draws the eye to the corner of the room. The simple white shelves highlight the styling products, and there is a large flat screen television in the corner of the room. A mirror is framed by a frosted border and reflects the light that the large windows let in.
A Futuristic Mural Expands The Limits
The gold and crystal chandelier draws the eye up to the ceiling, and numerous canister lights add a soft glow to the room. The futuristic mural on the wall behind one of the mirrors makes it seem as if the room goes on further and the black and white buttoned leather chairs look comfortable as well as stylish.
Open and Industrious
This spacious warehouse has many focal points. The gold brick wall, golden star mirror, antique bike, license plate memorabilia displayed on the natural brick wall and the pops of red and yellow all stand out against the mainly white and grey background. The black leather and studded chairs look vintage, and the track lighting gives this salon an industrial look.
The shiny metal ductwork is as much as a focal point as the gold brick wall and the red tool cart. The track lighting stands out against the white ceiling, and the warm glow of the chandeliers make this industrial salon look inviting. The black and stainless steel chairs look inviting, and the open space seems like it stretches on forever.
Modern Industrial
The stainless steel, fire engine red, grey and white all compliment each other. The white chairs, cupboards, ceiling, and floors are crisp, and the strip of bright red on the wall is bold but not too bold, and the charcoal grey portable carts stand out against the light background. The dark grey chairs look like you could sink into them for hours and the green plants stand out against the white and glossy tiled walls.
Related:15 Stylish Barber Shop Interior Designs
Sours: https://www.headcurve.com/business/hair-salon-interior-design-ideas/
Station ideas salon small
.
1st Salon Suite Tour - Small Salon Space Saving Storage Ideas
.
You will also be interested:
.
101
102
103
104
105