5 Best Hand Casting Kits Of 2021
*This post may contain affiliate links. Please see my disclosure to learn more.
The people you treasure most in your life will always hold a special and permanent place in your heart. Still, a hand replica of them or both of you provides a great visual reminder of what they mean to you and keeps the memories fresh.
Apart from being solid symbols of relationships, milestones, and special events, hand statues are also art pieces. They provide a fascinating and personalized way of decorating any room in your home or office and they don't even need to be done professionally. 
What makes for the best hand casting kits? The best hand casting kits are easy to use, set up quickly, and don't leave your cast with any lumps or small bumps across the surface. They should also be certified non-toxic and have enough material to cover however many hands you are planning on casting.
Hand casting kits are super easy to use at home. You simply whip up a paste using alginate powder and water, stick in a hand or more, and hold the position for a couple of minutes. The next step is to wiggle out the hands, pour plaster into the mold, wait for it to dry, de-mold, and voila! You have yourself a statue.
Sound like something you would want to try out with your friends, family, kids, or partner? Then stay on this post where you'll learn everything there is to know about choosing hand casting kits. We also give you a headstart by recommending the best hand casting kits for that flawless detailed 3D hand replica.
Choosing a Hand Casting Kit
Selecting a hand casting kit can leave you feeling a bit overwhelmed, especially if it is an entirely new concept to you. The wide variety of brands available doesn't make it any easier either. What do people look for in these kits? We'll help you find out.
1. Safety
The safety of everyone involved in the casting exercise is of the utmost importance when choosing a hand casting kit. You'll be dealing with chemical ingredients that can be toxic on the skin or respiratory tract when inhaled in powder form. Some specific plaster products tend to burn the skin.
Luckily most kits -or at least the ones we've shortlisted at the end of our post- are safe to use on the skin. Still, it doesn't hurt to do your due diligence and confirm that the manufacturer conforms to safety standards and that the product is certified non -toxic.
2. Ease of Use
Hand casting is supposed to be a fun-filled activity. You are trying to preserve happy memories, not create sad ones. Unfortunately, that is how it will go down when the kit is frustratingly difficult to use.
Therefore, opt for a brand that is straightforward and simple to use. The best hand casting kits have detailed instruction manuals enclosed or provide links to video tutorials. Going through all the steps several times before beginning is advisable to know what is expected from you.
3. Size
Casting kits come in a variety of sizes. There are baby-sized kits, average-sized kits for one or two adult hands, large kits, and family-sized kits for up to 4 people.
You have to keep in mind the number and age of participants when purchasing a kit, or else it might end up being too small for your needs. Buying something larger has never been a bad idea, especially for babies and kids. They might need more than one trial to pull off an excellent mold.
Extras
Apart from the molding cast, what else does the kit bring to the table? You might encounter various additions depending on the brand. Some manufacturers will include paint, others a clear finish, mixing tubs, cleaning and measuring tools, or a display stand. It's really up to you to decide what appeals to you.
Durability
Not all casting material provides the same level of strength when fully cured. Since this is a craft you would want to treasure your entire lifetime, you need a high-strength casting material.
That said, the most robust option may not be the safest, affordable, or the most effective for catching fine details. Resin and plaster are usually preferable casting materials.
The 5 Best Hand Casting Kits
Time-crunched and couldn't be bothered to fulfill an extensive hand casting kit research? You can trust us to offer only the best products on our 5 best hand casting kits list based on reviews and ratings. Here are the top recommendations.
1. Luna Bean Keepsake Hands Casting Kit
Check Current Price on Amazon
Luna Bean is a U.S brand and a name to reckon with when it comes to the best hand casting kits. The large kit is one among its high flying series of hand mold casting kits.
What makes it such a best seller? Well, the kit has a lot to offer in terms of quality and quantity.
The large bucket kit is much deeper and broader than most competing brands.
Although marketed as a couple's kit, there's still ample space to squeeze in a small child's hand and triple the fun. How about making it three kids, or two little kids and an adult's hand? It's really up to you.
The casting alginate is of the highest quality. It reveals even the finest details such as nails, prints, fine lines, and even curves and crevices of a ring, making it perfect for engagement and wedding keepsakes and also realistic looking hand statues.
It also has the best color changing properties and sets in under 3 minutes, which is a reasonable amount of time to stay perfectly still.
Each package contains a large plastic molding bucket, 1.5lb molding powder, 2.75lb casting stone, fine sandpaper, coarse sandpaper, demolding stick, detailing pin, and an online instructional video guide.
It is an ideal gift for couples, parents, grandparents, and besties to create a memory of their solid bond with a clasped hands statue.
2. Edinburgh Family Hand Casting Kit
Check Current Price on Amazon
The Edinburgh family hand casting kit developed by artist Doug Lowe would be ideal for a small family of three of four.
It is 100% non-toxic & skin-safe. You can dip in your hands worry-free; your family is safe. The provided instructional booklet makes the entire process a breeze.
Edinburgh's molding alginate recipe is one of a kind, carefully engineered to provide a highly detailed mold. The stone casting powder dries to a high-strength, hard to break statue.
It comes with a mixing bucket that is reusable for similar future projects. You'll only need to buy refills. You also get wooden cleaning tools, a pair of latex-free protective gloves, and buffing sandpaper in one bundle. 
3. Luna Bean Infant Plaster Statue Keepsake Kit
Check Current Price on Amazon
Are you caught in the last-minute rush looking for a gift for a baby shower or new parents? Why not present them the opportunity to capture a solid memory of their newborn's tiny hands and feet?
With this unique, thoughtful, and sentimental gift from Luna Bean, baby 3D hand and foot prints will be all the hype.
The kit is tested and safe to use on a baby's sensitive skin. Freeing the baby's hand or foot is also made effortless without hurting them thanks to a smooth, rubbery, jello-like mold material.
There's enough product for two baby hands, or a hand and a foot with a recommended age of a nine-month-old baby or younger.
What's included in the kit? A 2-pack molding powder, 2-pack casting stone, reusable molding bucket, wooden mixing spoon, paintbrush, clear sealant with a matte finish, some sandpaper, c detailing pin, and a booklet with illustrated instructions for use.
4. Luna Bean Family Size Keepsake Hands Casting Kit
Check Current Price on Amazon
It's a Luna Bean kit again taking another sweet spot, but this time, it is much bigger and better for the whole family; like they say, the more, the merrier.
The kit is twice the large kit's size and designed to mold up to 6 hands clasped together, if the kids are preteens or younger. Now grandma or grandpa can hop in too for the complete family keepsake.
You get the same fine detail replicating mold materials, just bigger in size. There is 3lb of mold material, 5lb casting material, and a 10-inch high, 10-inch wide bucket. 
The extras include a sanding screen, de-molding stick, demolding spook, detailing pin, sanding paper, printed directions for use, and link to online photo directions.
5. Perfect Craft Gestures Molding and Casting Kit
Check Current Price on Amazon
Perfect craft gestures kit put together everything needed to make the coolest hand gesture statue. Older kids will be thrilled to witness the magic unmold.
Though marketed as a one-hand mold kit for kids 8+, it is suitable for one adult hand, two kids, or even an adult and a small child holding hands.
The Perfectcast casting material stays true to its name. It dries stone white in 5-10 minutes, tops. It is specially formulated to be far stronger than the regular plaster.
The bucket measures 8 inches deep and 6 inches wide. With it are 1lb of mold alginate, 2lbs casting material, and a how-to booklet.
It is a perfect little kit for kids to have an indoor adventure on a dull afternoon with adult supervision. The kit is proudly made by a U.S kids toys and crafts brand and is also non-toxic certified. 
Up Next: The Best Clay For Handprints
Sours: https://www.thecreativefolk.com/best-hand-casting-kits/
Artmolds Life Molding Torso Casting Kit for 3D Copy of Human B
Artmolds Life Molding Torso Casting Kit Copy Human for B of 3D All stores are sold Artmolds Life Molding Torso Casting Kit Copy Human for B of 3D All stores are sold $90 Artmolds Life Molding Torso Casting Kit for 3D Copy of Human B Arts, Crafts Sewing Crafting Sculpture Supplies Molding,Arts, Crafts Sewing , Crafting , Sculpture Supplies,3D,Human,$90,B,Life,Torso,Kit,/engenderment1844865.html,for,Casting,Copy,www.colegioantropologoscusco.com,of,Artmolds $90 Artmolds Life Molding Torso Casting Kit for 3D Copy of Human B Arts, Crafts Sewing Crafting Sculpture Supplies Molding,Arts, Crafts Sewing , Crafting , Sculpture Supplies,3D,Human,$90,B,Life,Torso,Kit,/engenderment1844865.html,for,Casting,Copy,www.colegioantropologoscusco.com,of,Artmolds
$90
Artmolds Life Molding Torso Casting Kit for 3D Copy of Human B
Restore Your Memories: Using our Artmolds alginate based casting kit, decorate your childhood or womanhood memories at your home and keeps your memories alive for long terms
Completely Safe for Skin: Our Artmolds alginate base life casting kit is completely safe and secure for the facial skin and also for other body parts
Easy to Use: Our Artmolds Torso casting and mold Kit is Easy to use and very rewarding. This kit is easy to handle and it doesn't create a mess when used. It is suitable for making temporary molds of the face, hands and other body parts. It is easy to use and cures quickly. You can then cast plaster or other materials into the mold to make a reproduction
"li" A Complete Pack For Your Family: This Torso mold and cast kitExtracted from CastRite casting stone, Plaster Bandages, GelStick alginate bonder plaster bandage and alginate-based mold powder "li" EZ Cast Kit: Our Artmolds Torso mold and casting kit is not only applicable upto face only but we can apply it on any part of the body
|||
Artmolds Life Molding Torso Casting Kit for 3D Copy of Human B
Skip to content
Homeadmin2021-03-07T15:02:57+00:00
Sours: https://www.colegioantropologoscusco.com/engenderment1844865.html
Holding Hands Couples 3D Casting Kit (ideal for 2/3 hands)
Description
Couples casting kit – all you need to create amazing holding hands casts in any combination
Ideal for 2/3 hands – the perfect gift for family & friends, and comes with full instructions
Contains alginate moulding powder and plaster of paris
Changes colour when setting – easy to use
Comes with a full set of casting tools – paintbrush, wooden pick, PVA glue and latex-free gloves
Couples Casting Kit contains:
1 x Chromatic Alginate 900g
1 x Plaster of Paris 1.5kg
1 x Casting Bucket
1 x Set of Cast Tools
1 x Instructions
Measurements:
4 litre bucket
Height 176mm
Diameter 198mm
Step 1: Making the mould using Chromatic Alginate
Full instructions are included with the kit. Please read carefully before starting the casting. IMPORTANT: Use cold water if this is your first time, as this gives you more setting time.
Before making the mould, practice placing hands into the supplied container. You may want to get an additional person to help. For best results, oil the hands with olive oil or petroleum jelly, as this will make them easier to remove from the mixture. Hair in particular can be troublesome if not oiled.
Step 2: Pouring the Plaster of Paris into the mould to create the Cast
Step 3: Revealing & finishing your new Cast – this is the exciting bit!
Tips
Do not seal the cast until it has fully dried. Allow 5-7 days for a full holding hands cast.
Lay a plastic bag, bin liner, or newspapers down to protect any surfaces.
Practice your chosen hand position a few times into the container, filled with water.
Take your time. Read through these instructions once or twice before starting.
Use a thermometer if you want to be accurate with the water temperature.
Pour the mixed plaster slowly, making sure to tilt the container from side to side.
For troublesome toddlers, bribe them with their favourite treats if they hold still for a couple of minutes 🙂
Throw any leftover mixed alginate or plaster away – don't try and wash it down the sink!
Try a silver, gold or bronze paint to finish your cast – these colours usually look best.
Instructions
IMPORTANT: To avoid problems with the chromatic alginate setting too fast, please use really cold water if you are new to casting. A few people have experienced problems with the mixture setting too quick, so we have created a video below alongside the full instructions. Using cold water straight from the tap should give you 2-3 minutes of time to mix and place your hands into the container. Practice on a small amount of alginate first to be sure.
Reviews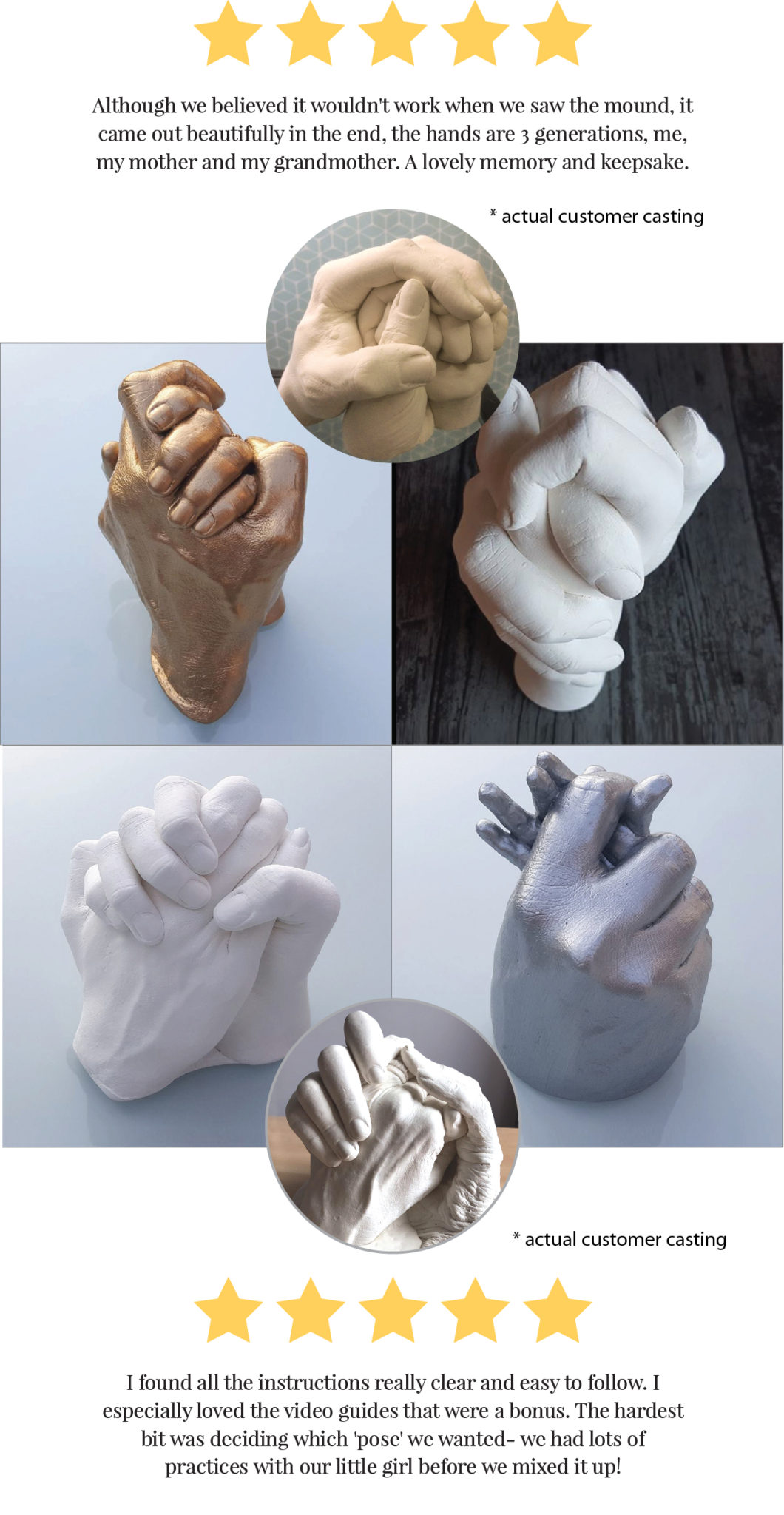 Additional information
| | |
| --- | --- |
| Weight | 2.8 kg |
| Dimensions | 21 × 21 × 21 cm |
Sours: https://babycastsandprints.co.uk/product/holding-hands-family-3d-casting-kit/
How To Make 3D Hand \u0026 Foot Casting of Baby -- Step By Step Tutorial -- Craft Blooming Hub
BABY 3D HAND AND FEET MOLDING AND CASTING DIY KIT
Offering you a complete choice of products which include Hand & Feet 3D Moulding & Casting Kit.
Interested in this product?
| | |
| --- | --- |
| Brand | MOLD YOUR MEMORIES |
| Color | WHITE |
| Material | NON-TOXIC MOLDING AND CASTING POWDER |
This newly improved moulding material helps you in better ways to taking impression
Non-toxic, neat, safe to skin, with long shelf life
Easy to do, quick and no mess. Capture those tiny little hands and feet before they get too big
A perfect gift to create an everlasting memory
The mould is biodegradable and environmentally friendly.

Kit Contains:

One Pack of Molding Powder 350g
One Pack of Casting Powder 500g
Kit is recommended for creating Up-To 2 cast (1hand & 1 Feet or 2 Hand or 2 Feet) of Newborn To 24 Months Old Baby or One Adult Hand.

Molding powder which is easy to use, easy mixing, non-toxic dust colour:white" >u, safe to skin, with long shelf life.

Super safe for using even on new born baby.
This newly improved molding material helps you in better ways to take impression
Powder is primarily used for making mold of body part for ex. hand, feet, face.

It is quick setting and will pick up fine details
All packs are sealed new and fresh - directly from the manufacturer so it will have a good shelf life until opened.
.
DIRECTIONS:
1) Measure out required quantities.
2) Place powder in a clean dry bowl.
3) Powder/water ratio = 1:2 i.e. 1 cup of molding powder and 2 cup of water.
4) Add water slowly and begin mixing. Mix vigorously to break down any lumps.
5) Working time is approx. 1-2 minutes.
6) When set, pour casting powder (2nd step) immediately or within 24 hours of making the mold impression.
7) When cast has set remove the soft Mold Jelly taking care not to break any delicate parts.

NOTE: You will need to work quickly to make your mold. It is suggested you try with small amount of powder and make your finger casting initially.
.
ADVANTAGES:

*Its fun, safe and simple to do
*Easy mixing, non toxic, dust colour
*A perfect gift to create an everlasting memory. We love seeing your beautiful castings made with our Luxury Casting Kits.
View Complete Details
Yes, I am interested!
Sours: https://www.indiamart.com/rmentp-mumbai/baby-3d-hand-and-feet-molding-and-casting-diy-kit.html
Kit 3d molding
.
3D Hands and Feet casting kit instructions
.
Similar news:
.
116
117
118
119
120