Best Custom Wheel Rims for Thrustmaster TX and T300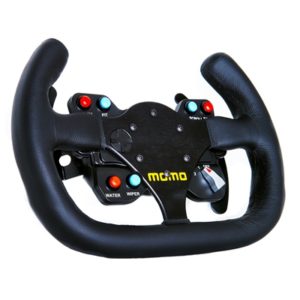 Do you hate that your Thrustmaster TX or T300 rim is not a full size racing wheel?
Does it bother you that some of the rims don't transfer vibration and force feedback exactly like a real car?
Today I'll walk you through the basics of how to mount a real race car rim to your Thrustmaster TX and Thrustmaster T300 wheelbase. While I am by no means a electronics guru this can be accomplished with a drill and a screwdriver, the willingness to take things apart , and some good ol'fashioned elbow grease.
If all of that sounds like it's a bit too complicated or to risky, at the end of this article I'll also show you were you can get a good price on the best custom wheel rims for the TX and T300. These custom made rims are made to order by a licensed Thrustmaster dealer, but before we get to that, let's take a look at you can do this yourself.
How to Custom Make Your Own Thrustmaster TX or T300 Wheel
To do this you will need to purchase a Thrustmaster GTE challenge rim, a special adapter, and a real steering wheel rim that you want to mount.
The good thing about the GTE challenge rim is that it is the least expensive rim add-on from Thrustmaster ($110) and the internal parts are the easiest to work with. In addition you need a GTE rim adapter, which you need to special order.
This is what the GTE Rim looks like with thee original wheel and center column removed and the GTE rim adapter on it. The adapter is the circular silver piece sitting around the Ferrari logo and extending over the D-pad.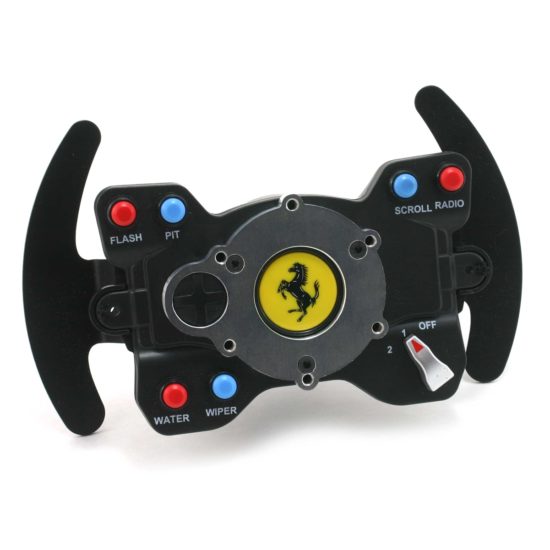 Removing the exterior rim from the GTE rim isn't to technical and only requires you to unscrew the 6 screws on the center column. Then you mount the GTE wheel adapter and screw in 3 screws to hold it in place like the picture above (One screw below Ferrari logo and then two just above to the left and right).
Choosing Which After Market Rim to Mount
When choosing a rim, you'll need to first figure out what kind of rim shape you like and then figure out how much work will be required to mount it. For example, if you get a rim with out pre-drilled holes your going to need to drill in the center column of the wheel rim.
Below are some wheel choices at Amazon from varying brands and price ranges. The first wheel is the Thrustmaster GTE wheel you need to purchase in order to get the spare parts. The other 7 wheel rims are just a small selection of whats available at Amazon.
The larger the rim diameter you choose, then the further your fingers will be away from the paddle shifters. Now if you have large hands it's not a problem and your finger tips will reach fine.
If your hands are smaller you may have trouble reaching since the GTE paddle shifters were made for a small diameter rim. If thats the case then you can get the optional large paddle shifters. I would suggest this in general if you are getting a full size circle racing wheel rim (over 30cm). In this case you would need to also remove the original paddle shifters for the GTE rim and mount the larger ones.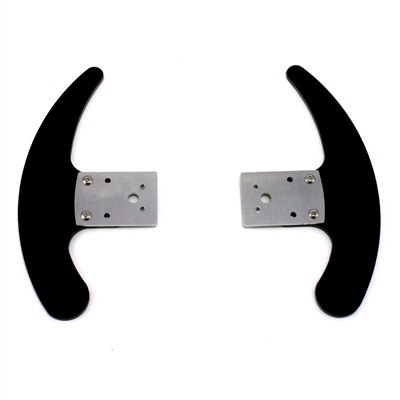 How to Mount a Real Steering Wheel to a Thrustmaster Wheelbase
So let's take a look at how to mount an after market wheel to your Thrustmaster wheelbase. In the video below you will see an OMP racing wheel get mounted to a T300 wheelbase. The T300 and the TX are the exact same wheelbase, the only difference is one is made for PS4 and the other is for Xbox One.
Notice when he mounts the wheel he loses the d-pad. This is pretty typical in DIY solutions. Some people actually like that the D-pad is no longer there though because its more realistic looking. For me I like the functionality and I would prefer having the D-pad on the center column.
The Problem With DIY Rims
There are several issues with the do it yourself approach for custom mounting aftermarket rims.
You can't access the D-pad unless you have a special tools to cut the hole
Some Rims will partially cover your action buttons
Not all rims have pre-drilled holes in the center so you need a metal drill
Once your take apart your Thrustmaster GTE Wheel, you void the warranty
If you buy a large diameter rim, it may be hard to reach the paddle shifters
The cost savings of DIY doesn't save you very much money
How Much Money Will You Save Making Your Own Custom Rim
It depends really on how expensive of an after market rim you want to get. If you are getting a $125 dollar rim, then you will save over $100. For most people though they want the high end OMP, Momo, or Sparco rims that cost over $200 and wrapped in suede or leather.
If you are considering a high end rim your savings are reduced to about $30 and it's probably better to purchase a custom made rim from a supplier.
For example DIY: A nice Momo rim ($230) + GTE Wheel ($110) + GTE Adapter ($30) = $370
Compared To: Made to order Momo Rim for Thrustmaster from a supplier = $400
So you can see if your looking to go the DIY route on a high end rim…
"the savings doesn't justify the level of effort when you can buy a modified wheel ready to plug in and play."
Where to Buy Custom Made After Market Rims Done for You
There are a handful of companies that make these, but my best endorsement would be Ricmotech. Not only are they a licensed Thrustmaster dealer and make high quality mod kits, but if you get the rim and there is something wrong with it, Ricmotech will take care of it for you. They have some of the best customer service I have encountered.
Best Custom Made Momo Wheel Rims For The TX and T300
Below are the 4 Momo racing rims offered by Ricmotech. These steering wheels are made to order. Everything is ready to go; they supply the rim and parts, they put it together, they drill a whole for the d-pad, they cut out grooves in the center column for the best action button access, and they stand behind their work.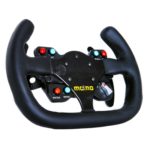 REALGEAR MOMO MOD27C ADD-ON WHEEL – Leather
Genuine Momo Mod27c Racing Wheel with leather Grip
Comes fully assembled – plug in and play
Machined perfectly to fit around the GTE buttons
D-Pad is accessible with a perfectly drilled hole
Wheel is 27cm in diameter (10.6 inches)
Read More About It Here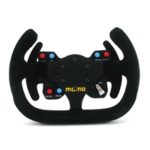 REALGEAR MOMO MOD27C ADD-ON WHEEL – Suede
Genuine Momo Mod27c Racing Wheel with suede Grip
Comes fully assembled – plug in and play
Machined perfectly to fit around the GTE buttons
D-Pad is accessible with a perfectly drilled hole
Wheel is 27cm in diameter (10.6 inches)
Read More About It Here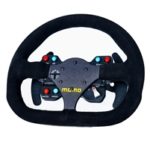 REALGEAR MOMO MOD27 D-SHAPED ADD-ON – Suede
Genuine Momo Mod27 D Shaped Racing Wheel with suede Grip
Comes fully assembled – plug in and play
Machined perfectly to fit around the GTE buttons
D-Pad is accessible with a perfectly drilled hole
Wheel is 29cm in diameter (11.4 inches)
Read More About It Here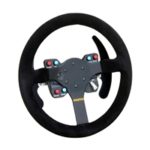 REALGEAR MOMO MOD31 ADD-ON WHEEL – Suede
Genuine Momo Mod31 Steering Wheel with Suede Grip
Comes fully assembled – plug in and play
Machined perfectly to fit around the GTE buttons
D-Pad is accessible with a perfectly drilled hole
Pre mounted with large fiberglass paddle shifters
Read More About It Here
All of these rims are super high quality manufacturing and the mounting is being done by a professional. I have purchased several items from Ricmotech and have the highest confidence in their craftsmanship and after sale support.
My Final Thoughts
Getting a real steering wheel mounted on your TX or T300 increases your immersion factor and feel for the force feedback. These rims are not toy rims, they are real race car rims and therefore give off the vibe that you are in a real car. Getting a real rim mounted on your wheelbase yourself can be a bit of a pain, but if you have the means to do it then it is totally worth it.
"From a performance perspective you will notice improved grip, better cornering, and an improved sense of how the cars are handling."
A custom rim will feel better than any Thrustmaster rim hands down. I love my Thrustmaster Ferrari 599XX Evo replica rim, but it's just not in the same class of looks and feel of my custom Momo rim. Sure a custom-solution is a little pricey, but if you are looking to take your sim racing up a notch then this is the route you need to go.
>> CHECKOUT CUSTOM MOMO RIMS AT RICMOTECH <<
Have you tried to make your own custom mounted after market rim? If so let me know in the comments what kind of wheel you mounted and to which wheelbase, I'd love to hear about your experience.
Sours: http://xboxracingpro.com/custom-wheel-rims-thrustmaster-tx-t300/
Last updated: March 23rd, 2021
Featured image:Thrustmaster Open Wheel Add On
---
For more than three decades, Thrustmaster has been developing high-tech gaming equipment to deliver a fun and realistic experience. For sim racers, the company has long been a go-to brand, especially for beginners, as the price point of their merchandise allows it to be affordable while remaining professional and durable.
However, this doesn't mean to say that there aren't expert drivers out there using Thrustmaster products, and in fact, some of the quickest and top-ranked sim racers in the world swear by the brand's usability, compatibility, and reliability.
With that in mind, I'm going to present some of the company's best and most popular hardware that's currently on the market, and I'll go even further than that by showing you how to modify Thrustmaster's equipment to squeeze out as much performance from their cost-efficient gear as possible.
Contents:
Let's start things off with a quick bit of history about the brand, and as you'll see, it's far more established than many of its competitors in the sim racing arena.
Thrustmaster: company backstory
Founded in the United States in 1990, Thrustmaster began its early days with a combination of engineers and pilots from the U.S. Air Force, Navy, and NASA. Drawing on its know-how and technological expertise, Thrustmaster began to develop products for flight simulation and design headsets and controllers for video games. The company's primary goal was, and still is, to make peripherals that offer extremely accurate gameplay, providing a completely immersive experience with optimal realism across numerous platforms.
Since its inception, the company's products have been used by both video game enthusiasts and casual gamers alike, and for the market segment that it caters to, it remains hard to beat in terms of the realism and immersion level of its gear.
Thrustmaster's ecosystem
Another thing that I'd like to mention before we move onto the products is Thrustmaster's ecosystem. This essentially allows you to connect all of the brand's peripheral components such as pedals, shifters, handbrakes, etc., all through a PC via a single USB connection.
This has a couple of distinct advantages. Firstly, it allows you to make fine-tuning adjustments to braking force through a single software package. Secondly, it reduces the number of physical USB connections required, which is quite important for several different reasons.
It's easy with today's hardware to overwhelm the USB drive on your PC and start experiencing random interruptions as a result, plus some older sim titles don't play well with multiple input devices plugged in, and it can be a real hassle to get them working if they work at all. Therefore, using Thrustmaster's ecosystem will allow you to connect your parts together effortlessly, and it will also help provide smoother gameplay.
There are also some very nice mods available:
Now that you know a bit about the brand's history and what it's capable of, let's break down what sim racing equipment I'd like to showcase. First, we will look at some of the company's flagship wheel and wheelbase offerings, followed by pedal sets, and then move onto some add-ons such as handbrakes and shifters.
T300 / TX Racing Wheel Servo Base
As not to confuse matters, the T300 and the TX are two separate products offered by Thrustmaster; however, they are essentially the same unit but offer different compatibility. The T300 is compatible with PS4 and PC, and the TX is Xbox One and PC compatible, meaning PC users can take their pick between the two units.
A quick search on Thrustmaster's website will show that these wheelbases can be purchased with a multitude of bundle packages, coming with different choices of both rims and pedal sets, such as the T300RS GT package for the PS4 and the TX Racing Wheel Leather Edition for Xbox One, however here I'm only going to be discussing the Servo wheelbase as this is the heart of the product.
Having used the T300 Racing Wheel Servo Base for a couple of years myself, I can share a fair bit of insight into the feel and realism factor this wheelbase has to offer. To keep things simple, I will be referring to it as the T300 from hereon in, but whatever I mention about the T300 should also stand for the TX wheelbase. The first thing that caught my attention with this wheelbase is the smoothness of the force feedback delivery.
I've used other wheels at this price point, and many of them have a notchy feel to them, but the T300 is much silkier. In my T300 unit, the motor has ample power on tap, and I've never experienced any force feedback fade when racing for long sessions, although some users out there have reported this issue with their wheelbases.
Of course, the most crucial things a force feedback wheel must do is relay what a car is doing to our hands. A good wheelbase allows you to feel the front end of the car as it gets light when the rear tires exceed their grip limits and make steering input corrections to keep the car from spinning out of control. The bottom line is that the T300 can do that without a problem. I also like that this wheel has a Hall-effect sensor setup for reading the motor shaft position as it will help give a longer service life than if Thrustmaster had decided to cheap out and use a physical positioning sensor as these tend to wear out after a while.
Mounting solutions for the T300 are comparatively straightforward, and the base can either be bolted to a desk with the provided desk clamp, which works pretty well, or it can be hooked up to a sim racing frame using the M6 mounting holes on the underside of the unit.
If you decide to purchase a T300 or TX wheelbase, it won't be of much use until you also buy a wheel, or as we sim aficionados say, a rim. A great thing about the Servo bases is that they feature quick-release technology, which makes changing between different rims simple and relatively fast. After you make the purchase, you'll also need to make sure you set it up correctly, so be sure to check out some of the configuration tutorials that can be found on Youtube.
This fantastic setup explanation works for all Thrustmaster wheelbases on iRacing.
As I mentioned, Thrustmaster uses an ecosystem that allows for a wide range of rim options for the T300, so let's check out some of their best ones that you can easily attach to one of these bases.
599XX EVO 30 Wheel Add-On Alcantara Edition
Starting with one of my favourite rims from Thrustmaster we have the 599XX EVO 30 Wheel Add-On Alcantara Edition. This is an 8:10 scale version of the Ferrari 599XX EVO real-life car meaning it has a diameter of 30 cm. From the extra padding and buttons to the wheel's D-shape, it's a very life-like replica of the real car.
It features the same hand-stitched Alcantara imported from Italy as a real Ferrari. In fact, the material on this rim comes from the same factory that supplies Ferrari which certainly increases its cool factor.
There's also some polyurethane padding under the Alcantara creating another layer between the metal, making it one of Thrustmaster's most comfortable rims to use. The wheel's structure is identical to automotive standards and has an integral hoop made of steel for improved transmission of driving sensation and force feedback effects. This rim also features a 2 mm thick brushed metal central steering plate, so it's good and solid and has no flex whatsoever.
It comes with the paddle shifters, has six buttons on the wheel face along with a toggle switch that doubles as another button if you push it bringing the actual total to seven, plus a multi-directional D-pad. The toggle switch is a nice touch as it acts as a dial which can be used for in-car adjustments such as brake bias.
If you still think that's not enough buttons for you, you may want to consider getting a button box, which is a separate component you can add to your sim rig to assign multiple functions to. I've recently posted a different article which goes through some excellent button box options and explains in further detail how these devices can assist your driving.
Ferrari 250 GTO Wheel Add-On
Next up is another Ferrari replica steering wheel, except this time in a much more classic and elegant package. As far as Thrustmaster products go, this rim falls into its premium line up and is arguably the brand's most exceptional and luxurious piece of kit for sale.
To give a bit of background to the product, the Ferarri 250 GTO was and still is a very rare Ferrari as only thirty-six were manufactured between 1962 and 1964, and for its time the car itself was a stunning piece of engineering. As a homage to celebrate the 55th anniversary of the Ferrari 250 GTO, Thrustmaster has treated us to this fantastic replica rim which exhumes class and sophistication.
The wheel is aimed at a very niche and specialist market and gives any Ferrari fans or those who want a pure driving experience the chance to own a very authentic piece of equipment. There's not much to say here in terms of buttons or other features.
As you can see, it's a steering wheel, and it's about as basic as it gets in that sense, but it's all you need. It's all about the driving, and it's all about manual gears. Which is why you'll also need a shifter, but we'll get to that later.
The detail of the wood and the metal on this thing is genuinely stunning. All the workmanship that has gone into manufacturing this wheel to make it as life-like as possible means this authentic replica provides a unique vintage feeling in PC games and a superb collector's item to display proudly.
Like the 599XX EVO rim, this is also an 8:10 scale replica, but comes in slightly larger at 33 cm in diameter, with a natural wood finish, metal faceplate, and chrome logo plate.
Rally Wheel Add-On Sparco R383 Mod
Moving away from the chic and graceful world of the GTO add-on, let's move onto something I'm far more familiar with, and by that, I mean the domain of rally racing. Although the Thrustmaster Sparco R383 Mod may not be in the same league as the GTO wheel in terms of panache, it unquestionably stands toe-to-toe with it in terms of realism.
It comes in at the same 33 cm diameter as the real Sparco R383 and features a suede wrap rim that is thick, feels great under your hands, and adds an extra element of control. This rim gives you fantastic grip but importantly isn't too soft between the suede and the padding underneath it. It's also really sturdy, with basically no flex at all.
While this wheel is primarily intended for rally games, it's also a very strong contender for oval racing. In both scenarios, the 33 cm diameter is the sweet spot; any smaller and your hands start to get too busy and any bigger will make you feel as if you're driving a bus. This rim also boasts a collection of nine action buttons and two large adjustable wheel-mounted sequential paddle shifters.
Two more essential features this wheel incorporates vital to performing well in rally racing are its shape and thickness. Being a perfect circle allows you to slide the rim in your hands and means your less likely to lose control in a drift, which is a significant component of rally driving, while the extra thickness compared to almost any other rim on the market is just so much more comfortable for this discipline.
T-LCM Pedals
As Thrustmaster's top-shelf offering in the pedals department, the T-LCM pedals are the first made by the company to utilise a load cell. If that means nothing to you, make sure you check out my Pedal Buyers Guide which goes into detail about the different types of technology used in sim racing pedals. The T-LCM also supports Thrumaster's trademarked "H.E.A.R.T.", their Hall-effect sensor technology. In this pedal set, H.E.A.R.T. is found in the throttle and the clutch. The load cell is located in the brake pedal and is rated for 100 kg of which is ample for most sim racing situations.
I like how the brake pedals force adjustment is made with this set, as it's easy to change out the springs and there is enough variation in strength to satisfy most users. The Hall-effect sensors on the throttle and clutch pedals should also see you through many years of service as they're less susceptible to dust and lint created issues found on many potentiometer-based pedal sets.
The cast aluminium pedal levers lend themselves to an industrial look which I quite like. The pedal faces have plenty of room for adjustment, meaning you will not have any problems getting them into a position that will suit your driving style. Weighing in at almost 5 kg, this is quite a heavy unit, and it uses a mixture of metal and plastic throughout. It's nice to see that the company has upped its game with this product, as pedal sets is one department where Thrustmaster having been trailing behind other manufacturers for years.
As a side note, some companies produce third-party aftermarket modifications for this pedal set. One great example is the APEX V2R Performance Brake Mod developed with real-life racing instructors and Thrustmaster sponsored sim racers. The purpose of this mod is to simulate a hydraulic feel to take your T-LCM pedals to the next level. You can also find video guides, such as the one below, to help walk you through this product's installation process.
TH8A add-on shifter
The TH8A add-on shifter features an H-pattern and a sequential mode, and it can plug directly into the T300 or TX wheelbase, or it can be used as a standalone device on PCs via the provided USB cable.
The use of metal in its construction and a refined mechanism makes for a great shifting experience in H-pattern mode. The gate has a very positive feel, but the resistance is relatively light and unrealistic. The TH8A falls short in sequential mode, and shifts don't have any positive click to let you know the next gear has been engaged. The resistance is very light, and overall, I would describe the sequential shifting experience as usable at best.
Furthermore, switching between H-pattern and sequential mode is a tedious process involving undoing the gear knob, removing four screws, removing the top plate, rotating the entire mechanism, replacing the top plate, and then repeating these steps in reverse to swap back. The procedure is not awful, but it's also not something you're going to want to do too often as you bounce between different cars. All is good for the build quality, and the materials are satisfactory for this price point.
TSS Handbrake Sparco MOD+
To round things off, I'd like to show you one more peripheral if you're considering buying the Sparco R383 rim. What better way to complement a rally rim than with the Thrustmaster TSS HANDBRAKE Sparco Mod+, an item featured in our sim handbrake buyers guide. This serious piece of kit is a sequential shifter and analogue handbrake, and like the TH8, it can be used on all the major gaming platforms with a compatible wheelbase and on a PC as a standalone product.
This metal monster of a sequential shifter and handbrake is much more rugged than the TH8A, and it's a step up in terms of build and materials from the lower-priced unit. The shifter's feel is direct, and it has a responsive click, so if you're also looking for a handbrake to complement your sim rig, this is an excellent choice.
Related buyer's guides:
By Ryan FinnPosted on
Sours: https://simracingcockpit.com/thrustmaster-buyers-guide/
NEW Thrustmaster F1 Wheel: What to Expect
Ever since December of 2020, Thrustmaster has slowly been teasing its soon-to-be released Formula 1 style wheel rim. They've been keen at keeping quiet and revealing only bits of information, but here's what we know so far, and what we could expect from the new Thrustmaster formula style wheel rim.
Let's start with some of the most obvious, and arguably most exciting features of this wheel and as we progress through, we'll get more into the unknowns and my predictions. Here is what we know for a fact, the wheel rim will feature an LCD screen, separate paddles for the clutch, and shifting, a faceplate that looks like carbon fiber, 15 individual LED lights on top of the screen, and at least a few dials and a bunch of other buttons of different colors and sizes. In terms of its compatibility, it will work with the T300RS, TX, TS-XW, TS-PC, and T-GT Thrustmaster wheelbases. Finally, it will release on April 20th of this year.
Now, moving more into the unknown, the wheel rim appears to be based on the Ferrari SF1000 Formula 1 car based on its general silhouette and placement of buttons, switches, and dials. On the right, we have the official Ferrari SF1000 wheel rim and on the left, we have a screenshot from Thrustmasters teaser. As you can see, the Pit limit button is present on the top right of both, features a near-identical font, is bright red with a black P, and appear to be very similar in size. The LED lights seem to be identical as well with 15 individual LED's on the top, and three on the sides of the LCD screen, of both rims. There are also some very clear similarities such as the two similarly colored buttons to the left of the Pit limiter as well as a dial placed in the same location.
On the left side of the wheel, we have a bright green neutral button, what appears to be a white drink button, and a red button in the exact same position as the SF1000 wheel. Finally, based on their most recent as of 2/28/21, on the bottom right of the wheel rim, we see what appears to be at least two 360 degree dials, at the same position, and of a similar color of the SF1000 wheel. There is currently no information hinting towards the fact that Ferrari has anything to do with this, and based on the teasers we haven't seen the prancing horse anywhere, but I wouldn't be surprised at all if it did. Thrustmaster's prior history with the Scuderia has brought us a bunch of Ferrari Thrustmaster gear such as the 458 wheels, the 599XX wheel rim, and the old F1 wheel add-on to name a few. So in my opinion, based on this and the similarities I identified just a little bit ago, I'm very confident that this is another collaboration with Ferrari.
In terms of the materials used in the wheel, the carbon fiber weave has everyone hyped up. Has Thrustmaster finally made the jump to real carbon fiber and is aiming to compete against Fanatec's higher offerings? Maybe, but there are also some reasons I think not. For starters, it wouldn't be the first time Thrustmaster used fake carbon fiber on their wheels. On the Thrustmaster R383 Rally wheel, a plastic carbon fiber weave can be seen accenting the wheels button box, which means they have experimented with this in the past. The second reason I think they might opt-out of using real carbon fiber is the cost. We all know Carbon fiber is expensive, and for a company that produces mass-market wheels such as Thrustmaster, they might not be willing to significantly increase production cost and retail price, only to appeal to a very niche group of people. However, based on their short teasers, the glare and overall look of the carbon sheet looks very promising, so there is a chance that this will indeed be real carbon fiber. Based off some more teasers that have been released, it seems the handle is wrapped in some type of rubber, which is common in F1 style wheels. Finally, since this is an add-on, Thrustmaster will likely use its typical plastic quick-release mechanism on this wheel rim.
Now, for the holy grail of questions: how much will it cost? It's uncertain but I am expecting this to be around $300. Again, this is nothing more than a prediction, but based on Thrustmaster's pricing of other wheel rims, the amount of features this wheel rim could potentially have, and its potential use of carbon fiber, I think $300 is in the ballpark.
So, that wraps up everything I've gathered from Thrustmaster's teasers thus far, It will be interesting to see how it competes against Fanatec's formula-style offerings. But what do you think? Am I missing something? Am I completely off? And are you excited for this new F1 style wheel rim from Thrustmaster?
ThrustmasterF1WheelWheel rimNEW2021add onformula 1ferrari
Sours: https://www.ocsimracing.com/general-ocsimracing/blog-newthrustmasterf1wheel
Thrustmaster Ecosystem Explained - Best Sim Racing Setup?
Share
Share
Share
Email
Sim racing peripherals manufacturer Thrustmaster has previewed a new wheel being launched in the near future.
From the limited shots of the new wheel, it looks to be open-wheel style and either made from carbon-fibre or wrapped in imitation. There seems to be a lot of colourful buttons and even potentially multiple shifter-plates, possibly to include a hand-clutch.
All wheels in the Thrustmaster ecosystem currently use the same "quick-release" system. It's not quite the same speed as you get in a real race car, or with rivals Fanatec, but it nonetheless will allow you to change the big round thing you hold within a couple of minutes – if you have a screwdriver handy. It's highly likely that this rim will be compatible previous wheels but we shouldn't rule out that there's a new wheel-base as well.
It's the LED panel that is taking up our attention. It's clearly full-colour and includes shift lights, gear, RPM, ERS, DRS and more. It'll be interesting to know whether this can be customised at all and whether there'll be compatibility with console products.
Recently, rivals Fanatec announced a partnership with BMW that would mean you could own the exact same wheel as the one in the new BMW M4 GT3 car. Unfortunately, the price of the wheel is set to be fairly expensive, "below €5,000", making it no more than a dream for most of us.
Will the new Thrustmaster wheel come in at a comparative price-point? It's unlikely to be super expensive, the French manufacturer is known for being more affordable than Fanatec whilst retaining quality of its force-feedback and feeling. That said, there are some new features on this wheel that we haven't seen before so how much it costs will remain to be seen. Currently, the premier open-wheel rim that Thrustmaster offer is the "Ferrari F1 Wheel Add-On" which retails for £169.99.
---
What do you think about this new racing hardware from Thrustmaster? Does it look like something that you'd purchase? Let us know on social media.
Hardware, Thrustmaster
Sours: https://traxion.gg/new-wheel-rim-from-thrustmaster-teases-led-screen/
Wheel rim thrustmaster
PRODUCT REVIEW: Thrustmaster TM Sim Racing Wheel Rim Add On
It can be a struggle to decide which product is best for you when it comes to bedding into the, sometimes unnecessarily complex, world of sim racing. It's a given that a wheel and pedal set is a must if you want to immerse yourself in the experience as a beginner – you can add all the other bells and whistles at your own pace, budget and desire.
Even if you're not a beginner, it can still seem like there's an almost bottomless wealth to your options. Wheel models that complement all forms of motorsport from open-wheel cars to sportscars, GT cars, historic cars – so on, and so forth. Then, there's the dilemma of prices.
Some start from as little as £50. Others can reach the thousands, just for a wheel rim. Fortunately, renowned brand Thrustmaster has hit the sweet spot in so many different categories with its new TM Open Wheel Add On.
So when The Checkered Flag's friends at Swipe Right PR approached us with the offer of sampling said product, we jumped at the opportunity.
When the rim is taken out of its slender packaging, the first noticeable quality is that it is incredibly light. In fact it is the lightest wheel Thrustmaster has produced yet, at just under 900g. And the daintiness is added to by its dimensions – boasting a diameter of 28cm, making it very easy to grip and access all the rim's buttons.
The shape of the wheel is typically modern Formula 1. No grip or exterior on the bottom half, instead it's rounded off – only adding to the slick style of the rim.
The core of rim is brushed aluminium, a feature of multiple Thrustmaster wheels through the years. In comparison to the main body, the wheel grips look rather chunky. But, don't let this perturb you. The suede covered grips are very comfortable to hold in anything from short to long sessions, the result of Thrustmaster's "careful selection of materials and components".
And, if the metal plate is removed from the top of the wheel, there's even space for your own LED display to add to the immersion. Thrustmaster also sell those, but for £30 more than the wheel itself.
The six black buttons, D-pad and single three-stage rotary switch, all backed by colourful stickers that show their configuration, pop out and possess very satisfying clicks when pushed. The same goes for the aluminium gear selection paddles, but – unlike other Thrustmaster rims – these are purely one-directional and not on a rocker hinge. So no impersonating Jacques Villeneuve or Robert Kubica…
In fact, an hour could have been spent setting up an ASMR-based YouTube channel and just clicking the paddles. Another time, maybe.
There's good news for owners of any T-Series wheel bases in Thrustmaster's "ecosystem". The rim add-on is perfectly compatible and easy to attach. For this review, we used the T500RS base. A few screws later and the wheel is ready to go -instructions can be found either online, but it's very easy to figure out for yourself.
It is worth checking Thrustmaster's support section to ensure that your drivers (if on PC) and firmware are up to date and performing a simple, five minute update if needed – otherwise setting up the wheel's functions up may be tad difficult. The upshift paddle may become the accelerator all of a sudden.
The wheel itself is also supported by any games that are compatible with your base of choice. Again for the sake of your knowledge, Kunos Simulazioni's Assetto Corsa and the early access version of Assetto Corsa Competizione were used in the test on PC. But PlayStation 4 and Xbox ONE users can enjoy the wheel just the same.
Credit: Thrustmaster
When driving, the feather-like weight to the wheel is perfect for communicating all the Force Feedback coming your way. The wheel is easy to manoeuvre and use, but if you're used to a certain button configuration – the first session might be spent pressing thin air or a spot of metal unless you take a quick glance downwards. Did I mention the different tone clicks produced by the paddles at the back of the wheel, depending on whether you're up or downshifting?
Glorious.
At £119.99, the price is hardly a light purchase, but not Earth-shattering either. For the look it has, the versatility it holds and the durability, performance and ease of access it gives – your money would be well spent. After all, this is a product for those interested in sim racing and want to get as close to the real thrill as possible.
Last month, Thrustmaster unveiled the wheel at the Circuit Paul Ricard during pre-season testing for the Blancpain GT Series. Thankfully, this product is far beyond the test stage and is now widely available to buy direct from Thrustmaster, or through selected retailers; just in time for the soon-to-be fully released, Blancpain GT-inspired, Assetto Corsa Competizione title.
If the open wheel style is not to your liking, in mid-June Thrustmaster are releasing an equally compatible add on inspired by the Sparco P310 wheel – for that unmistakably GT1-style feel. Thrustmaster are now accepting pre-orders at the slightly dearer price of £189.99.
If you have any of the bases in Thrustmaster's ecosystem, then waste no time in making the upgrade – particularly if you are on console. While the relative lack of buttons can be an inconvenience to PC users, a button box or keyboard can be used as a supplement.
Light, stylish, easy to set up and use, this is an excellent addition to the Thrustmaster family. And, in case I glossed over it, the gear paddle clicks are wonderful.
Sours: https://www.thecheckeredflag.co.uk/2019/04/product-review-thrustmaster-tm-sim-racing-wheel-rim-add-on/
Should You Buy A Thrustmaster T300 RS? Which Wheel Rim? (Sim Racing Impressions \u0026 Review)
.
Similar news:
.
142
143
144
145
146