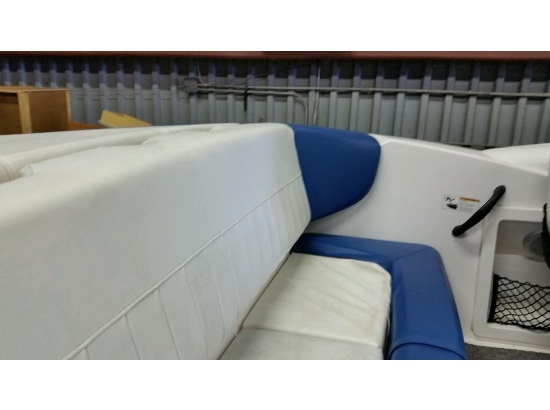 2004 Yamaha LX210
$12,500
Springboro, Ohio
Category Jet Boats
Length 21'
Posted Over 1 Month
2004 Yamaha LX210, Beautiful Yamaha jet boat ready for Spring/Summer water enthusiasts! Perfect for relaxing with family and friends, weekend water sports or fishing. Comes with trailer and spare tire. Please call for additional information. Serious inquiries only. $12500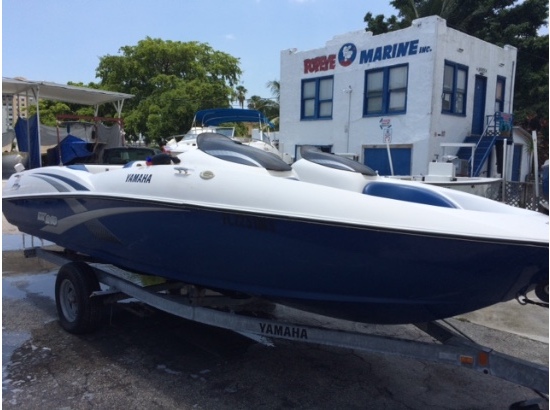 2004 Yamaha lx210
$9,800
Miami, Florida
Category Jet Boats
Length 21'
Posted Over 1 Month
2004 Yamaha lx210,2004 lx210 jet boat in good condition. New battery, engines start right upGreat for the bay. Call me for more info $9800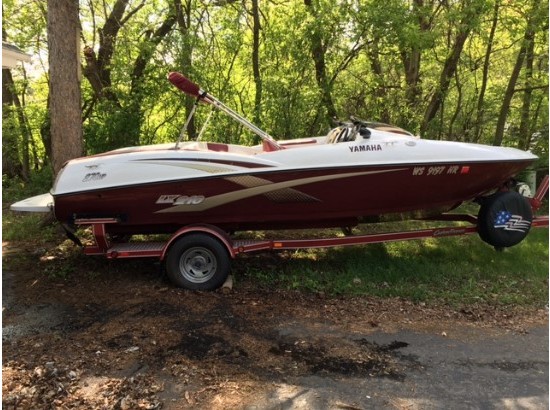 2003 Yamaha 210LX
$10,500
Oshkosh, Wisconsin
Category Jet Boats
Length 21'
Posted Over 1 Month
2003 Yamaha 210LX,2003 Twin Engine Yamaha 210LX in excellent condition. Great for crusing, skiing and tubing. Open bow, lots of storage and retractable skiing pylon. $10500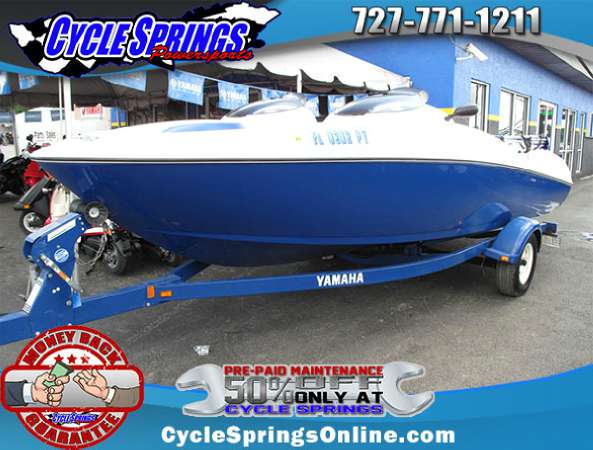 2004 Yamaha lx210
$12,599
Clearwater, Florida
Category Jet Boats
Length 20'
Posted Over 1 Month
2004 Yamaha lx210 The 21-foot, open bow LX210 ranks as one of the most complete packages on the water. With room for seven, it's designed for families that want the size, features and comfort of a sporty runabout, with the fun and performance of a Yamaha. It carries a long line of standard features, including a padded sundeck, extended swim platform, bimini top and plush Berber carpet. Whatever your family enjoys, you can do it in the comfortable, nimble LX210. - Beautiful Condition & Runs As Good As It Looks! - Galvanized Trailer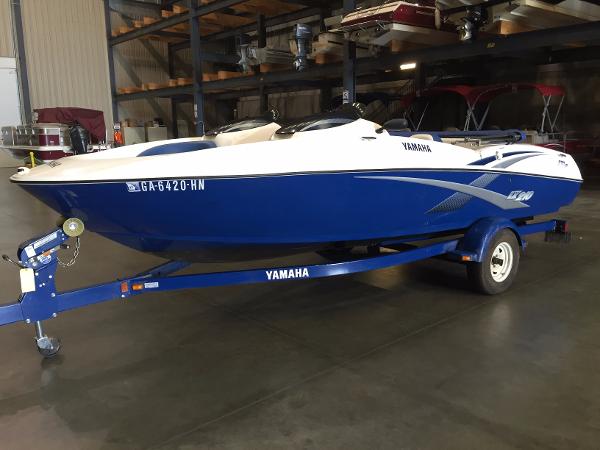 2004 Yamaha LX 210
$11,500
Milledgeville, Georgia
Category Powerboats
Length 21'
Posted Over 1 Month
2004 Yamaha LX 210 Fast, fun and water ready! This sleek high performance jet boat is an eye catcher.  This twin engine 2004 Yamaha LX210 boasts an impressive 270 HP. The 21-foot, open bow LX210 ranks as one of the most complete packages on the water. With room for seven, it's designed for families that want the size, features and comfort of a sporty runabout, with the fun and performance of a Yamaha. It carries a long line of standard features, including a padded sundeck, extended swim platform, bimini top and plush Berber carpet. Whatever your family enjoys, you can do it in the comfortable, nimble LX210.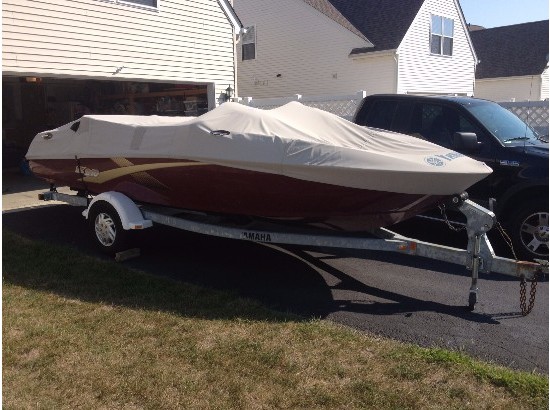 2003 Yamaha LX210
$11,900
Grove City, Ohio
Category Jet Boats
Length 21'
Posted Over 1 Month
2003 Yamaha LX210, 2003 Yamaha LX210 - 21' JetBoat - 270HP! Twin Engines @ 135HP each. Great Condition, have owned it for 6 seasons and have had a great time. Never had any major issues. Have enjoyed it since day 1... and now you can too. I'm moving to Florida and don't want to transport it. I will buy another Yamaha tho!- New bimini top (1 year old)- New cover (1 year old)- New spare trailer tire- New Kenwood stereo (USB, iPod, CD, etc. - 1 year old)- Backup battery system and switch (installed in 2015)- Includes Toys: Gladiator 60" 2 person tube, Gladiator skis, Obrien Kneeboard & Matrix Wakeboard (with two handled ropes, and 1 tube rope)- All safety gear (strobe, fire extinguisher, 7 adult life jackets (4 generic, 3 Neoprene), paddle, anchor, pole light, tie ropes, bumpers, etc.)- Aluminum trailer with 2 year old tires- After market Cobra Jet Steering fins- RPM and fuel gauges do not work - MPH works fine (tops out at 56 mph on glass)- No hours gauge - so unsure of total hours.- Winterized and stored indoors every winter I've owned it (at BoatBoys in Newark)- 48 Gallon Fuel tank (combined primary and reserve)Awesome package deal, priced thousands less than anything comparable!!! $13000, 6149374801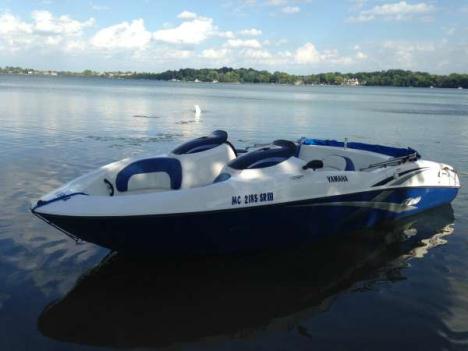 2004 Yamaha LX210
$11,999
Sandusky, Michigan
Category Jet Boats
Length -
Posted Over 1 Month
See 400+ pre-owned vehicles at http://www.approvalpowersports.com Boats Jet 3188 PSN . IMAGINE the SUN ON YOUR BACK! the 50MPH WINDS WISPING THROUGH YOUR HAIR AS YOU ENGAGE IN A TIGHT TURN AS the G FORCE WANTS TO TAKE YOU TO the OPPOSITE SIDE OF the DEMON!!! YEAH BABY!!! ;- YOU CAN'T WAIT UNTIL NEXT SUMMER HUH Call (888)RIDE-990 for more information. 2004 Yamaha LX210 2004 Yamaha LX210 with Trailor !!PREPARE FOR NEXT SEASON IN THIS DEMON!! MUST SELL 21FT YAMAHA " TEAM BLUE " TRAILOR WITH SPARE TIRE GENUINE MARINE YAMAHA MOTORS WITH INDEPENDANT CONTROLS WHEN IT SAYS GENUINE MARINE YOU KNOW IT IS BUILT FOR QUALITY AND PERFORMANCE THIS BOAT HAS IT ALL!! A BIMINI TOP FOR CONVENIENT SHADE AND A LARGE REBOARD PLATFORM FOR EASY RE ENTRY TOW BAR FOR YOU WAKE ENTHUSIEST AND the SPEED AND POWER TO PULL THREE TUBES. Financing available with low monthly payments. CLOSE YOUR EYES.....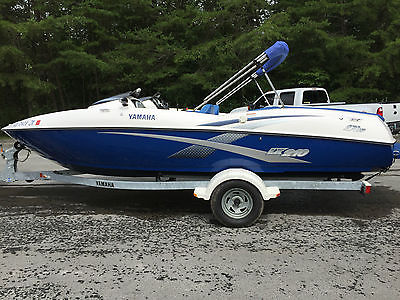 03 Yamaha LX210 Dual Twin Engine Jet Boat 270 HP LOOKS & RUNS LIKE NEW FRESH H20
$10,900
Louisville, Kentucky
Category Jet Boats
Length 21.0
Posted Over 1 Month
wave runner waverunner jetski Seadoo Up for sale in this auction: 2003 Yamaha LX210 270HP Dual Engine Jet Boat & Trailer 2003 Yamaha LX-210 270 HP Yamaha Jetboat. @ 200 hours and its condition shows it! 21 Feet long. Sits on an almost new condition 2003 Aluminum Trailer. Both have clean titles, signed and notarized ready for quick cash sale. Boat registered until 2016. Ready to hit the water this weekend! Both engines run great. Starts right up! Always kept inside insulated and heated building. Close to perfect condition. Cushions and seats are perfect with no tears or rips or mildew or discoloration. Carpet perfect. One small little chip on left rear side where hit dock, but very minor and is the only flaw. Has a very nice swim platform and rear cushioned sun deck. Has LED driving lights in the mirrors which you can change from steady on to different patterns. Have a bunch videos of it running out on water this past weekend and videos of it pulling a 220 lb Slalom Skier up out of the water, so you know it has the power to Wakeboard, Kneeboard, Tube or anything else you want to do. See it here: Here is the boat out and running last weekend. See it here: Anchor, Rope and 6 life jackets included, so ready to hit the water. JVC Stereo with Satellite. Coast Guard rated for 7 people. Has Bimini Top in good condition. Oil injected only used Yamalube Oil. Brand New Battery. Ready for end of summer and ready to deal! Includes single trailer as shown. Prefer Emails. First solid CASH offer can trailer it home. Clean KY title in hand ready to go! NO SHIPPING! This item is for local pickup only. It is possible that I would be willing to deliver with a 100 miles radius for a fee, but you would need to contact me first to discuss and it would need to be paid in full. I am willing to ship via alternate means if you have another method as long as you agree to all shipping charges and take care of the freight. Contact me to discuss! I will try to work with you!!!!! Local Pickup always welcome!!!! Conditions: Buyer to contact seller within 24 hours of end of auction and payment to be received within 7 days of end of auction. Deposit of $200 to made via Paypal if item can not be picked up with 3 days of auction ending. Local Pickup only. Trailer has 1 7/8" ball. Waverunner is stored in my building in Shelbyville, KY. It is possible I might be able to deliver within a 100 miles radius of Louisville, KY for less. (Other shipping methods may be available at additional cost.) No international orders. Deposit of $200 accepted via PAYPAL and CASH on pickup. You must have a PAYPAL account to bid on this auction even if you do not intend to pay that way. I try to be as careful as possible but misprints do happen. You are welcome to physically inspect this before purchase, but be sure you understand these conditions before you place your bid! Will store for 14 days free if deposit is made via paypal until shipping or pickup can be arranged. After 14 days deposit will be forfeited to cover auction fees. If you have any questions, please ask before bidding!
2003 Yamaha lx210
$11,995
Allentown, Pennsylvania
Category -
Length -
Posted Over 1 Month
2003 Yamaha lx210 This is an awesome Yamaha jet boat that was traded in to us. And talk about quick! On the water, it quickly jumps up and zips across the water at 45 mph. Even at those speeds, the boat can be safely slowed down or reversed on the water. It's a great boat for both water sports and taking the family out for the day. The jet boat also has a ton of storage locations including under the seats, above and below the consoles, under the sunpad, and under the floor.   But when you're not buzzing around on the water, you can turn on the music (FM/AM, CD, & USB) from the radio. Stay cool under the bimini, jump in the water using the boarding ladder, or tan on the sunpad. When not using the boat, it rides on a galvanized trailer and also has a full cover to protect it.   Come down to take a look at the jet boat. Give us a call with questions! We're here six days a week and late on Thursday evenings.   - Specifications - Make: Yamaha Year: 2003 Model: LX210 LOA: 21' Engine: Twin Yamaha Jets HP: 270 (135HP each) Trailer: Shoreland'r Galv
2004 Yamaha LX 210
$10,900
Spring Hill, Florida
Category -
Length -
Posted Over 1 Month
2004 Yamaha LX 210,2004 yamaha lx 210 for sale.. Boat is in great condition and is only being sold because we just had a baby and have decided that a pontoon is a better boat for us for now.. All cables were replaced at the start of this boating season..(april) $10900, 3523975892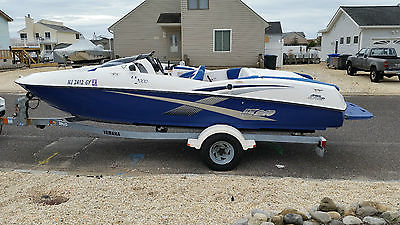 2003 YAMAHA LX 2000 LX210 JET BOAT WITH TRAILER
$7,900
Manahawkin, New Jersey
For Sale 2003 Yamaha LX2000 / LX210 Jet Boat 7 Passenger Twin 135 HP Motors Price is $7900 with Trailer. Boat is Very Clean for the Year & Always Properly Maintained. Boat was Always Housed Out of the Water on a Boat Lift. Comes with a Brand New Cover & Includes a Trailer. Trailer Tail Lights need Fixing. This link will give you a good Idea of what the boat has to offer purcellsmm.com/new_vehicle_additionalfeatures.asp?veh=5909&CatDesc=Boat has just been Winterized. See attached for recent photos. Please Email Me with Questions.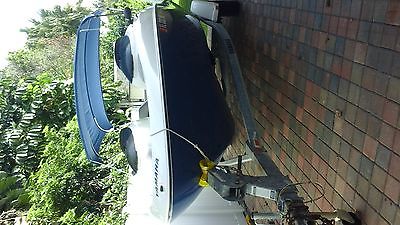 Yamaha jet boat, lx210,ls2000, ar210
$9,500
Fort Lauderdale, Florida
Category -
Length -
Posted Over 1 Month
Yamaha 2003 LX210 jet boat fully restored and we'll maintained.All interior seats redone to new and motors run great. Boat has 2 inboard 2 stroke jet drive engines. This boat can carry 7 passager or 1300 lbs. I have taken more passager as long as you don't exceed the 1300 lbs. This boat has run in freshwater and salt water but flushed every time after saltwater use. Please feel free to ask any questions. This boat is sold in as is condition.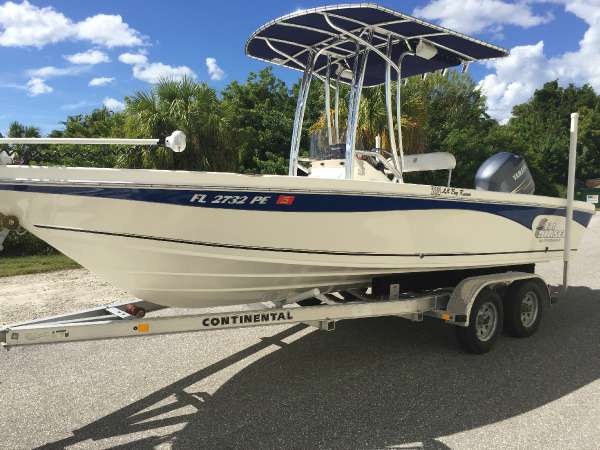 2011 Sea Chaser 210 LX
$24,900
Venice, Florida
Category Bay Boats
Length -
Posted Over 1 Month
This boat is a clean one owner trade-in. Minn Kota 24V Trolling motor. Has a oversized T-Top with lifejacket zipper bag. At Sea Chaser our goal is to get you and your family on the water in a safe comfortable craft at an affordable price and the Bay Runner Series is a true reflection of that philosophy. Comes on a Double Axle aluminum trailer. As a result there are literally hundreds of choices available in the bay boat market today. Come take a look at this very clean vessel. Low hours on the Yamaha F150 hp Four Stroke. 2011 Sea Chaser 210 LX GREAT BOAT FOR SHALLOW WATER Because of their versatility bay boats are a very popular type of recreational craft. They can be used for everything from cruising and waterskiing to fishing and diving. the Bay Runner Series offers six different models from 16 feet 6 inches to 24 feet 6 inches and every length in between providing a size selection comparable to many other boat brands. Nice size Hummingbird GPS/Sounder. Add to that a solid list of standard features including a pre-wired 12/24-volt trolling motor plug lockable dry storage and a comfortable console complete with Faria gauges and the result is a true value that can stand on its own in the bay boat market. Contact Ken @ 941.445.4514 Boats Bay 7529 PSN ...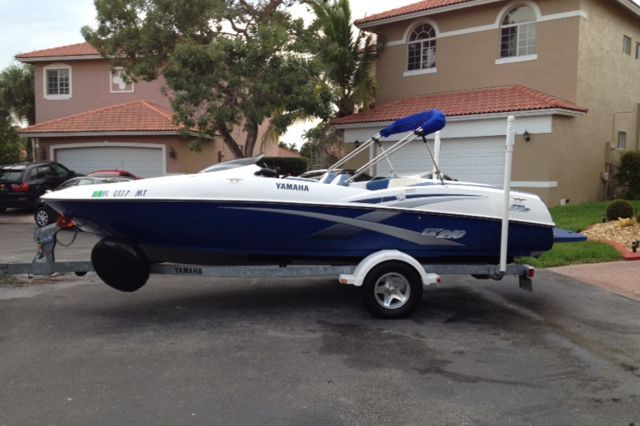 2004 Yamaha LX210 Jet Boat
$5,950
Pembroke Pines, Florida
Category -
Length -
Posted Over 1 Month
2004 Yamaha LX 210 Jet Boat and trailer. This boat is being drastically discounted due to a theft. Half of both engines (various parts) were taken by thieves at my storage. Both engine blocks are still there though. So, if you have the resources to find 2 used complete engines or the parts, you will have yourself a new boat! Boat is in excellent condition and comes with a great trailer. Boat & trailer will come with a "clean title" which is on hand. Interested parties please call for details. Thanks Joe... cell (305)788-0340
2007 Yamaha Sport Boat 210 LX
$16,900
St Petersburg, Florida
Category -
Length -
Posted Over 1 Month
2007 Yamaha Sport Boat 210 LX twin engines trailer included ran seatrial in august runs great stereo needs some upholstery work otherwise good condtion.
Showcase Ads
×
Alert Successfully Created
Sours: https://www.smartmarineguide.com/boats-for-sale/yamaha-lx210
Featured
Avoid Fraud
View All
v-Hulls
Catamarans
Search
Post an Ad
Help
Terms of Use
Access Agreement
Privacy Policy

yamaha powerboats for sale by owner.
Your search returned 70 matches.



Sort by: LengthYearPriceBoat Added
23' Yamaha 230 SX
21' Yamaha LX 210
23' Yamaha 230
23' Yamaha AR 230 HO
13' Yamaha XLT 1200
21' Yamaha SX210
Yamaha VX1100 Cruiser
19' Yamaha AR190
23' Yamaha 232limited
23' yamaha 230 sx high output
Yamaha GPR 1200
17' yamaha
21' Yamaha AR210
21' Yamaha AR210
19' Yamaha SX190
23' Yamaha Jet 232 Limited
20' Yamaha LS 2000
24' Yamaha 242 limited S
20' YAMAHA LS2000
23' Yamaha 242 Limited
24' Yamaha 242 LTD S
Sours: https://www.powerboatlistings.com/cgi-bin/listings/db.cgi?db=default&uid=default&view_records=1&manufacturer=yamaha&sb=33&so=
Yamaha LX210
***AS IS***A2004 Yamaha Jet Boat LX210 270HP. With the swim platform the boat is 21 ft without it is 19 ft. Comes with a trailer, Bimini, cover, and carpet. Last year had problems with the port engine's starter. Did not attempt to start this year. SC does not require license on trailer, so trailer has not been licensed. No radio. Gauges need replaced. Carpet was not used in boat, but stored separately. Battery is three years old. 2 Anchors and a couple orange life jackets. Storage payed up till the end of July if you need time to pick up.********************************************************************************DISCLAMER: USE AS GUIDELINES ONLY********************************************************************************
Manufacturer Yamaha
Model Year 2004
Model LX-210
Length (feet) 20
Length (inches) 11
Length Overall 20 ft. 11 in
Beam 8 ft
Draft (max) 18 in
Deadrise 18
Weight 2,150 lbs
Engine(s) (std) 2 engines, 3-Cylinder, 2-Stroke, water cooled
Engine (Max) 270 hp
Lubrication Oil Injection
Oil Capacity 3 gal
Fuel System (3) Mikuni Super BN 44 per Engine
Fuel Tank Capacity 42 gal
Drive Type Jet Drive
Impeller 3-Blade, Stainless Steel (16.5 pitch)
Battery Electric/Marine Grade Group 24
Jet Pump 155 mm Axial Flow Single Stage with Reverse
Intake Grate High Flow
Exhaust Wet
Storage 12 Compartments
Maximum Capacity 1,300 lbs
Maximum People 7
Sours: https://boats-from-usa.com/yamaha/yamaha-lx210-89947
Yamaha 210 LX 2003 270 HP
Completed

2003 Yamaha LX210 in FL

Time to pass on the previous ride...


Selling my 2003 Yamaha LX210 jet boat. We wanted a small and easy "starter" boat to make sure it was really something we'd get use from and it needed to be pulled by a small SUV. The LX210 did the job perfectly, but now we've moved up to a bigger one so it needs a new home.
The LX210 has twin 2-stroke 3-cylinder motors, rated at 270 HP (total). Never had any engine troubles, have put a fair amount of work into making sure it was reliable, safe and comfortable.
Blacktip decking throughout entire boat, including rear and swim platform.
Anchor locker, floor locker, ski locker, underseat storage, twin upper hatch storage, engine hatch storage. Canopy, folding mirrors, seating for seven, Yamaha mooring cover.
Has new switches, horn and bilge pump.
Includes anchor, four X2O adult life jackets, basic required safety gear, ready to run.
Has black Keelguard to protect against beaching/running aground.
Wired for most Garmin Chartplotters - transducer, power, brackets included, GPS is not... it's a huge hassle getting that transducer out without cutting the harness, so it's yours if you want it.

Replaced original steel trailer with an aluminum MagicTrail Signature series by Magic Tilt - will not rust.
All tires, bearing, hubs, chains, lights, wiring, winch, strap, bunks, and trailer guides are in excellent condition and are about a year old.

Has been flushed and cleaned after every use, always stored covered. It's not "beautiful", as we're not the original owners. But, it's reliable, clean and safe. Will happily haul seven adults and can pull just about anything for watersports. Fuel and oil systems are original, but all lines are flexible and in good shape - premixing not required. Has been regularly serviced since we've owned it.

Located in Jacksonville, FL. $12000



Sours: https://jetboaters.net/threads/2003-yamaha-lx210-in-fl.6761/
210 yamaha lx
.
Yamaha 210 LX 2003 270 HP
.
You will also like:
.
175
176
177
178
179