Last Updated on July 29, 2020
If you want to have the ultimate home bar, you're going to need to think about whiskey barrel tables. The right table is something that says you mean business, and that you sure do love your whiskey.
But more than that, a great table says you are ready to gather around with friends and family, sharing good times, great conversation, and plenty of drinks.
So check out these ten great whiskey barrel tables that you can either buy or make, DIY-style.
From great big round tables that will seat the entire gang down to end table accent pieces (and everything in between), these are the best home bar accent tables made from whiskey barrels.
10 Great Whiskey Barrel Tables
Our website is supported by our users. We sometimes earn a commission when you click through the affiliate links on our website. Learn more here.
1. Amish Made Rustic Whiskey Barrel Table with Glass Center
This rustic beauty is Amish crafted and American made. The whiskey barrel table is built from an authentic oak barrel topped with quartersawn oak wood with a clear glass center so you can see the barrel head.
As a pub table, it works great because the tabletop is wide enough to actually fit your legs underneath. Spacious, rustic, and well-made, this is the home bar table set you've always wanted.
2. Whiskey Barrel Coffee Table with Storage
Crafted in Indiana from half of a reclaimed whiskey barrel, here is a barrel coffee table that is sturdy, durable, and beautiful.
The whiskey barrel table top is made from oak and pine, and the entire piece can be stained to match your decor. Plus, the table top lifts to reveal plenty of surprise storage beneath, perfect for extra blankets or perhaps a hidden cache of the good stuff.
This is a whiskey barrel table that is meant to be enjoyed.
3. Reclaimed Jack Daniels Whiskey Barrel Table with Stave Chairs & Footrest
Made in Ohio from a reclaimed Jack Daniels whiskey barrel, this pub table set is the stuff of dreams. It has everything you could possibly want in a whiskey barrel table:
A real, genuine whiskey barrel for the base
Jack Daniel's branding
Set of four chairs
Chairs are actually MADE FROM BARREL STAVES
Solid wood table top big enough to get your knees under
Footrest for comfort
Cut out center so you can see the barrel head
Glass insert in center so the entire table is smooth
Made in the USA
It's awesome
Get it here.
4. Personalized Quarter Whiskey Barrel Table
This side table is made from the top "quarter" of a whiskey barrel and a gorgeous wrought iron stand. We'll laser etch the top with a whiskey label personalized with your name, location, "est" year, and more.
This is the perfect whiskey barrel table to go next to your favorite lounge chair! More options and styles are also available here.
5. White Oak Whiskey Barrel Bistro Table with Stand
This cute barrel bistro table is made from an authentic reclaimed whiskey barrel and completed with a solid table top and elegant metal stand.
With the removable stand, the barrel table is bar-height and people can stand around it. Without the stand, it's kitchen-table height. Your choice!
6. Handcrafted Oak Whiskey Barrel End Table
Here we have another handcrafted end or side table, this one made from a barrel top with legs that are crafted from actual barrel staves. The steel hoops are there, too, giving it a touch of the industrial/antique feel.
With a rustic oak finish that will complement any decor, this table will look great in your living room or home bar. Get it here.
7. Whiskey Barrel Table & Cabinet with Lazy Susan
This whiskey barrel is a table on the outside, and a party on the inside. By which I mean, it's a lazy susan on the inside, and that lazy susan is where you'll keep your vast whiskey selection. After all, that's where the party starts.
Fill it up with a set of custom engraved whiskey glasses, and you'll be ready to go!
8. Whiskey Barrel Head & Staves Pub Table
This pub table is made from a pair of barrel heads with long oak barrel staves for the legs. Rustic yet elegant, the rich dark stain, gorgeous oak wood, and expert craftsmanship come together to create the perfect table for your kitchen or home bar.
9. Whiskey Barrel Table Cabinet (Or Sink, Or Fire Pit, Or…)
This whiskey barrel side table also serves as your liquor cabinet. That's the best of both worlds, if you ask me.
But wait, there's more! This shop will take a reclaimed whiskey barrel and turn it into just about anything you could want. Check it out; you could have a:
Sink
Chest
Trash can
Rotating bar shelf
Chair
Cabinet with door
Half-barrel cabinet
Even a fire pit!
Get a couple barrels with different functions, and that will be a great way to round out your home bar decor with an upcycled barrel theme.
10. DIY Whiskey Barrel Table
Now that you've seen all the best whiskey barrel table styles and designs, how about trying to make one for yourself? With a bit of work, you can make your own whiskey barrel table, decorate your home bar, and impress your friends. Here's how.
How to make your own whiskey barrel table.
Get a reclaimed barrel

If you have access to whiskey barrels locally, that will be your most affordable option. Check with local distillers, or keep your eye on Craigslist. To get started right away, you can order a reclaimed 34″ (kitchen table height) whiskey barrel here, a Jim Beam barrel here, or barrels from several other major distillers here.


Clean & dry the barrel

You'll want to make sure the barrel is properly cleaned, dried, and prepped. Start by cleaning your barrel with deck cleaner, then rinse off with water. Once it dries, sand the entire exterior (going with the grain) to smooth it out and prep it for your stain. Use a clean cloth to wipe off the dust.

Stain the barrel

Choose a stain to match your decor. Tape off the metal components using painter's tape and apply the stain, wiping off excess stain as you go along. Leave to dry, and apply additional coats until you reach the color of your liking. For a natural look, leave as is. For a polished, finished look, add a coat of polyurethane evenly to the entire barrel. Remove tape.

Measure for the tabletop

You'll want to make the tabletop at least as large as the barrel top, probably a lot larger. Measure the diameter of the top of the barrel. Then decide how large you would like the tabletop to be. For a bistro-style table, you'll want at least a 16″ overhang all the way around, which means that you will need to add 32″ (16″ for each side) to the diameter of the barrel top. If you are going for a larger table, consider a 20″ or even 24″ overhang. For smaller serving and end tables, a 2-6″ overhang should suffice.

Make the tabletop

3/4″ plywood is affordably and easy to work with, so that's what we'll be describing, but you can also choose oak for consistency and authenticity. Trace out the circumference of your table on the board with a beam compass, then cut using a jigsaw equipped with a fine finish blade. Sand the edges of your new cut to dull the side, as this will make the table more comfortable.

Stain the tabletop

Stain the tabletop piece to match the barrel. Follow the same steps as above, but you'll probably need a few extra coats to match the aged wood of the barrel. For optimal results, stain both top and underside of the table, and don't forget the edges. Finish with a polyurethane coat all the way around.

Attach barrel and tabletop

Use your beam compass to trace the outline of the barrel onto the underside of the tabletop. This will help you center the board correctly when attaching it to the barrel. Next, apply a bead of wood glue to the top edge of the barrel, then place the tabletop, making sure the outline you traced is facing down and aligned with the barrel top. Finally, allow the glue to dry for a minimum of 24 hours. For additional security, you can drive some nails or screws down into the barrel. Fill the holes with wood filler or cover with a lazy susan centerpiece.

Make it unique

You can also use your handyman skills to cut out a section of the barrel and place a shelf inside. Save the cut out pieces and reassemble them if you want to make a cabinet door, or leave off for a truly "open" bar. Find inspiration from all the whiskey barrel tables listed above!
---
There you have it! The ten best whiskey barrel tables that you can buy or DIY. I hope you've found something perfect to complete you home bar or man cave decor. For more inspiration, check out all these personalized home bar decor accents from Northwest Gifts!
Pin It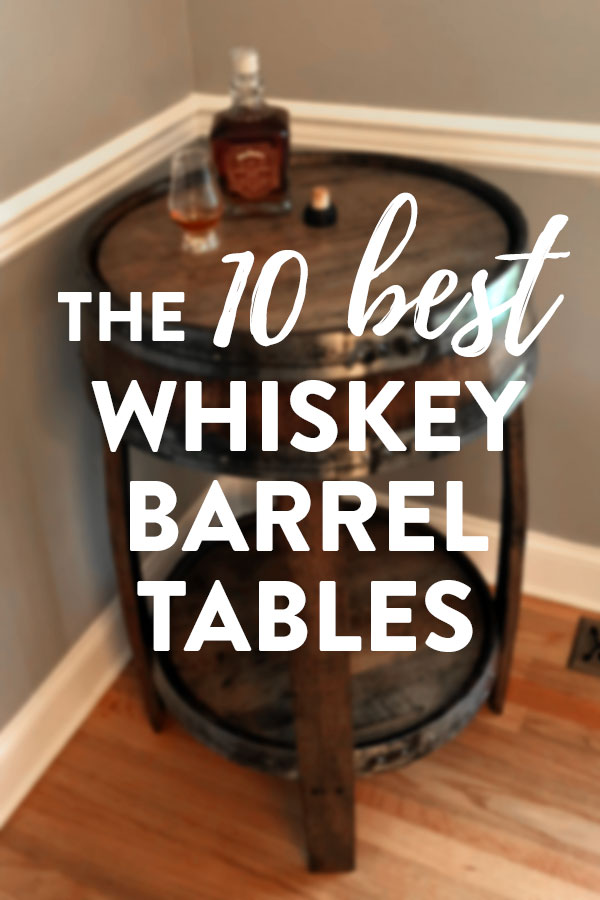 Sours: https://allgiftsconsidered.com/10-great-whiskey-barrel-tables/
WINE BARREL BUFFET RISER
Checking item availability. Please wait.
Adding Item to Cart. Please Wait.
Catalog / Additional Serving / WINE BARREL BUFFET RISER
Item Pricing
WINE BARREL BUFFET RISER

A gorgeous alfresco reception in soft tones at beautiful @fsscottsdale . . . @brighteventrentals @mintgreendesign @revelweddingcompany @elysehallphotography...

Our Gold Oscar flatware always makes an elegant statement! · · · Rentals: @brighteventrentals Photography: @colsongriffithphotography,...

Our Galaxy Ghost Chairs added a modern touch to this sophisticated reception at @ritzcarltonsanfrancisco. . . . Rentals: @brighteventrentals Planning...
Sours: https://bright.com/rental-product/wine-barrel-buffet-riser/26729
METAL RISER
Weight
20 lbs
Dimensions
22 × 22 × 8 in
Metal Color
Hammered Bronze, Hammered Pewter
product_disclaimer
20 gauge metal, durable DuPont powder coated finish
Size
20 3/8" D x 5 1/2"H, 21 5/8" D x 8"H
SHIPPING AND DELIVERY POLICY
The Oak Barrel Company.com primarily uses LTL (Less than Truck Load) carriers. Smaller items are shipped via UPS or FedEx.
The Oak Barrel Company.com primarily uses LTL (Less than Truckload) carriers. Smaller items are shipped via UPS or FedEx. Shipment of larger items will arrive at your location via semi-trailer and will most likely be delivered on a pallet. Products secured on pallets may require off-loading by hand (or a forklift). Some of our products are heavy, so ensure that you have the assistance of another person and the appropriate equipment to allow for an easier (and safer) unloading process. Prior to delivery, the trucking company will call to arrange a day and time for delivery. It will be necessary for you (or your representative) to be onsite at the time of the delivery to unload the items.
Prompt response to the delivery company (should they contact you) will expedite the delivery of your product. Inspect the items when they arrive. If an item is damaged DO NOT REFUSE DELIVERY! Instead, please receive the shipment and contact The Oak Barrel Company.com immediately. Note and describe the damage on the Freight Bill of Lading (the driver will have you sign this document). Please contact The Oak Barrel Company.com and our team will file a claim with the shipper and ship a replacement upon notification from the shipper. If you have any questions regarding shipping, please email us.
RETURNS, REPLACEMENTS & EXCHANGES POLICY
You must report any product errors within 48 hours of receipt. All orders are fully insured by
The Oak Barrel Company, LLC. After the materials have left the facility, it is the trucking company's responsibility to handle with care. Damages are rare, but if they do occur, sign and mark the problem on the Bill of Lading. DO NOT REFUSE THE DELIVERY and contact The Oak Barrel Company.com immediately. Merchandise that has been altered will not be accepted for return or exchange. Returns will be accepted only if the returned item is sent within 10 business days of the delivery confirmation date. If your return is in like-new condition, you may exchange your item for the different finish or product. A 35% restocking fee will be deducted from the exchange value. If additional costs apply for the price difference you will be contacted for your payment information. "Custom" orders and "Sale" items are final sales, we do not accept returns. A full refund of the purchase price of the returned item(s), excluding the shipping and 35% restocking fees, will be made promptly upon receiving the merchandise in the same condition in which it was shipped. You must notify The Oak Barrel Company.com of any return so our team will be expecting your package. Returns sent without The Oak Barrel Company.com prior knowledge will be refused. The Oak Barrel Company.com does not refund shipping cost or credit card fees. These will be deducted from the total amount of your refund.
PRIVACY & SECURITY
o process transactions your information, whether public or private, will not be sold, exchanged, transferred, or given to any other company for any reason whatsoever, without your consent; other than for the express purpose of delivering the purchased product or service requested.
DISCLAIMER
We proudly use reclaimed materials in all of our designs.
To process transactions your information, whether public or private, will not be sold, exchanged, transferred, or given to any other company for any reason whatsoever, without your consent; other than for the express purpose of delivering the purchased product or service requested.
Barrels vary by the cooperage, size, color and wood grain characteristics may slightly vary. Polyurethane finished wood products are not intended for extended wet weather use. All weather outdoor finish is available. Items made with our outdoor finish are not intended to be stored outside for extended periods of time.
Please contact us with any questions or concerns.
Sours: https://www.theoakbarrelcompany.com/product/metal-riser/
DIY Wine Barrel Liquor Cabinet! // Part 1
You may have tried making crafts from wood pallets, or even a pallet bed, but these ideas will take your reclaimed wood crafting to a new level! If you love wine and repurposing, we have just the idea for you. Not only is this trend beautifully rustic, but it's also a clever idea for incorporating reclaimed wood with a story (and it will fit right in with your rustic living room decor!). Though traditionally used for storing and fermenting wine, whiskey, and beer, there are plenty of other ways to use oak barrels, whether you keep the casks intact or deconstruct them and use their wooden staves and metal hoops to create something totally new. We found the best furniture, candleholders, home decor items, and more that you can DIY or buy. You can even make something practical like a trash can!
Look online for old barrels. Try searching "oak barrels" on Etsy, but be sure to read the descriptions so you know exactly what you're getting. Or contact your local winery, distillery, or brewery. They just might be willing to sell you one! It would be extra-special to create something from one of your favorite makers.
1Wine Barrel Rocking Chair
This beautiful heirloom-quality rocking chair is handmade from wine barrels by California-based Noble Made.
Get the details at NobleMade.co.
2Whiskey Barrel Outdoor Table
4Whiskey Barrel Bar
$499 AT ETSY
This whiskey barrel makes an excellent bar or display shelf for collectibles.
5Whiskey Barrel Trash Can
6Rain Barrel
Buck Firth of Overland Park, Kansas, shared this clever idea. He repurposed a wine barrel into a rain barrel for an attractive alternative to a plastic store-bought version.
7Barrel Staves Chairs
What's better than a pair of Adirondack chairs? Two made of repurposed barrel staves.
Shop at hungarianworkshop.com.
8Wine Barrel Wreath
Make your next wreath out of a wine barrel hoop and some succulents.
Get the tutorial at thisgrandmaisfun.com.
9Barrel Stave Candleholder
$80 AT ALPINEWINEDESIGN.COM
This beautiful votive candleholder is made from an authentic wine barrel stave with bands. It makes a perfect centerpiece for your dining table.
10Wine Barrel Serving Tray Lazy Susan
$149 AT ETSY
This beautiful serving tray is crafted from an authentic barrel hoop. With a lazy Susan base, it's pretty and practical. Personalization is available.
12Vertical Wall Wine Rack
$74 AT ETSY
Store up to seven bottles of wine in this vertical rack made from a reclaimed wine barrel stave.
13Wine Barrel Floors
Who knew you could even incorporate wine barrel wood into your floors? We love the detail it adds to the lobby of Fess Parker Wine Country Inn.
Katie BowlbyKatie Bowlby is Deputy Managing Editor, Digital, at Country Living, where she covers gift guides, crafts, and TV shows like Yellowstone.
This content is created and maintained by a third party, and imported onto this page to help users provide their email addresses. You may be able to find more information about this and similar content at piano.io
Sours: https://www.countryliving.com/diy-crafts/g4468/barrel-decor-ideas/
Barrel riser wine
Half Wine Barrel Riser Set of 2
Is Ava's Wholesale Bridesmaid Program open to the public?
Our wholesale ordering is a "Wifey Club" perk for paying customers to enjoy service after the sale as a bride as well as after the wedding as a Wifey.
What does Ava's Bridal offer for bridesmaid ordering in store if I purchased my dress at another store?
We offer lots of great options for all brides! Click Here to start the conversation with a bridesmaid form. We will chat with you to help you start the process at Ava's for fashion forward bridesmaids at moderate price points.
What are the retail price ranges of your bridesmaid dresses?
Our in store samples range from $180 – $250 + (Depending on designer. Sequin dresses do run top of the price range). However, many of the options we can order online are $40.00 – $60.00 OFF these prices per dress when ordering with Ava's bridal discounts.
What are the typical cost savings for wholesale bridesmaid dresses at Ava's?
Our average savings is $40.00 – $60.00 per person when ordering wholesale.
How can I view prices online?
Our wholesale savings on bridesmaid dresses are for Ava's Brides to enjoy before, after and during the wedding planning. Please Click Here to chat with a member of our team. Please have the link ready of the dress you wish to order(Designer name, designer style number, color and size).
How can I use my Ava's wholesale account to order a bridesmaid dress for a friend's wedding?
Click Here to start the conversation and use your Wifey Club perks to order from your account.
What services does Ava's Bridal offer to help me get the process started in store with bridesmaids?
We offer a color consultation in store to help you begin the process of bridesmaid planning. Click Here to start the conversation of your color consultation appointment.
My bridesmaids live all over the U.S., what are my options with Ava's?
Let's schedule a virtual consultation from the comfort of your home. We can also help your bridesmaids in the same manner and give each person a personalized, FaceTime experience. Our bridesmaid customers have great virtual resources at Ava's. Click Here to request more information & get started!
How can I view a gallery of items available for Bridesmaid dresses online?
To view a gallery of retail options in store, Click Here to request more information and get started. To view a gallery of wholesale options in store or online as an Ava's Wholesale Order, Click Here to request more information and get started!
How do I schedule a time to make an appointment to shop?
Click Here to request more information and get started!
Sours: https://avasbridalcouture.com/product/half-wine-barrel-riser-set-of-2/
Hardtwood / Wine Barrel Cabinet
.
You will also like:
.
190
191
192
193
194