When Lucy and Steve Crowley e-mailed Ask TOH, seeking help enhancing the dining room walls in their nearly-70-year-old Colonial Revival home in Cincinnati, the space already had decorative baseboard and chair-rail moldings. They thought about changing the look with wainscoting, but Tom Silva had a plan to get that look with less fuss. "Traditional stile-and-rail wainscoting is a nice detail," he says, "but it's expensive, and in a finished room it usually means making a mess of your molding."
Tom's trick to getting the wainscot look for less keeps the existing molding in place and uses the wall to stand in as the frame and panel. He builds rectangular picture frames from base cap molding, then spaces them evenly around the room for a custom look, attaching them to the wall with nails and glue. Real wainscoting often calls for twice the work: building frames from square stock around a decorative panel. Tom's easy DIY wainscoting solution can finish 33 linear feet of wall in a day. The base cap stock adds architectural detail and texture to the wall without busting the budget—it runs $1 to $2 per linear foot for primed pine, and comes in a range of styles to complement moldings you already have.
Follow along to learn how to install wainscoting the easy way.
Step 1
Pick Your Look
Base cap molding, which has flat sides that rest against the baseboard and the wall, is sold in 8-foot lengths starting at about $1 per linear foot. Home centers usually stock profiles made from primed pine or MDF, though PVC is also an option for outdoor projects. Styles range from simple coves to ornate ogees. Panel molding, which can also be used for wall frames, is usually wider, thicker, and sometimes includes a rabbet that fits over a piece of square stock, giving the frame a more substantial look.
Here are some common base cap profiles.
A: 3⁄4-by-1 3⁄8 primed MDF; $1.30 per linear foot
B: 5⁄8-by-1 5⁄8 pine; $1.22 per linear foot
C: 3⁄4-by-1 1⁄4 aspen; $1.50 per linear foot
D: 11⁄16-by-1 3⁄8 primed poplar; $1.25 per linear foot
E: 3⁄4-by-1 1⁄4 aspen; $1.62 per linear foot; all from The Home Depot
Step 2
Size Up Your Wall Frames
Measure the width of the window, including the casing. Divide the number in half for a double window.
Step 3
Take the Distance Between the Baseboard and Chair-Rail Molding
Then subtract 7 inches. This accounts for a 3 ½ inch space top and bottom, or the width of two 1x4 "rails." The calculations in Steps 1 and 2 provide a rough frame size.
Step 4
Divide the Wall Length by the Rough Width of a Frame
Then stretch or narrow the rectangles until can you can fit full frames that start and end with space for a "stile." Tom likes an odd number of frames; the ones he installed here are about the width of a window sash.
Step 5
Determine Number of Wall Frames
Note each wall's length on paper. Tom follows the steps on the previous page to determine the width of the wall frames. Every wall will have one more stile than wall frame. Chances are you won't get a whole number when you divide the wall by the rough frame size, so adjust the frame's width until you do. Repeat the process on the remaining walls and jot down how many panels the room needs.
Step 6
Cut the Parts
Set the miter saw 45-degrees to the right. Measure between the baseboard and chair rail, subtract 7 inches, and mark that length on the saw stand from the blade's left face. With the widest part of the molding against the fence, miter the profile's left end, slide the wood to the left ½ inch past the mark, and make another cut. Cut the remaining vertical pieces the same way. Now swing the saw 45-degrees to the left, align the molding's left long point with the mark, and trim to final length. Trim the horizontal parts the same way according to the wall frame's width.
Step 7
Glue Up the Miters
Gather the moldings onto the workbench and dry-fit a panel together to ensure that you have the right parts. Add wood glue to one end of a miter joint, as shown.
Step 8
Make a Corner
Bring the miter joint together while holding both pieces of wood down on the workbench, as shown. Work the miter back and forth to distribute the glue. Wipe any squeeze-out with a damp rag or your finger.
Step 9
Hold the Joint with Nails
Drive a pair of 1-inch-long 23-gauge nails at a slight downward angle from one side of the miter into the other, then repeat in the opposite direction. You can use 1-inch-long 18-gauge nails, but you'll have to fill the holes with putty before painting. Once you've made a corner, complete the wall frame by gluing and nailing the last two pieces in place.
Step 10
Sand the Squeeze-Out
Make all the wall frames first, which gives the glue that squeezed out of the miter time to tack over. Before installing the DIY wainscoting, rub each miter with sandpaper to remove any glue, as shown. Don't worry about the holes left behind by the 23-gauge nails—paint will fill those spots.
Step 11
Use the Spacer Block
Place a 1x4 scrap tight in a corner of the room, then strike a line, as shown, to represent the position of the wall frame's side. Remove the scrap, but keep it nearby to set the top edge of the wall frame.
Step 12
Glue the Wall Frames
Keep your nailer nearby. Add a bead of wood glue along the back side of the panel.
Step 13
Attach the Panels
Hold the spacer block underneath the chair rail. Butt the top of the wall frame tight to the spacer and even with your pencil lines on the wall. The spacing underneath the wall frame should be the same, which you can check with a second spacer block. Drive 23-gauge nails every 5 to 8 inches along the molding, as shown, or space 18-gauge nails about every 10 inches.
Step 14
Finish the Room
Reposition the spacer block for the next frame and continue working around the room. Add putty to any 18-gauge nail holes, then sand them smooth. Fill in any gaps between the frames and the wall with acrylic caulk. All that's left to give the wall frames the look of real wainscot: Paint the lower wall the same color as the molding to unify the parts.
Sours: https://www.thisoldhouse.com/walls/21017565/how-to-install-easy-diy-wainscoting
DIY wainscoting just got really easy!
If there's something that's stayed consistently popular in interiors in the last few years, it's wall paneling. Whether it's whole walls of VJ or half walls of a more traditional wainscoting, there's a solution for everyone and there's nothing quite like it for adding instant depth and character to your walls, literally!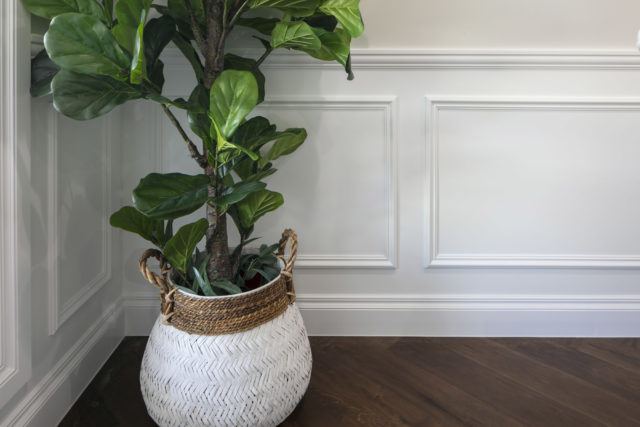 And as we all seem to have been gripped by home improvement fever in lockdown, Intrim, the leaders in timber mouldings, got their thinking caps on and came up with a really simple DIY solution, sent in the post in a tube! Along with a step-by-step video tutorial, it has everything you need to get cracking by yourself.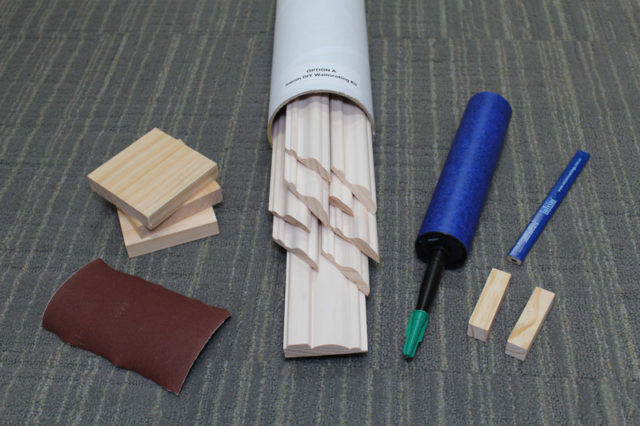 "This is a product we have considered for some time as we often hear from customers that they cannot find a carpenter to install small amounts of wainscoting in their home or they don't have the budget for a big reno and would like to install it themselves," says marketing and brand manager Candace Brigden.
"Many people are DIY inclined but don't have access to expensive power tools, so we developed these kits that have most of the mouldings pre-cut, ready-to-go and an adhesive that just sticks the trim right onto the walls."
Candace notes we're spending much more time in our homes, looking around to see what we can fix, change or beautify. "It also gives people a great sense of pride and satisfaction to see what they have been able to achieve and create themselves."
Wainscoting is the perfect solution for all areas of the home from a feature wall in your baby's nursery to the length of your hallway!
Does it really look quality though? Candace says yes, because what you receive in these packs is exactly the same premium quality inlay mould and chair rail you would receive in a regular order from Intrim. "They look just as beautiful once installed, the only difference is this way you can DIY. The Intrim team have spent numerous hours brainstorming how to simplify the installation process so that this is within the reach of even a beginner DIY-er."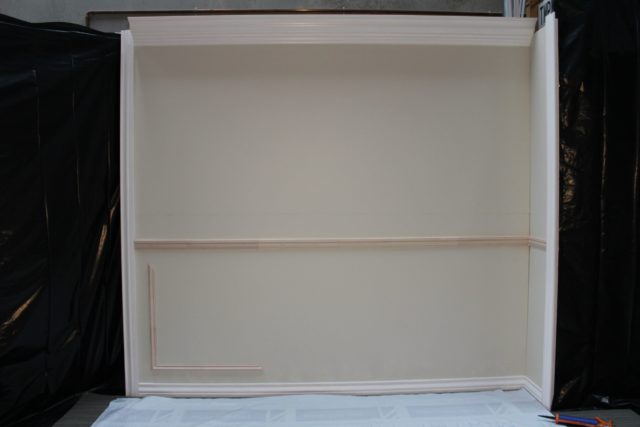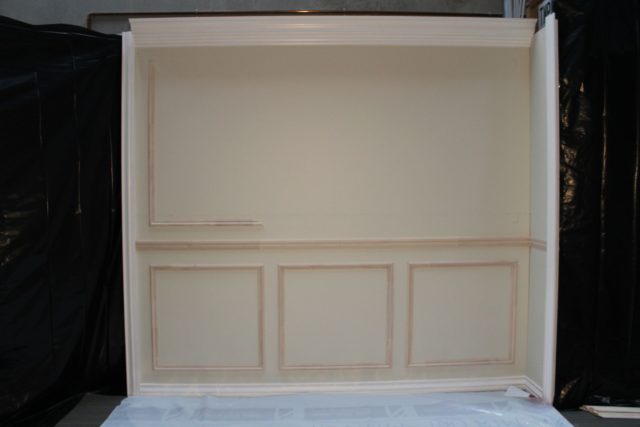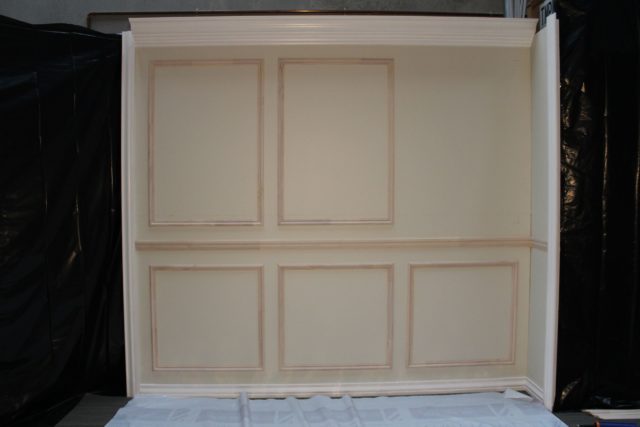 With their expert knowledge, they've streamlined the steps and taken out some of the guess work around cutting, by offering pre-cut lengths, and easy to follow formulas.
The easy-to-follow installation video (above) will really help guide you through the process.
"This is something very different to what we have done in the past so we probably needed this climate as the push to get it out there," Candace adds. "We're hoping people love it as much as we do and it puts beautiful mouldings in the hands of many more people who previously wouldn't have had it within their reach, or possibly even considered it."
The inlay mould and chair rail they've chosen will suit a wide variety of styles from Hamptons and Scandi, to Colonial and Edwardian, and everything in between.
"It will elevate the look of the home and make it much more classic. Wainscoting adds depth, character and a luxurious design feel you cannot achieve through other means. We're hoping people really take hold of it and get creative too, customising it for their own homes. The only limit is their imagination and creativity!"
Anyone really can give this a go! "We have made it as simple as possible through the products in the kit to the installation instructions and video we prepared. Best of all, you don't need any serious tools and there is no nailing required!"
Their top tip for a nervous beginner is to spend your time planning. Make sure your measurements are correct, and double (even triple!) check before installing on the wall. You may even like to sketch up a little plan of the wall with your measurements to follow to help visualise and keep you on track.
The colour paint you finish the wall and mouldings with will have a major impact on enhancing the end result, so carefully consider your finishes too.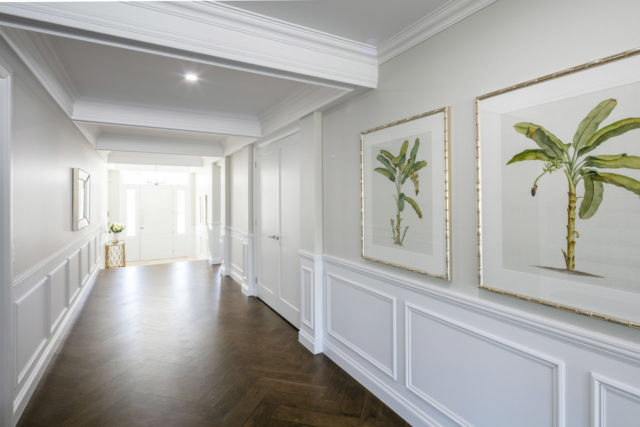 If you are looking for a more traditional look, stick with just using the Kit A, which gives you the chair rail and inlay mould on the bottom section of the wall. For a more classic or modern look, install Kit B too, which adds further inlay mould, or 'frames' as some people call them, on the top section of the wall.
You can do as much or as little as you like. "If you have a smaller space, we would recommend installing on a feature wall/s, such as two or more blank walls in a living room or the wall where the head of your bed sits in a bedroom.
"If you want to tackle a larger area, make sure the wainscoting is installed to flow through the spaces. For example, you may want to make an impact to your entry and install a full wall of top to bottom wainscoting, but make sure you continue that down the hallway too, even if it is just on the lower section of the walls. Our product team are always here to bounce your design ideas off too and help you plan your design."
For more on Intrim's DIY wainscoting kits
Intrim are so excited to see your transformations that they're giving one customer the chance to win back the cost of their wainscoting kits up to the value of $500! For more information.
NEED INSPO? Timber mouldings totally transform small 70s apartment
Sours: https://theinteriorsaddict.com/diy-wainscoting-just-got-really-easy
Wainscoting Kits
Wainscoting Kits, Installed by You or By Your Professional!
Wainscoting Definition
Here is the definition of wainscoting.
Welcome to Wainscoting
Are you curious about wainscoting? This elegant detail makes a classic contribution to high traffic areas in the modern home. What started out in the 16th century as a necessary cover-up for damp and chilly stone walls is taking its place in fashionable homes of our day. This classic addition to your living area will bring warmth and style to any room: family room, nursery or bathroom. Before you draw a line across your dining room wall, it helps to understand what is on the market to help with this task. There are also multiple wainscoting kit options as well, you will see panels, planks, rails and stiles for sale as individual pieces, ready for you to saw, mitre, shape and secure. Finishing the installation can be done with paint or varnish to create the effect you hope for.

Even commercial carpenters are fond of wainscoting kits. These packets include matching material of coordinating sizes and shapes to do a particular room. Wainscoting usually covers the bottom third of the wall and it has an uneven number of panels mounted along any given side of the room. Check out the placement of doors, windows, outlets and other immovable pieces while you make your plans. Wainscoting must be tailored around the existing architecture of the room.
Wainscoting panel kits
When you decide to use a panel kit for your wainscoting, you work directly with the supplier to design and measure the area which you want to be covered by wainscoting. Panel kits are put together with all the needed pieces pre-cut and sometimes pre-finished for the project you are planning in your home. This is an affordable solution since a 15 by 15 room can be done under $300 if you are handy yourself. They come in varied styles: raised or recessed, classic or shaker, with several variations on these.

Your order will require careful planning and measuring so that when the pieces arrive at your home, they can be simply secured together with minimum adjustments and cuts. While the panel kit is being assembled and shipped there is time to prepare the area. Baseboards or tiles will need to be removed. Electrical switch plates and towel racks or grab bars will need to come down. Marking the studs in the room while you wait will save time once the kit arrives. Quick repairs to the wall surface and removal of door jams and window frames within the planned wainscoting simplify the process when the kit arrives. The pieces are secured to the wall with nails or glue. The decorative batten gets nailed at an angle. Caulk that will accept paint finishes off the project.
Beadboard wainscoting kits
If you love the cozy cottage feel of beadboard you might choose it for your wainscoting. Beadboard can be found in panel kits where it is often chosen for the rails and stiles. There are really two kinds of beadboard. The authentic beadboard comes in narrow strips which have a tongue-and-groove assembly system milled right into the lumber. This style of beadboard enables the skilled carpenter to work with individual pieces when doing the cut-outs for the wall's immovable fixtures and the angle cutting for making the corners of the room fit snugly.

Contemporary beadboard is more often sold like a sheet-like panelling where the beadboard design is etched on one side. Your project planning can consider each option with its unique qualities. You can ask for beadboard panelling in your wainscoting kit, check to see what finish it has, so it will match the framing you plan to use above and below the wainscoting. You might just want a beadboard design on the rails and stiles to make the framing attractive.

Sometimes beadboard is found on ceilings and walls of old churches and cottages. This construction has certainly reduced the maintenance costs over time for these structures. Reusing this recovered wood in wainscoting or the space between the sink and kitchen cabinets brings a warm feel to the room. Beadboard kits can be modified by finish paint to play on your style, whether you are looking for a country feel or contemporary style, throughout.
Raised panel wainscoting kits
When you choose a raised panel wainscoting kit you are choosing a particular style of wainscoting. The design of wainscoting consists of a panel that appears framed all the way around. There are times when you or the professional installer realizes that the panel will not attach firmly to the wall. In this case, strips called lathing are placed behind the panel to keep it secure. This creates an edge where the inner panel approaches the stile. All Elite Trimworks stiles have a dado to allow each panel to fit into your kit securely and smoothly.

When you choose a raised panel wainscoting kit you have a variety of woods and a variety of finishes. You can also get unfinished wood that you can finish yourself. Working with our company to design your project gives you options beyond installing just wainscoting as we display examples of walls installed all the way to the ceiling or even on the ceiling itself. As we always recommend, due diligence is required. Make sure references are available to determine that your investment is secure as possible.
Picture frame wainscoting kits
By now you can see that wainscoting kits give you, the homeowner or contractor, a much richer array of options when adding this feature to any home or facility and office. You are no longer limited to the stark simplicity of the shaker design where the flat square-cornered panel meets the flat square corner of the rails and stiles. Trim work often called an appliqué is available in different patterns. Some attach this trim work right on flat walls to make a rectangle that breaks up the area of the wall in a large room. This trim work can also be used in the design of your wainscoting.

Along with the right shoe trim and casing, your applique trim can be custom designed to suit any style room. There are unlimited possibilities with this trim. Whether you are looking for a formal feel or contemporary this application delivers your every need. Each piece, depending on our applique trim choice, will be at a longer length, than you require for each side. Depending on your design and style preference we work with you to determine how large or small each applique finished piece will be.
MDF wainscoting kits
Medium-density fiberboard (MDF) is a reasonable choice for your wainscoting kit. This manufactured wood is a sound investment for any indoor home project. While it comes from gluing and pressing the individual fibres of softwood you will find it much stronger and smoother than particleboard. The way it is constructed creates a finish that takes paint well. Another advantage of using MDF wainscoting kits is that this product is not as likely to warp like real wood might. It can be a great choice for the budget-conscious.

MDF wainscoting kits have allowed the average wainscoting kit prices to decrease immensely while being environmentally conscious. All MDF trims and panels come to your fully primed and ready to accept your paint colour of choice. Because of the availability and common features to wood, MDF is easily worked with and customized on-site, to suit every application.
PVC wainscoting kits
Polyvinyl chloride (PVC) a somewhat inexpensive plastic is often used for pipes. These pipes keep the water in the home from further lead contamination. Because it is already found in kitchens and bathrooms, you will not be surprised to find that PVC is also available in wainscoting kits. This synthetic resin of polymerized vinyl chloride makes a maintenance-free wainscoting. This sturdy vinyl wainscoting product was originally finished in the familiar white color. Instructions are available about how to paint it with acrylic latex exterior paint. Now you can also find this product pre-finished in wood tones that bring warmth into your home.

When working with PVC wainscoting kits on an interior application your colour options are endless; however, when painting PVC on any exterior application you will have to keep in mind the dark colours are not suitable and the light factors are always taken into consideration. PVC allows endless options on your application restrictions that, although once an obstacle, now is an achievable cost-effective option.
Vinyl wainscoting kits
Vinyl wainscoting kits have many advantages over other kinds of wainscoting materials. Supply and demand have priced these nearly indestructible products higher than the wood kits because they are still quite scarce. Using a product that cannot rot or attract pests is making an investment that will increase the resale value of your property when you need to move on. When you locate these materials you will find different designs and shades to decorate your home.

Surprisingly over the past years, Vinyl wainscoting has been produced for demand. As a supplier, we have invested in this product to keep costs low for you the homeowner, supplier and contractor. Making this an available option to use throughout any project without overbearing you with the costs you may have expected for such a durable product with outstanding longevity.
DIY wainscoting kits
Though you may think that installing wainscoting yourself is impossible you will be pleasantly surprised at how manageable it can be. With our guidance and tools, online and over the telephone support, we are here for your every step of the way. Of course, there will be basic tools required for any project. With installing wainscoting kits yourself you want to make sure that you have a compound mitre saw, compressor and nail gun, along with your nails. With these items, you are well on your way to becoming your very own wainscoting installer!

Having a contractor may be the easiest and most stress-free option for you, especially if you are not comfortable handling and using tools. Should this be the case, we always recommend using a contractor for your project. If using tools is natural to you and you're on a tight budget, doing wainscoting yourself is not a far-fetched goal. We here at Elite offer you all the guidance and tips you need for your project success. With multiple how-to guides and videos available there is no question that will go unanswered. The most important thing when establishing your project is to determine the style of wainscoting you will need. From this point, moving to each new step in the do it yourself project will be seamless.
Sours: https://www.elitetrimworks.com/
How to Install DIY Wainscoting Tutorial Video - Picture frame style moulding FOR BEGINNERS
Cheap Wainscoting Kits Recipes
HOW TO INSTALL WAINSCOTING CHEAP AND EASY - OURHOUSE DIY ...
2016-02-13 · DIY Home Decor - How To Install Wainscoting Cheap | Our HouseSubscribe: http://tinyurl.com/hdazdhlDIY - Simple and Cheap Wainscoting Room DecorFinally I'm ba...
From youtube.com
Author OurHouse
Views 49K
See details »
---
SUPER EASY DIY WAINSCOTING | THE BEWITCHIN' KITCHEN
2016-12-11 · Floor to top of wainscoting: 36 ... 5 DIY Detox Bath Recipes. Painting Kitchen Cabinets: How I Transformed My 1970's Oak Cabinets. 42 comments on …
From thebewitchinkitchen.com
Estimated Reading Time 2 mins
See details »
---
DIY BOARD AND BATTEN WAINSCOTING - FABULESSLY FRUGAL
2018-11-01 · I've seen board and batten wainscoting go 1/3 of the way up the wall, 2/3 up, and all sorts of other different heights. I chose to have my paneling go above the light switches, which is pretty close to halfway up my wall. You can do whatever you think will look best in your space! Decide on the panel size: Carefully measure the wall that you are working on. You need to figure out how many ...
From fabulesslyfrugal.com
Estimated Reading Time 9 mins
See details »
---
INEXPENSIVE WAY TO DO WAINSCOTING | BUDGETING MONEY - THE NEST
Most wainscoting falls between 32 and 36 inches high, so measure and mark the area to paint. Cover the lower section of the wall with white paint. Top the painted area with a flat piece of 1/4-inch plywood cut to about 4 inches wide. Nail the plywood to the wall and paint it to match the bottom section of wall. The plywood isn't as expensive as chair rail molding, but succeeds in creating a ...
From budgeting.thenest.com
Author Shala Munroe
See details »
---
HOW TO MAKE A DIY WAINSCOTING ACCENT WALL
As far as cheap DIY home decor projects go, this one is a winner, so keep reading to learn how to DIY Wainscoting! This post contains affiliate links, which means I receive a small commission at no extra cost to you, if you make a purchase using that link. What Is Wainscoting? Wainscoting is wooden paneling that lines the lower part of the walls of a room, usually at chair rail height but not ...
From puddlesandpine.com
Estimated Reading Time 4 mins
See details »
---
DIY WAINSCOTING JUST GOT REALLY EASY! - THE INTERIORS ADDICT
2020-05-05 · Recipes; Travel; Parenting; Foodie Friday: Beef and lemon myrtle pho; What sort of house does $1 million Australian dollars buy you overseas? Jobs. Advertise on our Job Board; Job Board FAQs for advertisers; Close. Search this website. DIY wainscoting just got really easy! May 5, 2020 Leave a Comment. Facebook 0 Pin 0 0 Email 0 Tweet 0. If there's something that's stayed consistently ...
From theinteriorsaddict.com
Estimated Reading Time 5 mins
See details »
---
REMODELAHOLIC | INEXPENSIVE BOARD AND BATTEN WAINSCOT HOW TO
2012-06-28 · Find out how you can add a wainscot to a room like Rachel did: inexpensively and beautifully. Wainscot how to. Submitted By: Our Small-Town Idaho Life. My name is Rachel and my husband and I are building our first home ourselves here in beautiful southeast Idaho. Because my husband is a builder and we save on labor costs, we have been allowed ...
From remodelaholic.com
Reviews 22
Estimated Reading Time 3 mins
See details »
---
60 WAINSCOTING IDEAS - UNIQUE MILLWORK WALL COVERING AND ...
2018-02-02 · While basic wainscoting can be created by building frames and panels, building an entire wall worth of paneling in one shot is a recipe for disaster. You can make this project more manageable by building separate, open-ended frames that will butt-up to each other, creating the effect you're looking for. Another option may be cutting and fitting individual boards one at a time, and foregoing ...
From nextluxury.com
Estimated Reading Time 9 mins
See details »
---
EASY WAINSCOTING - CARRIE THIS HOME
2013-11-01 · Much less expensive than traditional wainscoting. Looks just like the real thing! A lot easier to work with! An entire roll of beadboard wallpaper covers up to 50 feet and it costs about $20.00! We changed the game plan and decided to use the paintable breadboard wallpaper instead of …
From carriethishome.com
Estimated Reading Time 3 mins
See details »
---
TOP 10 BEST CHEAP WAINSCOTING KITS REVIEWS OF 2021 – EYERANIAN
Top 10 cheap wainscoting kits of 2020 on the market. Product Names Product Images Check Price #1 Ekena Millwork WPKP56NGD PVC Wainscoting Kit, 56″H, Factory Primed White View Product #2 Ekena Millwork WPKP56X04DS Adjustable Wall Panels, Deluxe Shaker 8′ PVC Wainscoting Kit, Heights up to 56″ (12″-15″), Factory Primed White View Product #3 Ekena Millwork PNL20X20AS-01 …
From eyeranian.net
See details »
---
AMAZON.COM: WAINSCOTING KIT
1-48 of 212 results for "wainscoting kit" Price and other details may vary based on product size and color. Manor House 8 Linear ft. MDF Overlapping Wainscot Paneling Kit. 4.6 out of 5 stars 15. $134.29 $ 134. 29. Get it Wed, Oct 20 - Mon, Oct 25. FREE Shipping. More Buying Choices $134.28 (12 new offers) Allwood Beaded Knotty Pine Wainscot Kit, 18 Lineal Feet of wall length . 4.0 out of 5 ...
From amazon.com
See details »
---
WAINSCOTING KITS - WAINSCOTING - THE HOME DEPOT
What are some of the most reviewed products in Wainscoting Kits? Some of the most reviewed products in Wainscoting Kits are the House of Fara 5/16 in. x 5-29/32 in. x 32 in. - 8 lin. ft. MDF Overlapping Wainscot Interior Paneling Kit with 274 reviews and the House of Fara W96WP 12 sq. ft. White Vinyl Reversible Interior/Exterior Paneling (3-Piece Per Pack) with 170 reviews. Explore More …
From homedepot.com
See details »
---
WAINSCOTING KITS I ELITE TRIMWORKS
Wainsctoing Kits, Installed by You or By Your Professional! Wainscoting Definition Here is the definition of wainscoting. Welcome to Wainscoting Are you curious about wainscoting? This elegant detail makes a classic contribution to high traffic areas in the modern home. What started out in the 16th century as a necessary cover-up for damp and chilly stone walls is taking it place in ...
From elitetrimworks.com
See details »
---
WAINSCOTING PANELS KIT | WAYFAIR
Showing results for "wainscoting panels kit" 22,926 Results. Sort & Filter. Recommended. Sort by. Opens in a new tab. Ashford 24"H x 16"W x 1/2"D Molded Classic Wainscot Wall Panel. by Ekena Millwork. $23.45. 54. Rated 5 out of 5 stars.54 total votes. Save time and money with our easy to use wall panel moulding. Pair with matching crown moulding, baseboard, or door and window casing for a ...
From wayfair.com
See details »
---
DIY WAINSCOTING IDEAS - HOW TO CREATE A DIY WAINSCOTING ...
8. DIY board and batten wainscoting. Just in case you're not familiar with different types of wainscoting yet, board and batten is a type of wainscoting that is simple, features clean lines, and is slightly old fashioned looking, hearkening back to a kind of farmhouse or shaker aesthetic. Over the years it has trended in and out of interior ...
From diys.com
See details »
---
WAINSCOTING | BUY WAINSCOTING KITS, WALL PANELING, PLANKS ...
Wainscoting Kits, Wall Paneling & Beadboard. Congratulations… you've discovered our collection of Wainscoting—ever so popular for its beauty, strength and durability. Wainscoting is the wall paneling used to line or wainscot (pronounced wān′·skət or wān′·skŏt) the lower third of an interior wall, just below the chair rail and above the baseboard or skirting. Though wildly ...
From aicmillworks.com
See details »
---
900+ WAINSCOTING IDEAS IN 2021 | WAINSCOTING, WALL ...
May 27, 2021 - Wainscoting Wall paneling Ideas. See more ideas about wainscoting, wall paneling, wainscoting wall.
From pinterest.ca
See details »
---
WALL PANELLING - BOARDS | THE HOME DEPOT CANADA
R2i Millwork Wainscot Kit - Prefinished Ready to Install - Fauxwood White - 4-Piece of 1/4 In. x 4 In. x 96 In. (35) $37 And. 82 Cents / each. Add To Cart. Free Shipping . Free Ship to . Add To Cart. Compare 1/2-inch x 5 1/4-inch x 96-inch Cedar V-Grooved Paneling, (4-Pack) Alexandria Moulding 1/2-inch x 5 1/4-inch x 96-inch Cedar V-Grooved Paneling, (4-Pack) (11)-View Details. Not Available ...
From homedepot.ca
See details »
---
HOW TO INSTALL PICTURE FRAME WAINSCOTING - DIY WALL TREATMENT
2020-08-21 · Traditionally, wainscoting consists of a square (box) or four-sided frames to build a wall treatment. You can choose whether to place a solid board against the wall or use trim to create a frame. We went with the frame right on the wall. Using wainscoting panels is a good way to do it too. Our bedroom is really small.
From hudsonfarmhouse.com
See details »
---
10 GORGEOUS WAINSCOTING PROJECTS THAT YOU WANT IN YOUR ...
2020-07-23 · Wainscoting firstly uses the natural woods materials, but along with the development of era, the materials used are more various. If you are a lover of a classic European decoration, wainscoting is the best choice to design the interior of your house. Wainscoting is an old technique that combines the decorative panels and trim molds. Contents1…
From pinterest.com
See details »
---
DIY WAINSCOTING PROJECTS & IDEAS | DIY
Wainscot paneling is a hallmark of fine homes, it's easy to accomplish even if you're not an expert carpenter. How to Create Burlap Wainscoting. Dress up a room with a custom, budget-friendly fabric wall treatment. How to Install Beadboard Wainscoting. Carter Oosterhouse shows how to install beadboard wainscoting and trim in a family room. How-Tos. How to Install Recessed-Panel …
From diynetwork.com
See details »
---
HOW TO INSTALL EASY DIY WAINSCOTING - THIS OLD HOUSE
Published: Jul. 31, 2017
From thisoldhouse.com
See details »
---
WAINSCOTING KIT - WAINSCOTING - WALL PANELING - THE HOME DEPOT
House of Fara 5/16 in. x 5-29/32 in. x 32 in. - 8 lin. ft. MDF Overlapping Wainscot Interior Paneling Kit. Model# 32MDFKIT (274) $ 114 79 /package. DPI Decorative Panels International 3/16 in. x 32 in. x 48 in. Paintable White Bead Hardboard Wainscoting Panel (5-Pack) 53.33 sq. ft. Model# HD14732485 (44) $ 72 00 /package. House of Fara 8 lin. ft. North America Knotty Pine Tongue and Groove ...
From homedepot.com
See details »
---
MODERN WAINSCOTING PANELS IDEA TYPES, WAINSCOT KITS, FAUX ...
Different types of wainscoting: raised panel, flat wall panel, shaker, full wall, Wainscoating kits: bathroom, mpc, mdf installation, Wainscot ideas and designs: craftsman style waynes coating, faux modern contemporary wainscotting in living dining family rooms
From modelhomemakeover.ca
See details »
---
14 WAINSCOTTING IDEAS | WAINSCOTING, WAINSCOTING KITS ...
Dec 4, 2019 - Explore Ksanzone's board "Wainscotting" on Pinterest. See more ideas about wainscoting, wainscoting kits, bathrooms remodel.
From pinterest.ca
See details »
---
WAINSCOTING | WAINSCOT PANELS & MOULDINGS | WAINSCOTING ...
Beadboard Wainscoting; Vinyl Beadboard Kits; Interior Ornaments. Ceiling Beams. Faux Beams; Hardwood Ceiling Beams; Pre-Finished Beams; Wood Ceiling Beams; Drywall Beams; Ceiling Medallions. Medallions 30 to 39" Medallions 40"+ Art Niches; Ceiling Domes; Sale. 20% off. Elite BEADED Panel Wainscot Kit. US$155.63; All products on sale ; Top News. Aug 30, 2021 MDF News …
From elitetrimworks.com
See details »
---
25+ STYLISH WAINSCOTING IDEAS - REMODELAHOLIC
2021-02-03 · The Ultimate Guide to Wainscoting:25+ Stylish Wainscoting Ideas. Wainscoting is a classic way to add texture and interest to the walls of any room. Deciding what style and height of wainscoting, however, can be as tricky as choosing the color of paint! We've rounded up nearly 40 stylish wainscoting ideas that we've shown here on ...
From remodelaholic.com
See details »
---
Sours: https://www.tfrecipes.com/cheap-wainscoting-kits/
Kit diy wainscoting
.
Intrim Mouldings - DIY Wainscoting Kit Stop Motion
.
You will also be interested:
.
214
215
216
217
218