Recent Posts
Have you been on Pinterest or Instagram looking for home décor inspo lately? Then you know farmhouse style décor is among one of the most popular interior design trends of the moment. We love the farmhouse style look, from the cozy-chic accents to the natural finishes and intricate patterns and prints. Keep reading to find out how to nail the look for your window coverings with these farmhouse style blinds ideas.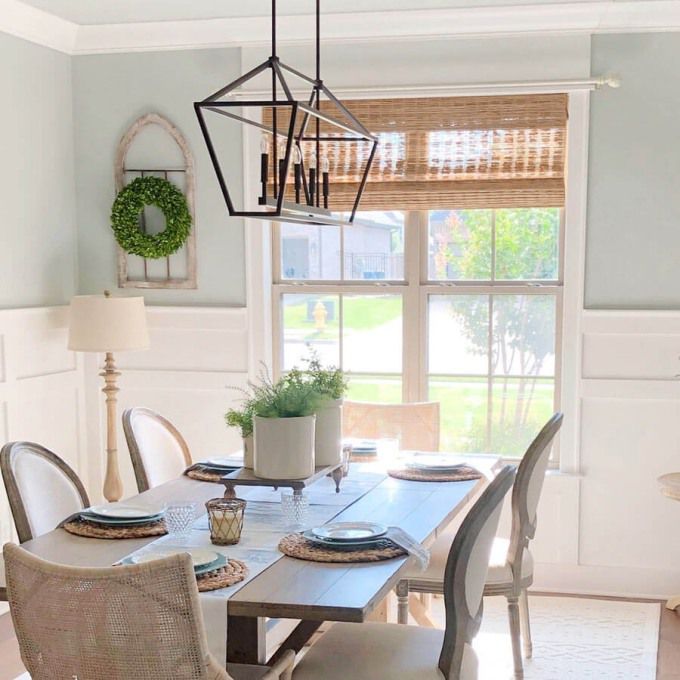 Photo Credit: @ourvintagenest/Instagram
How can you decorate a farm window?
There are loads of ways to decorate a farmhouse window. The idea is to go for something that looks whimsical and elegant while remaining simple and classic. In terms of farmhouse style blinds ideas, our Classic Light Filtering Roman Shades top the list. You should consider opting for a white or off-white shade to keep the room bright if possible. We also highly recommend selecting the Soft Fold style. The gathered material is very much in line with this trend.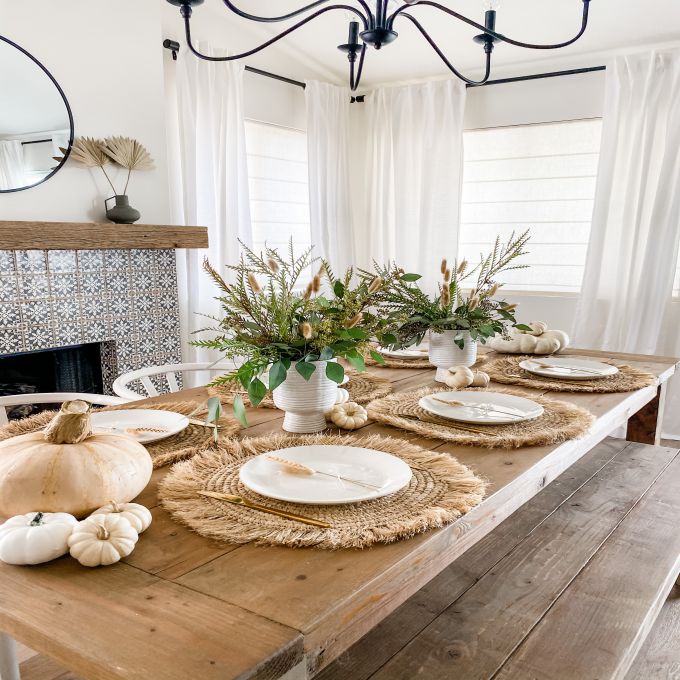 Photo Credit: @hagit_taylor\instagram
How Do You Dress a Small Cottage Window?
If you're working with a very small window, you may want to try a more elaborate material, like woven shades. The natural finish of bamboo blinds blends in seamlessly with the farmhouse design. Plus, bamboo shades are so striking, that they can really make even the tiniest of windows look much grander.
How Do I Make My Bamboo Blinds More Private?
Bamboo blinds are beautiful and are naturally light-filtering. You may want to increase the light in the day but would prefer to have total privacy in the evening. This is really easy to do by adding a privacy or blackout liner to your product. The liner will prevent unwanted light from getting in or simply provide more privacy from the outside. This is just one of the customization features you can get with bamboo and other shades.
How Do You Decorate Vintage Windows?
The farmhouse style blinds ideas are a sure way to nail that designer-inspired look. But it doesn't end there. If you've had to replace your windows because they were too old before adding your new farmhouse style window treatments, don't toss those vintage window frames away. When it comes to farmhouse style, those vintage window frames could be the ultimate décor accent.
You can use them as room dividers, wall décor, or even as oversized photo frames. The best part? They won't cost you a cent and the natural wear and tear only add to their charm.
Beginning You Farmhouse Style DIY Project
No matter where you are set to begin, we highly recommend starting with free samples. We offer samples of all of our products so you can see the textures and colours in person. Try to get your hands on as many samples as you can, including paint samples, fabric, wallpaper, tiles, countertops, cabinetry, or anything else you will be revamping in your project. The key to a successful DIY is matching your samples beforehand to make sure you're starting off on the right foot.
Bamboo/Woven Shades, Decorating Tips, Kitchen Blinds, Large Windows, Roman Shades
Sours: https://www.selectblindscanada.ca/blog/farmhouse-style-blinds-ideas/
The Best Window Treatments for Your Modern Farmhouse
Tips For Choosing Nursery Window Treatments
By Admin•21 Feb, 2020•
When you're about to become a new parent, the décor of your nursery often becomes a big focus. Many new parents choose themes, such as circus or nature, while others employ a color scheme. As with any other room in the home, the window treatments help finish the look. However, you also need certain functionality in the nursery.

Keep reading for tips to help you choose window treatments for your baby's nursery.

Keep Safety in Mind

Your first priority when choosing anything for the nursery is safety. Granted, newborns don't interact much with their surroundings, but you'll probably keep your nursery décor even once your baby reaches the crawling stage. With that in mind, you want to choose window treatments that are safe for your baby.

For one, avoid drapes that reach to the floor — you don't want your baby to become entangled in them or to pull them down. For the same reason, consider cordless blinds. You can even choose motorized blinds, which operate with a switch or an app. Finally, avoid any trim or accessories small enough to become a choking hazard.

Look for Ease of Operation

Your next focus should be window treatments that are easy to operate. Once you become a parent, ease of operation will become paramount. You will often have a baby cradled in one arm, so you want items that are easy to operate with the other hand.

So, when looking at window treatments, avoid any that require both hands to operate, such as corded shades or heavy drapes. Pay attention to the overall function, too. For instance, if you choose shutters, make sure they operate smoothly.

Look Into Blackout Blinds

Another practical focus is the level of light control. In many rooms, you may favor a filtered light. Design-wise, you may like this level of light for your nursery, too. However, keep in mind you'll eventually be putting your baby down while it's still light out — you don't want the sunlight to keep your baby awake.

To that end, look into blackout blinds. They affix to the window frame snugly, and they completely block the sunlight from coming in. If you want the option of the filtered light, look into layered window treatments. You could hang semi-transparent curtain panels for when your baby is awake.

Opt for a Neutral Background

You may want window treatments that provide a neutral backdrop. So, you might start with the blackout shades as your base layer and add sheer curtains in a neutral color. White is popular, but you could also opt for a beige or greige neutral.

This approach works for a couple different situations. For one, a current trend is to move toward natural materials and décor. So, you may choose a lot of neutral colors and soft materials anyway. The approach also works in the opposite circumstance. If you already have a lot of bold colors in your décor, you may not want to add to it with your window treatments.

Stick to Your Décor Vision

Your décor vision will help you make most of the design choices. For example, you may choose the material based on a theme or general target ambiance. If you like the idea of an all-natural nursery, you may look into bamboo shades or linen curtains. If you want structure in your treatments, you might look into wood blinds or even shutters.

A décor theme will definitely drive your choice in nursery window treatments. Besides thematic curtain panels, Roman shades are one of the easiest ways to inject pattern into your window treatments. You can also find roller shades with designs on them.

The other design driving force is your color palette. Many parents adhere to the traditional gender-based palettes, but many opt for bright, gender-neutral palettes. Either way, window treatments in your target color palette can serve as the centering force of your entire nursery décor. You could even start with a pattern in your draperies and carry the palette through the rest of the room.

Try some of the above tips to help you choose window treatments for your nursery. When you're ready to explore your options, consult with House of Drapery & Blinds.
Sours: https://www.houseofdraperyutah.com/the-best-window-treatments-for-your-modern-farmhouse
Modern Farmhouse Home Gets Tons of Natural Light with New Shades
Kaycie of Grey Birch Designs is an interior designer, DIYer and modern farmhouse devotee based in Utah. She's on a constant quest to make her family home feel unique and welcoming with seasonal decor and custom projects like built-in bunk beds and reclaimed wood wall treatments.
For quite some time, Kaycie's had been wanting to replace the standard blinds throughout her bottom floor with something that better fit her style. Kaycie worked with Blinds.com Designer Danielle to talk through options for her living room, sunroom and dining room.
Kaycie Says:
"I've never worked with a window covering store that gives you a personal designer. Danielle understood my vision right away!"
Woven Wood Shades Add a Textural Touch in the Sunroom
For the sunroom they landed on Designer Woven Wood Shades in San Lucas Lichen, a soft grey-brown. They add just enough texture and contrast, and give her a clearer view into the backyard than the brown wood blinds she had previously.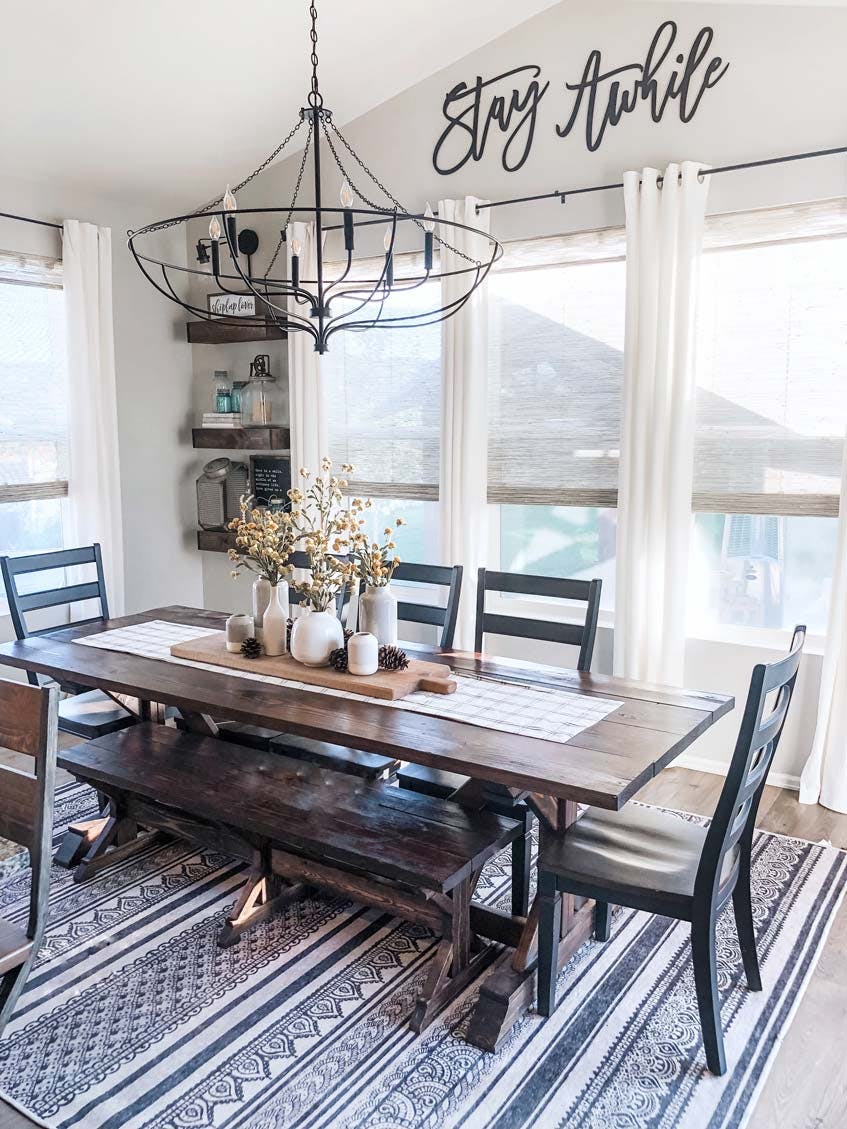 Kaycie Says:
"I chose the cordless Designer Woven Wood Shades in the San Lucas Lichen color and they are stunning! These windows are right off our backyard, which is already pretty private, so I didn't need to have these shade lined. Now I am thoroughly enjoying an unobstructed view of our backyard and tons of natural light in our sunroom and kitchen!!"
Kaycie loved the convenience of having a Blinds.com professional measure her windows and install the shades when they arrived.
Kaycie Says:
"When I got my windows measured he showed up right on time and it just took a few minutes. I love that it didn't take up my whole day! Once my order arrived, I just went online to schedule a time for him to install them. It was so quick, and he was only at my house for 30 minutes!"
Want to leave your measuring and installation to the pros? Schedule your measuring appointment today to get started!
Classic Shutters Dress Up Living Room and Dining Room Windows
In the living room, Kaycie wanted a classic look that fit with her farmhouse style and a bit more privacy. Simplicity Wood Shutters in Bright White were just the ticket.
Kaycie Says:
"Is there anything better than the clean classic look of shutters!?! I am absolutely in love with these beautiful Simplicity Wood Shutters from Blinds.com"
The formal dining room got dressed up with Simplicity Wood Shutters in Bright White as well. The white shutters bounce light to brighten this space, and coordinate perfectly with the traditional look of her wainscotting.
Kaycie Says:
"I'm so excited about this update and absolutely love how much brighter and bigger this space feels now all because of these gorgeous shutters!"
Get The Look:
Designer Woven Wood Shades in San Lucas Lichen
Simplicity Wood Shutters in Bright White
Need help finding the perfect look for your space? Get a free design consultation with the Blinds.com team at 800-505-1905.
Sours: https://www.blinds.com/blog/modern-farmhouse-window-treatments-woven-wood-shades-and-shutters
Interior Design- Modern Farmhouse Style
For several years now an inviting, casual, yet refined style in home design has become increasingly popular and continues to capture our imagination. Welcome to the Modern Farmhouse Style, an open airy style filled with natural light and furnishings patinaed by time yet mixed with modern appliances and urban industrial accents. As the name implies, Modern Farmhouse Style embodies the comfort and charm of a farmhouse mixed with the sleek minimalism of modern style. So how did we get here? Shiplap, originally a term that meant a type of wooden board used commonly in the construction of barns, sheds, and outbuildings, began as a popular "buzzword" in 2014, and re-introduced us to the world of Modern Farmhouse Style. Today, there are several elements that have broadened this design style, allowing more and more homeowners to create their own unique version of this timeless look.
Common design elements for Modern Farmhouse.
Although the Modern Farmhouse Style is similar to country, country tends to lean a little more traditional. Farmhouse retains a certain level of sophistication, with ample doses of chic. Also, country relies heavily on accessories, while modern farmhouse reflects a more minimalistic, "less is more" look. Typically, Modern Farmhouse uses a combination of these elements:
Weathered finishes and wood tones
Neutral color palate
Modern lighting with classic hardware
Mixed and matched, contrasting styles
Texture-rich surfaces and natural elements
Selective accessorizing
Architectural salvage
Barn-style doors
Exposed wood
Wide plank floors
These elements, and others, combine to create a familiar, home-like environment, yet with all the modern conveniences we enjoy today. It is a comfortable style, with a lived-in look that says, "you can relax here." The home transports one to a place where you can escape the high tech, screen focused, uncertain world we currently live in. Let's take a detailed look at just a few of these specific design elements.
Explore weathered finishes, wood tones and wide plank floors.
In contrast to its clean white walls, a modern farmhouse features reclaimed wood beams and wide plank wood floors. We are also beginning to see light wood stained cabinetry mixed with white, greys, and black for a classic Modern Farmhouse look. You will also notice this high contrast color combination is popular on Modern Farmhouse exteriors, along with angular gables. As you might expect, your window treatments play a key role in modern farmhouse style, especially those that combine natural materials with earth tone colors. For example, cordless woven shades pair beautifully with the natural look of exposed beams. Available in a variety of natural eco-friendly materials that are both versatile and appealing, texture-rich woven shades from Budget Blinds offer artisan-inspired sustainability with rattan reeds, grasses and natural woods that accent any modern farmhouse design.
Choose a neutral color palette.
When it comes to selecting colors, the Modern Farmhouse look is best achieved with a neutral color palette, with white as the preferred choice. This gives the space a bright and light feeling. It also provides a neutral backdrop for other unique features such as lighting and reclaimed wood or metal accents. Other colors often used include creams, tans, and warm greys. Often times, Modern Farmhouses will use an accent color on the kitchen island or on a room bench, for a splash of added style. Popular accent paint colors include shades of blue, green, charcoal grey, ebony or even black for a high contrast. However, try to keep the overall color palette neutral and light for a clean, modern look. Again, window treatments can help to extend your color scheme for both consistency and uniformity, so explore draperies that can provide an accent for wood floors and rustic, refinished wood furnishings. Draperies from Budget Blinds come in a stunning variety of calming, earth tone neutrals that promise to complement your Modern Farmhouse design, and are available in an impressive range of fabrics and textures. You can also select from a wide range of decorative drapery hardware and curtain rods that will help complete the overall look of your space.
See what's new in modern lighting and hardware.
Today's Modern Farmhouse uses lighting that's a mix of metals and design styles. While the original farmhouse style featured lantern style black iron lighting, today's Farmhouse homes combine classic iron lanterns with bold modern fixtures in brushed gold and black mixed with modern shaped glass globes. Modern Farmhouses also mix classic shaker cabinet doors with sleek modern hardware. Although it may seem that mixing classic design with modern is somewhat conflicting, in this case they actually work well together to pull of a look that is both comfortable and chic. Again, as with other Modern Farmhouse elements, window treatments help to elevate your look. For treatments that are as practical as they are beautiful, Roman shades are a popular choice. A patterned Roman shade, in either high contrast black and white, or using subtle earth tones, adds a traditional yet modern farm vibe to the kitchen. Roman shades from Budget Blinds offer inspired, Farmhouse-friendly styles made of beautiful fabrics, from chic sheer to opaque. Soft folds of premium, designer-inspired fabrics cascade beautifully, and pair well with other Modern Farmhouse décor and furnishings.
Mix and match with contrasting styles.
Today's Modern Farmhouse is a mix of old and new - modern meets vintage, and sleek pairs with industrial. For example, add slipcovered chairs and sleek marble counter tops to a reclaimed or refinished farmhouse table, with rustic, reclaimed beams adding a unique vintage vibe overhead. You can also mix modern stainless-steel appliances in the kitchen with a vintage pantry door in the same space. Or add simple white drapery panels hung on black iron hardware for a contrast in both color and style. You can also mix a vintage coffee table with a modern sofa. Suddenly, you realize your only limitation is your imagination! Mixing old, vintage items with the new and fresh creates an enduring look that is well suited for your new Modern Farmhouse. For example, instead of using a standard vase for flowers or greenery, try using something unexpected and vintage like, such as an old flour sifter. Incorporating the old and using it in a practical sense is a big factor in Farmhouse style. You might also try displaying antique washboards and spindles. Or you could use old barnwood to make a farmhouse style sign, like a bakery sign that evokes childhood memories of helping mom in the kitchen.
Add texture with natural elements.
Texture also plays a critical role in a Modern Farmhouse aesthetic. Adding unique and varied materials to any room gives it a personal feel that you wouldn't find in a seemingly stark, modern home. By adding elements such as wool and hand-tufted patterns on your floors and walls, you will achieve natural texture with stunning details. From the texture of chunky knitted throws to the use of area rugs and woven shades in the windows, texture adds a natural component to any Modern Farmhouse space. Budget Blinds has a stylish selection of custom rugs, including circular, rectangular, runner styles and more, and our custom woven wood shades are a perfect way to not only add texture but the natural colors coordinate well with wood floors and reclaimed beams. For example, try pairing shades with drapery panels in natural fibers like linen and cotton. Or add a wicker accent chair and woven baskets to achieve added texture to room. And don't forget about the design element that started it all- shiplap. Shiplap walls, for example, are still a popular way to add texture to an otherwise simple room. Another trend that's making its way into Modern Farmhouse are fluted wood panels.
Be selective when accessorizing.
When accessorizing a Modern Farmhouse, try not to clutter your home. Instead, keep your design minimal and consider starting with accessories such as wool blankets or woven baskets. The décor should be casual, comfortable, and accessible. This is where the minimal design aesthetic of this style shines through. Ideally, Modern Farmhouse accessories are carefully selected and curated throughout the house. Shelves are not cluttered. Instead, unique vintage items are displayed and mixed with new modern pieces. Think old books mixed with contemporary artisan pottery or a vintage heirloom treasure beside a modern picture frame. Essentially, the Modern Farmhouse Style is about creating the appearance that your space has evolved over time. It should feel comfortable and lived in, and some of the pieces may be "perfectly imperfect", with a patina that says, "It's okay, you can put your feet up here and relax."
Ultimately, Modern Farmhouse style is a thoughtful collection of the things you love. A place where you and others feel welcome every time you enter. With so much of what we all want and look for in a home, it's no wonder the Modern Farmhouse Style remains one of the most popular design styles. It simply feels like home! At Budget Blinds, we are here to help you realize your perfect interpretation of this popular design trend, so click or call and schedule a complimentary in-home or virtual* consultation and let one of our local, highly trained design consultants help today!
Sours: https://budgetblinds.com/blog/how-to-achieve-the-popular-modern-farmhouse-style/
Style blinds farmhouse
Which Farmhouse Window Treatments Will Work in Your Home?
September 27, 2019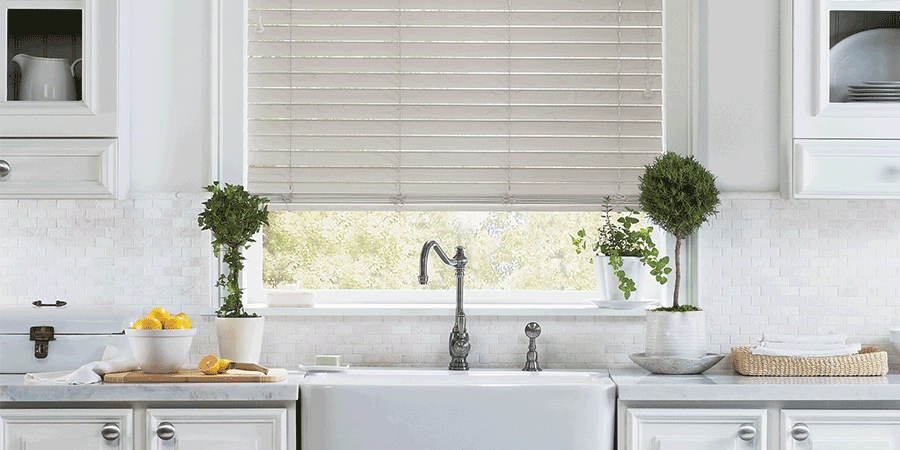 Are you a fan of the farmhouse interior design style? With Chip and Joanna spreading inspiration for farmhouse design all over Waco,Texas, it's no surprise everyone is falling in love with the cozy and classic style. Think all things natural wood tones, a neutral color palette, mixed metals, and natural linens. Bringing in those elements are a great way to achieve farmhouse style. But what are the perfect farmhouse window treatments to add to your home?
The Big Secret
It's all in the details. The farmhouse style is about every piece having a purpose, whether that means function or simply bringing joy as pretty decor. This means your window treatments should be held to the same standard! Plantation shutters are a perfect match with farmhouse decor. You even have the option to add a distressed look or stay with a more natural wood color.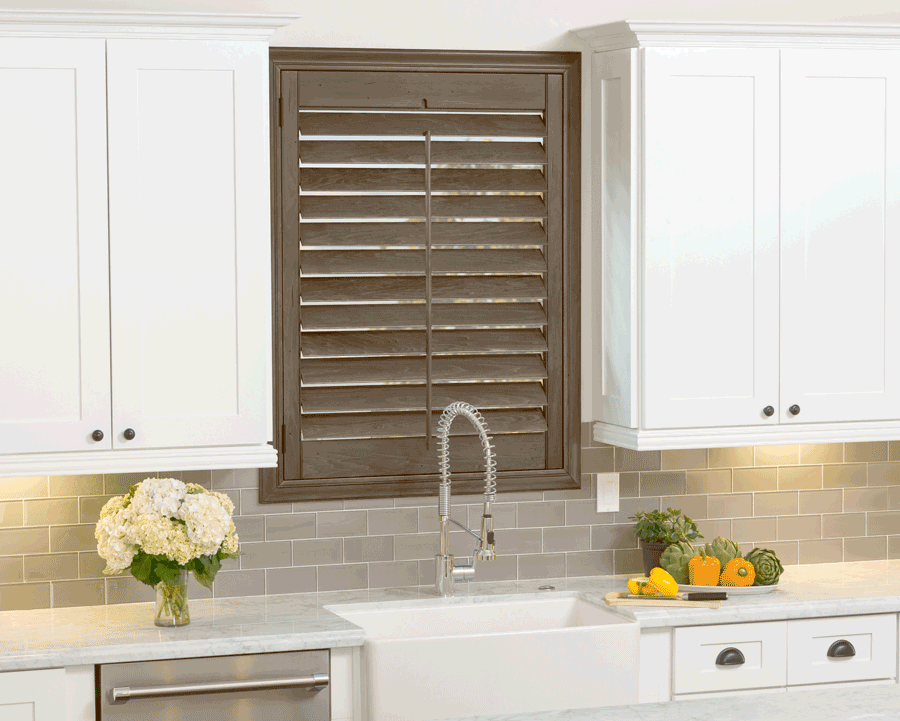 Cozy Spaces
Fabrics bring the ultimate cozy factor to nearly every space! They are a great way to warm up a room after adding in woods, galvanized metals, and rustic pieces. The fabrics of farmhouse window treatments create beautiful styling–coordinating with your home's unique decor. If you're looking to add another layer of comfort to your home, these are a great option for you!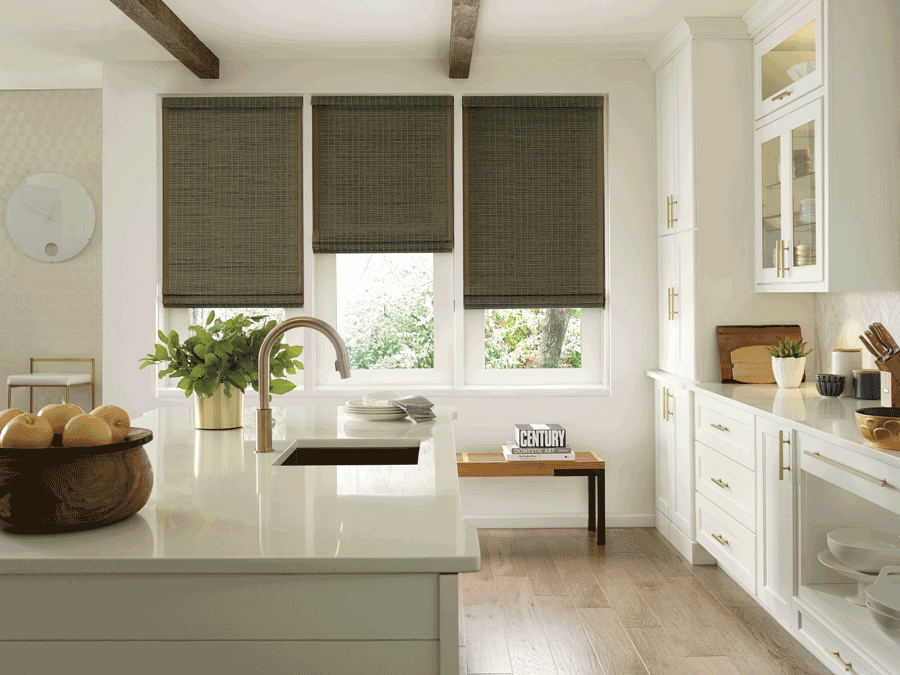 Blending In with Everything
Neutrals all over! In the perfect way, too. That's the color palette associated with farmhouse style. With our excellent selection, your farmhouse window treatments can blend right into your space and also provide you with a great deal of functionality.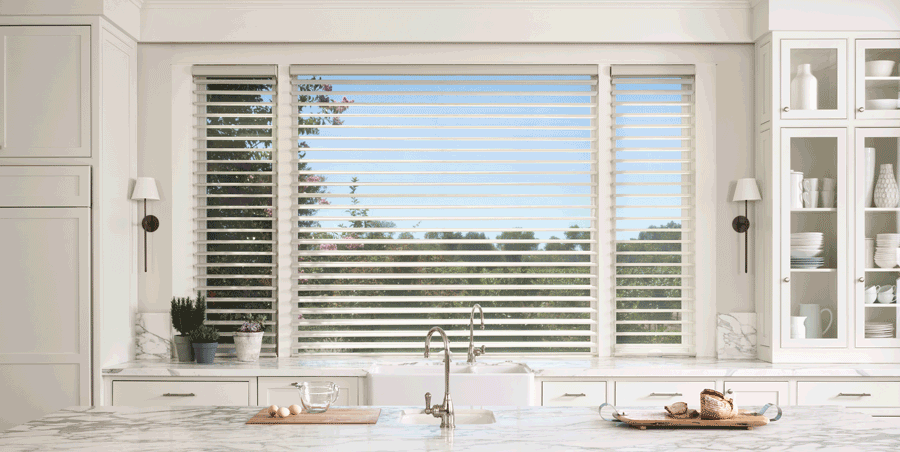 Style & Function? Absolutely!
Decor plus atmosphere–isn't that combo at the top of your list? Creating the right ambiance for each room in your home can be a challenge, but not with our window covering experts!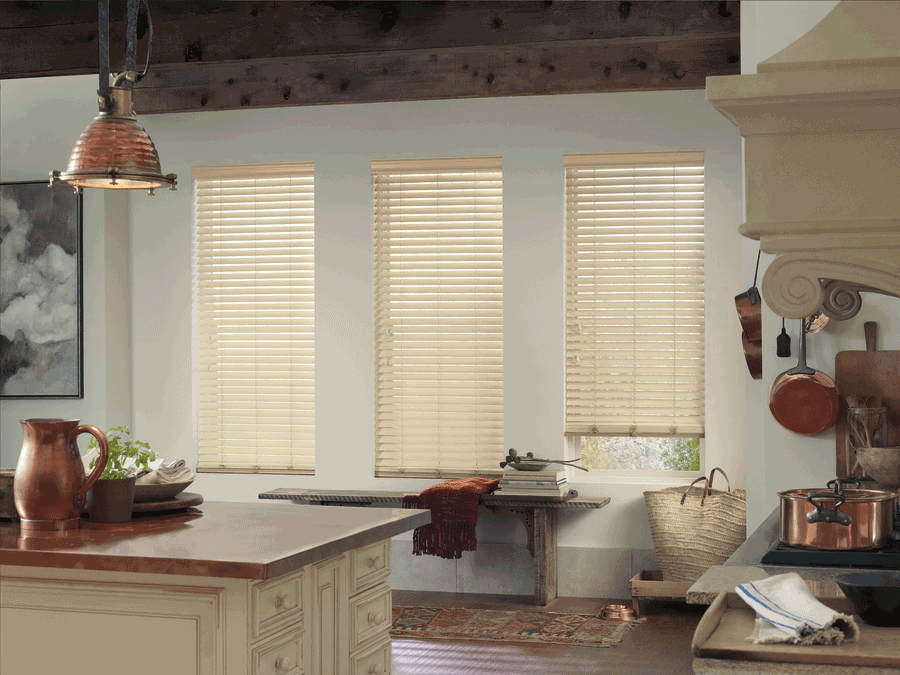 From sliding glass doors, to floor to ceiling windows, we can create a beautiful look while getting you the benefits you need, like convenient operation, privacy, energy efficiency & more! Contact our team at Creative Blinds today to schedule your FREE in-home consultation.

Sours: https://creativeblinds.com/farmhouse-window-treatments/
FARMHOUSE DECOR ON A BUDGET - DECORATING TIPS FOR BEGINNERS - DECORATE WITH ME 2021
Best Roman Shades for Farmhouse style
Roman shades is such a timeless window treatment option, especially for traditional farmhouse or modern farmhouse homes. In this post, I'm sharing my top farmhouse style roman shade options that are both stylish and affordable.
Why choosing roman shades as window treatment?
Not enough space for window drapes
Window drapes can be a lot of people's go-to window treatment option but sometimes it is just not possible to have it or to make it look good.
Ideally for window drapes you'll want it to extend from the floor to ceiling to make your room look nicer and not too shabby.
With that being said, if you have anything below the window, a window drape would not work. For example, in most kitchen settings, it is not a good idea to have drapes because the kitchen counter is in the way.
Or maybe you have a dresser right beneath your bedroom window that a curtain will have to sit on the dresser.
In those scenarios, a cute roman shade can add just as much style as a pair of curtain but fit your space better.
Easy to open and close
In my personal experience, I found it easier to adjust roman shades than curtains. I can move the cord pretty easily to move the shade up and down. Or even better, with a cordless roman shade, I'm able to pull it up and down with ease.
For curtains, because there's always a spot on the curtain rod where thoese two rods mee,, making my curtain ring pass that spot can be annoying.
Simple but classic look
Sometimes it comes down to the style of your home and what you are going for.
A window drape can be too much if you are going for a simple and clean look. In those cases, a classic roman shade can be a good alternative to make the space look more open and clean.
Keep it clean in utilitarian rooms
Roman shades are great options in utilitarian type of rooms, such as kitchen, laundry room, etc. I have a post on how to choose kitchen roman shades if you are buying window treatment specifically for your kitchen.
If you want to keep your window treatment clean in rooms that gets spills easily, consider getting roman shades instead. Because they are way above the ground it's really easy to keep it clean.
Odd shape window or location
Sometimes your window might be too narrow or too small for window drapes, and a Roman shade might work better. Roman shade is usually more versatile in terms of accommodating to odd window sizes.
In other cases, if your window is very high that becomes difficult to reach, getting a roman shade with remote control can be a great idea!
Best Farmhouse Roman Shades 2021
Since roman shades can be such a versatile window treatment option, here's a roundup of the my favorite farmhouse roman shades sources:
1. Riviera Cordless Roman Shades
This is probably one of the most popular roman shade for a traditional or farmhouse inspired home! It is made by Pottery Barn so I have no doubt on its quality. Also it is cordless which makes it user easy to open and close.
I have a similar cordless shade from Pottery Barn in my home office that I love so much for its convenience to open and close.
They are the same design just different fabric so I'm sure this one is in great quality.
2. Emery Linen/Cotton Cordless Roman Shade
This is what I use in my home office – I have two and have been loving them!
This roman shade comes in many color options. I picked the white one for its simplicity since I know where's gonna be a lot going on in my home office.
I also love the blue down and ivory color options which are really nice options for traditional farmhouse kitchen!
Because my home office also serves as a guest bedroom, the blackout lining comes in handy to make sure our guests can have a good night sleep.
3. Paxton Basketweave Room Darkening Cordless Roman Shade
A very affordable option from Target! It comes with gray and ivory color options.
I love the basketweave texture as it adds so much dimension and interest! This can be a good option if you are going for a more modern or neutral look.
This is probably the most affordable linen roman shades alternatives. It is not made of linen but it has the linen-like texture so still makes you home look expensive without breaking the bank.
4. Kilby Blackout Roman Shade
This has such a great value. It looks a lot more expensive than it costs.
It comes with silver (more blue hue) and ivory color. Both are great for a more traditional farmhouse for its window treatment.
5. Artdix Roman Shades Blinds Window Shades
A cute roman shade option for a cottage style home.
It reminds me of an old farmhouse on the country that is full of personality and beautiful patina.
I love the beige color and classic stripes. It has blackout linings too.
6. Chicology Cordless Privacy Roman Shades
Another classic window shade option. Two bold stripes at the edges add a traditional feel while keep it look simple and timeless.
This shade is great option for a traditional farmhouse or a kitchen. It comes with many color options so it is easier to find a color that works for your space and decor. You can check out all the color options here.
7. Black Villa Stripe Roman Shades Hack
What I use for my modern farmhouse style kitchen and dining room. I call it a cheaper dupe for Pottery Barn Riviera shade.
Whenever I post photos of these spaces on my Instagram, one of the most asked questions is where I got those roman shades. The truth is, it is not store bought, but rather a hack.
First of all, it is custom made – but please don't get scared when you heard the word "custom"! In fact, it is a lot cheaper than a traditional custom roman shades, and even cheaper than some pre-made shades from fancy furniture stores.
You can check out my post on Affordable Custom Roman Shades Hack.
8. Ribbed Flat Custom Roman Shades
I have this ribbed flat roman shade for my bedroom above my DIY window seat and really love the clean style. This window treatment gives my room a modern farmhouse vibe.
This is custom, because my window is really wide. Although custom made to my window side, it is actually not very expensive compare to buying it ready made.
This roman shade has two types of linings, I recommend choosing polycotton lining for your kitchen and blackout lining for your bedroom.
I also like that it uses the continuous loop chain mechanism which is easier to use than a pull chain.
Things to consider when choosing roman shades
Because there are so many options of a roman shade, it is always nice to think before hand what you want in a roman shade.
Roman shades Styles
There's are a few different styles to choose from. Although you can specify what style you'd like when you get a custom made roman shade from a fabric store, most ready made roman shades are in the most popular style – flat.
Honestly I found flat roman shades are my favorite style because it is so versatile – almost works for any home style, farmhouse, traditional, modern, scandinavian, you name it!
So if I had other options for a different roman shade style, I'd still stick with a classic flat roman shade.
Cordless vs cord options
Unless you get it custom made, most of the roman shades are either cordless or with cord. I'm pretty relaxed on whether or not it is cordless, if I love the fabric.
Here are something to keep in mind, in order to determine if one option is better than the other for you:
Cordless roman shades are usually popular in households with small children or pets, as it is safer. Generally cordless roman shades are slightly more expensive than those ones with cord, although some ready made cordless roman shades can be pretty affordable too, such as this one from Target.
For windows that are higher up to reach, roman shades with cord can be a good option, given not everyone can afford having remote controllable roman shade. By leaving the cord hanging low, you can adjust the shade easily.
Blackout linings vs normal linings
This requires you to assess the functionality of the room where you'd like to put on roman shades.
In general, a black out lining can be great if someone will sleep in the room. A blackout blocks the sunlight which ensure people sleeping there won't be waken up by the sun light, especially in the summer.
On the contrary, if no one sleeps in the room and you'd like the space to receive more sunlight, then go for a normal lining where the some light will seep through to make the room brighter.
Roman shade fabrics
This is the factor that will make or break the window treatment. Window treatment is not as easy to change as a throw pillow, so I personally like to select roman shades with simple and classic pattern.
Those above options I have shared fit right in the category. It's always nice to be able to reuse window treatment after you have painted the walls or redecorated the entire room.
Keeping it clean. If you are scared of your beautiful roman shades get dirty, consider getting a fabric protection spray. Although I have not used it for my roman shades since they don't get dirty easily, I do use it for my chairs and headboard to protect the fabric.
I have also seen people using a spot cleaner to keep all their home upholstery clean.
Farmhouse related posts:
Ikea kitchen honest review
5 tips to make your Ikea sofa look nicer
Best kitchen roman shades and how to choose the right one
Pin it for later
Filed Under: InteriorsTagged With: interior design
Sours: https://hydrangeatreehouse.com/best-farmhouse-roman-shades/
Now discussing:
Often touted to be a personal preference, window treatments are commonly adopted in any household. A bare window is seldom celebrated or considered complete without an aesthetically matching window treatment.
As there are numerous window types, countless options exist currently in the form of window treatments and shadings such as valances. One of the common methods utilized for the treatment of windows in a house are valances.
Apart from valances, other options such as window shades, cover blinds, and curtains can be thoughtfully used as appropriate window treatments. It has to be understood that window treatments are the windows to the soul in your home.
Some of the factors to consider while selecting your window treatments are material and the type of style. Significance of the material chosen lies in the fact that the treatment acts as a barrier between the outside elements and the inside of your home.
Are valances still in style?
Most of the valance designs that come into one's mind, when the word is uttered has gone out of style in the current era. Even though those old fashioned, droopy valances made of cheap material such as polyester has gone out of style, designer themed contemporary designs are still in style.
Should blinds match window trim?
Texture is one of the factors to consider and paid attention to while selecting a blind. Another parameter to consider is the style, which is very important.
If you have an elongated window treatment from your ceiling to the floor, it makes the eye look up and makes the ceiling appear taller. But, if you want something to keep it out of the way, such as in a kitchen over a table when you don't want a lot of material when there is food around, make sure that you have a Roman shade or blind that goes down to the base of your window sill. It is a good idea to match the blinds with the window trim to create a seamless effect.
See also: Unique types of kitchen curtains
What is in style for window treatments?
A big bold pattern can make a room look larger in a sense. A nice, little tight-knit pattern is beautiful and it just fades away to the back. That said, some of the latest trends in window treatments involve mixing and matching different looks.
Combinations such as tieback, sheer, and contrast will help create amazing moments in the place you want to. Decals, black window frames, country-styled windows, metallic, and steel are some of the recent trends.
What is better, blinds or curtains?
Often coming to personal preference, curtains generally comes in favor for those who have a traditional sentimentality in design. On the other hand, window blinds mix both the design style and usability, along with improving the charm of the area.
Window blinds provide a contemporary look to your room. They can also control the amount of sunlight entering a room. Blinds also help in keeping a minimalistic design aesthetic of the room.
1. DIY Drop Cloth Curtains In The Sunroom
Source
2. Burlap Window Shades
Source
3. DIY No Sew Rolled Window Valance
Source
4. White Burlap Tie Up Shade with GRAY Painted
Source
5. Windowsill (Make a self in front of window)
Source
6. Burlap and Gingham Kitchen Curtain
Source
7. Barn Door Window Coverings with Simpson Strong-Tie Hardware
Source
8. Stylish Budget Window Treatments
Source
9. Rustic French style Patisseries Burlap Curtain Valance
Source
10. DIY wood window valance
Source
11. DIY barn door window treatment
Source
12. Burlap coffee bean sack window shades
Source
13. Corrugated Metal Awning DIY
Source
14. Sky blue palette curtain treatment
Curtains and valances dyed with sky blue color gives a chic appearance to your room in this modern take on window treatment. The drapes can be made of linen and can be designed according to your personal preference.
Source
15. Pink curtains with lacing
This is a traditional design for window treatment using curtains. The selected color is faded pink. There is a lacing that is provided for better sunlight filtration.
Source
16. Make it brownish
In this design, light khaki/brown valances are used as the window treatment technique. 4-5 holders are used for arranging the drapes in the form of consecutive arches.
Source
17. Transparent sack material drapes
In this design, the drapes are rolled upwards, as opposed to sides. The material used can be silk, faux silk or light jute, dyed in light shades of brown or beige.
18. Go Natural
This design makes use of shades or blinds. The material used is jute or any natural fiber. It provides better control of the sunlight coming into the room.
19. Blind with a message
In this farmhouse design, a customized message is written in bright or dark yellow color on the blind. Made of natural fiber, this blind will suit your kitchen window.
Source
20. Shabby farmhouse style window treatment
This design makes use of both curtains and blinds. The color selected compliments both the techniques. Shades of olive green is used.
21. Maroon valances in a set
In this design, valances are combined in tandem or an elongated valance is employed. The color selected is maroon or dark red. Typically suits three or four windows.
22. DIY half drape
In this design, the drape covers a quarter of close to half of the window area. The material used can be household linen or jute. White ribbons can be stitched on the drapes as an accessory.
23. Minimal farmhouse window curtain
In this design, silk or faux silk is used as the material. The color palette selected for the curtain is a dark cream color.
24. Creamy white window shade
Lacing a creamy white window shade with brown or black indent is a good way to bring a farmhouse vibe to your window blinder.
25. Plain white blinder on the glass
In this style, the blinders are not lifted upwards or down, rather they merely open and close over the glass.
26. Green palette valance
Use a traditional valance of olive green color with custom design to bring a vintage look to your room.
As the name suggests, this design consists of 2 fold of polyester curtains which can be folded to each side of a window.
Source
28. Gothic look of a curtain
In this design, dark grey curtains are used. Material used can be transparent faux silk as it can be easier to maintain.
Conclusion
Window treatments, throughout history, have been known to provide an added touch at the end of the décor of your space. One should always make sure to pay attention to it because it can change the way, not only a room feels but also the way it looks.
Kimberly Crawford
Sours: https://farmfoodfamily.com/farmhouse-window-treatment-ideas/
280
281
282
283
284