Best Clay For Sculpting: 2021 Reviews
0
Clay sculpting is a great way to make your creative ideas physically come to life. Clay sculpting is one of the most entertaining and creative art forms that exist, which is why it's so popular today even though it was invented more than 20,000 years ago. The clay sculptures you make can vary in size, shape, and detail. If you're new to the craft, choosing the right clay and learning from the right people, is key to a perfectly sculpted craft. Here are our reviews on the five best clay for sculpting options you can buy.
Note: As an Amazon Associate we earn from qualifying purchases.
Best Clay For Sculpting: 2021 Reviews
Rocky Mountain Clay's CT3-Pottery Clay
The Rocky Mountain Clay CTE is versatile pottery clay that's great for advanced potters and beginners. It's de-aired moist pottery clay that comes in 5, 10, 25, 50, 500, and 1000 pounds size options depending on your project needs. CTE is basic earthenware white cone 06 clay that is plastic, low-fire and has a super-smooth texture. So easy to use, the white clay is suitable for throwing on the wheel, sculpting, and hand-building. The wet color is grey and changes to white through oxidation once you fire it.
This water-based clay is even safe for kids; that's why CT3 makes great school clay for kids' art and sculpting projects. With a low shrinkage level, most expert potters and sculptures prefer CT3.
Aurora Pottery Air-dry Sculpting Clay
The Aurora Pottery clay is a professional-grade WED modeling clay. It is ideal for all your modeling and sculpture projects. This extremely flexible clay's wide usage is for professional molding FX sets effect and modeling for motion photo studios. Available in 5, 15, 25, 50 pounds size, it dries naturally with air without any need to be fired. Although the grey clay is slow-drying, you must keep it moist during the sculpting procedure to prevent hardening.
Aurora clay is an excellent preference among taxidermists, sculpture studios, and other clay art professionals. Just like oil-based clays, the plasticity properties make this water-based clay exceptionally versatile. This art clay is soft and smooth; it's ideal for studio pieces, hand building, clay art, and taxidermy. Moreover, Aurora clay is also useful for wax mask castings.
Craftsmart Natural Air-Dry Clay
This USA-made natural clay by Craftsmart can be an excellent choice for professionals, home usage, and students. The all-purpose modeling clay requires no Kiln; it dries slowly by air and is treated to maintain freshness without fire. Natural and non-toxic means it's safer for everyone. It doesn't contain any chemical additives or stabilizers.
You can use Craftsmart clay for a variety of creative clay projects. The air-hardening clay is ideal for hand modeling, sculpturing, roll slabs, and potter's wheel throw.
The great-value natural clay comes in a (4.5kg) 10 pounds white Blanco clay block that conforms to the ASTM D-4236. Though the clay is fragile when air-dried, but seal with shellac to make your sculpted item waterproof. Both experts and beginners can craft wonderful clay creations to bring the best out of their creative skills.
DAS Air-Hardening Modeling Clay

Not everyone has access to a kiln, so this DAS air-dry modeling clay is perfect for studio and classroom use. Since it doesn't require any oven baking, the DAS clay is excellent for kids as well. Suitable for all age groups, the white clay block is super-pliable, smooth, and soft. This allows you to use fine motor skills to create something exceptional via hand modeling. Not only is this Italian-brand clay is easy to work with, but it also sticks to any supports and works with a variety of other materials.
DAS superior sculpt clay comes in a 2.2 pounds Terra Cotta or white clay block. It can be a great choice for experienced modelers and those who are new to the sculpting world.
Aurora Self Hardening Modeling Clay
This self-hardening red clay is suitable for wheel throwing, sculpting, molding, coiling, pottery, and other craft projects or studio use. Made in the USA, Aurora red modeling clay comes in a 5, 10, 25, and 50 pounds block size. No need for an oven or kiln! As the name suggests, this self-hardening clay air dries quite well overnight quickly. So this non-fire clay is safe for kids and adults to complete their general craft projects.
Best of all, Aurora clay accepts nearly every finish, such as acrylic paints. This ultra-fine grained basic clay has a natural feel and look. Plus, it's also very affordable.
Sculpting Clay Buying Guide
Here are some things to know and keep in mind when your shopping for clay that is used for sculpting.
Clay Types - The best and most comfortable option for all beginner artists is the water-based and air-dried clay. It's easier to work with; you can create different forms and shapes using hand-modeling techniques. However, not all air-dry clays are created equal to function as your sculpture medium. Oil-based clays made out of oils and waxes have gained popularity due to their great malleability and since they don't dry up in the air. Other sculpting clays used by professional artists include polymer, epoxy, ceramic, stoneware, paper, Kaolin, and ball clay.
Strength - This refers to how strong the clay is after drying. Strength is necessary because nobody wants their clay sculptures to crack or fall apart once dried. Earthenware clays are specified as pottery and natural clay by various brands.
Although they are easy to work with and learning, the final dried object is often very fragile. It's a good clay body for wheel throwing, hand building, and sculpting due to good plasticity and molding property.
Texture - Air-dry or self-hardening clays have grainy, coarse, fine particles to grain-less textures. This differs from brand to brand, and choosing the wrong type and texture is a setup for failure. Coarse clay is a better choice for hand-building and sculpting as the clay holds its shape better and reduces shrinkage, reducing cracking or warping.
For wheel throwing, coarse or grainy clay can cause hand abrasion, so ultra-fine or no-grain clay is the best option. A fine smooth clay also gives a more matte finish.
Flexibility - A pliable is mostly soft and smooth that allows new artists ease of use. However, some prefer firm clay to mold out using hands or sculpting tools. Hard or stiff clay is quite challenging for beginners to work with fingers. Good plasticity and flexibility are useful when making pottery. You can check the flexibility of clay by stretching it to the fullest.
Sours: https://summercamphub.com/best-clay-for-sculpting/
Clay Anime Characters
by Emily
(Beaumont CA)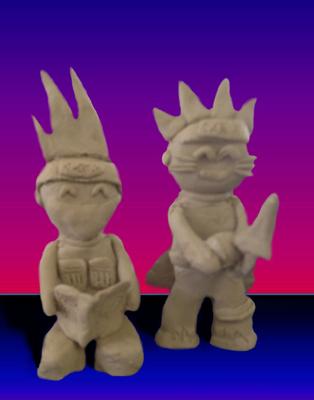 Naruto & Kakashi
While visitng us in California and waiting for me during my sculpture class in Palm Springs, my niece, Stephanie, did her own sculpting from some of my clay. Inspired by the wonderful creations at clay-it-now, she created Naruto and Kakashi.. from the Japanese anime called Naruto.
She will be back in June to paint the clay!
---

Please LIKE, SHARE and SUBSCRIBE to support my channel. 
---
Share your craft
Do you make your craft? Share it!
---

Shopping:
Sours: https://www.clay-it-now.com/clay-anime-characters.html
We have scoured the Internet for you Manga and Anime fans, trying to select a nice collection of craft ideas for those who love Manga. We tried to keep in mind that most craft lovers are usually doing their crafting in the spare time so we felt these Manga gift ideas needed to be simple and easy. Many of them are but a few will challenge you and then we even included a few things you could buy straight from Etsy or eBay if you didn't have the time or talent to "DIY." No matter your preference, of do it yourself or buy it yourself, you can find a wide variety of crafty projects for your anime-inner child, from hats, to dressers to candy, to scarves, free printables and paper crafts, we bring the diversity of anime and Manga and we make no apologies. Let us know if you have a Manga craft project you would like us to share. Provide a link in the comments for us to review and if we like it, we'll add your project to this Manga gifts and craft page for all the other Manga fans out there.
Origami Pandas
Here's how.
DIY Shibori
Found on honestlywtf.com
Mini Koinobori. Website with loads of paper folding tuts.
Found on foldingtrees.com
How to Make a Domo-kun Pocky
Found on zakkalife.blogspot.com
coke can – Manga club craft
Found here.
Full Alchemist Pins
Pins – Fullmetal Alchemist 2
byGwydionAE
Otaku Crafts: Dragon Haku (Spirited Away) Ornament
Found on otakucrafts.blogspot.ca
Bookmarks made from discarded manga volumes
Found on craftster.org – manga books used as a cool craft.
Manga Bedside Table
Sleep with a manga table every night.
Mini polka dot hats
Found on happythought.co.uk
Tutorial Kawaii Onigiri KeyChain
bySongAhIn
Be an Anime character with these DIY jeans
Find out how they made these anime jeans.
ANIME Bottle Cap Necklace , magnets and Keyrings and earrings
Found here.
polymer clay totoro figure
Found on duitang.com
Spirited Away NO FACE / Faceless Studio Ghibli doll
Found on etsy.com
Maneki Neko Craft
Found on dltk-kids.com
Adventure Time and Friends Studs Polymer Clay
Found on deviantart.com
Spirited Away No Face Shadowbox
Found on etsy.com
Peep-a-chu
Was on pattygopez-thebiggestpeepshowar.buzznet.com (paged deleted)
Nyanpire papercraft – free printable templates
Found on paperkraft.blogspot.com
Sailor Moon & Super Sailor Moon Inspired Scarf
Found on etsy.com
Cute little finger ninjas for Anime Club
Found on etsy.com
Totoro manga doll
Found on cutoutandkeep.net
Fruits Basket Kyo Cat Amigurumi Pattern
Found on ravelry.com
Pikachu Cut Out
Found on flickr.com
Sailor Moon Luna Tote Bag/ Handbag
Found on ebay.ca
Rainbow Dash Fleece Hat
Found on etsy.com
Cute Panda PU Leather Handbag Shoulder Bag
No longer online.
Perler bead pattern attack on titan
Found on item.taobao.com
Sailor Mars crochet doll
Found on storenvy.com
How to make "L" of Death Note polymer clay
Found on miss-kawaii.over-blog.fr
Manga Eyes on Brick Book Ends
Found on nl.dawanda.com
Origami Paper Claws
Found on wikihow.com
Hello Kitty Shrinky-Dink Bracelet
Found on etsy.com
Poke-baubles Christmas Tree Ornament
Found on instructables.com
Kamineko Hat
Found here.
Fairy Tail's Eksheed
Found here.
How To Upside Down Braided Messy Bun
Found here along with other manga-style crafts.
Pipe Fox Charm
Found Manga Craft here.
Manga Fantasy Keys
Found these manga keys here.
Shikon a Jewel from InuYasha
Found this manga craft idea here.
DIY manga bracelet
Found this adorable Manga bracelet tutorial here.
Filed Under: Clothes & Accessories, Clothing and Accessories, DIY Crafts & Project Ideas, Gift Ideas, Hobbies & Interests, Kid Crafts, Kid-FriendlyTagged With: anime crafts, anime projects, DIY projects, geek chic, Geeky Crafts, gifts for boyfriend, gifts for girlfriend, gifts for manga lovers, manga crafts, manga diy, nerdy diy, nerdy diy gifts, nerdy gifts, nerdy projects
Sours: https://bigdiyideas.com/43-simple-anime-manga-crafts-to-make-at-home/
Sculpting NARUTO UZUMAKI - Naruto Shippuden
.
Clay ideas anime
.
Xiao from Genshin Impact, Made of Clay|Anime Clay Craft| Jumping Fat Clay
.
You will also like:
.
290
291
292
293
294