DILLMAN OUTDOOR RANGE
---
dillman range safety rules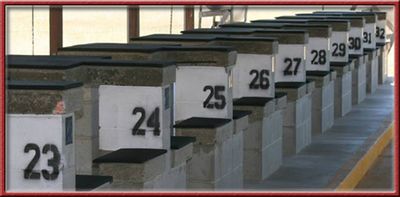 DO NOT MOVE FIREARMS TO THE SHOOTING BENCHES OR VEHICLES WITHOUT PERMISSION OF THE RANGE SAFETY OFFI
Safety is our first priority. Dillman Range Rules and Range Safety Officer (RSO) instructions shall be followed at all times to ensure safety.
Wear Appropriate Clothing
For your safety & the safety of fellow shooters, we do not allow bare feet in sandals, flip-flops, and open shoes, etc. at the Dillman Range.
Sign-in Upon Arrival
Do not move firearms to the shooting area without RSO permission.
Upon arrival, everyone must sign-in with the RSO immediately.
Two (2) hour shooting time limit may be imposed during busy periods. You must sign in and pay any fees to be placed on the waiting list.
Transporting Firearms and Preparing the Shooting Bench
After receiving RSO permission and DURING LIVE FIRE PERIODS ONLY,CASED firearms may then be taken directly to the shooting bench.
All firearms on the range must be in a SAFE CONDITION, muzzle pointed downrange, action open, all ammunition and magazines removed, a yellow breach flag in the action.
Rifles and shotguns may be placed in racks, provided the firearm is in a SAFE CONDITION, muzzle pointed up, action open, all ammunition and magazines removed, a yellow breach flag in the action.
Handguns must be left on the shooting bench with the muzzle pointed downrange, or placed in your vehicle.
Setting up the shooting bench, such as pads, rests, spotting scopes, is done during live fire only.
Live Fire Periods
All firearms on the shooting bench, unless being fired, must be in a SAFE CONDITION.
EYE AND EAR PROTECTION is required during live fire periods.
Minors: Anyone under the age of 18 years must be under the direct and constant supervision of a responsible adult.
Rapid fire is prohibited. Rapid fire is defined as more than one shot per second.
Handguns are not to be carried visibly in holsters.
NO CROSS SHOOTING! Shoot only straight forward in your lane, not into any other lanes.
IF YOU HAVE A MALFUNCTION OR A PROBLEM ON THE LINE, engage the firearm safety, keep the weapon pointed down range and ASK FOR ASSISTANCE.
Metallic/Steel targets may be used only with lead or lead-core bullets at 100 yards or farther for center-fire rifles, and 50 yards or farther for handguns and rim-fire rifles.
Cease Fire Periods
Everyone will stand behind the yellow safety line during a Cease Fire. There will be no handling of firearms or any other equipment (magazines, ammunition, spotting scopes, targets, staplers, etc.) on the shooting bench during a cease fire.
Firearms may not be handled during a cease fire. This includes in the parking lot and on the racks behind the shooting benches.
All firearms on the benches and racks will be placed in a SAFE CONDITION.
The RSO will inspect every firearm on the range to determine it is in a SAFE CONDITION. The RSO will then give permission to proceed downrange to check, post or retrieve targets. All others must remain behind the yellow safety line.
Permission of the RSO is required prior to retrieving brass, shotgun hulls and unbroken clay pigeons beyond the red line and forward of the benches.
Sours: https://lincolnrifleclub.com/dillman-range-%26-rules
Some Gun Owners On Edge Amid Rumors of Robberies
This is an archived article and the information in the article may be outdated. Please look at the time stamp on the story to see when it was last updated.
DOWNTOWN SACRAMENTO — At the Lincoln Rifle Club, members were being warned to be careful after they leave a range or gun store amid rumors of thieves targeting gun owners.
"They're targeting people leaving ranges," assistant range master Mike Davis said. "I understand there's been one armed robbery and one smash and grab at a market."
The Sacramento County Sheriff's Department could not provide details on any active cases but did say this is a common problem.
"I would not check in on social media where you're at, what you're doing, when you get to the gun range and then you go to leave again. I would go straight home. I would not leave those guns in your car and stop at a store," sheriff's department spokesman Deputy Rod Grassman said.
Davis says no one at the Lincoln Rifle Club's Dillman Range has been targeted yet but was still warning shooters just in case.
"Just because they targeted one range doesn't mean they might not move on to maybe where they think it's easier pickings now," he said.
Although gun owners may be technically armed, Davis says the gun can give a false sense of security, especially if you don't have a concealed carry permit, when you cannot legally transport your gun loaded.
He says a single gun on the black market can fetch at least a thousand dollars.
"They are worth a lot, particularly if you can't get a gun yourself legally," Davis said.
The sheriff's department says those who lose a firearm could be charged with a misdemeanor.
Copyright 2021 Nexstar Media Inc. All rights reserved. This material may not be published, broadcast, rewritten, or redistributed.
Sours: https://fox40.com/news/local-news/some-gun-owners-on-edge-amid-rumors-of-robberies/
Dillman Range
Tips
Hours
Hours may fluctuate. For detailed hours of operation, please contact the store directly.

Business operations may be affected due to COVID-19. Please contact the business directly to verify hours.
Most Recent Comments
April 2021

First time here. Really good experience- the range was well run and timely. The rangers were kind and knowledgeable. The other patrons were respectable - I felt self and will return again.

October 2020

Went here for the first time yesterday and was impressed with the customer service. Everyone was friendly and helped me get my rifle sighted in. Not crowded and easy to find. Will definitely go back.

September 2020

This would be an okay range if the range officers could manage to be consistent.
One time, members must pay for a target to shoot....other times it's "oh no, you're a member."
And it changes constantly.  
It's one of the best reasons to go shooting out in the country.
More Comments(39)
From Dillman Range
Shooting range 1 mile north of Lincoln. Open to the public. Please visit our website for hours and information.
You May Also Like
Sours: https://www.loc8nearme.com/california/lincoln/dillman-range/5288886/
Pressure Points of Bassai Kata/Dillman DVD 8
.
Hours dillman range
.
Most Preferred Pressure Points/Dillman DVD 9
.
Now discussing:
.
326
327
328
329
330