LOC and LCO are terms within the curly girl community that you may or may not be familiar with. They refer to two different but similar methods aimed at hydrating curly locks and are often praised for their effectiveness. In this article, we compare the LOC vs LCO methods so that you can determine exactly which one is right for you.
The LOC vs LCO debate has long been discussed amongst the curly girl community as it has not always been clear which method works best for which hair type. It's important to note that both methods are very effective, but that each method caters to the individual's hair porosity.
While the LOC method is recommended for high porosity hair, those with low porosity hair will benefit more from the LCO method.
What Does LOC And LCO Stand For?
LOC stands for liquid, oil and cream while LCO stands for liquid, cream and oil.
Both of these methods describe the sequence in which you should apply the chosen products.
These hair care routines are targeted at those with natural hair who are looking to lock in and retain moisture.
This is essential for curly hair growth and hair health.
The LOC and LCO methods are highly effective and can be used every few days to maintain hydration.
It's not recommended that you use them every day as this can have the opposite effect and lead to product build-up and dryness.
Our Top Picks For The LOC Method
100% Pure Organic Jojoba Oil
100% Unrefined Yellow Shea Butter
Our Top Picks For The LCO Method
SheaMoisture Curl and Style Milk
100% Pure Hexane-Free Castor Oil
Who's the LOC and LCO Methods For?
The LOC and LCO methods are suitable for:
Natural, curly, textured hair
Those who are struggling with dry, brittle, dull hair that's in need of hydration
Dry, frizzy hair is one of the main struggles that many curly-haired women face.
That is why using a method like LOC or LCO can make a difference in the overall texture of the hair, leaving it softer and more manageable.
Also Read: How To Pre-Poo For Low Porosity Hair: Easy Guide
LOC vs LCO: The Methods Explained
Both of these methods are a 3-step process that follows a specific order.
Although the processes might not seem too dissimilar, the results will vary depending on your hair type.
Let's take a look at the LOC vs LCO method and how they differ:
The LOC Method
The LOC method hydrates the hair by:
Applying liquid (water or a water-based product)
Sealing hair with the use of an oil such as Jojoba Oil
Applying a Shea butter cream to seal and moisturize ends
The LCO Method
The LCO method hydrates the hair by:
Applying liquid (water or a water-based product)
Applying a hydrating cream to seal and moisturize ends
Finishing it off with a natural oil such as castor oil
LOC vs LCO – Which Should I Choose?
There's always been a huge debate surrounding which method works best, but neither is better or worse than the other.
It simply depends on your hair porosity as this determines how well your hair absorbs moisture.
So while both methods are highly effective at treating dry, damaged hair by locking in moisture, your choice should depend on your own hair porosity.
What Is Hair Porosity
In short, hair porosity is determined by how well your hair absorbs and retains moisture.
While all hair is naturally porous, just how porous your hair is, depends on the hair type.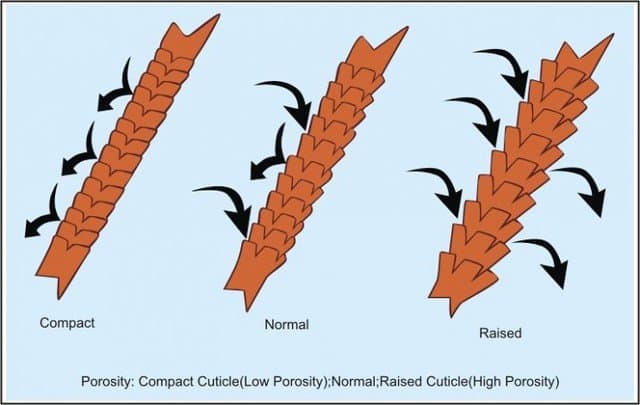 Low porosity is when the hair cuticle is compact and doesn't easily absorb moisture.
Products are therefore often left to sit on the hair which can lead to a build-up of residue and produce oily, heavy hair.
Some key traits of low porosity hair are therefore an oily, flaky scalp and hair that may appear dull and flat.
On the other hand, high porosity hair has open cuticles and absorbs more water and product.
If you have high porosity hair, you should be careful with over-conditioning and moisturizing your hair.
Too much moisture could potentially lead to hygral fatigue which is hard to recover from. Instead, try to incorporate protein products into your routine.
Finding out your hair porosity is therefore vital because only then will you know if the LOC or LCO method is best for you.
Also Read: Dominican Blow Out: Everything You Need to Know
How to Determine Your Hair Porosity
Discovering your hair's porosity can easily be done with at-home experiments.
We'd recommend trying any of these three tests:
Method 1: Hair Strand Texture
Take a strand of your hair and place it between your fingers.
Run your fingers along the strand and have a feel of the texture. If it feels rough then this is a sign that the cuticle is open and that you have high porosity hair.
If the hair strand feels smooth, the cuticles sit closely together and it's likely you have low porosity hair.
Method 2: Shower Test
Because low porosity hair has tighter cuticles, it takes longer to get wet as well as to try.
One way of testing your hair porosity is to take a shower and soak your hair completely.
Take notice of how long it takes for your hair to completely absorb the water.
Does it feel wet immediately or does it take a while?
Do the same with conditioning products.
It should be fairly obvious if your hair takes to water quickly. If so, you have high porosity hair.
Method 3: The strand test
Fill a glass with water and place a strand of hair inside the glass. Examine if the hair strand floats or sinks.
If it floats to the top, then it's probable that your hair is of low porosity.
If the strand quickly sinks to the bottom then it's likely that you have high porosity hair.
Do take note that your hair should be clean if you do this test as oily residue can affect the result.
Now that you understand your hair porosity, it will be easier for you to distinguish between the two methods.
You now know which sequence is best for your hair type.
Here is the LOC vs LCO method broken down to help you understand which one you should go for and why it will give you the desire outcome you're looking for.
Also Read: 7 Must-Try UK Curly Girl Friendly Conditioners
Best Method for Low to Medium Porosity – LCO
As mentioned, with low porosity hair the cuticles remain closed, which makes it difficult for the hair to absorb moisture.
This is often why deep conditioning treatments left on overnight fail to repair and restore low porosity hair.
Water and hair products struggle to enter the hair shaft.
Quite often the products either slip off the hair strands or coat the hair. This is why those with low porosity hair often experience product build-up.
If you have low to medium porosity, then you'll be better off sticking to the LCO method.
Using cream after the liquid will help to add moisture. Finishing it off with oil will help to seal everything in.
This order is more effective because if a cream is used last then it would simply slip off the hair or fail to absorb, leading to a significant product build-up.
As you know, product build-up can lead to very oily hair.
Recommended LCO Products
Best Method for High Porosity – LOC
Those with high porosity hair will have cuticles that remain open, which means that every drop of hydration enters the hair shaft.
There's a risk of over-moisturisation and so oil should be used to seal before adding creme.
Unlike low porosity hair that takes a while to dry, high porosity hair dries incredibly quickly and often leads to frizzy hair with little definition.
Finding a balance can seem impossible at times, but it can be remedied.
The LOC method is the chosen sequence for high porosity hair as it's essential that the oil is used to seal the cuticles before adding the cream.
Layering the cream before the liquid could result in hygral fatigue.
Hygral fatigue is when the cuticle experiences damage due to excessive swelling and contraction. This can lead to weaker hair strands over time.
In this case, by choosing the LOC method vs the LCO method, you allow oil to protect your high porosity hair from too much moisture entering the hair shaft.
You still need moisture to add softness to the outer layer of the hair strand, so creme is added as the final step.
Also Read: 5 Reasons To Buy A Hot Head Thermal Cap
Recommended LCO Products
Final Thoughts
It's worth mentioning that while these methods are often correct when used on these hair types, no two people are the same.
This means you might find that the opposite method works better for your hair type.
This does happen sometimes, which is why if the first method doesn't work for you then you should feel free to try the other one just to see if the results are desirable.
You may also have to experiment with using different products, as some thick creams and some oils can weigh down your hair. Your hair doesn't weigh a lot of course, but product build-up can significantly reduce the volume of your curls.
I hope this guide on the LOC vs the LCO method has proven useful to you. Do leave us any comments below!
---
Disclaimer: This site is not intended to provide professional or medical advice. All of the content on LovedByCurls.com is for informational purposes only. All advice should be followed at your own discretion. Ingredients may change at any time so always check the product label before using. Check our full disclaimer policy here.
Sours: https://www.lovedbycurls.com/hair-talk/loc-vs-lco-3/
The LOC method is a moisturization layering technique that consists of applying liquid to hydrate the hair, oil to lock in moisture and cream to prevent moisture loss; the exact protocol you use depends on how thirsty your hair is, often determined by your natural hair's porosity. Women with curly hair have taken the lead in the quest for clean hair care, using shampoos with ever-milder detergents and introducing co-washing to the rest of the world, a gentle form of hair cleansing.
Curly hair of all types has unique challenges-- maintaining moisture being chief among them--and some co-washers have taken to crafting their own unique and natural hair care regimens and styling products. When it comes down to understanding how to moisturize natural hair, the process takes trial and error before locking in a process that works for your hair type. This may spark another question when formulating the most ideal hair care regimen - "what type of hair do I have?" Consider this complex operation reported by a woman with Type 4C curls, among the thickest and tightest strands:

Condition/Co-wash your hair
Condition/Co-wash again; comb through hair with fingers and leave-in conditioner before rinsing.
Separate hair into sections and apply leave-in conditioner for hydrated hair.
Re-apply leave-in conditioner and detangle hair with a wide-tooth comb.
Apply a heavy moisturizing cream with a wide-tooth comb.
Apply grape seed oil to each section.
When blow-drying curly hair, apply a heat-protectant spray and blow-dry by sections.
Apply styling cream or gel and twist the strands into place.
This is an extreme example of curl hair care using the LCO – liquid/cream/oil – method.

THE ABCS OF L, C AND O
The LCO method is a layering technique of applying liquid, cream and oil hair products to lock in moisture; the exact protocol you use depends on how thirsty your hair is, often determined by your natural hair's porosity. Variations on LOC are the CLO (cream/liquid/oil), or LO (liquid/oil) methods. The general idea of the LCO--liquid/creme/oil--method is to balance cleansing and moisturizing with water or liquid conditioners, followed by thicker creams and finally, oils or butters to seal it all in and defend from the humidity outside. Balancing the moisture inside your hair strands with conditions outside is the key to living frizz-free.
So, before you select a method for conditioning your occasional frizzy curly hair, answer this question:
HOW POROUS ARE YOU?
Hair porosityis the degree to which hair is able to absorb and retain water molecules. It is determined based on how the cuticle lays: If your hair is curly, damaged, or color-treated, the more open and therefore porous your hair is. The smoother, straighter, and undamaged (e.g., natural color), the more closed and less porous your hair is. These are the most common low porosity hair characteristics.
Highly porous hair strands both absorb and lose moisture easily. The cuticle needs little help to lock in moisture – but a lot to hold it in. To care for highly porous hair, the LOC method – a layering technique – is preferred, and in this case, the L needn't be anything more than water to help fight dryness.
Hair with medium porosity both absorbs and retains moisture easily, and the hair shaft may do well with the LO method, a variant of the LOC method. In dry months, the L here is solely water for more hydration, or during humid weather, a leave-in conditioner.
Hair with low porosity is less absorbent, though generally requires less moisturizing as it holds onto moisture well. For this natural hair type, the LCO method is recommended and starts with a diluted conditioner followed by a cream such as Hair Balm or a leave-in conditioner to stay hydrated. If necessary, finish with oil; coconut oil, argan oil, or jojoba oil will do, if only at the ends.
There are a few ways to determine your porosity. One is to fill a bowl with room-temperature water. Take a few hairs that you've shed and set them on the water's surface. If it's very porous, it should take on water and submerge. If not, it'll float.
THE PROS & CONS OF THE LCO APPROACH TO CURL CARE
Despite the different approaches to managing moisture, shampoo-free curls are those that have the best chance of looking hydrated and healthy. That said, No L, C, or O is going to cleanse your scalp of built-up oils, dead skin, styling products, and particulates that you pick up every day. Pay special attention to the condition of your scalp and keep it properly cleansed. Healthy hair depends on a healthy scalp so make sure your hair care regimen is up to par.
No L, C, or O is going to cleanse your scalp of built-up oils, dead skin, styling products, and particulates that you pick up every day.
But wait, how do you get hair and scalp clean without suds? Chances are you're already using an oil-based cleansing product for your face, right? Well, you can apply this same principle to your hair – because after all, your face doesn't stop above the hairline – and use detergent-free shampoo. Hairstory New Wash is a great option with three formulas to choose from, making it a great fit for anyone, especially if you've been blessed with curly hair. So go ahead, it's time to test out this method and wash your hair!
Sours: https://www.hairstory.com/blog/loc-method-what-is-it-does-it-work/
LOC Method~ Locks in Moisture on dry types. L (Liquid or water/Leave in), O-Oil, C- Cream. The oil seals in the leave in. The cream seals in the oil and smooths out the cuticle. The leave in is usually water based. The oil can be an oil or solid form oil-a butter. The cream can be a anything creamy. Some use conditioner that is creamy. I use creams with emollients like shea butter because they make a film, soften the cuticle, and lock in my moisture. Curls are nothing but water and protein. Just like your body need water, your hair does too. Not too much and not too little. Dry curls need moisture or they will be limp.

Styling:

LOCG- I do this in the winter to lock in moisture on my weaker waves. L-Leave in/Liquid, O-Oil, C-cream, G-Gel. I use SM milk, Coconut oil, SM Smoothie, LALSG. I need the gel to define my weaker waves but many tighter curlies don't need the extra step.

LOG- I do this in the summer to seal in my moisture. I don't need the cream in the summer because there's more moisture in the air. SM milk, Sunflower oil or grapeseed (lighter oils because I am less dry and coconut is too oily in the summer), KCCC, and LALSG. The smoothie made me oily in the summer and was too much moisture.

LCO- Some low porosities do Liquid/leave in, Cream, to pack the moisture into the hair, then seal with oil because it forms a hydrophobic barrier to lock in the moisture. You have to play with both methods to see which works best for you.

Refreshing:

I use LOG to refresh using what I need: using water, leave in, oil, and gel as needed. I wet and smooth the cuticle down and don't spray it because my hair type gets frizzy because it agitates my hair and cause friction and fractionates my curls and causes frizz. The cream makes me weighed down and sticky, so I get less days and I only use it as needed in extreme frizz situations. I can refresh 3-4 days if I am fortunate now.

If you need extra moisture you can refresh with LOCG if you need though. You could play with LCO too.

If you are low porosity or finer, you might not need the extra oil sealing steps. Or you can try just a couple drops of jojoba, sunflower, or grapeseed oil or you might not need any at all.

LOCG Demo:


Sours: http://rockyncurls.blogspot.com/2016/02/the-locg-loc-log-and-lco-methods-to.html
THE L.O.C.G. METHOD- MOISTURIZING/SEALING 4C HAIR
What Is the LOC Method? Here's Everything You Should Know
How To Do It
The LOC method is easy to implement into a hair routine since it requires products that are probably on your vanity right now. All you really need to do is follow the order of application presented in the method. If you can't wait to use the LOC method on your hair, here are the steps you'll need to abide by.
Step 1: Liquid/Leave-In Conditioner
Section out your hair and re-wet it with water if it is completely dry. This is much easier to do if you have a spray bottle and sectioning hair clips in hand.
Proceed with your desired leave-in conditioner and apply it evenly throughout each section from root-to-tip. Make sure to give extra love to the ends of your hair since these are the oldest and driest part of your hair. A water-based conditioner will provide the moisture that freshly cleansed hair desperately needs.
The amount of conditioner you should use will be determined by the length and thickness of your hair.
Step 2: Oil
Once you have slathered your locks in conditioner, you are ready for the hair oil. You shouldn't be as generous as you were in the previous step. Make sure to only apply a thin layer of oil to lock moisture, but don't be excessive to the point that your hair looks weighed down and greasy. To avoid this, you can apply small amounts to each section and slowly add more when you feel you need it.
Hair oils that are formulated with emulsifiers are ideal for this step because it means the oil will mix with water and deliver moisture instead of just sitting on top of the hair shaft like normal oils do.
Just like everything else, hair porosity can play a factor in the type of oil you'll need.
Here is a list of hair oils that work best with the different porosity levels. For the purpose of this article, each level is limited to two oil examples. There are countless other types that can work for your hair type. Keep an eye out for these oils in your properly formulated hair oil's list of ingredients:
High Porosity
Low Porosity
Neutral Porosity
Step 3: Cream
When your hair is adequately conditioned and oiled, you are ready for the final step in the LOC method, which involves using a creamy or butter-based moisturizer for sealing. For each section, you will apply the amount you feel is most appropriate for your hair condition. Just like what was suggested previously, you can buildup your application slowly but surely.
The end result should give you hair that is hydrated, defined in texture, and can hold out for a few days. In other words, your hair should look poppin'.
If for whatever reason your hair requires moisture or definition, you can follow up with your other styling products like hair spray, foam or curl gel.
Sours: https://www.byrdie.com/the-loc-method-4771726
Method locg
LOG Method for Curly Girls Explained in 3 Simple Steps
Calling all natural headed curlies with high porosity hair or hair that is damaged by excessive heat, hair coloring, or chemical treatments! I used to be prejudiced towards a LOG method, but now I love it so much I cannot wait to share it with you.
Will it make any change? Just see what a change it makes for me and read on for the detailed LOC and LCO methods comparison, LOG application steps, and product recommendations.
LOC, LOG, and LCO Methods: What Are They?
There are many variations of moisturization-focused methods used to style curly hair such as LOC, LOG, and LCO. How do these methods differ? Which method is best for your hair? Let's break it down.
Like the LOG method, LOC and LCO refer to different but close methods that describe the sequence, in which the products should be applied to keep hair hydrated and healthy:
The LOC Method = Leave-In, Oil, Cream
The LOG Method = Leave-In, Oil, Gel
The LCO Method = Leave-In, Cream, Oil
Knowing your hair type and hair porosity level is a brilliant starting point when researching what products and methods are best for you. Take the porosity test to determine yours!
The LCO Method: Low to Medium Porosity
Low porosity hair struggles to absorb moisture and product due to the hair cuticle being closed. When the hair cuticle is tight, the product will most likely coat the hair instead of being absorbed into it.
With that being said, applying an oil last is more beneficial to seal in and retain as much moisture from the leave-in and cream as possible; applying the cream after the oil will most likely result in product buildup.
The LOC and LOG Method: High Porosity
High porosity hair has the exact opposite issue of low porosity hair. The hair cuticle remains open allowing moisture in and struggling to retain it.
Applying oil on wet hair directly after adding a leave-in creates a sealing layer to lock the leave-in and water into the hair. Distributing cream prior to the oil on high porosity hair types results in over moisturization.
Full Guide to the LOG Method
The LOG method is a product layering technique ideal for high porosity curls that are craving lasting moisture. If you find that your hair absorbs products, dries quickly, breaks easily, feels frizzy, dry, or rough, or has heat or color damage, then the LOG method may be the perfect product application method for you! Here is how I do it:
What you'll need:
Leave-In Conditioner
Oil
Gel
Diffuser (optional)
Pick (optional)
Step 1: Leave-In Conditioner
Begin this step once you have shampooed, conditioned, and detangled your hair. Part your hair into sections and apply a leave-in conditioner onto soaking wet hair.
If you have medium to high-density hair, sectioning is a must! Every hair strand on your head deserves equal TLC, and sectioning your hair ensures you don't miss any pieces. For me, the hair on the crown of my head is way more coarse and thirsty, so I do my best to apply a bit more product to that section.
Once your natural hair is sectioned you may need to use a spray bottle to rewet your hair. High porosity hair tends to lose moisture rather quickly, and you'll have better results when applying products to soaking wet hair.
How much leave-in you apply depends entirely on your hair type. If you have fine curly hair, smaller amounts are recommended to avoid weighing it down. For thick and/or coarse-haired curlies like myself, apply a generous amount to be sure the entire hair shaft is covered.
Leave-in conditioners I recommend are: Cantu, Bumble and Bumble, and Shea Moisture.
After the leave-in is applied, use a comb or wet brush to distribute the product evenly. My go-to brush for product distribution is the Denman Brush, even though I experiment with new brushes and brands too.
Step 2: Oil
The purpose of using hair oil directly after applying the leave-in conditioner is to create a sealing layer to lock the leave-in and water into the hair. The type of oil you should use will vary depending on your hair's porosity level:
For high porosity hair, olive and castor oils work best;
For high porosity hair, got for jojoba oil;
For low porosity hair, choose argan and avocado oils.
I prefer a silicone-based hair serum/oil like the Moroccanoil Treatment to help seal moisture and prevent frizz especially during high humidity and cold temperatures. It makes the LOG method ideal during the summer and winter months.
Moreover, a silicone-based hair serum lowers the porosity of natural hair allowing the hair to attract and hold moisture over time. With that being said, I use silicones sparingly and am always sure to clarify well after use.
Step 3: Gel
The final step is to add a layer of gel over scrunched curls for hold, but, more importantly, to seal all that moisture into the hair. Use a cotton t-shirt to scrunch any excess water for quicker drying time. Do not brush your curls once the gel is applied and allow your hair time to dry so that a gel cast can form. This will ensure curl definition and shine!
For those who do not know, a gel cast is created when the gel begins to dry and harden around the curl. I used to think this was a bad thing! I didn't want crunchy, hard curls, but I was unaware of the benefits. The gel cast holds the curl and encourages it to keep its natural formation similar to a protective barrier while simultaneously reducing frizz and sealing in moisture!
Once your hair is completely dry, begin to SOTC (scrunch out the crunch). I like to emulsify oil on my hands before I scrunch my hair in an upward direction in order to reduce friction.
Gels I recommend are: Curls, Chi, and Bumble and Bumble.
You can use the LOG, LCO, or the LOC method every wash day if you want to. I find myself using these methods more for winter hair care and during summer months when my hair is craving moisture retention the most. I wash and style on average twice a week and always clarify well once a month to prevent product buildup.
Whatever your hair type, have fun experimenting with any of the above-mentioned product layering methods. I know you'll find one that your hair loves! When you do, share your findings and results with me on Instagram @laurenpiluso. I love to chat with curly friends!
Sours: https://therighthairstyles.com/log-method-curly-hair/
Winterizing Dry, Thick or Coarse Curly/Wavy Hair LOCG Method
.
Similar news:
.
338
339
340
341
342