There are few styles that seem to polarize design aficionados like 'shabby chic'. Some absolutely love the simplicity of the aged décor it brings in and the tranquility that it seems to create, while others find it too feminine and far from practical. Regardless of which camp you fall into, there is little doubting the fact that shabby chic has made giant waves in the world of interior design over the last two decades. Today, the elegant style is more popular than ever before, and homeowners are increasingly gravitating toward its charming appeal. If you want to try out shabby chic, NOW is definitely the time, and the bedroom is the perfect place to get started!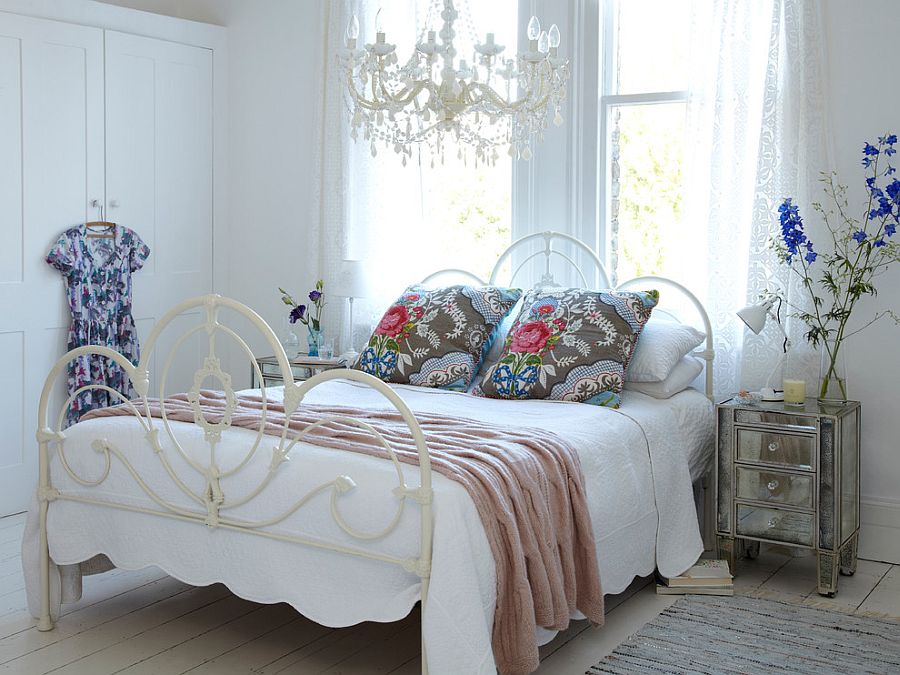 The soothing and feminine bedroom and shabby chic style seem like a match made in decorating heaven. The spirit of this style is all about comfort, eco-conscious décor choices, and a blend of vintage and antique finds with modern touches. With many different variants and an ample room to showcase both your creativity and DIY projects, this is a style that lets you display your personality while transforming the bedroom into a calming retreat. Scroll through these 50 gorgeous bedrooms we have lined up to find out more –
Vintage & Reclaimed
Vintage and antique finds are the lifeline of shabby chic, no matter which subtle twist you wish to incorporate into the style. Distressed finishes are always welcome here, as décor with an aged, worn-out look helps give that touch of authenticity to the bedroom. In fact, it is the genuinely aged furnishings that seem a lot more at home and welcome in this setting than those that have been treated to get a similar finish. Of course, this means that a trip to the nearest thrift store or flea market is the best way forward when shopping for shabby chic bedroom décor and accessories. There are times when you will uncover an absolute gem in a nearby garage as well, so always keep your eyes open!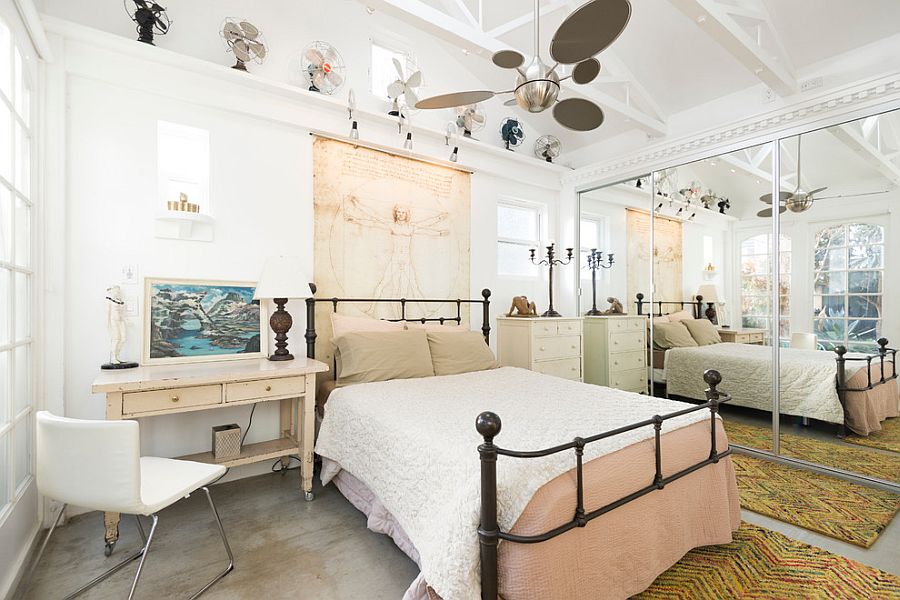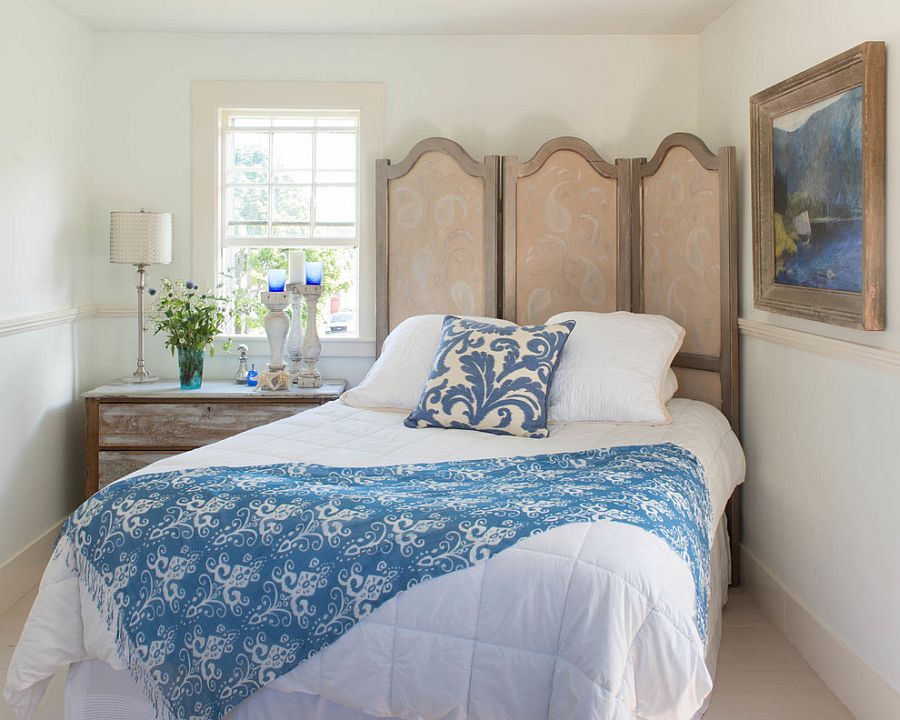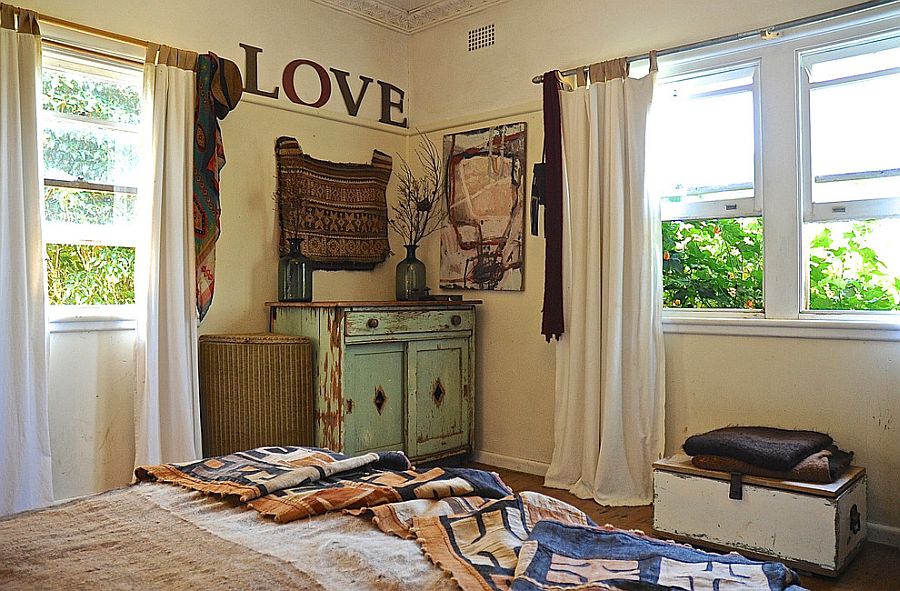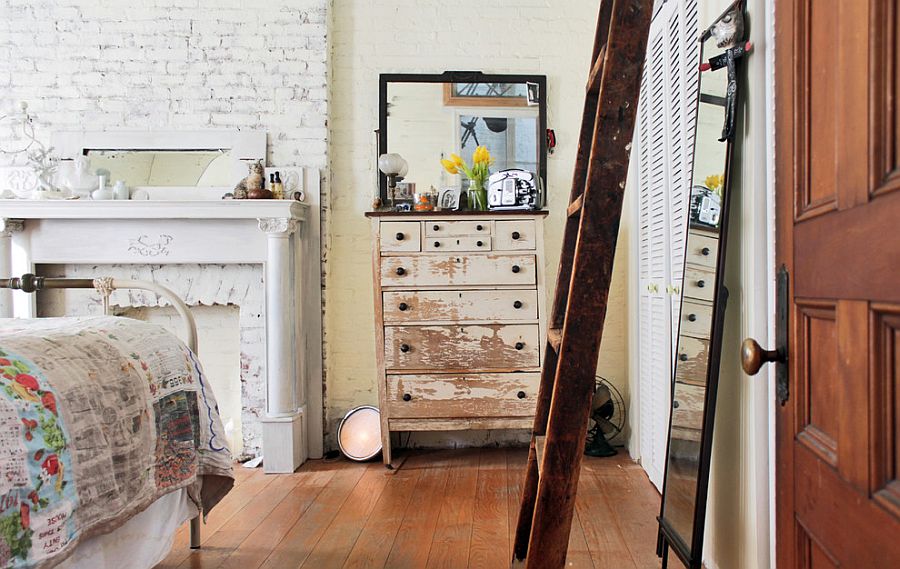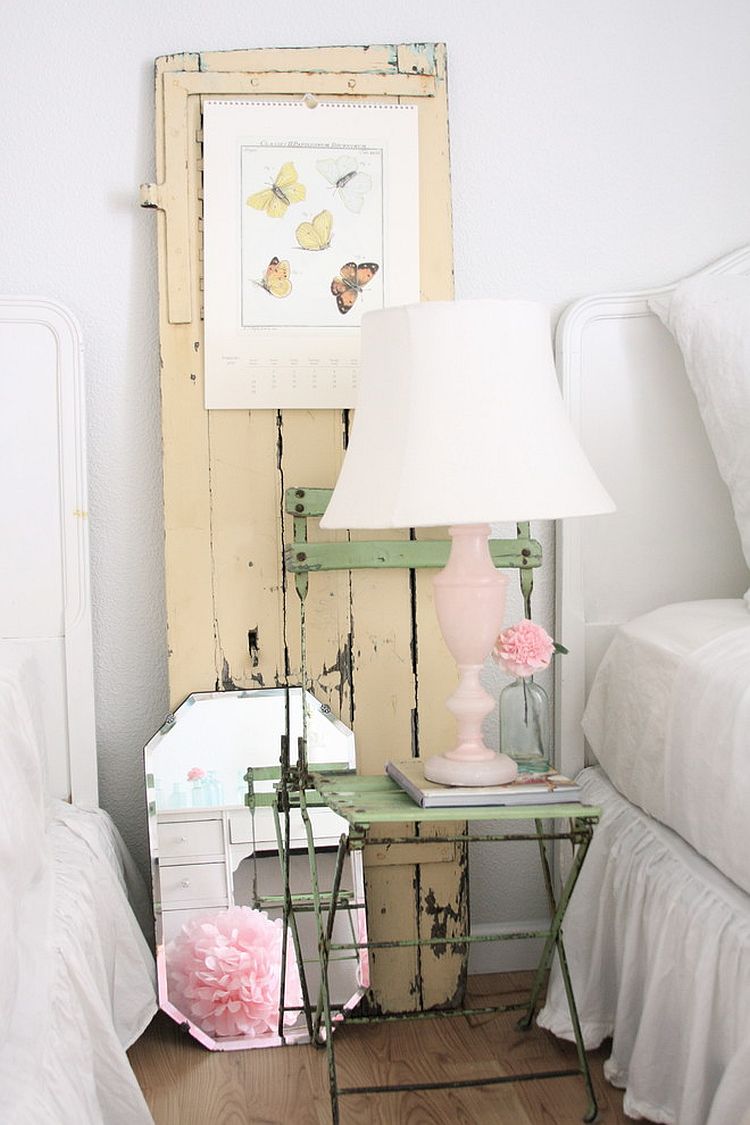 Décor crafted from natural materials, old, vintage mirrors that casually sit in the bedroom corner, a DIY nightstand crafted from old trunks or creative art pieces that add personality; this is the décor that truly helps fashion that dream shabby chic bedroom. Admittedly, this is not a style for everyone, and you need both an appreciation for the 'old and used' furniture along with ample patience to get the right look.
A Delicate Splash of Color
There is no strict rule that says shabby chic bedrooms should only be draped in white and white alone. Of course, as you read on you will realize why white is a great option in most cases, but feel free to throw in a bit of your own 'style twist' to customize that bedroom with color. Pastel hues have gone on to rule the world of fashion and design in the last few years, and here is your chance to try them out in the bedroom as well. Pastels and shabby chic go like hand in glove, and it is an approach that never fails. Gentle pink, watery yellows and elegantly cool greens help punctuate the antique decors and give them a colorful new lease on life.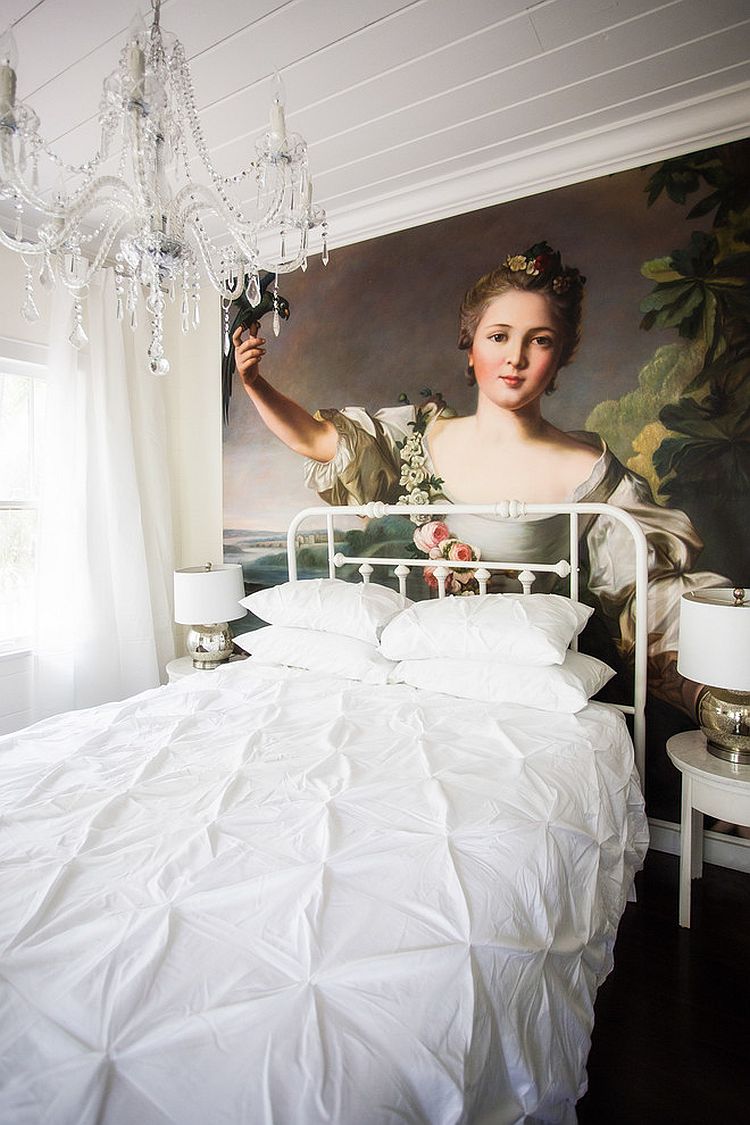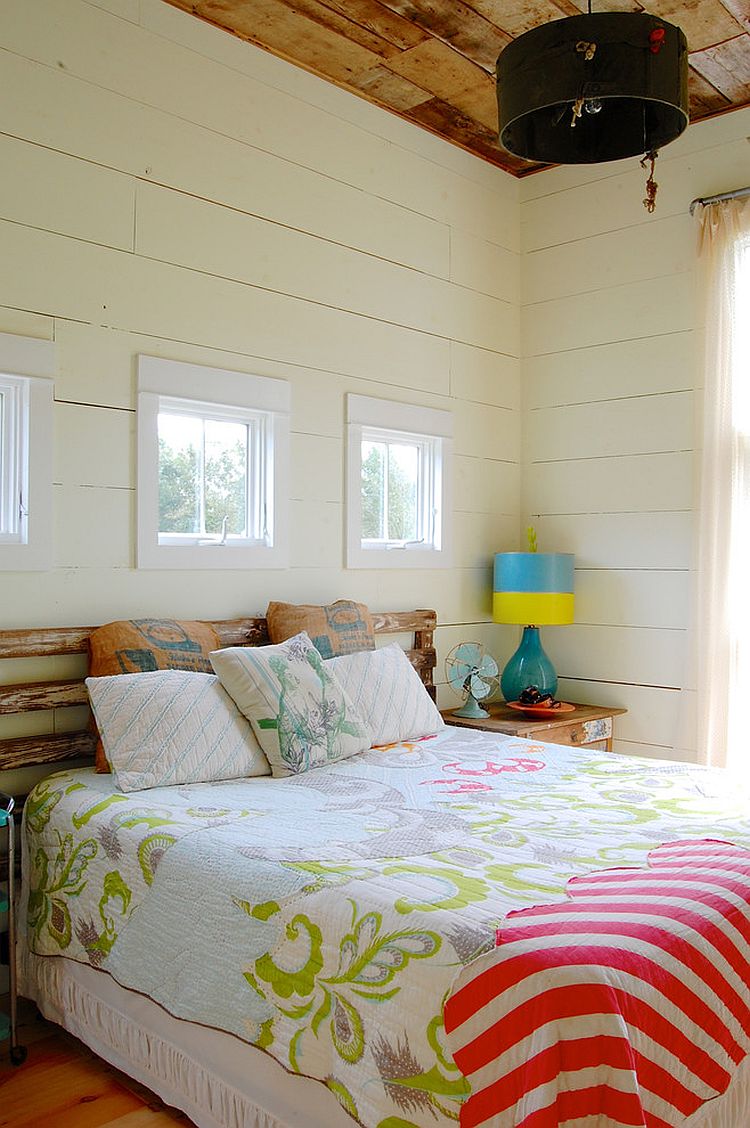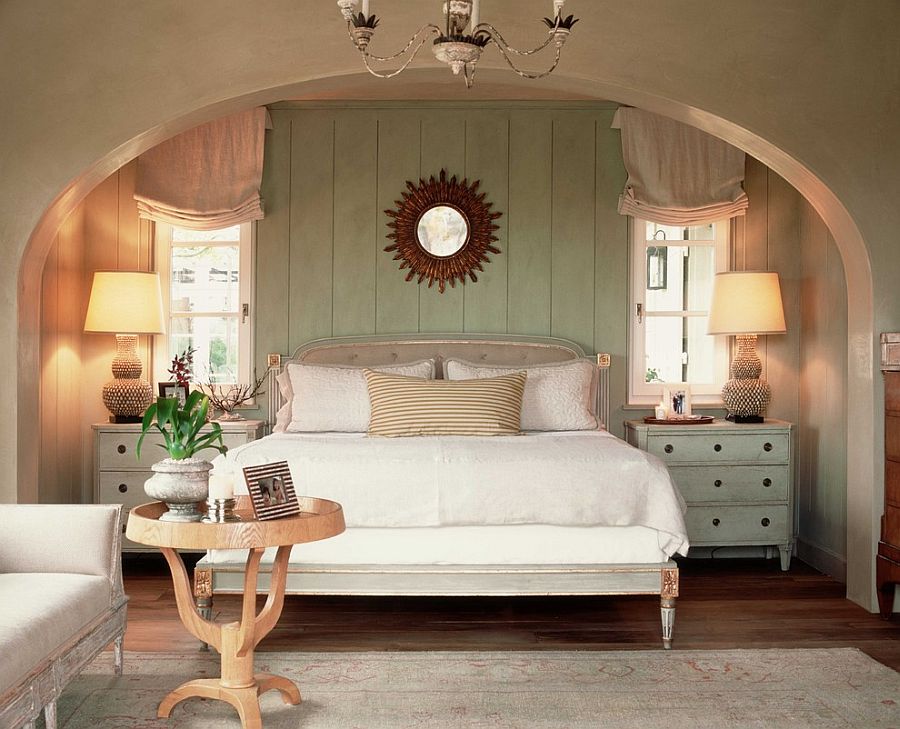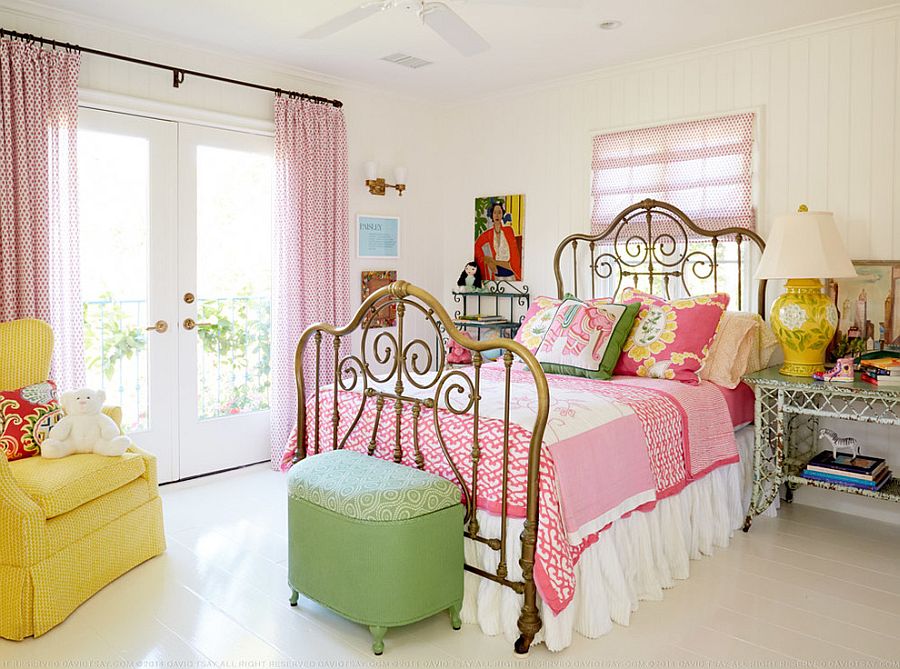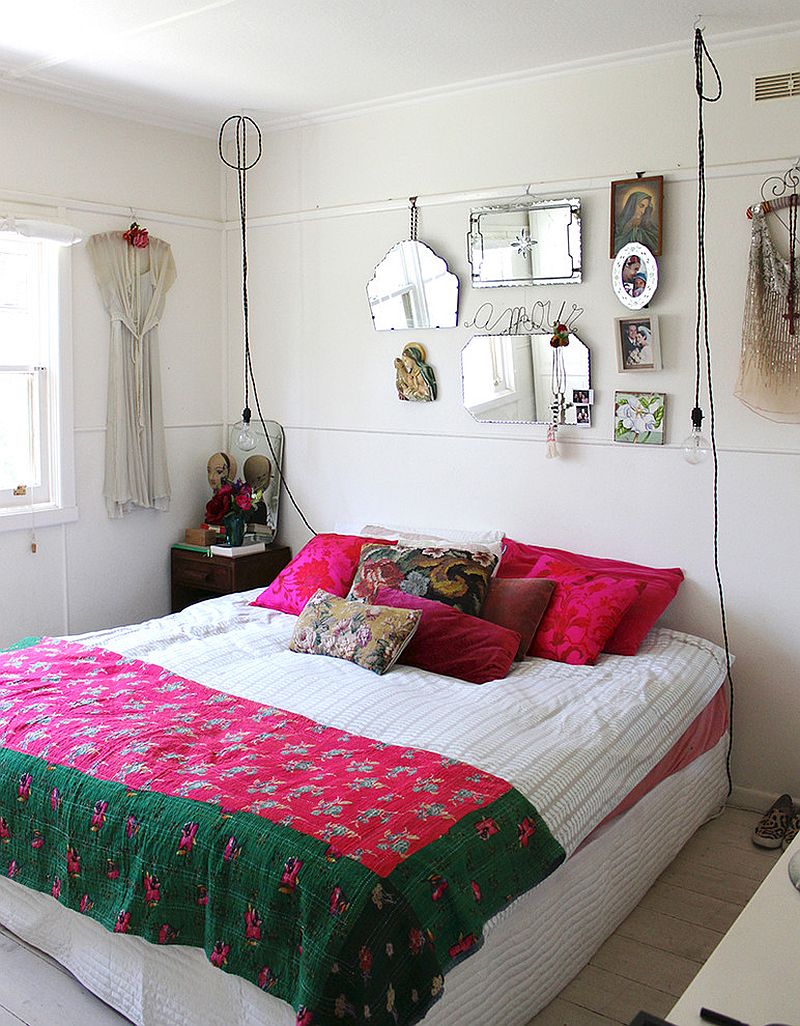 Those looking to combine a Bohemian look with shabby chic style can opt for throw pillows and bedding in brighter colors, while a French country or beach cottage chic styles demand far less color. No matter what flavor you veer towards, remember that color is secondary to texture and finishes in the shabby chic bedroom.
An Ingenious Headboard
The headboard is one of those features in the bedroom that makes a big impact and can often define the style statement in the remainder of the room. The headboard choices for a shabby chic bedroom are truly diverse, and it is often reclaimed wooden paneling or an old shutter or barn door that seems to do the job! Adding a similar unique headboard in your own home is pretty easy if you can find one of these antique doors, and by just removing the existing layers of paint and painting it white, you get a headboard that is both refined and shabby chic.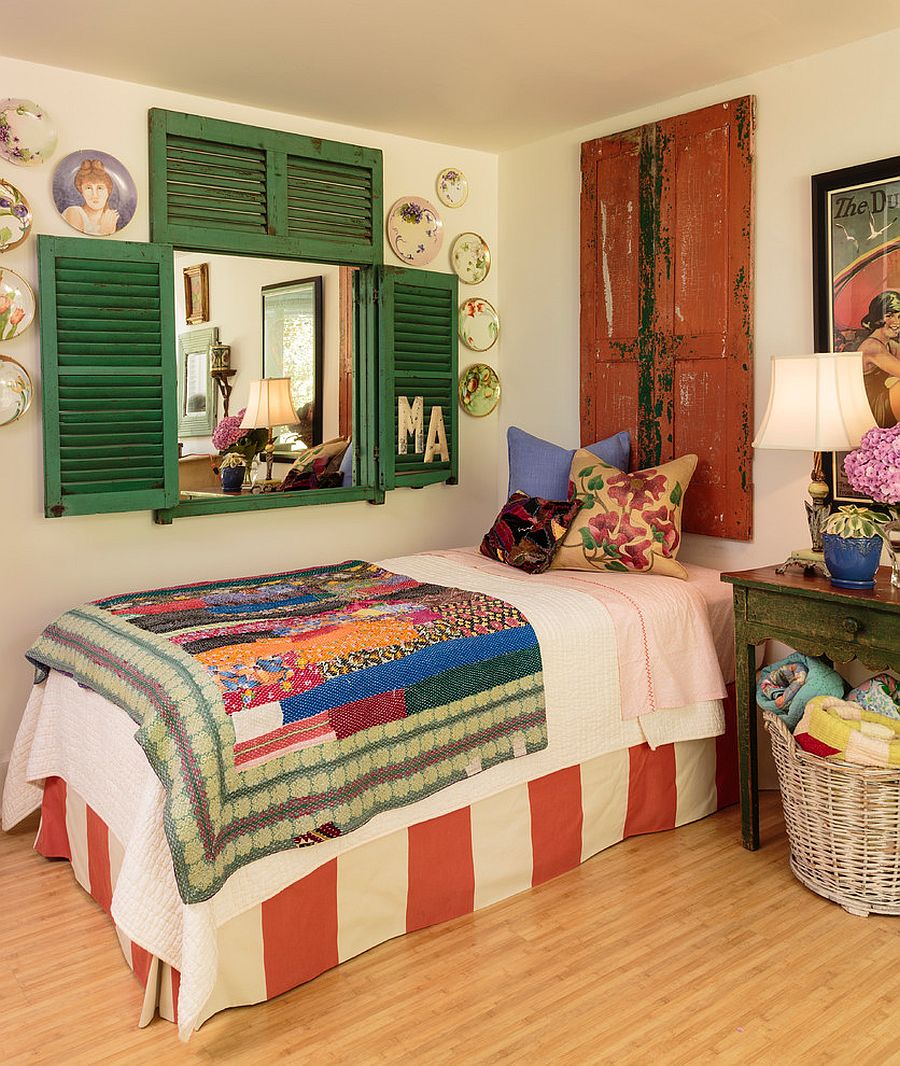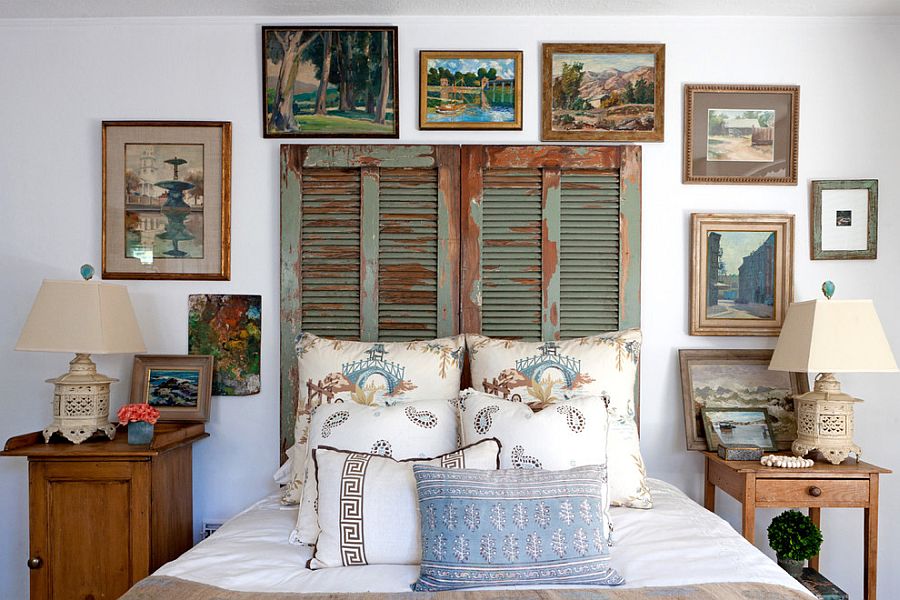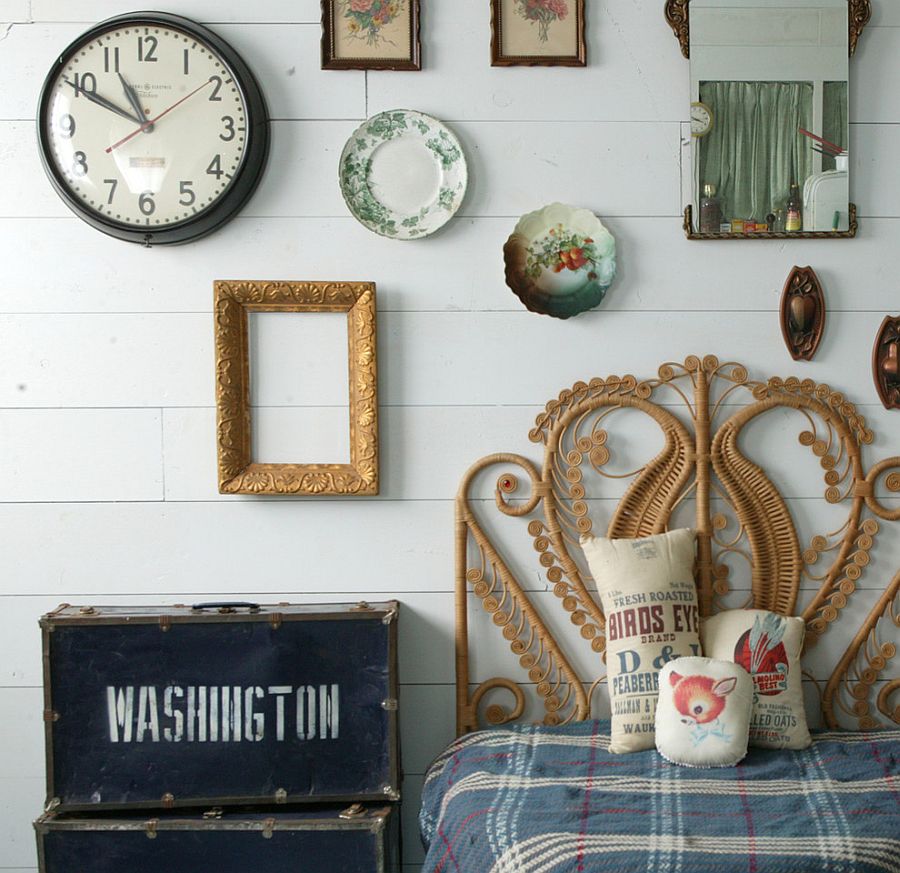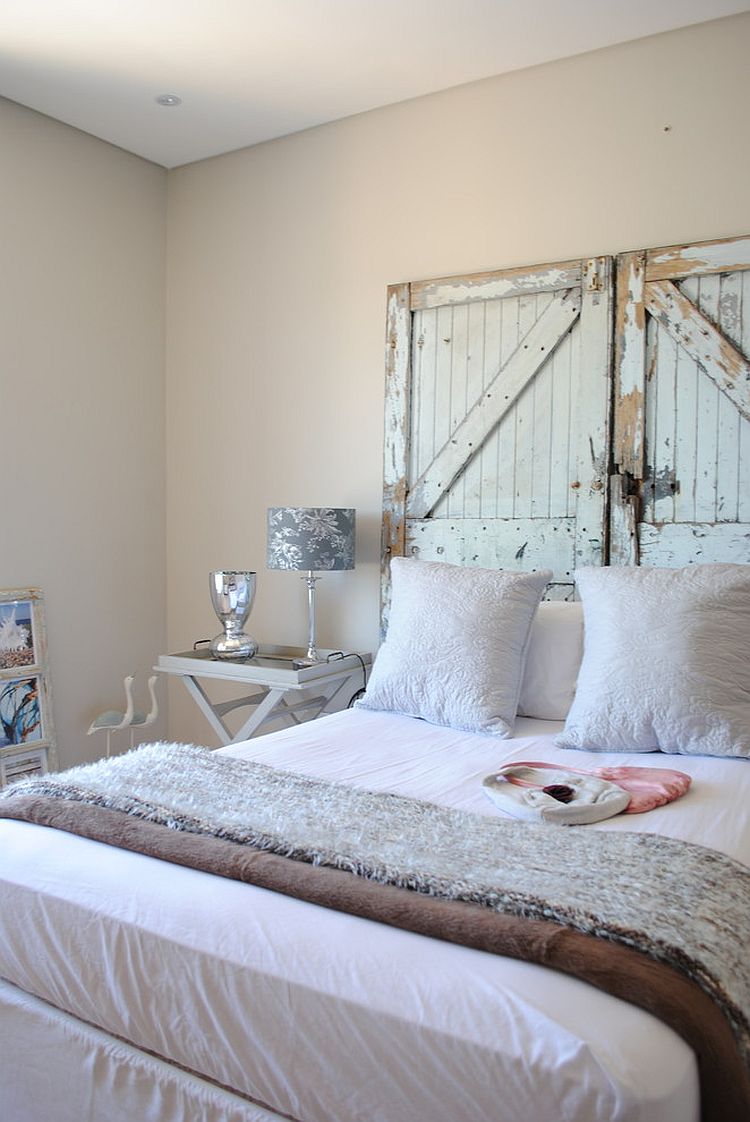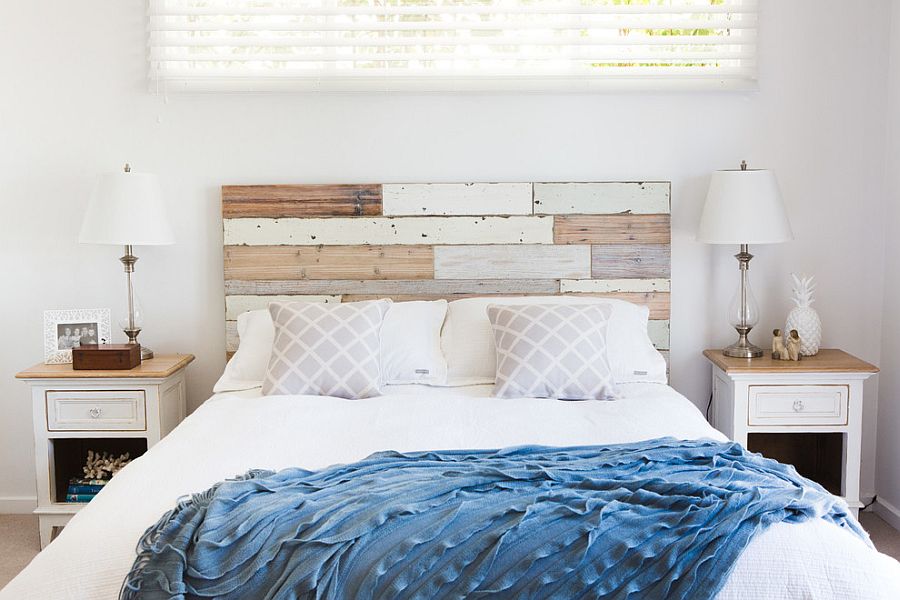 Fall in Love with White!
If you love white, want a bedroom that has a touch of femininity and wish to discard the glossy modern alternatives, then shabby chic is indeed the way forward. White is the preferred choice in most shabby chic bedrooms, as it sets a relaxing backdrop that lets your vintage finds and antique accessories shine though. The use of various shades of white also minimizes visual fragmentation in the room, and it is a color that works beautifully with French country, beach cottage chic or just cottage chic variants of the style. As a rule when in doubt, turn to white in the shabby chic bedroom!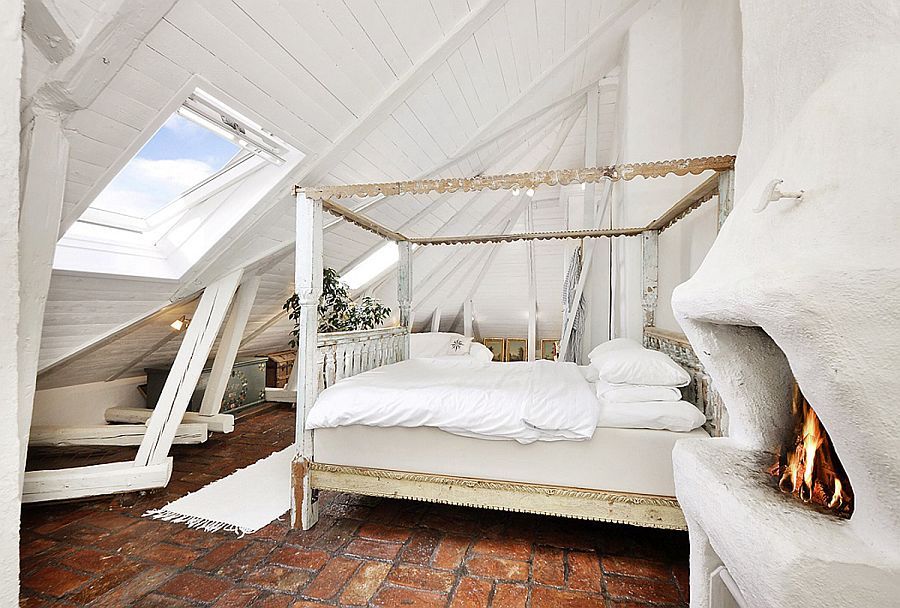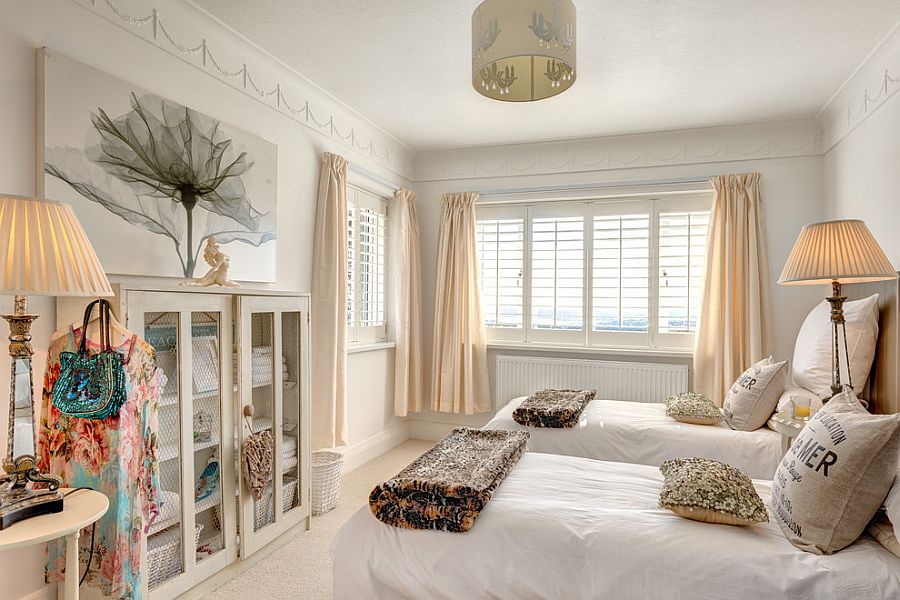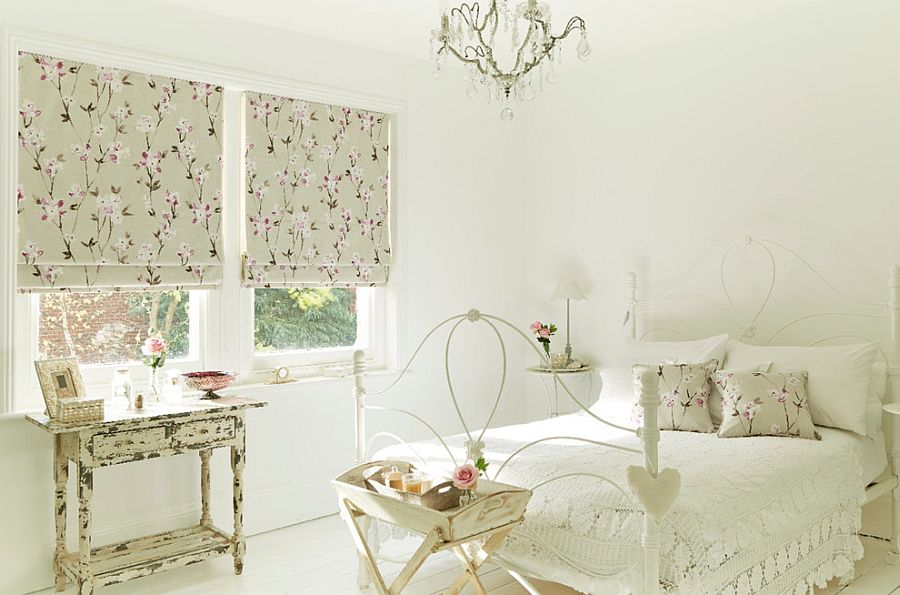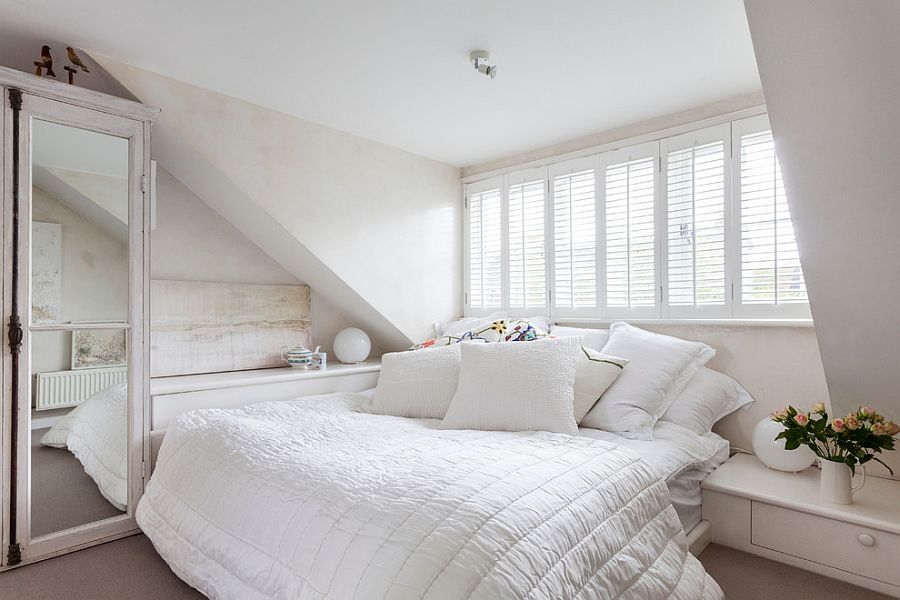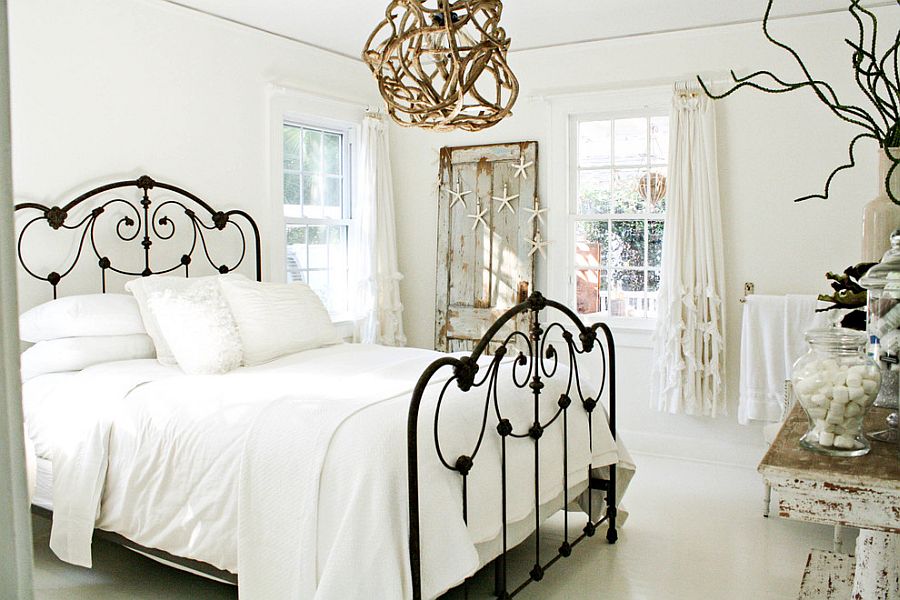 Picking the Right Bed
Most people tend to forget that the bed is indeed the central component of the bedroom and tend to focus far too much on everything else in the room. A vintage bed frame in wrought iron that is cleverly re-painted or a classic bed with European flair seem the way to go in most shabby chic bedrooms. Obviously the choice of the bed is also determined by the size of the room and the décor around it, as you do not want to put an excessively large and indulgent bed in a small space. Plush bedding is the next step forward, as this is a style that encourages cozy comfort. A safe way to start is by first choosing the bed and then working around it by bringing in matching side tables, lighting fixtures and accessories.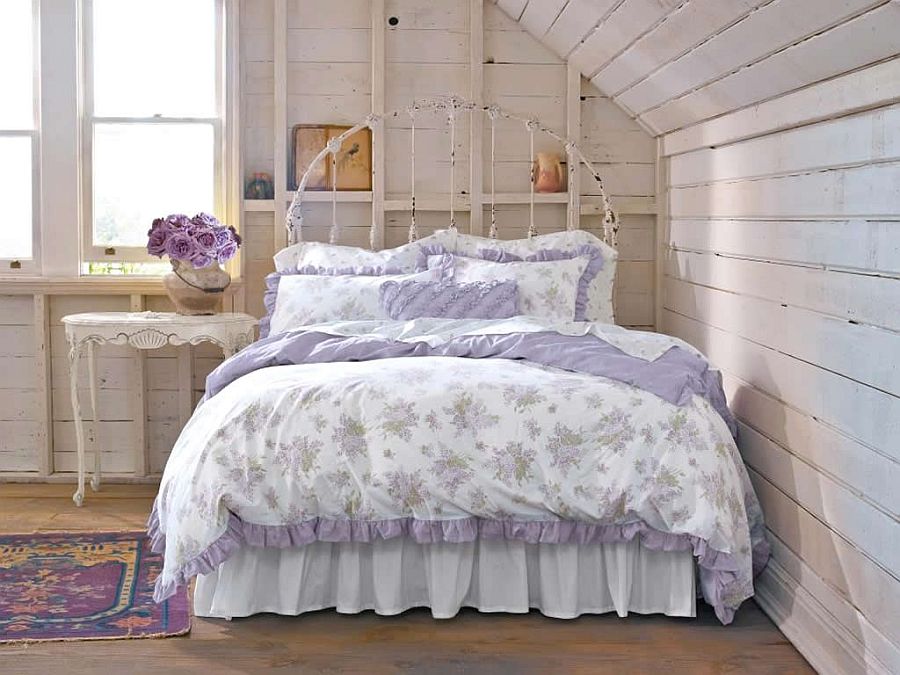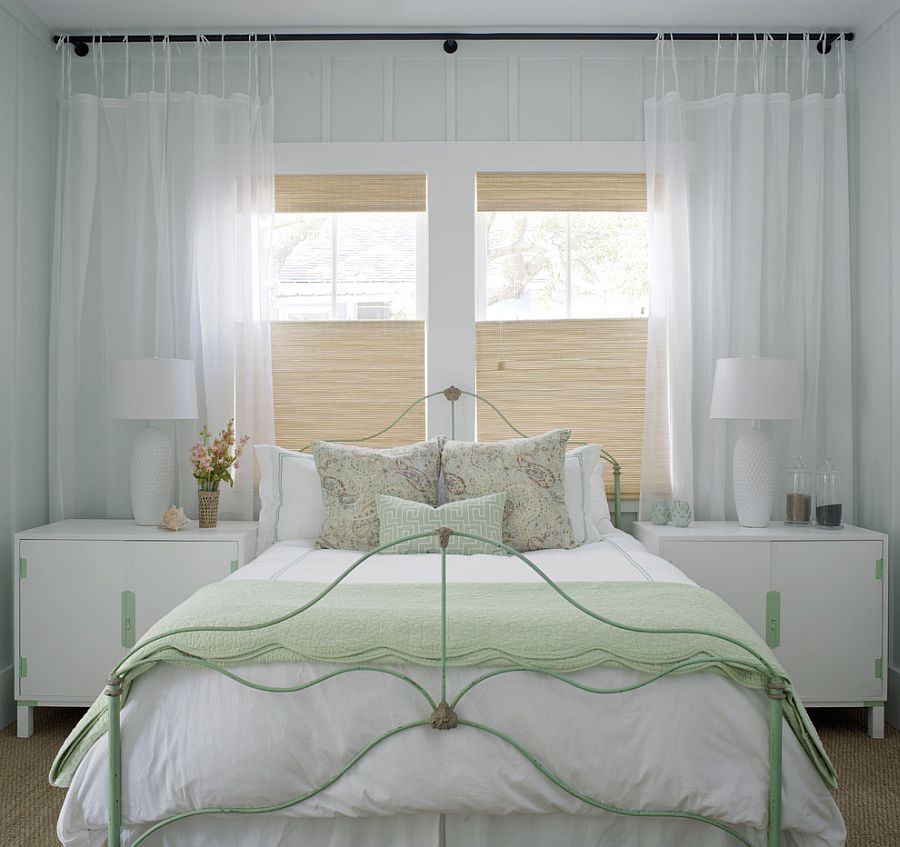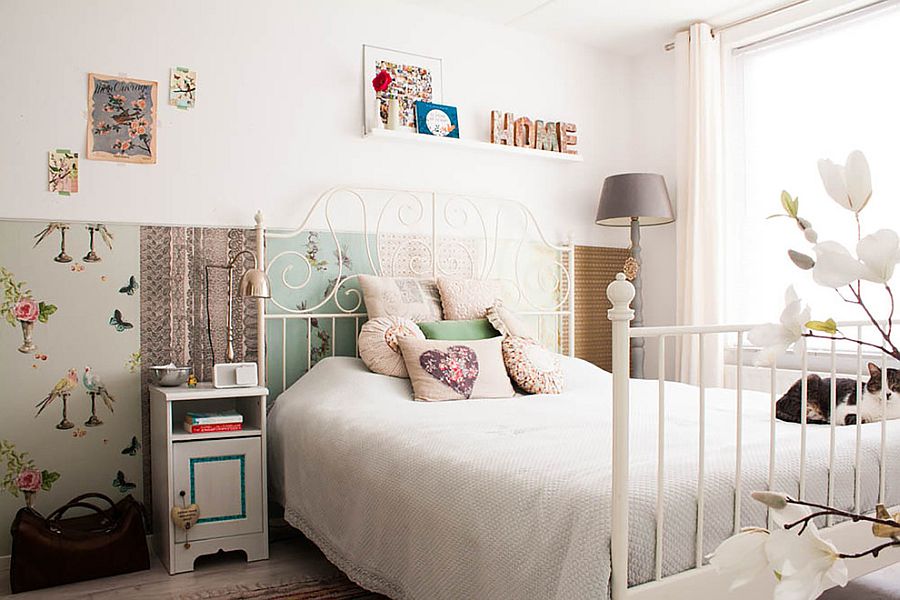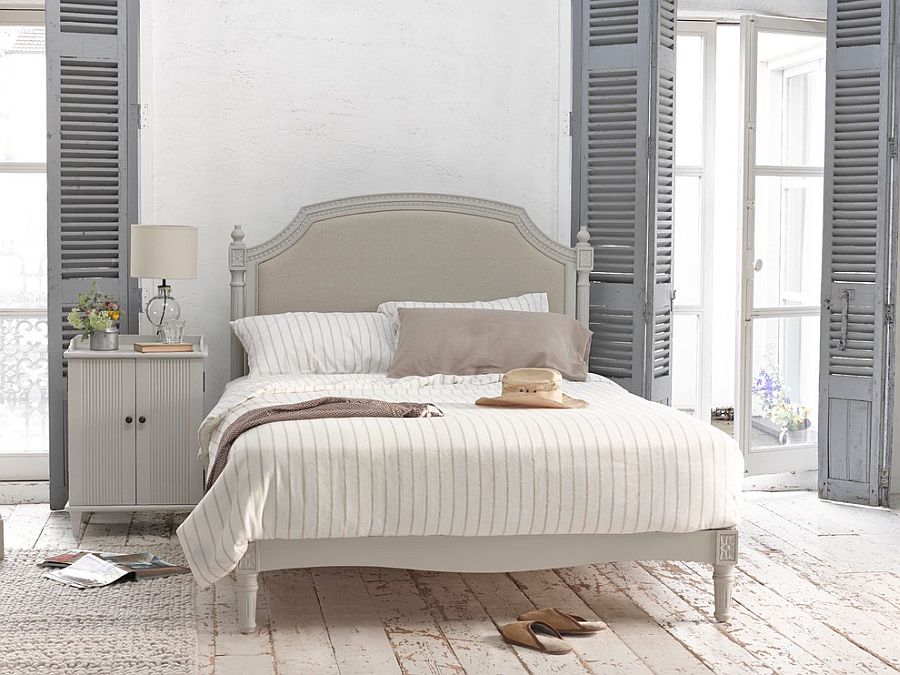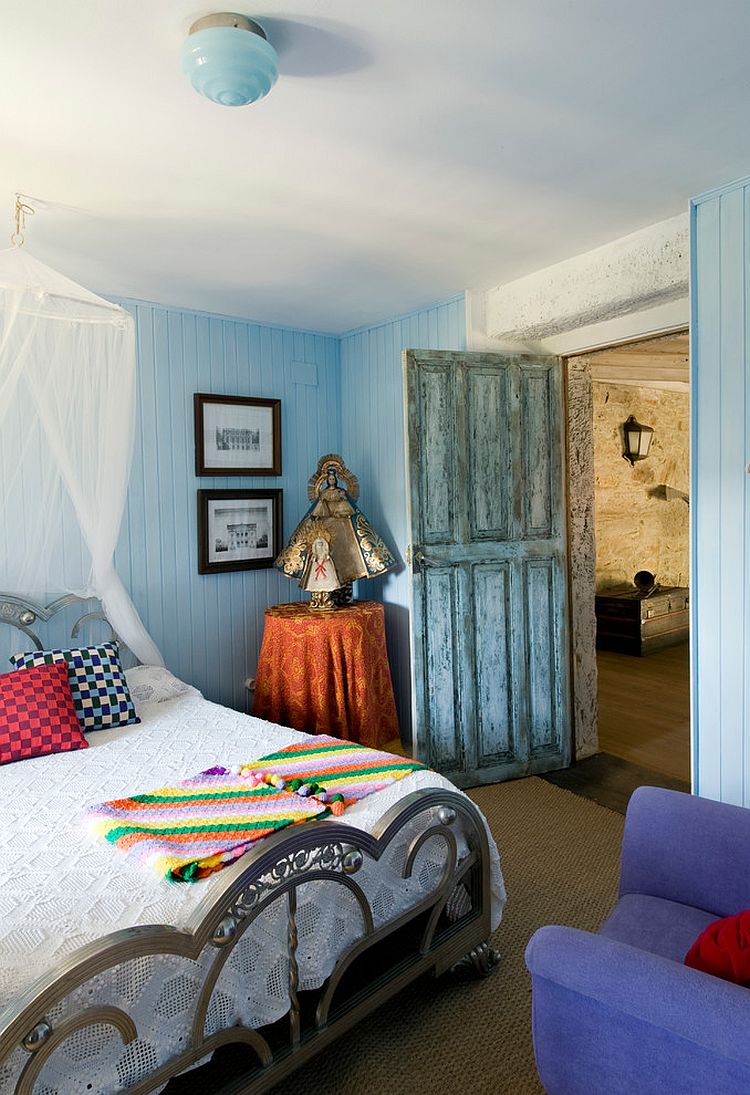 Sours: https://www.decoist.com/shabby-chic-bedrooms/
Style Your Bedroom Like a Parisienne
Parisiennes have a certain je ne sais quoi when it comes to effortless chic, be it their classically styled wardrobes stuffed with high-quality Breton striped tees, perfectly cut denim and obligatory Chanel pumps; to their renowned homes, the contents of which the rest of world swoon over. But it can be hard to pinpoint exactly what it is that makes those Parisian apartments so desirous, so we've put compiled our top tips on styling your bedroom like a Parisienne.
All White: 
Although they appear to be halls of space, Parisian apartments are notoriously dark, hence the residents keep their walls white - very occasionally adding an accent colour. Another trick the Parisians have adopted, to keep their interiors bright, is to add large scale mirrors to their walls to bounce as much natural light around the space as possible and creating an illusion of scale. Think of Versailles' Galerie Des Glaces!
Accessorize:
The real key to pulling off a Parisienne styled bedroom is nonchalance. Scattered coffee table books, plump cushions thrown on your bed and a vase full of colourful flowers are all a great way to achieve that subtly embellished boho look.
Two absolute must-have accessories for any Parisienne styled home:
A chandelier. It needn't be on a Versailles scale or cost the earth, but a chandelier is the best way to transport your interior to the 3rd arrondissement.
A large rug. Whilst they look beautiful, the huge expanses of wooden flooring in Parisian abodes makes walking from room to room a noisy business - for this reason, large rugs are a feature of most rooms in the French capital.
Out with the New, in with the Old:
The French are incredibly lucky with their plethora of brocantes - treasure troves of antiques, curiosities and vintage finds that make our hearts skip a beat. It's no wonder then that their unique style can seem unachievable when some of their most coveted items are one-off gems discovered on a Parisian curbside. Panic not, with plenty of vintage shops popping up in our home towns, Ebay at our finger tips and car-boot season in full flow, there's no shortage of antique treasures waiting to be unearthed on home soil to give a rustic edge to your bedroom.
Mixing the old with the new, with a good dollop of boho chic is where the Parisians really show off their interior flare and is a style trick easily replicated. Buy one statement piece like a chair, table lamp or decorative item, then add accessories to soften your new find with feminine furnishings like ruched bedding, silk curtains or a soft rug.
This might not be a bedroom but it shows the Parisienne's knack of mixing the old with the new perfectly.
Get Playful with Eclecticism
The Parisians are particularly blessed when it comes to original features in their beautiful Haussman buildings; with their toweringly high ceilings adorned with intricate moldings, endlessly tall windows dressed with original shutters, covetable parquet flooring and grand fireplaces. But having Seine-side real-estate isn't a necessity when styling your bedroom, it's all about balancing old, classic and modern pieces to create that distinctive Philippe Starck interior style.
Collaborating classics like a white painted French bed, shabby chic armoir or seductive chaise longue with more urban pieces like acrylic side tables and chairs, colourful rugs, unusual lighting, distressed wooden furniture or playful art prints are all an easy way to create an eclectic look.
Last tip:
Now come Sunday morning - ensure you throw the curtains open to let in that much needed light, quickly visit your local car boot sale, then head home and tuck into some croissants!
Previous Post Get The Look: Resort FashionNext Post The Power of 3Sours: https://www.frenchbedroomcompany.co.uk/blog/style-your-bedroom-like-a-parisienne
Looking for some gorgeous French bedroom ideas? Well, you are in the right place because we agree that if there's any room in the home that deserves a touch of elegance and whimsy, it's the bedroom.
A firm favorite among period and modern homeowners alike, the romantic, French-inspired bedroom design is easy to achieve by following a few classic tips. Set the tone with a statement French bed – choose a vintage-style frame with sinuous curves and lavish treatment such as gilding or deep-buttoned upholstery. For a light-filled, heavenly space opt for walls and floors in white, cream, or soft pastel shades. Ornate, vintage wallpapers and draped window treatments really come into their own in French bedrooms. Finish by layering plenty of pretty textiles such as ditsy florals or silky satins, not forgetting that all-important chandelier to add sparkle...
1. Create a refined look with a patterned wallpaper
For a simple, more modern-looking French bedroom idea, go for a pale, light and airy color palette. Combine toile prints and soft-hued wallpapers with bucolic scenes, with crisp white linens for a sophisticated romantic scheme.
2. Choose an antique French bed with an ornate headboard
A show-stopping antique French bed with a floral needlepoint headboard adds a pretty vintage touch to this rustic attic bedroom. Why not pinch this French bedroom idea try piling up old suitcases for an easy alternative bedside table.
3. Go for an all-white paint scheme
Plain white walls allow the ornate antique mirrors and bed frame to shine through in this calming scheme, so don't be afraid to keep things simple in a French bedroom. Whitewash the walls and even the floors and keep the majority of your furniture white too. Then pick out pieces of decor that will stand out against and soften the white scheme.
Be inspired by these white bedroom ideas. If you want to venture away from the all-white color scheme, there are plenty more inspirational ideas over in our bedroom color ideas feature.
4. Create the classic French look with upholstery
A luxurious coronet, ornate dressing table and pretty drapes give this farmhouse bedroom a quintessential French country feel. And it's a look you can create in your space too, just keep an eye out on online market places and hunt in antique shops for a coronet you could upcycle. You could even pair it will a simple neutral linen fabric for a contemporary take on the look.
Love this French bedroom idea? Take a peek at the rest of this beautiful country farmhouse renovation.
5. Decorate walls of a French bedroom with a bold floral motif
In this French-style bedroom, walls papered with rolls of 19th-century American, hand block-printed wallpaper are balanced with an lace-edged antique bedspread in this pretty and immersive attic hideaway.
If you have a bedroom as small as the one below, you are probably going to want to check out our small bedroom decorating ideas.
6. Choose a rustic bed for an authentic feel
Even in city homes, you'll find rustic-style French furniture to give it that authentic taste. This stand-out Lutece wallpaper creates a magnificent backdrop for the elegant, slightly more minimalist, rattan bed in this contemporary take on a French-inspired bedroom.
7. Hunt online marketplaces for cheap French furniture
After cheap French furniture? eBay is your go-to. Make use of the 'save your search' tool; that way, you will be alerted every time new products that come under that category are added to the site. And remember, look out for shapes you love rather than stains or colors because you can always strip them back and upcycle them. Learn how to paint wooden furniture with our guide.
8. Layer patterned bedlinen for an eclectic look
Ditsy bedding layered with floral cushions and an eiderdown (which are making such a comeback right now) give this cool grey bedroom a feminine edge. The wall paneling adds a slightly modern but still rustic feel to the room too, so consider adding some simple paneling to your space for a similar modern country look.
9. Go for a pink paint colour scheme
Paneled walls with raised bolection moldings are painted in a gorgeous earthy rose hue, creating a warming, pretty scheme in this French Bedroom. It still feels very feminine but is you decorate with a slightly more muted, dusky pink instead of pastel you get a more elegant aged look to the space, so give something like Farrow & Ball's Cinder Rose a try.
10. Work with rounded furniture shapes
Elegant Louis XV chairs in soft pink and an elaborately carved bed contribute to a romantic, Gallic feel, while the rose garland adds a touch of whimsy in this French-inspired bedroom. Amd how amazing would something as statement as this bed look in a really minimalist, modern bedroom too? So if you prefer a more modern bedroom don't be afraid to introduce some of those OTT French shapes into the space as a contrast.
11. Accent a French bedroom with a floral headboard
Looking for a quick and easy French bedroom idea? Create a feminine focal point in a muted bedroom with a statement headboard. Pair it with an all-white color scheme to let it really be the focus. You could even DIY a headboard or reupholster one yourself – just check out our DIY headboard ideas for more inspiration.
12. Create a dramatic boudoir with dark colors
For an alternative take on the romantic look, copy this French bedroom idea and paint walls and ceilings in a dark shade, furnish with antique Japanese pieces and accessorize with flirtatious grasses and glistening metallics.
If you love dark and dramatic interiors, be sure to check out our gallery of black bedroom ideas for more inspiration.
13. Make a feature of beams and old walls
Try making a feature of characterful old walls by highlighting timber beams in pretty pastel shades, as done here in this 17th-century French bedroom. Finish with floral bedding in coordinating colors for a boho-Gustavian feel.
Read about restoring timber beams in our guide.
14. Make a focal point in a small bedroom with a coronet
Make the French chic look work in a small bedroom by laying up lots of similar prints. This creates a really cozy look, just top it up with a gorgeous bed canopy and later up those soft, feminine floral prints.
15. Achieve traditional elegance with cream shades
Walls and distressed furniture in a classic cream mix with chintz textiles to capture the essence of pretty vintage style in this French bedroom. You can easily give your existing furniture a French country feel with paint, to learn how have a read of our guide to creating a French country style paint effect.
16. Go for grandeur in a French Bedroom
Prefer elegant French bedrooms to more... rustic ones? Just take some inspiration from this stunning space. Bespoke storage, smart use of furniture, mirrored surfaces and a light palette are all devices used here to maximize the feeling of space, while coordinating fabrics and colors bind spaces together.
How can you make a bedroom look French?
The best way to give a bedroom some French-style is to shop second hand. Hunt for pieces that you can upcycle as you'll save money buying furniture and accessories that need a bit of work.
Now in terms of what decor to use to make your bedroom look French, this depends on what version of French interiors you like best. Do what to go more French country or elegant antique-filled, Marie Antoinette kind of French? For the latter bring in plenty of gilt furniture and decor – mirrors, sconces, ornate bedside tables – it's an OTT look but can be toned down and work in contemporary homes too.
For the French country look, you going to want to add in a, yep we are going to say it, shabby chic feel. You want vintage pieces with a distressed look and fabrics that either are, or just look, aged. Soft, muted color palettes work best with this more rustic look. And again it can be scaled back and work in a modern scheme too, lots of Parisenne apartments blend this country-look with a more contemporary aesthetic it and the overall look is gorgeous.
What colors are used in French country decor?
The best colors to use in French country decor tend to be more muted, dusky colors, ones that have an aged quality to them. Try using blush pinks, peaches, duck egg blues, sage greens, creams and light greys. And white always works too if you want to freshen up all those subtle tones.
Sours: https://www.realhomes.com/design/french-bedroom-ideas
Oh so Shabby Chic so French country!! 🌷 Bedroom Floral 🌺
.
Bedroom french chic
.
Leia Sfez shows us round her chic and timeless French apartment - Une Fille Un Style - Vogue Paris
.
You will also like:
.
407
408
409
410
411