River North's new pizza bar debuts on Friday from a familiar name: Phil Stefani. Bar Cargo will supply the neighborhood with Roman-style square-cut pies, negronis, and Italian spirits. Stefani's son, Anthony Stefani, helped flesh out the idea, bringing in a champion Italian pizza chef to share recipes. It's the same recipe Phil Stefani used when daughter Gina Stefani opened Mad Social in West Loop.
The Bar Cargo name comes from the space's design. Workers crafted the bar from a cargo container, and there's an assortment of them throughout the restaurant. Travel plays an important part in the Stefanis' lives, and the cargo containers are an homage to the many trips they've taken. Anthony Stefani reveled in the delight the first time he tried pizza chef Massimo "Max" Moresi's food while in Italy. The crusts are crispy, but don't crumble to pieces after a bite. Stefani supplies a spicy Calabrian hot sauce to complement the pies that any heat monger should try in their best interests.
They'll also have an assortment of appetizers including wings, meatballs, and calamari. Pastas and sandwiches are also available. The pizzas come in two sizes ranging from $16 for a small margherita to $32 for the Cargo Combo (sausage, spicy soppressata, meatball, pancetta). Wash that down with a draft or frozen cocktail. They'll serve lunch and dinner, and perhaps they'll crack some eggs over some pizzas for weekend brunch.
Take a tour of the space below and see the menu below. Bar Cargo opens on Friday in River North.
Bar Cargo, 605 N. Wells Street, (312) 929-0065. Open 11 a.m. to midnight on Monday through Thursday; 11 a.m. to 1 a.m. on Friday; 10 a.m. to 2 a.m. on Saturday; 10 a.m. to midnight on Sunday.
Foursquare
Bar Cargo
605 North Wells Street, , IL 60654(312) 929-0065Visit Website
Sours: https://chicago.eater.com/2017/11/2/16598686/bar-cargo-stefani-pizza-river-north-roman-photos-images-menu
Bar Cargo
Bar Cargo is a Roman-style pizza bar that brings an authentic taste of Italy to the heart of River North. The pizzas are created using a unique custom blend of imported flours that are shipped overseas from Rome on Cargo containers - which have been incorporated into the fun, and industrial design of the restaurant. The dough has a 96 hour raise period that creates a perfectly light and crispy crust. Paired with a lively bar program featuring craft brews, creative cocktails and curated wines, the experience is one your guests won't soon forget.
Visit their Website
Venue Details
605 N. Wells Street
Chicago, IL 60654

312-929-0065
2 Private Spaces
Venue Categories
Event Types
Anniversary
Birthday Party
Cocktail
Other
Special Occasion
Amenities
Spaces
Full Buyout 150 Seated150 Standing
Partial Buyout
Cuisine
People who like this venue also looked at:
Sours: https://venues.tripleseat.com/venues/chicago/bar-cargo
Bar Cargo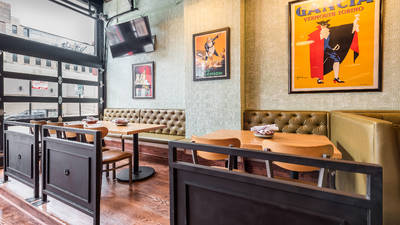 Time Out says
Dig into Roman-style pizza crafted by World Pizza Champion Massimo "Max" Moresi at this River North space.
Posted:
Details
Address:
605 N Wells St
Chicago
60654

Price:
Under $20
Contact:

barcargo.com Call Venue312-929-0065

Opening hours:
Mon–Thu 11am-midnight; Fri and Sat 11am–2am; Sun 11am–10pm
Do you own this business?
Best selling Time Out Offers
Sours: https://www.timeout.com/chicago/restaurants/bar-cargo-1
Those Who Serve: Columbia River bar pilots risk their lives to guide cargo ships
Bar Cargo
Bar Cargo, River North's concept from Anthony Stefani, son of famed restaurateur, Phil Stefani, brings a taste of Rome to Chicago. Enjoy Roman style pizza with great craft cocktails and beers in a fun and casual enviornment! Bar Cargo offers Happy Hour/Daily Special deals on items such as domestic beers, mixed drinks, and house wines!
MON – THU, 5:00pm – 7:00p
Drinks
$5 Domestic Beers
$5 Mixed Drinks
$5 House Wine
Last Updated on April 27, 2021 by HHRevolution
QWhat is Bar Cargo?
Bar Cargo, River North's concept from Anthony Stefani, son of famed restaurateur, Phil Stefani, brings a taste of Rome to Chicago. Enjoy Roman style pizza with great craft cocktails and beers in a fun and casual enviornment!
QWhere is Bar Cargo located?
Sours: https://hhrevolution.com/happy-hour/bar-cargo/
North bar cargo river
Bar Cargo
$$ •Pizza, Italian
Hours:
605 N Wells St, Chicago
(312) 929-0065
Ratings
Take-Out/Delivery Options
curbside pickup
delivery
take-out
Tips
dine-in
takes reservations
staff wears masks
many vegetarian options
accepts credit cards
outdoor seating
trendy, casual
moderate noise
casual dress
offers catering
good for groups
good for kids
good for brunch, lunch, dinner
street parking, valet parking
waiter service
free wi-fi
happy hour specials
full bar
wheelchair accessible
tv
Reviews for Bar Cargo
More Reviews(202)
Hours
| | |
| --- | --- |
| Monday | Closed |
| Tuesday | Closed |
| Wednesday | 4 - 10PM |
| Thursday | 4 - 10PM |
| Friday | 4 - 10:30PM |
| Saturday | 11AM - 10:30PM |
| Sunday | 11AM - 9PM |
Hours or services may differ due to COVID-19. Please contact the business directly to verify hours and availability.
Sours: https://www.restaurantji.com/il/chicago/bar-cargo-/
7 reasons why shipping container homes are a SCAM
Bar Cargo
For all our opinions about pizza, Chicagoans are still pretty open-minded. We're known for deep dish, but we embrace thin-crust, St. Louis-style, Detroit-style, New Haven-style, and even 3D-printed Neapolitan hybrids brought to us by time travelers from the future. We'll eat it all, unless it isn't very good. Which is unfortunately the case with the pizza at Bar Cargo in River North.
Not everything about the pizza here is bad, so we'll start with the good part: the crust. It's Roman-style, so thicker and airier than a Neapolitan crust, and it has a crispness that holds up well to toppings. This would all be fantastic, if the toppings were good. But they're problematic. Take the namesake Bar Cargo pizza, for instance, which has sausage, soppressata, meatballs, and pancetta. The meat tastes highly processed, it's way too salty overall, and the cheese is thick and bland. The carbonara pizza, with pancetta, egg yolk, and pecorino cheese, has similar issues: all traces of the egg yolk flavor are masked by the saltiness and rubbery texture of the meat. It's a shame that these ingredients overshadow a crust that would taste excellent on its own.
Other, non-pizza menu items are also disappointing. For example, the coccoli appetizer has balls of fried dough that are unpleasantly dense, plus stracciatella cheese that looks and tastes more like Laughing Cow. The tenderloin sliders have tough, too-dry buns that are almost impossible to bite through. The pear and arugula salad, with chopped dates and gorgonzola, has a nice balance of sweetness and saltiness, and the butternut squash ravioli is decent. However, at $14 and $17 respectively, those feel expensive for very average plates. There are other places doing better salads and pastas, and they have quality pizza, too.
Bar Cargo has loud music, dark wood decor, and neon signs on the walls that give everything a red glow. It reminds us a lot of a TGI Friday's, and we'd be willing to overlook that if the food was better. But too much of it just doesn't really work.
We take pizza seriously in this city, and there are a lot of good places to get it. You have to be doing something pretty impressive if you want your spot to be worth Chicagoans' time. At the end of the day, there's just too much great stuff going on elsewhere for you to eat Bar Cargo's mediocre pies.
Bar Cargo Pizza
With the amount of meat on this pizza (sausage, soppressata, meatballs, and pancetta), you'd think it would manage to have some flavor other than salt. But that's the primary thing you taste.
Meatball Pizza
The meatballs on this pizza basically just taste like bigger pieces of sausage, but our server assured us they were not. Either way, they taste like the sausage on a frozen pizza.
Carbonara Pizza
The egg yolk on this pie gets lost in the overwhelming saltiness of the large, rubbery pieces of pancetta.
Arrabiata Pizza
If you are going to have a pizza here, have this one. It's topped with a bunch of tiny pachino tomatoes, spices, and no cheese. It's basically a giant piece of bruschetta, which means the delicious crust has space to shine.
Coccoli
These balls of fried dough are tough and dense. They're served with prosciutto and a stracciatella cheese that has an unpleasantly processed flavor.
Arancini
Bar Cargo's spin on arancini. These are made out of fried spaghetti carbonara instead of rice, and they're tasty but greasy - they start to feel pretty heavy after a few bites. However, the arrabbiata sauce that comes on the side has a nice spicy flavor.
Tenderloin Sliders
These sliders each have a thick slice of beef tenderloin, plus gorgonzola cheese and a red onion jam. The tenderloin itself is fine, but it doesn't work with the buns, which are dry and tough. Not fun to eat.
Pear And Arugula Salad
A solid salad with pear, walnuts, gorgonzola, dates, and a balsamic reduction dressing we like. At $14, though, it doesn't seem worth it.
Butternut Squash Ravioli
The butternut squash ravioli is pretty good. Firm pasta, a brown butter sauce that works, and a good ratio of filling to dough. But again, it's not $17 good.
Sours: https://www.theinfatuation.com/chicago/reviews/bar-cargo
You will also be interested:
.
437
438
439
440
441