It seems power wheels are like LEGO — they're handed down from generation to generation.  [Nicolas] received his brand-new Peg-Perego Montana power wheels in 1997 as a Christmas present. After sitting in a barn for a decade, and even being involved in a flood, it was time to give it to his godchildren, though not without some restoration and added features. His webpages have a very good write-up, just shy of including schematics, but you'll find an abbreviated version below.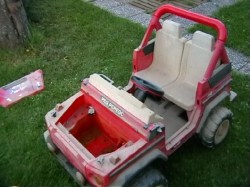 Due to time and the flood, not only did it need a new paint job, and some plastic bits restored, but the hard plastic wheels had to be emptied of water, and the entire wiring harness needed replacing, as did some of the screws. Luckily the gearbox and motors needed only cleaning and new grease.
Whether it needed it or not, [Nicolas] wanted to add a Teensy 2.0++ as brains as he hadn't seen anyone do that before and it also allowed him to brush up on his Arduino skills (the Teensy is compatible with the Arduino software and libraries).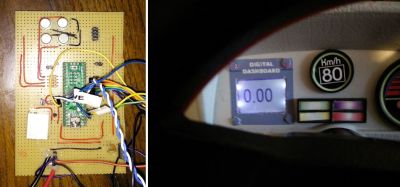 He first made use of the Teensy for one new feature, a speedometer with a dash mounted Nokia 5110 LCD display. To measure the speed he used an infrared diode along with an NPN transistor, two LM324 op-amps and a few other parts. He even drew up with some very nice custom graphics for the LCD display.
He'd originally planned to add a variable accelerator by having the Teensy do PWM to a custom H-bridge, and even went a fair way toward making it, but even at 100% PWM the speed was too slow. With only a bad oscilloscope at the time for debugging, he abandoned the H-bridge for relays instead.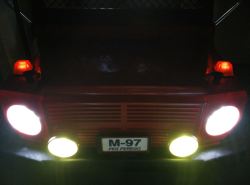 When it came to the lighting, [Nicolas] went all out with high intensity white and blue LEDs on custom circuit boards. He also had to do an exhaustive search online for light covers, but luckily there's quite a bit out there for power wheels parts, though some he took from a Civic at a junkyard. [Nicolas] is in France and reading his experience in hunting for these parts gives an interesting look into the difficulties in buying things from the US when shipping costs can easily exceed parts cost. We can see why sometimes it's simply not an option.
Another new feature was a dash mounted radio. That was followed by a new battery charger, a quantity of fuses to rival that in many cars, a lovingly done paint job and many labels and stickers that show just what a job of passion this was. We're sure his godchildren will love their better-than-new power wheels.
Engine compartment
Restored Power Wheels
Mind you, Hackaday is no stranger to power wheels. But while [Nicolas'] is intended to be a safe one for his godchildren, we've seen them modified in the extreme opposite way with racing ones that do turns on two wheels only. Some races even have pit crews and involve vehicles with battery packs from Ford Fusion plugin hybrids.
Sours: https://hackaday.com/2016/11/14/power-wheels-rescued-restored-and-enhanced/
Introduction: Powerwheel Refurb
my picture lacking step by step instruction to saving $300 and making your child happy

I'm writing this while i'm in Iraq, hence the lack of personal pictures
Step 1: Dilemma
getting something special for a 2yr olds birthday and having no money from the struggling economy... every time i take my son for a ride he automatically climbs into my seat and tries to steer the car. so i figured what better then getting him his own car. but power wheels are EXPENSIVE..over $300 for a bunch of plastic, 2 dc motors, a battery and 2 switches...there has to be a better way

 freecycle.org to the rescue 

some local posting requests got me 2 old junky power wheels for free, just had to go pick them up
time to see what i have available
Step 2: Acquisition of Materials
started to search around my garage...

2 power wheels...check
screwdrivers...check
random workshop tools...check
random spray paint...check
misc extra wires....check
drill...check
small drill bits...check
small nut and bolt sets (6/32 thread)...check
simple green...check
white grease...check
busted old ryobi tools...check
good 18v ryobi battery...check
Step 3: Choices...
time to decide what to do...
the two choices were a brown/black jeep
and a blue/yellow/red jeep. 

i used the blue/yellow/red one because i figured it would take the paint colors easier

the design of a power wheel is pretty much universal...

battery in the "engine" compartment
forward/reverse switch in the middle
pedal switch in the middle 
2 motor at the rear tires

time to start dissassembly


Step 4: Tear Down
I completely stripped down the jeep, it's about 24 screws holding the entire thing together. 
the worst part is the rear tires. they are designed with "spring" clips that go over the solid drive shaft. you can break the clip off one end and pull the whole shaft out after you unscrew the gearboxes

I did this on both jeeps, just for extra parts should the need arise...

use a scraper and remove all the old stickers/decals best you can

now is when you scrub down all the parts your going to reuse with the simple green, for some reason due to their nature power wheels left unattended grow a nice greenish mold. don't want anyone getting sick..so scrub them good

the gear boxes are held together with plastic clips. take care not to break them when opening the box up, they are small and fragile.

after opening them up, check all the teeth, some may have become broken (this is where the other boxes come into play)

clean the gear boxes and apply fresh gear (white lithium) grease 


Step 5: Coloring...outside the Lines
i started to repaint the jeep random bright colors, only to find that regular spray paint doesn't like weathered plastic. 

so off to the auto store i went,  i picked up 3 cans of krylon plastic fusion paint on sale for $10. 

www.krylon.com/products/fusion_for_plastic/

now my son was turning 2, so i wasn't too worried about matching colors...just bright so that he would recognize it and know it was his.  so i left the body the original "blue", painted the fenders black and used red and bright yellow for the grill, lights,bumpers, side step etc
it's colorful to say the least





Step 6: Wiring
one of the major costs of these things is a crappy 10/12  volt battery..they run upwards of $50 to replace...thats crazy

so i have a 18 volt ryobi sawzall that i never used that. so i gutted it and pulled out the battery connection.

now laying the wiring harness out it was a mess of corrosion and damage, my forward/reverse switch was broken off so that got deleted. after stripping it down, i was left with a connection for a 18v battery, a floor pedal switch and 2 motors

the motors had a fair bit of buildup in them...but between 4 motors i was able to hack and slash and clean my way to 2 good working ones.

now it was time to rebuild the harness with new wires. very simple design circuit

switch pole #1 to battery +
battery - to motor #1 pole 1
motor #1 pole 2 to motor #2 pole 1
motor #2 pole 2 to switch pole #2

test on the table, do not hard install anything to motors until after assembly

i also changed the location of the battery to the back under the seat to protect it more from the elements

the motors can handle the 18v without a problem, they are the same ones used in high end R/C cars (you can verify via part number) and the 18vt gives the motors a bit more torque and speed compared to their 10-12 vt counterparts

pics are the "usual set-up items"


Step 7: Reassembly
after the paint dries you can reassemble the majority of the power wheel with the exception of the "rear end"  that has to wait till you finish the new harness

the reason you can't hard install the wiring components to the motors is because these motors are bi directional, hence forward and reverse. my first assembly i had the motors wired backwards...so it was all reverse..learn from my mistakes

before you install the "axel" you'll want to drill a small hole through the end about 1/4" to 1/2" in from the end missing the spring clip. this way you can lock your wheel on with the washer and nut and bolt. 

i also had some extra window insulation lying around so i added a strip to the bottom of the seat to protect the motors and the battery. 
Step 8: Delivery
make sure all the screws are tight...add a bow to the hood and bring the child out...

and watch the smile as they run and climb in it

now being 2, some may say that my son is a bit young to be "driving"  to that i say every child is different as is the parent, and he is not unsupervised while playing..and after about 5 min he got the hang of it and was cruising around. he even realized that you can only go forward..

the 18 volt battery lasts about 20-30 minutes...but being a ryobi...i have 5 more on hand from my other tools...so he got about 2 hours of driving time and was exhausted afterwards...the laughter and giggles made it all worth wild


the 2nd jeep was put back together w/o the gears and wiring and i cut out the floor to make a outdoor foot powered one that can be used by other kids when come to vist for play dates

i will endeavor to post pictures on this when i return home
Be the First to Share
Did you make this project? Share it with us!
Recommendations
Robots Contest

Lamps and Lighting Contest

Space Contest
Sours: https://www.instructables.com/Powerwheel-refurb/
We're an affiliate
As an affiliate, we earn from qualifying purchases. We get commissions for purchases made through links in this post.
Find a screwdriver to dismantle your Power Wheels and plenty of spray paint. Clean the toy car, let it dry, disassemble it, start painting the car parts with one layer at a time, and assemble the toy car when the paint dries. 
Power Wheels are durable, and they last for so long that the paint starts to come off or a child starts liking other colors. Parents can paint power wheels to a different color whenever a child changes their color preferences. 
Parents with several kids can repaint an electric toy car and pass it on to the next child instead of buying a new one. 
It would be best if you used spray cans to paint power wheels a color that you desire. It doesn't take professional painting skills to be able to do the task as a DIY project. 
This article provides the crucial steps that will make repainting your Power Wheels a success.
Which Child-Friendly Paints Should You Use?
Many spray paints are child-friendly, but only one is suitable for Power Wheels. Krylon Fusion Spray paint is an excellent choice for parents who want to repaint power wheels.
The paint is heavier than other spray paints, reducing the number of coats parents need to apply for the paint to stick. 
It also reduces the number of cans that you need to repaint a vehicle completely. However, different power wheels will require an additional amount of paint.
Covering deeper colors with lighter coats will take more paint than covering lighter colors with darker ones.
Why not add some traction at the same time
Since you will be painting the ride on why not add better traction to the tires at the same time.
How to Restore and Paint Power Wheels
There are several steps to ensure that you succeed in the project or repainting a Power Wheels to the color you desire. It may seem more straightforward to start painting the vehicle straight away and save some time in the process.
If you have an older Power Wheels and the plastic is faded and yellow try this instead of painting it!
However, painting power wheels without proper preparation can provide unwanted results. 
Step 1: Prepare the Vehicle 
Purchase fine sandpaper to remove old paint from the toy vehicle. You can use a sanding machine if you have one to expedite the process. A rough surface is an excellent way to create an adhesive surface for the paint to stick on. 
Wash the vehicle thoroughly to remove dust particles, dirt, or any bird poop that may affect the paint. Use some dish wash soap, clean water, and a rug to remove dirt. You can use a hosepipe to reach all nooks on a ride on to while cleaning it but careful not to get the electrical area wet. Please leave it in an open-air location to dry off before beginning the painting process. 
Remove the top part of the vehicle to have more access to the undercarriage of the car. Mark each piece for the reassemble and keep the screws in a safe location as they can get lost fast. Set different parts like the grille and bars on various surfaces for painting separately. 
Choose an ideal location to paint the disassemble parts of Power Wheels. Cover the area with newspapers or cartons to prevent paint from spilling on the surrounding areas. It would be wise to paint the electric toy vehicles in an open space to avoid inhaling the paint's fumes. 
Step 2: Primer and Paint 
Apply primer to all the parts if you don't have 2-in-1 paints that have a primer. The primer increases the odds of color sticking onto plastic for a longer duration. 
Apply the paint's first coat to the toy and leave the parts to dry before beginning a new layer. Hold the can about 10-inches away from the car and spray paint from side to side for an even coat. Do one area at a time to ensure that you get it right the first time. You will have to apply one side of Power Wheels parts and let one side dry before starting on the other side.  
Apply 2-4 layers until you have the desired color for the Power Wheels. It can take several hours to complete painting the toy if you want perfect results. Confirm that each layer dries off before you start the next one with each application. 
Step 3: Reassemble 
Once the toy is dry, it is time to reassemble it for your child to use it. You can use the user manual or an online video to reassemble the toy vehicle and get it ready for your little one. We also have a guide on assembly.
If you really want your paint job to stand out you can do something that will really stand out like painting tires a bright color
It would be wise to cover the dashboard and logos on the vehicle when you start to paint power wheels. Also, do not temper the contents under the hood when restoring your child's toy.
Overall, appropriately painting Power Wheels is an excellent way to makeover a child's favorite toy and make your child shine on the playground.
What Paint Can I Use on Plastic?
Krylon Fusion Spray paint is an ideal choice for painting on plastic power wheels, and it will last for several years. The color will adhere to the plastic because it should last on plastic surfaces.  
It is child-friendly, and you can use the makeover as an opportunity to spend some time with your children. You can make it a day of fun for the family and allow your little one to help you restore power wheels to their original glory.
How Long Does It Take for Power Wheels to Dry?
It takes about 2 – 4 hours for the paint to dry. You can dry the paint under the shade, away from direct sunlight.
You can opt to leave the parts to dry overnight after applying the last coat before reassembling the toy vehicle. It is a tedious process that can take a whole day to complete, so set aside a decent amount of time to do the project.
Can You Find an Expert to Repaint Power Wheels?
Yes. You can take your power wheels to your local garage, and they can do an excellent job of restoring the toy. You can expect to pay a reasonable sum for the service and receive a fantastic toy.
Finding an expert to paint power wheels is an affordable alternative for parents who do not have enough time to paint electric cars as a DIY project. 
However, you can find many online tutorials on how to restore electric toy vehicles for your child at an affordable cost.
What Colors Can You Paint Power Wheels?
You can ask your child to help you select a new color for their toy. Sometimes the tastes of children in colors can change as they grow older.
Other times kids will covet the colors of their friend's power wheels. Your child's input reduces the odds of a child rejecting the new colors that you paint on the vehicle. 
Parents have a wide range of colors to choose from and find appealing for any child. Children love bright colors, and you can select as many as you like.
Why Should I Wash Power Wheels Before Painting?
After using sandpaper to remove any remaining old paint, there will be a lot of dust on the vehicle that can prevent you from achieving a smooth finish. A hosepipe can remove most of the dirt from hard-to-reach places on Power Wheels (again careful not to get the electrical area wet). 
Avoid using any harsh detergents that can damage the integrity of the plastic parts of the vehicle. Dish soap will remove the grime without destroying any essential features of the electric toy vehicle.
Conclusion
It is possible to successfully spray paint plastic power wheels and transform your toy to the color that pleases your kid. It will take a long time to complete the project, so you need to rest well in advance and collect all the supplies you need for the project.
It would be best if you read this tutorial once over before you begin the process. 
Involve the kids and other family members and spend more time together, creating beautiful memories in the process. Be patient and let each coat dry undisturbed before you start the next one.
Above all, choose to use spray paint over a brush to expedite the process.
---
Please be careful and use at your own risk
None of the authors, contributors, administrators, or anyone else connected with RCRideOnCars.com, in any way whatsoever, can be responsible for your use of the information contained in or linked from these web pages.
Sours: https://rcrideoncars.com/paint-power-wheels/
EASY - How To Modify 12 Volt Power Wheels To 18 Volt power tools battery. Jeep 18 Volt Upgrade
.
Wheels restoring power
.
Restoring plastic
.
Now discussing:
.
43
44
45
46
47