Forum
Common Area

Common Area

Conference Room

Community Bar
Available workspace
How many people need space?
Dedicated desks and hot desks can only be purchased online for 1 person
Keep in mind: To professional distance, we encourage you to look for space that fits twice the amount of people you're trying to seat.
Clear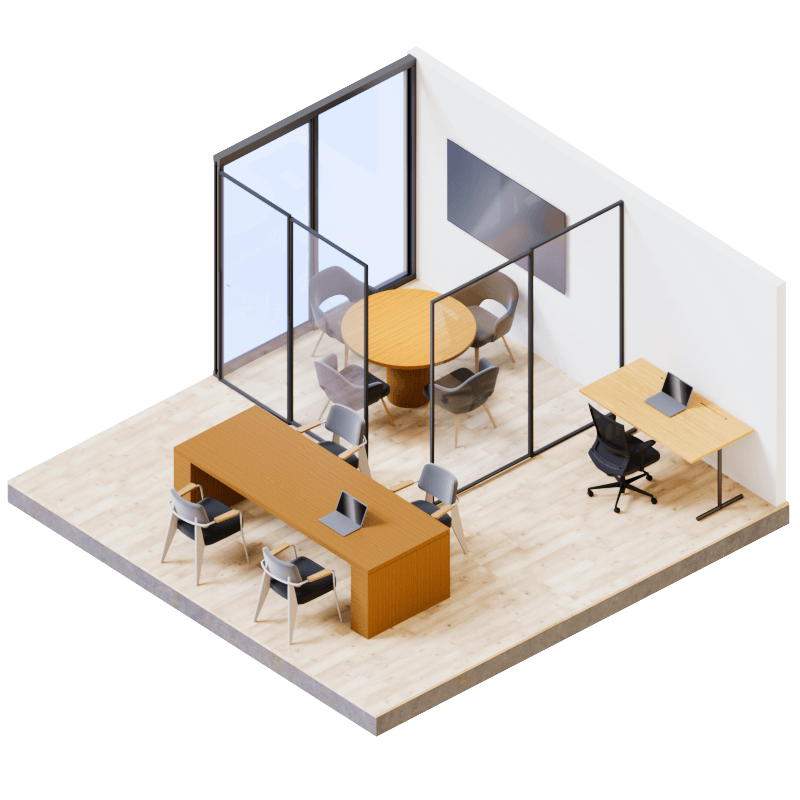 Recommended for you
Office Suite
Designed to support teams of 20-100 with dedicated amenities, upgraded privacy, and premium A/V technology. Plus, add your personal touch with design and branding options.
Thanks for reaching out!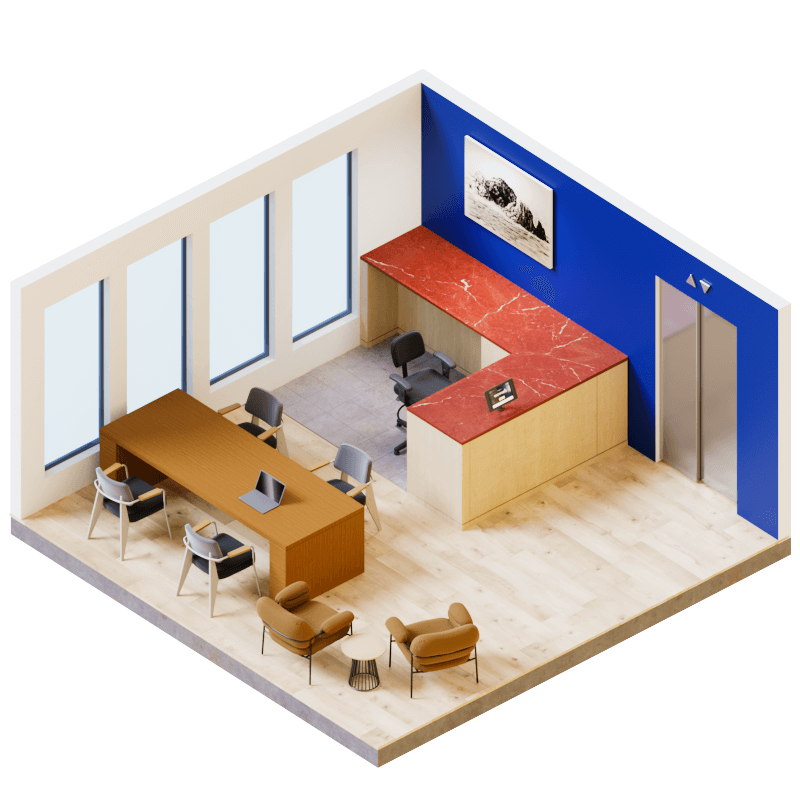 Recommended for you
Full Floor Office
Configurable office space on a private floor with options for your own branding and amenities.
Thanks for reaching out!
Amenities
Updated with your health and safety in mind
Enhanced cleaning services
Touch-free dispensers
Enhanced HVAC standards
Tech Services
Conference rooms
Onsite staff
Unique common areas
Phone booths
Forum
Enhanced cleaning services
In our commitment to provide a healthy, comfortable workplace, WeWork has implemented heightened cleaning measures—with emphasis in high-touch, high-traffic areas.
Touch-free dispensers
For your convenience and comfort, touch-free sanitizers and wipe dispensers have been placed throughout all common spaces and bathrooms.
Enhanced HVAC standards
WeWork has taken steps to bring clean, filtered air circulation throughout our spaces in alignment with the recommendations of health organizations and ASHRAE best practices.
Tech Services
Connect to hard-wired Ethernet or secure Wi-Fi, including IT support and guest log-in functionality. Optional Tech Services are available to enhance your network performance and security, no capital expenditures required. Additional costs apply.
Conference rooms
Meet with peace of mind in conference rooms that prioritize personal space through modified capacities and safe to occupy seating.
Onsite staff
With years of operational expertise and service-focused backgrounds, our workplace team is here to provide everything you need to keep your office running smoothly.
Unique common areas
The heart and soul of our locations, these living-room-style work lounges are designed for collaboration, comfort, and productivity while prioritizing personal space. Both wipe dispensers and hand sanitizer dispensers will be conveniently located throughout common spaces for all members.
Phone booths
With cleaning and disinfecting every two hours, plus complimentary sanitizer and disinfectant wipes—our phone booths prioritize your safety and comfort.
Business-class printers
Every floor has its own space stocked with a business-class printer, office supplies, and paper shredder.
Professional events and programming
WeWork Labs digital platform, included with your membership, features virtual networking opportunities, personalized mentorship, and educational content and programming.
Electric vehicle charging stations
Creating a healthier workplace
In response to COVID-19, we are enhancing our health and safety standards for your peace of mind.
Learn more
Learn more
We're carrying out more intensive and frequent cleanings to protect the wellbeing of our members and employees.
We've adjusted seat spacing in shared areas and workstations so you can continue day-to-day operations, while maintaining a healthy physical distance.
We've installed strategically placed signage as friendly reminders on how and when to professional distance and practice cleanly habits.
We're providing our locations with new materials and equipment so our community can keep spaces healthy and clean.
We're maximizing outside air use, extending the HVAC schedules when possible, and partnering with landlords to follow CDC and ASHRAE air quality guidelines.
Learn more
Location
DLF Forum DLF Cybercity, Phase III Gurugram, HR 122002
Nearby transit

Indulnd Bank Rapid Metro Station (15 minute walk)

CyberHub parking onsite
Finding Office Space in DLF Cyber City
Located amid the country's top finance and technology firms, WeWork's coworking space in DLF Cyber City has everything your business needs to thrive. The entire seven-floor building is dedicated WeWork space, allowing you to move easily between our art-filled lounge areas, shared office space, sleek private offices, and refreshing outdoor area. Take advantage of our ample conference rooms for m... Read more Located amid the country's top finance and technology firms, WeWork's coworking space in DLF Cyber City has everything your business needs to thrive. The entire seven-floor building is dedicated WeWork space, allowing you to move easily between our art-filled lounge areas, shared office space, sleek private offices, and refreshing outdoor area. Take advantage of our ample conference rooms for meeting with clients, or round up the team and head to our dedicated brainstorming area to kick off some new projects. Onsite parking and the nearby IndusInd Bank Rapid Metro station make commuting a breeze no matter where you're coming from—or where you're headed. After work, unwind at one of the many restaurants in the nearby Cyber Hub. Ready to put down roots in DLF Cyber City? Join WeWork today.
What people are saying
4.5|43 Google reviews
Amazing work space. Peaceful.

Amazing place no disturbance

A very good common working place

CyberHub is a unique, one-of-its-kind concept in India – A premium Food , entertainment and Retail destination however it is the ambiance that makes CyberHub an unparalleled experience and an ideal destination for Stepping out, art and c... Read moreCyberHub is a unique, one-of-its-kind concept in India – A premium Food , entertainment and Retail destination however it is the ambiance that makes CyberHub an unparalleled experience and an ideal destination for Stepping out, art and cultural shows , media launches, lifestyle & movie shoots. The Center of Attraction and Attention CyberHub is strategically located on the main artery that connects Gurugram to Delhi, the National Highway 8. It is surrounded by areas teeming with the young and the affluent, searching for new experiences. This new Social Networking Site with a wide variety of activities planned here, CyberHub would be the destination of choice for one and for all. Uniquely designed Spaces, World-class design and structural ambiance with roof top terrace, amphitheater, exhibit area and media room allow for stimulating entertainment options

Completely owned campus of wework , its famous Old Ericsson building of cybercity which was a landmark since long...very nice ambience close to cyberhub. Largest food plaza in gurgaon

It's a amazing superb place to work with superbly

I loke the place plus the free coffee and hyginic space makes it a paradise

Very innovative idea for the future work place for new entrepreneurs. affordable, affordable and well maintained.

Loved the innovation to the office space amd they made it beyond expectation

Narender Singh
January 5, 2021

Sours: https://www.wework.com/buildings/forum--gurugram--HR
Design Leadership
brought to you by InVision
Advancing the practice of design leadership.
Advancing
our craft
Our mission is to advance the practice of design leadership by fostering a community where the world's best can learn from one another. We strive to make the Forum inclusive and relevant to those confronting the challenges of leading design teams.
What members
are saying
"
"Face-to-face conversations are the best resources for growing as a design leader. The connections I've made here are real, the advice and anecdotes are fresh and relevant, and it's been equally rewarding to offer some help in return."
Frank Yoo
VP Product Design
"
"The more I learn, the more I realize how much more there is to learn. Who better to learn from than design leaders who have been (and are still) in the trenches? The connections that will be made and relationships that will develop within this community will be priceless."
Bob Calvano
VP of Design
Benefits of
membership
Learn from the best

An inside view of the practices at high-functioning design teams and their solutions to common problems.

Speak in confidence

A chance to have candid, confidential conversations about issues that keep you up at night.

Broad perspectives

A chance to connect with a broad network of experts committed to helping fellow design leaders advance.

Best practices from the front lines

The opportunity to learn from veteran design leaders and industry influencers.
Design
leadership
in action
Mike Davidson facilitating a member dinner in Palo Alto with design executives from Google, Atlassian, SurveyMonkey, Hortonworks, and 20 other companies.
Design leaders from ENGIE, The Orange Group, EY, BPCE, Thales Design Center, Dailymotion, Saint Gobain, and others meet on a Paris rooftop.
In Toronto, dinner attendees received a copy of Kim Scott's Radical Candor and InVision's Design Systems handbook
CEOs, product, and design leaders from Intuit, Caseport, AT&T, discuss partnership strategies in Dallas.
Chef hanging out with Design Leadership Forum members before the discussions.
Kimberly Hicks (Disney), Mindy Duong (East West Bank), Puneet Thakar (Appetize) trade hiring strategies at the Los Angeles dinner.
Henry Hongmin Kim (Coca-Cola), Gene Lee (MailChimp), and Asa Sherrill (Macquarium) talk about operationalizing design at scale at the Atlanta dinner.
Brent Brooks (AIG), Bob Calvano (A+E Networks), Aaron Gardner (Blackrock), and Maria Nicholas (Moody's Analytics) listen in for insights on leading growing design teams
Dane Howard (Samsung NEXT) shares his leadership stories with Jose Benavides (Realor.com), Liana Lawrance (Rocket Lawyer), and fellow members at the San Francisco dinner
Stanford d.school tour with Bill Burnett, Executive Director, Design Program at Stanford University.
Leslie Witt (Intuit) discussing how to create design forward organizations.
Dinner discussion with leaders from Amy Lokey (Google), Amanda Linden (Facebook), Eliel Johnson (Charles Schwab), and more.
Amy Lokey (Google), Irene Au (Khosla Ventures), and Lori Kaplan (Atlassian) discuss scaling design at enterprises.
Bill Burnett (Stanford) shares the origin story of the Stanford d.school.
Amanda Linden (Facebook), Frank Yoo (Lyft), and Amy Lokey (Google) at the Palo Alto dinner.
Shani Sandy (S+P Capital), James Findlater (Vimeo), Laura Hahn (Priceline) at the New York City dinner.
Laura Hahn (Priceline), Renda Morton (New York Times), and Gregg Meyer (WeWork) discuss how to amplify design culture.
August
design leadership
events
The Design Leadership Forum usually convenes at dinners, online events, a private slack community, community meetups, and at retreats that help members recharge while learning. Spending time together empowers us to connect and exchange ideas faster—and as a true community.
During the C-19 pandemic, the DLF will convene online in curated groups. Learn about the latest community insights in our public LinkedIn group.
Here's a list of the upcoming member events.
Event date and location
August 5, Online

Town Hall August Roundtable Discussion (45mins) 12:00pm EST

August 19, Online

Districts: Design Leaders in CX Roundtable Discussion (60mins) 12:00pm EST

August 26, Online

Districts: Design Leaders in APAC Roundtable Discussion (60mins) 18:00 AEST

September 2, Online

Town Hall September Roundtable Discussion (45mins) 12:00pm EST

September 9, Online

Discourse - Save the date

September 16, Online

Districts: Design Leaders in CX Roundtable Discussion (60mins) 12:00pm EST

September 23, Online

Districts: Design Leaders in APAC Roundtable Discussion (60mins) 18:00 AEST
Apply to be in the Design Leadership Forum
The Design Leadership Forum brings together industry veterans and rising stars who direct design at leading companies.
If you're an experienced design leader and you'd like to join, please apply by filling out the form below.
Want to nominate someone? Send them this email to direct them to this page to apply.
All members of the Design Leadership community agree to follow a clear code of conduct.
Thank you for your nomination
We review each nomination carefully to ensure new members line up well with the goals of the group. We'll be in touch if the nomination is approved.
Sours: https://www.invisionapp.com/design-leadership-forum
Building and Sustaining the Community While Apart: An Interview with Team DLF
An abridged interview with the staff of the DLF program about the impact of COVID-19 on the 2020 DLF Forum, and on  upcoming Forums in 2021 and beyond. Nicole Kang Ferraiolo, CLIR's director of global strategic initiatives interviews: 
Louisa Kwasigroch, director of outreach and engagement; interim DLF senior program officer
Aliya Reich, program manager for conferences and events
Gayle Schechter, DLF program associate
I thought that we'd get started by talking about how the DLF Forum adapted in 2020 following the spread of COVID-19 globally. What was initially planned and then what changed?
Aliya Reich: I can start us off. Because of the timeline of when everything took place, we had already released a CFP for an in-person DLF Forum in early March 2020. But over the next month it became increasingly clear that this was going to be more serious than we initially thought. So we conducted a couple of community surveys and made the decision to go virtual. We then re-released the CFP in July with a new guiding focus, which was "building community while apart."
Gayle Schechter: Once we made the decision to go virtual, in terms of planning the event, there was this real feeling in the community of "Oh, we've got your back." I recall our first DLF Forum Community Committee meeting once the decision was made to go virtual. Aliya and I were both feeling a little down going into that meeting. And I remember leaving just so energized! Everyone was so enthusiastic and creative. It just really reinforced for me how unique and special of a community we have.
Louisa Kwasigroch: We wanted to be as transparent as possible with our community—letting people see our process and weigh in rather than being like, "Oh, we're the experts and we'll just prescribe what you need." We were really interested in those key questions like: why do you hold a conference? Why does the DLF Forum exist? How are we going to distill that into the necessary pieces to keep our community getting what they need now that we're virtual? And kudos to Aliya and Gayle for making sure that the Forum was free, no charge to attendees.  
I like to think that DLF is known for having a culture of care. What are some of the ways you tried to foster an ethos of care at the DLF Forum during this particularly difficult time?
Aliya Reich: In a typical year, our Community Committee works to welcome everyone to our conference host city. And so the focus shifted this year to "how do we do that virtually" and build community? Their work was absolutely crucial in providing opportunities for folks to connect with each other so that it wasn't just webinar after webinar. So this crew put together a comprehensive list of wellness resources. They had a movie screening (I Am Divine, a John Waters film, of course!) and a Spotify playlist with a nod to Baltimore because that's where we were meant to be. They did networking bingo, a photo booth, a newcomers' welcome hour, a community journalist program and more.
Gayle Schechter: We had a community toast during the lightning talks and we reached out to a local bartender in Baltimore, Ashley Mac, to create a specialty cocktail/mocktail. We also included the option for folks during registration to donate to some local charities in Baltimore, including the Youth Empowered Society, a safe space for homeless youth in Baltimore City, and the Baltimore Restaurant Relief Fund. 
Louisa Kwasigroch: Typically, when people come to the Forum, we want to make sure they feel supported while they're away from home. But we're coming into your home now. So you have kids, we should have a storytime (and a fabulous one at that, hosted by keynoter Dr. Stacey Patton). You have pets, we want to show them off on Twitter (#DLFPets). 
Aliya Reich: Another part of creating a community and culture of care is making sure that we can keep people safe. The Committee for Equity and Inclusion and the Digital Accessibility working groups helped us revisit DLF's Code of Conduct, which is a robust document but it wasn't as explicit about online events. That committee also put together a bystander orientation for online spaces, building on a previous bystander training for the in-person event in 2019.
The summer before the Forum, there was our racial reckoning around the murder of George Floyd and so many other Black people at the hands of police. And we felt like we needed to incorporate something acknowledging that in the new call for proposals. We explicitly stated that we would be prioritizing the voices of BIPOC people and people who worked at BIPOC and HBCU institutions. The importance of these issues at our 2020 conference was driven home by Dr. Stacey Patton, in her keynote, "Do Black Lives Matter in Galleries, Libraries, Archives and Museums?"
And then the last thing I'll say is that accessibility is a huge part of our in-person event. So that was something that we really thought through in terms of formatting, looking at making sure that we had captions and transcripts and resources that were as accessible as possible. 
Let's talk about the upcoming 2021 Forum. How has it been shaped by your experience with the 2020 Forum?  
Gayle Schechter: We'll be virtual again in 2021, but the situation for us is very different. Last year we were planning for an in-person event, and then all of the sudden it was pump the brakes and hard right turn into doing a virtual event. We managed, but it was a lot and the timeline was very condensed. This year, we're able to envision this event as a virtual event from the beginning, which means we can ask the right questions when thinking about what we're hoping to get out of the event this year. 
Aliya Reich: We decided to go virtual again after we did another community survey in January 2021, and we heard over and over again that folks were nervous about having access to the vaccine and about not having professional development funds or stable, sufficient employment. People were also concerned about not having a vaccine for kids. We didn't want to create a situation that would increase the disparity between folks at well-funded institutions, with stable jobs, and family structures that allow them to travel and others in other circumstances. We learned so much from last year that we're looking to just really build on the success of that event. 
Gayle Schechter: We also have a better sense of what a virtual Forum means for our working groups. Last year, our groups created a series of either blog posts or videos introducing folks to the work the groups do and how you can get involved if you're newer to DLF. With that format, a lot of people became aware of our working groups and there was definitely an uptick in involvement, including international partnerships. We're hoping to build on that model this coming year.
Aliya Reich: We also hope there will be more opportunities in 2021 and beyond to partner with other GLAM organizations that do work that is adjacent or aligned with our own and bridge our audiences. For instance, last year we had partner sessions with the HBCU Library Alliance and we're looking at doing that again this year.
Louisa Kwasigroch: When we were first talking about what we wanted to be the guiding principles for 2021, I couldn't get the image of weaving out of my head, which is where the design look for the Forum this year comes from. It's all these individual people coming together to make something strong and coherent, something you couldn't see when they're all apart. That's what was driving us. We wanted to sustain our community. So we're not trying to add a bunch more to this picture right now, we're trying to get back to basics. What do you really need to have a community? What do we need to keep our careers sustained and ourselves sustained? There's this isolation, not just physical, and so if we can bring people together to make something stronger and beautiful, then that's what I'm looking for. 
How do you think the Forum might change again as more of the population is vaccinated? What's on the horizon for 2022 and beyond? 
Aliya Reich: I think that people are very eager to get together in person again. 2022 is going to be fantastic! I'm a little biased (since I live here!), but Baltimore is such an amazing city and the hotel is fabulous. We'll also be co-located with the Digitizing Hidden Collections Symposium in 2022. I'm really looking forward to the energy because that's something that this community seems to have in endless amounts. And hopefully because of what we've done over the virtual events, we'll have that many more new folks whom we can welcome to their first in-person Forum as well. Just thinking about it gives me goosebumps! 
Louisa Kwasigroch: There are many advantages to both virtual and in-person conferences. I think one of the biggest things for 2022 and beyond will be how are we going to mix the away and the in-person?
Aliya Reich: And climate change obviously is a huge piece of all this, between the air travel to get there, all the stuff we're ordering—just thinking about the environmental impact of even our relatively small conference, how can we look at ways to balance that out and contribute to a more sustainable events model going forward?
Louisa Kwasigroch: Every year we issue a survey and we take the feedback we get very seriously. We've evolved and our team puts in an incredible amount of thoughts into what happens. So when we try to look ahead to 2022 and 2023, we don't want to prescribe too much what they might be like, because we're going to be listening very carefully to the feedback that we get this year as well.
Is there anything else you want to add? 
Aliya Reich: I don't know that I've emphasized enough or could emphasize enough how amazing the Planning Committee was throughout all of this. There are hundreds of other people without whom it really would not have been possible to put on the virtual DLF Forum, and we are so grateful to them.
Sours: https://www.clir.org/2021/05/an-interview-with-team-dlf/
Who is online
In total there are 40 users online :: 18 registered, 2 hidden and 20 guests (based on users active over the past 5 minutes)
Most users ever online was 4352 on Sat Sep 25, 2021 9:00 pm

Registered users: AlbertaPrime, Bing [Bot], cazzie33, CGW, ckbeav, CooperCrush, FantasyFreak, Google [Bot], Hause24, Leeboy86, never_punts, PR0v3, sasquatch24, Shcritters, steelman, SteveMaddensShoes, TaquitoPeddler, Trident
Legend: DLF Staff, Global moderators, Premium Members
Birthdays
No birthdays today
Statistics
Total posts 1916983 • Total topics 197041 • Total members 20458 • Our newest member Dynastynoob111
Sours: https://forum.dynastyleaguefootball.com/
Forums dlf
.
.
Similar news:
.
461
462
463
464
465