Windows 7
Sing and learn the Bible with God Rocks scripture songs. Bright animated characters perform verbatim NIV scripture songs with graphic lyrics for sing-along fun. Thousands of churches have used these award-winning songs to teach children of all ages God's word.
Take Your Stand - EPHESIANS 6:10-11 (God Rocks!)
"Finally, be strong in the Lord and in his mighty power. Put on the full armor of God so that you can take your stand against the devil's schemes."
Be Joyful - 1 THESSALONIANS 5:16-18 (Beach Stones)
"Be joyful always; pray continually;give thanks in all circumstances, for this is God's will for you in Christ Jesus."
Do Not Conform - ROMANS 12:2 (Beat Rocks)
"Do not conform any longer to the pattern of this world, but be transformed by the renewing of your mind. Then you will be able to test and approve what God's will is - his good, pleasant and perfect will.
The Fruit of the Spirit - GALATIANS 5:22-23 (God Rocks!)
"But the fruit of the Spirit is love, joy, peace, patience, kindness, goodness, faithfulness, gentleness, and self-control. Against such things there is no law.
Your Attitude - PHILIPPIANS 2:5 (God Rocks!)
"Your attitude should be the the same as that of Christ Jesus."
Whatever You Do - COLOSSIANS 3:23-24 (Beat Rocks)
"Whatever you do, work at it with all your heart, as working for the Lord, not for men, since you know that you will receive an inheritance from the Lord as a reward. It is the Lord Christ you are serving."
God Into All the World - MARK 16:15 (God Rocks!)
"He said to them, 'Go into all the world and preach the good news to all creation."
Be Strong - JOSHUA 1:9 (God Rocks!)
"Have I not commanded you? Be strong and courageous. Do not be terrified; do not be discouraged, for the Lord your God will be with you wherever you go."
Pleasing in Your Sight - PSALM 19:14 (Soul Stones)
"May the words of my mouth and the meditation of my heart be pleasing in your sight, O Lord, my Rock and my Redeemer."
The Whole Duty of Man - ECCLESIASTES 12:13,14 (Beat Rocks)
"Now all has been heard; here is the conclusion of the matter: Fear God and keep his commandments, for this is the whole duty of man. For God will bring every deed into judgment, including every hidden thing, whether it is good or evil."
The Lord is My Rock - PSALM 18:2, 3 (God Rocks!)
"The Lord is my rock, my fortress and my deliverer; my God is my rock, in whom I take refuge. He is my shield and the horn of my salvation, my stronghold. I call to the Lord, who is worthy of praise, and I am saved from my enemies."
God So Loved the World - JOHN 3:16 (God Rocks!)
"For God so loved the world that he gave his one and only Son, that whoever believes in him shall not perishbut have eternal life."
Go and Make Disciples - MATTHEW 28:19,20 (Beach Stones)
"Therefore go and make disciples of all nations, baptizing them in the name of the Father and of the Son and of the Holy Spirit, and teaching them to obey everything I have commanded you. And surely I am with you always, to the very end of the age."
Put on Love - COLOSSIANS 3:12-14 (God Rocks!)
"Therefore, as God's chosen people, holy and dearly loved, clothe yourselves with compassion, kindness, humility, gentleness and patience. Bear with each other and forgive whatever grievances you may have against one another. Forgive as the Lord forgave you. And over all these virtues put on love, which binds them all together in perfect unity."
Seek and Find - MATTHEW 7:7 (Soul Stones)
"Ask and it will be given to you; seek and you will find; knock and the door will be opened to you."
Love Your Enemies - LUKE 6:27, 28, 31 (Beach Stones)
"But I tell you who hear me: Love your enemies, do good to those who heat you, bless those who curse you, pray for those who mistreat you. Do to others as you would have them do to you."
He Who Loves Me - JOHN 14:21 (Beat Rocks)
"Whoever has my commands and obeys them, he is the one who loves me. He who loves me will be loved by my Father, and I too will love him and show myself to him."
If You Have Faith  - MATTHEW 17:20 (God Rocks)
"He replied, 'Because you have so little faith. I tell you the truth, if you have faith as small as a mustard seed, you can say to this mountain, "Move from here to there" and it will move. Nothing will be impossible for you".
Love the Lord - DEUTERONOMY 6:5 (Beach Stones)
"Love the Lord your God with all your heart and with all your soul and with all your strength."
Trust in the Lord - PROVERBS 3:5, 6 (Beat Rocks)
"Trust in the Lord with all your heart and lean not on your own understanding; in all your ways acknowledge him, and he will make your paths straight."
Rejoice! - PHILIPPIANS 4:4 (Soul Stones)
"Rejoice in the Lord always. I will say it again: Rejoice!"
The Love of God - ROMANS 8:38, 39 (Soul Stones)
"For I am convinced that neither death nor life, neither angels nor demons, neither the present nor the future, nor any powers, neither height nor depth, nor anything else in all creation, will be able to separate us from the love of God that is in Christ Jesus our Lord."
Let the Heavens Rejoice - PSALM 96:11, 12 (Beat Rocks)
"Let the heavens rejoice, let the earth be glad; let the sea resound, and all that is in it; let the fields be jubilant, and everything in them. Then all the trees of the forest will sing for joy;"
Serve Wholeheartedly - EPHESIANS 6:7 (Beach Stones)
"Serve Wholeheartedly, as if you were serving the Lord, not men."
The Lord Is Faithful - PSALM 145:13 (Beach Stones)
"Your kingdom is an everlasting kingdom, and your dominion endures through all generations. The Lord is faithful to all his promises and loving toward all he has made."
Faith, Faith, Faith - HEBREWS 11:1 (Soul Stones)
"Now faith is being sure of what we hope for and certain of what we do not see."
Accept One Another - ROMANS 15:7 (Beat Rocks)
"Accept one another, then, just as Christ accepted you, in order to bring praise to God."
Read more.
Sours: https://www.rightnowmedia.org/Content/KidsShow/403701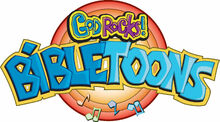 God Rocks! BibleToons is a Christian children's series created by Bruce W. Stacey. This series mixed 2D animation with live-action skits. It was released in 2005 as a follow-up to the 2002-2004 3D-animated series God Rocks!, whose last episode "Flip-Flop and Rock" was a transition into this series.
From 2006-2007, the show began featuring a three-episode compilation mini-series BibleToons BeatTown, which featured songs from the God Rocks! albums (mainly BibleToons) along with talk about their meanings.
In 2007, God Rocks! BibleToons first aired on Daystar and CTS every Saturday along with the original God Rocks! CGI series. The following year, one last episode, "Starlight Rescue!", was produced for a VBS program of the same name.
In 2009, the show was taken off Daystar and moved to TBN. As of October 26, 2013, it has been replaced by RocKidsTV.
Cast
Todd Neilson - Chip Livingstone/Flint Rockly/Additional Voices
Sheryl Stacey Neilson - Gem
Jordan Elgie - Splinter/Beach Stone
Tyler Seidenberg - Carb/Beach Stone #2
Ian Tanner - Walter Concrete/Beat Rock #2/Beach Stone (singing voice)
Moira Brown - Ruby
Marina Felix - Nuggie Livingstone
Bruce W. Stacey - Mini-Bot/Dragon
Ruth Ramirez - Soul Stone
Jim Witter - Beat Rock #1/Beach Stone #2 (singing voice)
Matt Tapley - Beat Rock #3/Beach Stone #3 (singing voice)
Amoy Levy - Soul Stone 1 (singing voice)
Nicole Sinclair - Soul Stone 2 & 3 (singing voices)
Episodes
Sours: https://god-rocks.fandom.com/wiki/God_Rocks!_BibleToons
RocKids TV
Skip to main content
Content is King. Conversation is Divine. Connection is in our DNA.
28 Episodes
The RocKids TV universe is centered around an imaginary TV network that airs fun and fantastic shows that teach kids about Jesus and the Bible. Popular characters from the award-winning God Rocks! children's group host the series from a fantastic home-base set, the cool RocKids TV studio, and exciting remote locations. The series features animation, puppets, songs and live action skits created by award-winning children's producers Phil Vischer (VeggieTales) and Bruce Stacey (God Rocks!). Kids will love the animated clips and fun characters from Phil Vischer's new Jelly Telly series. They'll learn Bible truth in the new cartoon "Parable Playhouse," sing and dance to BibleToons - awesome NIV Scripture songs for kids - and laugh and learn with the zany antics of the God Rocks! cast. RocKids TV is all about "Energizing Kids with the Good News" and learning about God's love!
Sours: https://watch.intothecastle.com/rockids-tv-1
Christmas time with God rocks
.
Rocks show god tv
.
GodRocks BibleToons S1 E10
.
Similar news:
.
517
518
519
520
521