Kobalt 24V Drill Driver and Hammer Drill Surprises Medium-Duty Class with Shootout Win
Lowe's house brand Kobalt has been a pretty big deal around these parts since they first showed off 24V tools back in 2016. The 24V max (21.6V nominal) battery uses a 6-cell system instead of the 5-cell designs of 18V /20V max packs. We got our hands on the Kobalt 24V Drill Driver (KDD524B-03) and Hammer Drill (KHD524B-03) for our Best Cordless Drill Shootout, and it's safe to say that both models impressed us.
Pros
Excellent speed under load
Highest torque in the Medium-Duty class
Excellent value
Cons
Shootout Results
After tallying up all the results, the Kobalt 24V Drill Driver and Hammer Drill models rate at least 4 stars in every category. There aren't many drills in any class we tested that can say the same thing.
The fit and finish aren't as refined as some of the premium brands and you won't find some of the most recent features like smart controls. Kobalt's 24V line isn't as deep as others, either. However, if performance is your goal, Kobalt is your best all-around bet without moving up to the bulkier Heavy-Duty class.
While that might sound surprising at first, it's a testament to how much the line has improved over its 18V predecessors.
Overall 18V Medium-Duty Drill Driver Ranking: 1st Place
Overall 18V Medium-Duty Hammer Drill Ranking: 1st Place
A Little Background
Chervon is the manufacturer behind Kobalt's 24V max line. They're also responsible for EGO outdoor equipment, Skil's new cordless line, Skilsaw, and others. In both our standalone and head-to-head reviews, these tools consistently perform very well, often outperforming much higher priced competition. In the case of Skil and Skilsaw, they're genuinely taking the brands to performance levels their previous owners couldn't or wouldn't.
I saw that to set the table here. Kobalt's 24V tools are not just a rebrand of their old 18V line. They're no longer DIY tools pretending to be for Pros.
Features
The Kobalt 24V Drill Driver and Hammer Drill have identical feature sets, with the exception of the hammer drill having a hammering mechanism. That adds a little bit of length and a touch more weight. The hammer drill has a couple of extra clutch settings and comes with a side handle. Everything else is pretty much the same.
Feature Set
2-speed brushless motor
Variable speed trigger
LED light
All-metal chuck
Bit holder
Belt hook
Performance
Check out our Best Drill Head to Head Review to see our test methods for soft torque and speed under load.
Speed Testing
We chucked up a 1″ Bosch Daredevil High-Speed Auger Bit to see how well the brushless motor can maintain its speed in high while drilling out 5-ply OSB subfloor. After the dust settled on our series of tests, the Kobalt 24V Drill Driver finished with a 1419 RPM average. That's a little more than 50 RPM off the lead.
That speed is 77% of the no-load speed we measured on it, good enough for the 2nd best motor efficiency rating in the Medium-Duty group.
Moving to a 2-9/16″ Milwaukee SwitchBlade Self-Feed Bit and low speed, it posted an average of 459 RPM—just 13 RPM slower than the leader.  Its efficiency rate is 86% in this test, telling us that it can handle an even larger load than we put it under.
With our concrete drilling speed test, the Kobalt 24V Hammer Drill slowed down a little bit from the rest of the pack. Using a 1/4″ Bosch Daredevil Multipurpose bit and drilling 3″ deep, its 6.95-second average was the second slowest.
Soft Torque Testing
While both models finish in a highly-competitive 3rd place for speed, their torque production is what really sets them apart. Kobalt crushes the class with 562.8 in-lbs of torque on our testing rig. Bosch's new brushless model gets within sight of Kobalt about 40 in-lbs behind. But the closest anyone else gets is more than 150 in-lbs off the pace.
Footprint and Weight
If you're looking at the Kobalt 24V Drill Driver, it has a head length of 7.5″ and height of 8.3″. We already touched on it, and the hammer mechanism adds 0.6″ for the Kobalt KDH524B-03. Neither model challenges Milwaukee's ultra-compact design, but they're also far from the bulk of Ryobi's P251.
With a 4.0Ah battery, the drill driver weighs 4.83 pounds, less than 0.1 pounds heavier than the class leader. The hammer drill's larger size and additional hardware bump it up to 5.03 pounds.
There's not a huge range of weights in the Medium-Duty class, so Kobalt's 3rd place drill driver and 6th place hammer drill weight rankings might be a little deceiving. Only Ryobi's P251 is noticeably heavier in both drill and hammer drill categories.
Price
Kobalt is offering some pretty solid sales at the time of writing, giving these tools an even better value. The Kobalt 24V Drill Driver is $99 as a kit with a 2.0Ah battery. It's normally $159, so this is about as good as it's going to get.
The Kobalt 24V Hammer Drill is currently $99 as a bare tool (normally $129). You can also snag this one with a brushless impact driver and a 4.0Ah battery for $229 (regular price $279).
Kobalt's battery pricing is pretty compelling as well. Additional 2.0Ah packs run $20, 4.0Ah packs are $50, and 6.0Ah packs are $99.
Conclusion
After tallying up all the results, the Kobalt 24V Drill Driver and Hammer Drill models rate at least 4 stars in every category. There aren't many drills in any class we tested that can say the same thing.
The fit and finish aren't as refined as some of the premium brands and you won't find some of the most recent features like smart controls. Kobalt's 24V line isn't as deep as others, either. However, if it's performance you're after, Kobalt is your best all-around bet without moving up to the bulkier Heavy-Duty class.
While that might sound surprising at first, it's a testament to how much the line has improved over its 18V predecessors.
Kobalt 24V Drill And Hammer Drill Specs
Kobalt 24V Drill Driver
Model Number: Kobalt KDD 524B-03
Max Speed: 2000 RPM
Maximum Beats Per Minute: 26,000 BPM
Number of Clutch Settings: 24
Max Chuck Size: 1/2″
Chuck Type: Keyless
Tool Power Output: 650 in-lbs
Warranty: 5-Year (tool); 3-Year (battery)
Price: $141.99 (kit)
Kobalt 24V Hammer Drill
Model Number: Kobalt KHD 524B-03
Max Speed: 2000 RPM
Maximum Beats Per Minute: 26,000 BPM
Number of Clutch Settings: 24
Max Chuck Size: 1/2″
Chuck Type: Keyless
Tool Power Output: 650 in-lbs
Warranty: 5-Year (tool); 3-Year (battery)
Price: $179.95 (bare tool)
Shop Amazon
Sours: https://www.protoolreviews.com/tools/power/cordless/drills-drivers-cordless/kobalt-24v-drill-driver-and-hammer-drill-review/46704/
Kobalt XTR 24 Volt Max Cordless Drills Review
Kobalt has expanded their venerable 24 Volt Max line of tools with the new XTR series that takes advantage of new and more powerful battery packs. To see the capabilities of the XTR batteries, Kobalt sent me two of their new flagship cordless drills for review. The XTR 1/2″ Brushless Cordless Drill Model #KXDD1424A-03 as well as XTR 1/2″ Brushless Hammer Drill Model #KXHD1424A-03. These two drills are my first tools from Kobalt.

Manufacturer: Kobalt

Model number: KXHD1424A-03 & KXDD1424A-03

Price: $169.00 & $199.00

Power source: XTR 24-Volt Max Lithium-Ion Batteries

Weight: 2.4 Lbs. & 3.2 Lbs.
Kobalt tools have continued to impress the #ToolBoxBuzzCrew at many of our recent Head-2-Head test days. At the recent Best One Handed Reciprocating Saw test, Kobalt stood out as a powerhouse. The new XTR cordless drills and other tools from Kobalt build upon that reputation.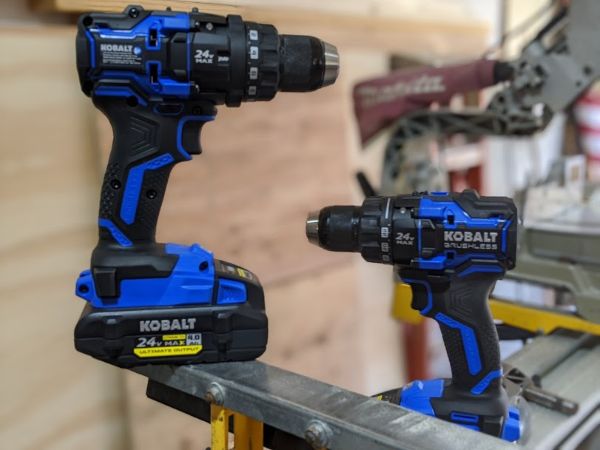 Features and Specifications
Capable of 1,200 Inch Pounds of Torque
Anti-Kickback Technology
2 Speed Gear Boxes & 24 Position Clutches
LED Work Lights
Warranty: 5 Year Tool / 3 year Battery
Weight: 3.2 Lbs. (Hammer Drill) / 2.4 Lbs. (Drill/Driver)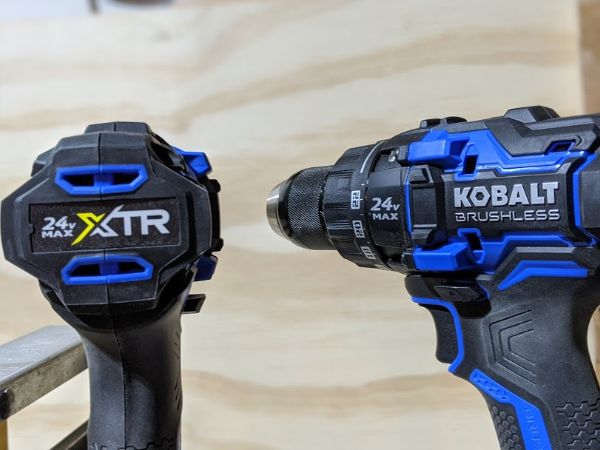 Standout Features of the XTR Cordless Drills
Ergonomics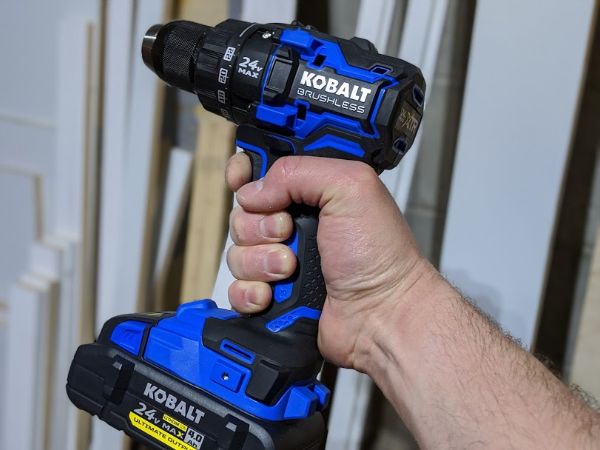 Both drills are very comfortable in hand. I have extremely large hands (XXL) and both tools felt spacious and not cramped. The variable speed trigger as well as the forward and reverse selector are tightly fitted and responsive. the rubber over molding on the exterior also provides excellent traction and reduces hot spots.
Mechanical Clutches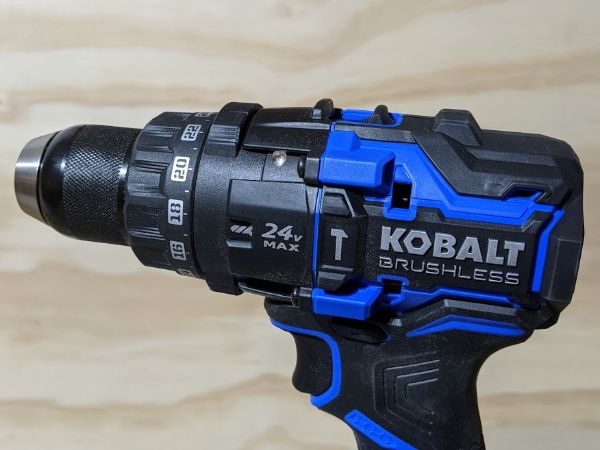 Both the drill/driver and the hammer drill feature a traditional twist style mechanical clutch. Both clutches are smooth to operate with positive click setting and easy to read indicator marks. Dialing in a specific torque rating for even the most delicate fastener was effortless.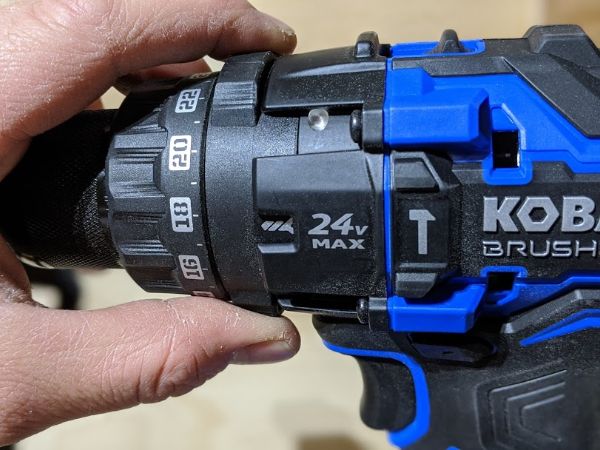 The XTR hammer drill features a separate three position selector lug to chose a dedicated drilling mode. Driving Fasteners, drilling holes, and hammer drilling each have a easy to change manual switch. This extra selector is intuitive and easy to use as well.
Bright LED Work Light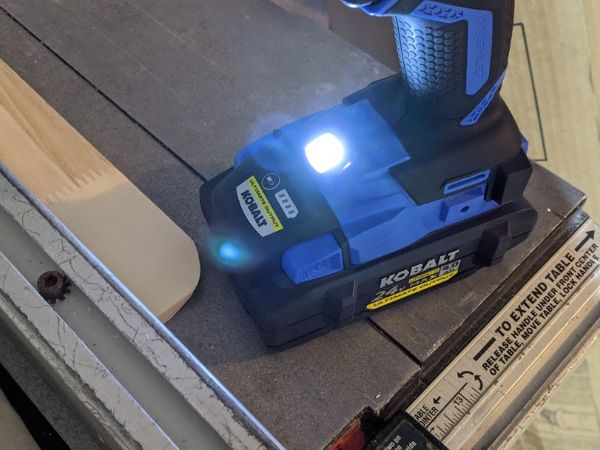 Both of the Kobalt XTR cordless drills feature a bright white LED work light on the base of the tool. This light projects upwards towards the work surface and does and excellent job. The light stays on momentarily after releasing the trigger as well.
Kobalt's XTR Battery Upgrades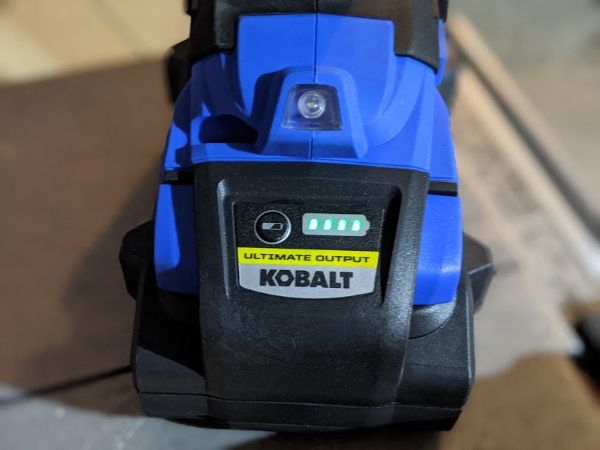 To give life to the new XTR line, Kobalt improved upon their existing 24 Volt Max series of batteries. The XTR batteries feature 21700 cells that offer a much higher discharge rate and produce 50% more power. Again, thats 50% more compared to the original 24 Volt Max batteries. Each tool came with one 4.0 Ah battery. These battery packs are streamlined and compact.
Most importantly, these new XTR batteries are backwards compatible with all generations of chargers and tools. Kobalt users can upgrade their batteries to XTRs in the future and still get good use out of their older version tools.
XTR Cordless Drills Performance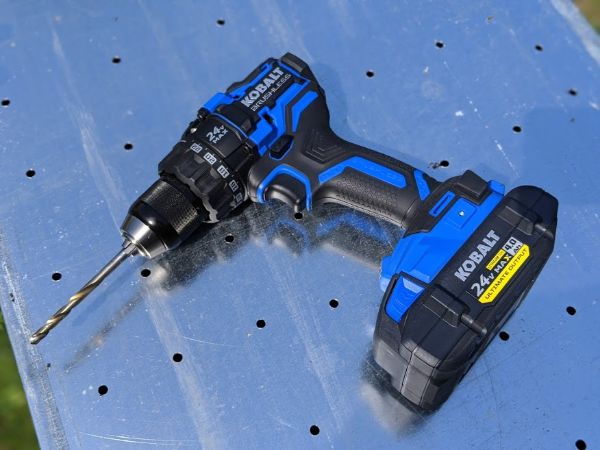 Having never used a Kobalt product before, I was not sure what to expect when I began using the XTR cordless drills. I had heard Kobalt was making some powerful stuff but really could not speak to anything from their line. One of the first tasks I performed was drilling a series of drainage holes through thick gauge sheet metal water troughs for a landscaping project. It was hot as hell and all of the troughs required between 275 and 300 holes total. Using the XTR Drill/Driver for this task, it breezed through all of the sheet metal while barely using two bars of energy. That is extremely impressive.
Afterwards I found zero issues with either drill while performing a variety of tasks. Whether I was drilling holes or driving fasteners, neither wood or concrete could stand up to the XTRs. More notable was the fact that the batteries lasted forever. A full day of intermittent use was easily achieved on a single battery charge.
Pricing and Availability
The full line of XTR tools from Kobalt including the cordless drills is available now from Lowe's. As with all Kobalt tools they are exclusive to Lowe's and are available in stores and online. The XTR 1/2″ drill/driver is currently available for $169.00 and the 1/2″ hammer drill is available for $199.00. Both tools are sold as a kit with one 4.0 Ah battery pack, battery charge, large bulky plastic case, and a detachable side handle.
Both kits represent a good value for the dedicated or hardcore DIYer. Check out the Buy it Now link below for the full XTR Lineup at Lowe's.
XTR 24-Volt Max 1/2" Drill/Driver & Hammer Drill
Buy Now
$169.00 & $199.00
Overall Thoughts on Kobalt's XTR Cordless Drills
Kobalt is a brand that has developed a die hard following for being affordable and powerful. The original 24 Volt Max line of batteries built that lineage and now the XTR is bringing them forward into a new weight class. The XTR drills are a great example of Kobalt looking to punch up to the pro class above them. While the DIYer and entry level tradesman has always been the go to market for Kobalt, the XTR line may be what black and blue needs to take on the pros.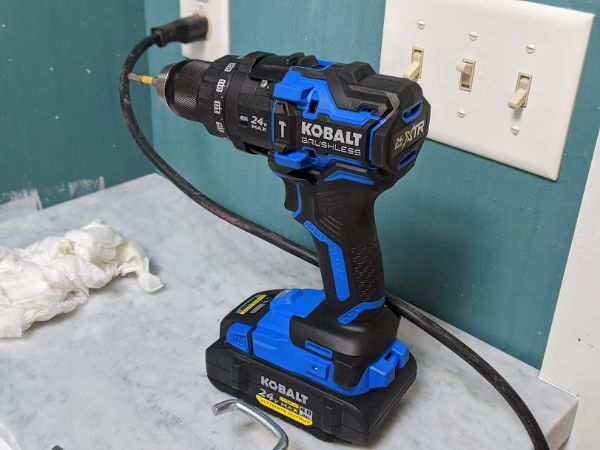 The two drills I got the chance to evaluate were solidly built and powerful machines. They featured excellent construction and ergonomics. The XTR batteries give them exceptional run time and power. However in my opinion they still felt big and bulky compared to the top of the line drills from other pro grade manufacturers. The Kobalt line of tools is also lacking compared to many of the pro brands.
That being said, the XTR series of tools are a great step forward for the Kobalt 24 Volt Max line. Both the 1/2″ drill driver and hammer drill were proof positive of that. Check out either of these tools if you looking for a value priced, powerful, extremely capable tool.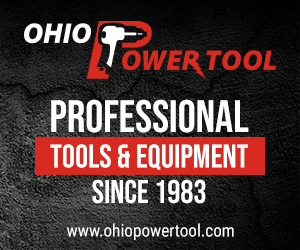 About the author
Wes Bartosik
Wes Bartosik is a Connecticut native with strong family ties to the construction world. Wes' father and grandfather both were builders and developers and taught Wes the values of doing things right from an early age and getting hands on experience with every facet of the construction industry. Wes apprenticed with a carpenter throughout high school and would later attend Central Connecticut State University earning a bachelor's degree in construction management all while working for a large excavation contractor throughout. Wes would go on to work for a local heavy-highway construction company and gain further experience with all the skilled trades associated with large civil engineering and utility projects. Though working as a manager now, Wes' true passion is working in the field alongside the tradesman and laborers on site. Wes has been involved in community based service projects throughout his life as well as emergency services. In his spare time he takes on serious DIY projects for himself, friends and family. He is a firm believer that with a quality tool in your hands and some grit, you can accomplish anything.
All posts by Wes »
Disclosure
Product reviews on this site contain our opinion of a product or service. We will always strive for objectivity and transparency in our reviews. Our goal is to provide readers with honest, objective information based on our own experiences. We never have and never will accept payment in exchange for a positive review. Many of the products that we review are provided to us for free by a manufacturer or retailer. In some cases, we also have advertising or affiliate relationships with manufacturers and retailers of products and services we review. For additional information please visit our additional disclosure policies.
Sours: https://www.toolboxbuzz.com/cordless-tools/kobalt-xtr-24-volt-max-cordless-drills-review/
At one time, brushless drills were typically reserved for top tier product lines. Milwaukee, Makita, and DeWalt all have a line of brushed and brushless tools. With most companies, their premium products include brushless models. As prices have come down, and manufacturing processes improved, brushless is much more mainstream. The new $149 Kobalt 24V brushless drill kit reveals that brushless is all but on its way to becoming ubiquitous in the market.
In 2012 I was able to test out the first Kobalt 18V lithium-ion combo kit which included a cordless drill. This time around, Kobalt introduced an updated model that goes beyond a simple voltage update, it adds brushless motor technology. The new Kobalt 24V brushless drill is a full inch shorter in length than the 20V model of just a few years ago (almost a 15% reduction). It also has an additional 165 in-lbs of torque (giving it roughly 25% more driving power).
Going by the specs, this tool really stand out as having the highest torque of any tool at this price point. (Lowe's sells it for $149 as a kit). Even the DeWalt DCD790B doesn't have as much power (on paper) as the Kobalt 24V brushless drill. As we saw in our testing, that stat transcended paper into reality as well.
Kobalt Tools 24V Brushless Drill Driver Features
The Kobalt KDD 1424A-03 has two modes, operating at 550 and 2,000 RPMs. It will do a phenomenal amount of work on a single 2Ah battery (which is what's included in the kit along with the charger). The charger included in the kit will recharge the 2.0Ah 24V battery in abut 85 minutes. That's one of the slower charge times in the industry, but a trade-off gets made when you're talking about a brushless tool and the fact that the pack has an extra cell to charge.
That included 2.0 AH battery pack has a 4-LED charge level indicator which lets you know if the pack is charged. That way you'll know before you put it into the tool. We only wish Kobalt included another battery with their kits (all are single packs). Press the button on the top of the pack, and it lights up to let you know whether you should use the pack, or place it on the charger. Above the foot of the battery sled an LED light shines up at the work area. This allows you to work without having the chuck of the drill interfere with your sight lines.
The Kobalt 24V brushless drill includes an all-metal 1/2-inch chuck. The chuck ratchets nice and snug on drill bit shanks, hole saws, and driver bits. The 23-position clutch helps you set the tool for best results on particular fastening applications. It will come in handy for hanging drywall or even when fastening self tapping screws into steel studs.
Kobalt Tools 24V Brushless Drill Specs
Speed: 0-550/2000 RPM
Chuck: 1/2-inch keyless all-metal
Clutch: 23-position
Torque: 650 in-lbs
Motor: 24V brushless
Battery: 2.0 Ah 24V Max
LED work light
Auxiliary handle
Length: 7.5 in.
Weight: 4 lbs.
Warranty: 5-year limited(3-year battery)
Testing the Kobalt 24V Brushless Drill
It's hard to surprise me, it really is. The thing is, though, the Kobalt 24V brushless drill had some stunning results in our testing. We ran the same tests used for our heavy duty 18V cordless drill shootout and the Kobalt drill bested the fastest drill (the Ridgid Gen5X brushless compact drill) by over 4 seconds in our 1/4-inch hole driving test. It drilled twelve holes through our layered plywood in just 21.5 seconds.
In our lag bolt speed tests, the Kobalt 24V brushless drill came up just 1/4-inch short of driving our 3/8″ x 3-1/2″ lag bolt all the way home in high speed. Switching to low speed we sank the bolts with an average speed of just 3.79 seconds. This put Kobalt just behind Makita and well ahead of the second place contenders, Hilti, Milwaukee, and Ridgid.
Moving to our 1″ spade bit drill test, the average seed to drill through our plywood with the Bosch bit was 4.09 seconds. That puts the Kobalt 24V drill in the lead for spade bit drilling speed.
Lastly we tested power using a 3″ hole saw. The Kobalt tended to bind up when it hit our second layer of plywood-something you may not encounter if you're using the hole saw on solid 2x material. When this happens, the drill's overload protection forces you to wait a couple seconds before the trigger will work again. Using low speed for this test, we got an average time of 16.2 seconds, putting the Kobalt towards the back of the pack in this particular test.
Conclusion
I didn't expect to be as impressed with the Kobalt 24V brushless drill as I was. Time and time again, however, this tool came out swinging. For low to medium torque applications the Kobalt 24V drill proves itself as one of the fastest drills in the market. Even heavy duty jobs will prove to be no problem in most cases. Kobalt still has to break through the mindset that there tools aren't equivalent to more popular brands, but our independent tests are starting to show that they're definitely onto something.
Sours: https://www.protoolreviews.com/tools/power/cordless/drills-drivers-cordless/kobalt-24v-brushless-drill/25184/
Testing the Cheapest impact drivers, Home Depot VS Lowes.
.
Drill driver kobalt
.
Kobalt VS. Ryobi Impact Drivers
.
You will also like:
.
555
556
557
558
559