SimpliSafe Interactive Plan
It does a little bit of everything, and then some. No, not your hand-me-down Swiss Army Knife. We're talking about the SimpliSafe Interactive monitoring plan, which we recently got acquainted with. And by "acquainted" we mean that we spent several days (and nights!) testing SimpliSafe to see how it stacks up against the competition.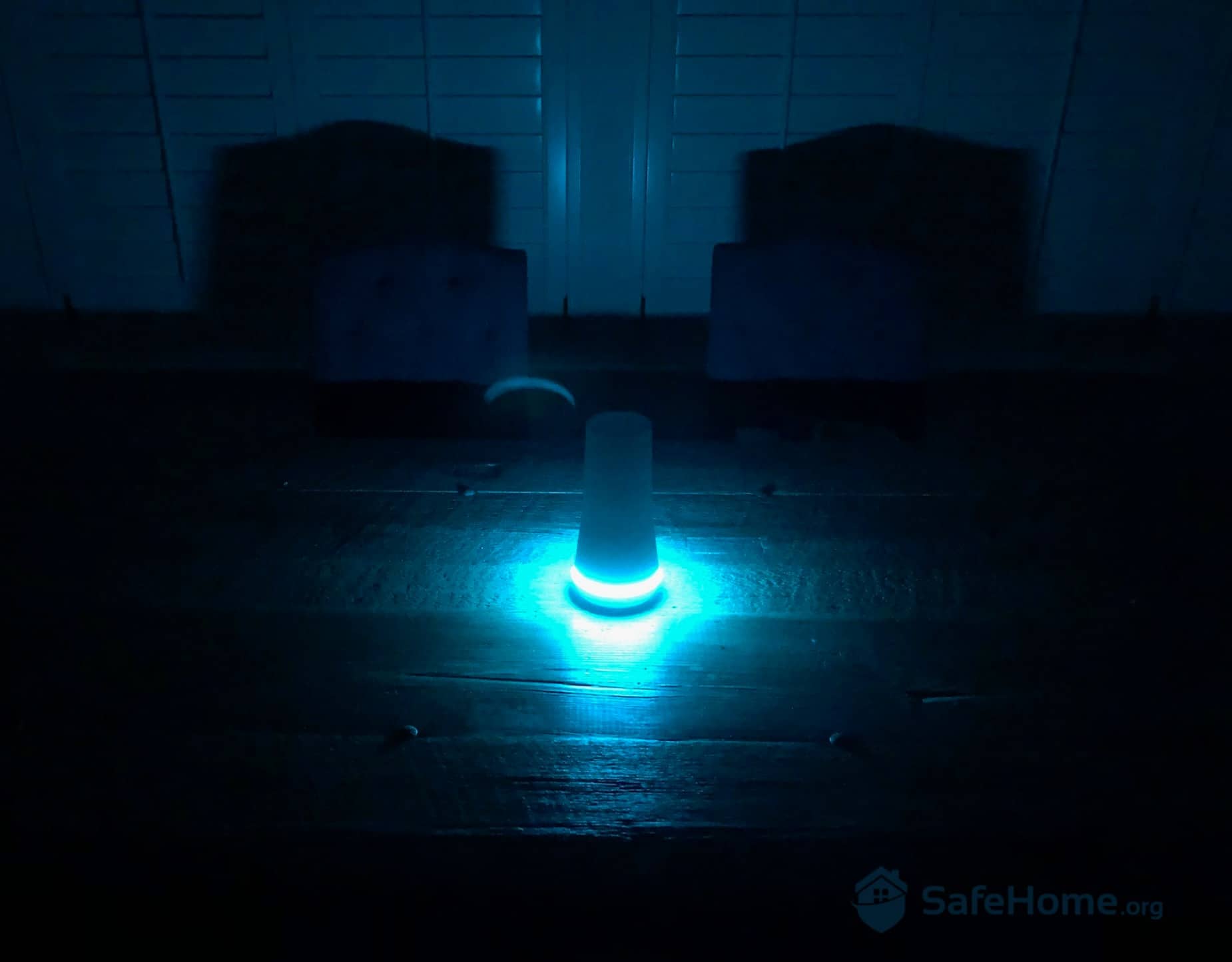 SimpliSafe Base Station at Night
As SimpliSafe's premium plan, you're probably wondering what to expect. Will it protect your home? How about video and home automation features? Is there an app? And how much will it set you back each month?
These are all great questions…
So we're going to dig into the Interactive plan and tally up the pros and cons. To preface what's to come, you should know that the Interactive plan strikes a solid balance of affordability and helpful features. But there are some (fairly minor) weaknesses that we'll share with you as well. So without further ado, let's right jump in.
FYI: We think the SimpliSafe Interactive plan is a stellar option for folks who want around-the-clock home protection, remote arming and disarming, video support, and some home automation features. But if you're looking for a robust smart home ecosystem, there might be better plans out there.
A Snapshot of Features
True to form, SimpliSafe keeps things "simple" by only offering two monitoring plans, which we compare and contrast in this guide. Today we're mainly concerned with the Interactive plan, which in our opinion is the best option for your money… and we'll show you why.
But first, note that the Interactive plan includes the basics that come with the Standard Plan. This means you'll get 24/7 professional monitoring and environmental monitoring. But that's where the similarities end. With the Interactive subscription, you'll also get the SimpliSafe mobile app for remote arming/disarming, camera support and video recording, some nifty home automations, and a little something called "visual alarm verification." Don't worry, we'll unpack these features in just a bit.
SimpliSafe Interactive Plan Features & Pricing
We've made the case before that the Interactive plan is worth the extra $10 per month upgrade. In fact, we wouldn't really recommend the Standard Plan to most people, as it leaves a handful of great features on the table. For instance, there's no smartphone controls, which is a non-negotiable for us. Look, if we can play our favorite TV shows from our smartphone (Cobra Kai, anyone?), we should be able to access and control our home security system with it, too.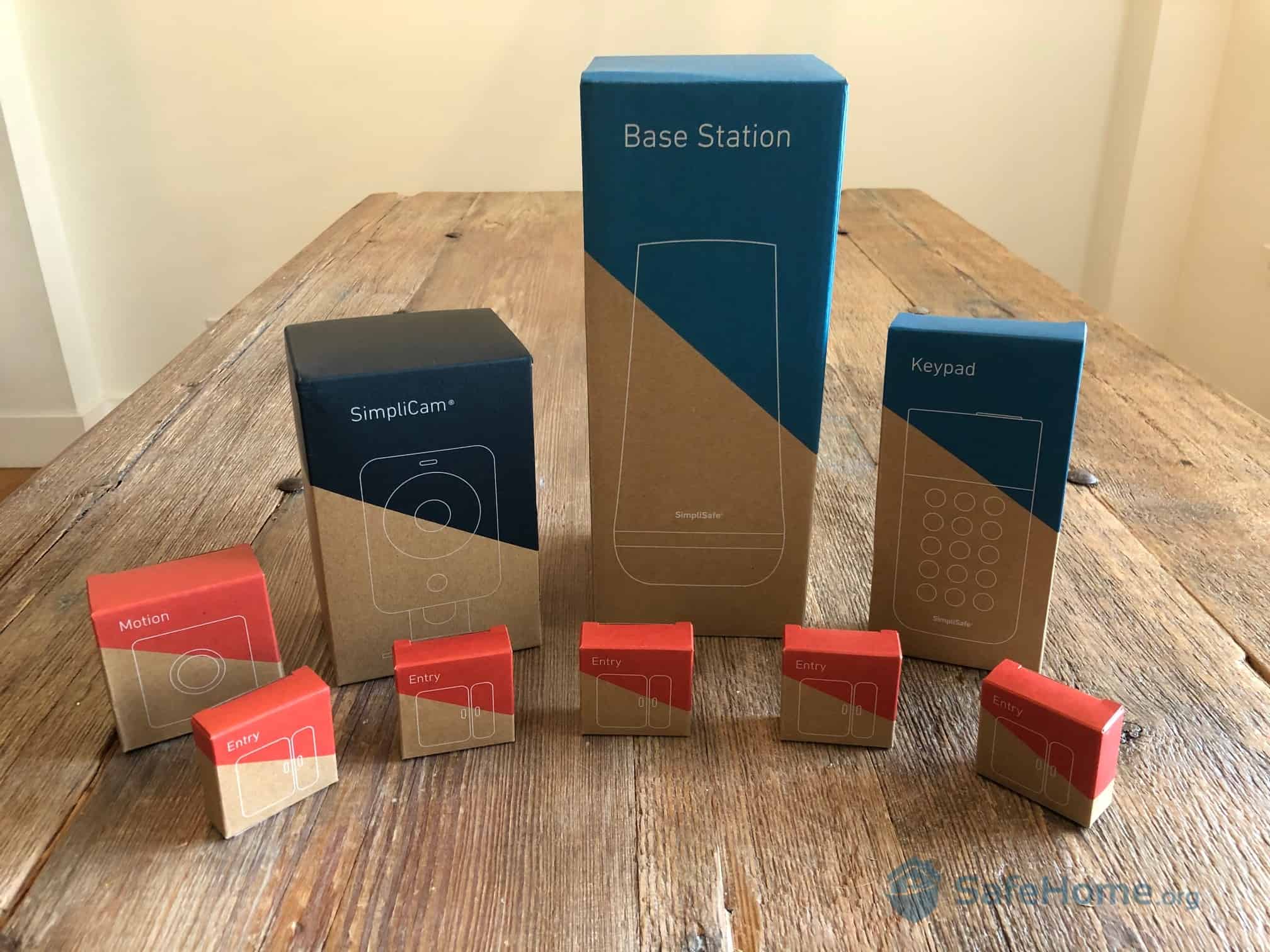 SimpliSafe Packaging
Have a look at SimpliSafe's offerings side-by-side to see how their Interactive plan delivers the goods. It's objectively better, plain and simple.
Standard Plan
Interactive Plan
24/7 professional monitoring
Yes
Yes
Built-in cellular technology
Yes
Yes
Environmental monitoring
Yes
Yes
Visual alarm verification
No
Yes
On-demand video recording
No
Yes
Mobile app with instant alerts
No
Yes
Alexa and Google Assistant compatible
No
Yes
Price
$14.99 per month
$24.99 per month
Also, at $24.99 per month, we found it to be competitively priced compared to the industry average. It's definitely not going to break the bank. Later in this guide we'll show you how the value measures up against other popular monitoring plans. But to give you a sneak-peak, we think it hits the sweet spot for downright affordability and functionality. It's not perfect, but then again, what is?
Now before we move on, it's worth mentioning that we spent $301.56 on our SimpliSafe equipment package. It came with everything needed to protect our home, like entryway sensors, a motion sensor, a neat looking hub, and a SimpliCam indoor camera. Not bad for $300 out the door. All told, it was slightly cheaper than Ring Alarm, and a whole lot cheaper than DIY brands like Frontpoint (although there's lots to love about Ring and Frontpoint).
Our Full Experience with SimpliSafe Interactive
We took SimpliSafe's monitoring for a test drive — not just around the block, but around the country. That is, we left town while using the system, so we were able to see how SimpliSafe Interactive protected our house while at-home andwhile we were away.
But first things first… it's important to know that we didn't have to sign a contract with SimpliSafe. This is a growing trend among DIY brands these days. Unless you purchase a professionally-installed home security system, you shouldn't have to sign a contract.
Pro Tip: You'll get a 30-day free trial of the Interactive plan, and you can expect a 60-day guarantee on SimpliSafe equipment. So if you don't like it, you can cancel your subscription and return the equipment. We always look for this type of flexibility when testing and ranking home security systems.
Once we were set up with SimpliSafe Interactive, we were placed in "practice mode." If this is your first time using a home security system, there are some things to get used to, so practice mode lets you learn the controls without sending a signal to the monitoring center every time your alarm goes off. This mode lasts for 72 hours, then you're live and connected to the emergency monitoring center. Of course, you can always ask SimpliSafe to set your system to 'active' right away. It's your call.
Did We Feel Safe with SimpliSafe Interactive?
This is the acid test for any monitoring plan. If you don't feel safe in your home, then all the extra bells and whistles are useless. So we staged a few break-in scenarios. Right away the C.O.P.S. monitoring center — which is the industry's go-to for professional monitoring — fielded our "emergencies" pretty quickly. We experienced 20-second response times on average, which is a little faster than many other systems we've tried.
Here's how it works. When we tripped a sensor and our alarm went off, we'd get a phone call from the monitoring station within 20-30 seconds. They'd ask us for our "safe word," we'd give it to them, and they would verify the false alarm. Now, if you don't say your safe word, or if the agent senses something truly suspicious, they will dispatch police to your home.
Did You Know: Both of SimpliSafe's monitoring plans offer 24/7 emergency response. But only the Interactive plan will give you Visual Alarm Verification, a helpful feature that requires the SimpliCam to work.
This response happens fast, especially if you have the SimpliCam indoor camera, which comes with "Visual Alarm Verification." In this case, the monitoring center will view your video to verify a burglary in process, which the police take more seriously than an "unverified" alarm. After all, false alarms happen all the time, wasting valuable police resources.
A final note here — we felt that the Wi-Fi connection was pretty secure and reliable. SimpliSafe uses T-Mobile and Verizon cellular backup, so if your Wi-Fi goes out you'll still be protected. This isn't as fast or reliable as, say, Frontpoint's cellular monitoring, but it's really the next best thing.
Bottom line: we felt safe. Dare we say… simply safe? Let's move on.
SimpliSafe Interactive Mobile App Experience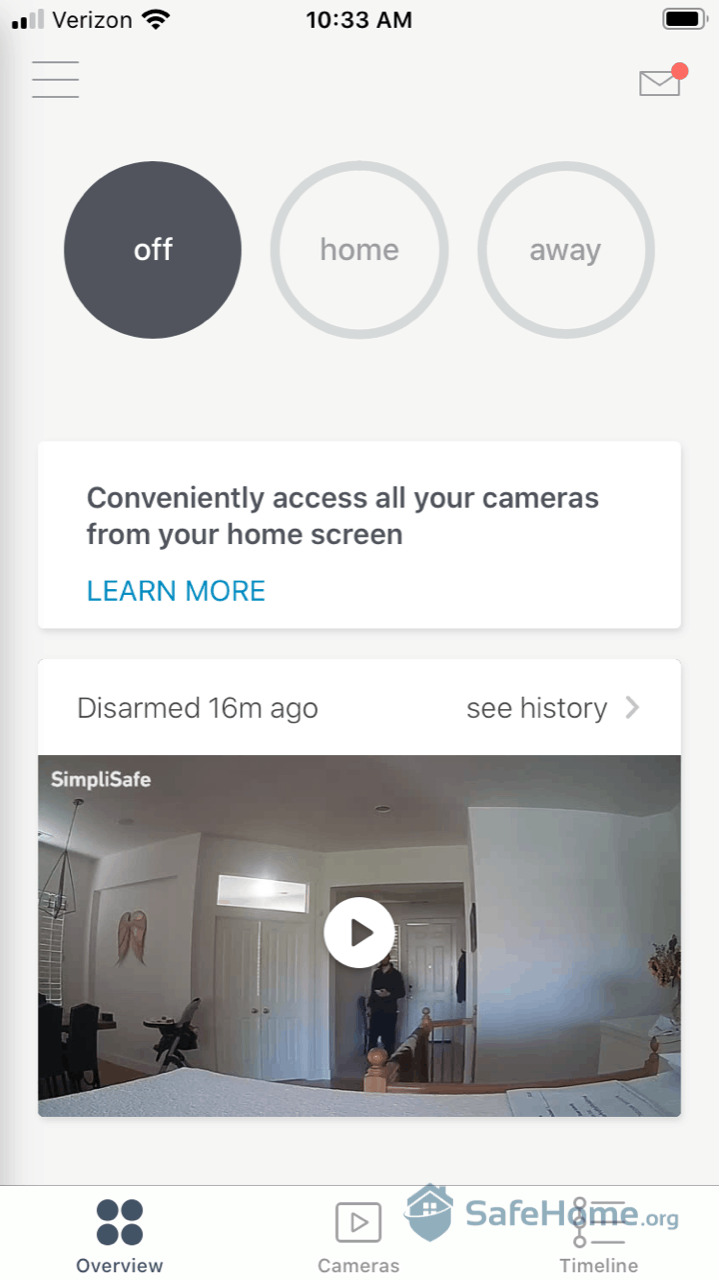 SimpliSafe App – Overview
SimpliSafe's mobile app is another unique feature of the Interactive plan that you just don't get with the Standard plan. The app itself gets a solid 4.8 stars in the app store, but if you read our review, you'd see that we peg it closer to a 4.5. It's good, but not great.
We found the app to be fairly intuitive, with remote arming and disarming, instant activity alerts, the whole deal. We did, however, notice a slight lag when viewing our SimpliCam live-stream video. But this is nothing out of the ordinary; in fact, we normally experience a 3-5 second lag when viewing live video on a Wi-Fi connection. So it's just something to keep in mind.
Pro Tip: You can fine-tune the SimpliCam's motion detection within the mobile app, which might help with video lags. But if you have a strong Wi-Fi connection, you shouldn't have too many issues here.
One thing we liked about the app is when we set up our SimpliCam, we received a short video clip each time our system's status changed. That means if we were away and our home was burglarized, we'd get an instant video notification of the perpetrator! This sure beats a generic "Your Alarm has been Triggered" notification, which leaves you in the dark about any threats. We want video evidence. Is that too much to ask? Apparently not with SimpliSafe.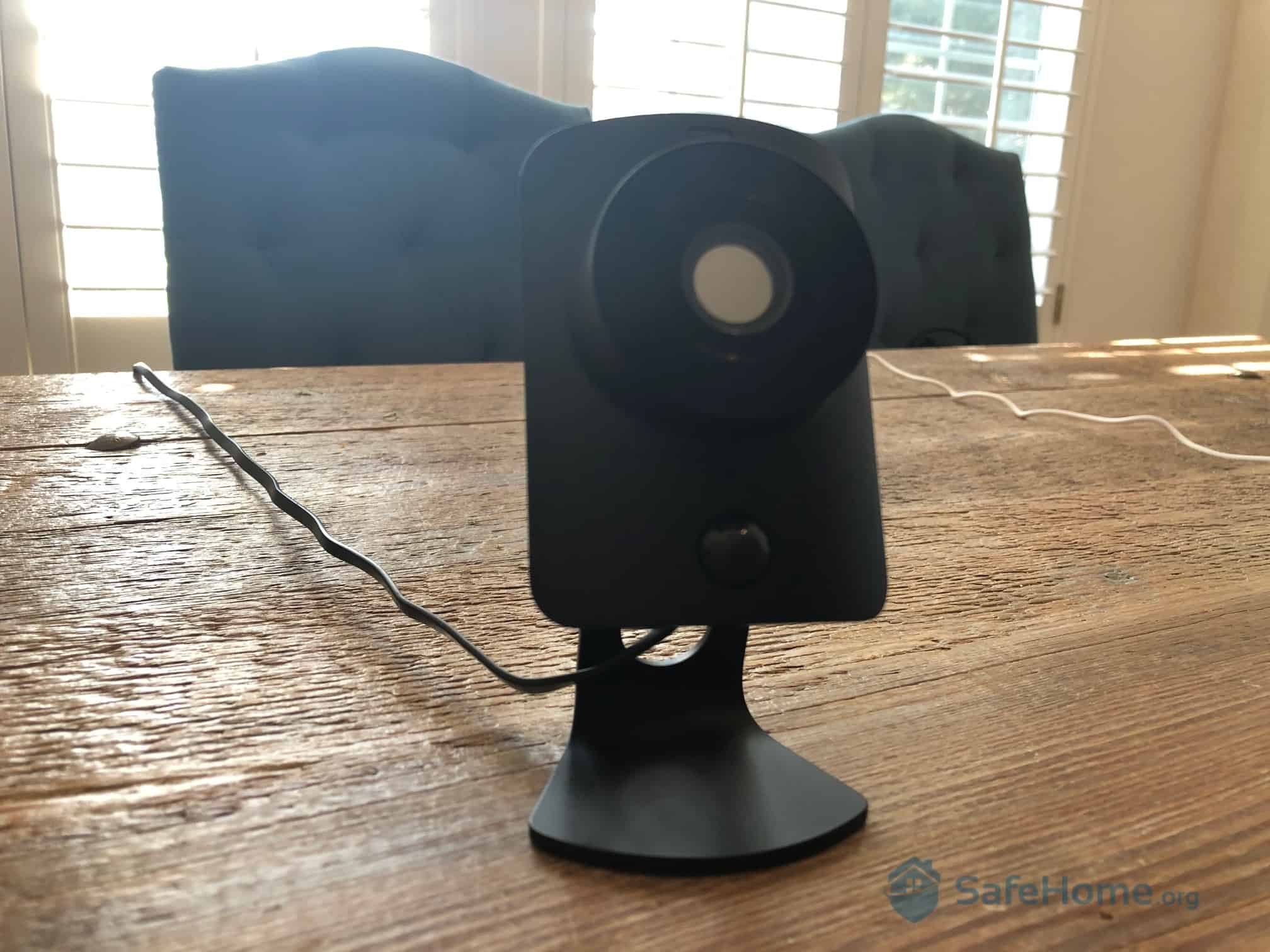 SimpliSafe SimpliCam Indoor
Fancy features aside, at the end of the day we really appreciate having the ability to remotely arm and disarm our system. So for this feature alone we think the Interactive plan is worth the money. With that said, it's worth mentioning that some DIY home security systems include their mobile app for free. But too often you're looking at a bare-bones mobile experience with a healthy serving of bugs and glitches. Not fun. Trust us on this… the SimpliSafe app makes the grade. But you'll need to go Interactive to get it.
Unlocking Video with SimpliSafe Interactive
Video monitoring and recording is another important feature that SimpliSafe's Interactive plan unlocks for you. Of course, you'll have to spring for the company's indoor camera, the SimpliCam. For $99, we think this little camera punches well above its weight class with 1080p HD resolution, two-way talk, and motion-triggered recording. But bear in mind, this is an indoor-only security camera. SimpliSafe doesn't offer a dedicated outdoor camera; not yet anyway.
FYI: Want to catch the bad guys before they get inside? You can purchase the SimpliSafe Outdoor Kit for $19.99 to weatherproof your camera for outdoor use. But we'd sooner recommend looking into Ring's lineup of outdoor cameras.
Having the Interactive monitoring plan allowed us to view and record our live video stream from pretty much anywhere. As mentioned, we left town at one point, and it was ultra-easy to open the app and view our streaming footage. Thankfully, we saw zero activity, except for a few passing shadows at sunset — and the SimpliCam was smart enough not to trigger this as "activity."
Note that many other home security companies charge upwards of $35-$45 per month for video support. So at $24.99 monthly, we think SimpliSafe Interactive is plenty reasonable.
Interactive Plan Plays Well with Alexa & Google Home
Another reason to consider going with the Interactive Plan is to access home automation features. While SimpliSafe is fairly lean in their home automation department, we still enjoyed a few smart features here and there.
For instance, we connected our Amazon Echo to our system, which gave us hands-free voice control. From there, Alexa did our bidding: "Alexa, ask SimpliSafe to arm the system," and she secured our home without us having to lift a finger. SimpliSafe also works with Google Home, Apple HomeKit, Apple Watch, and August Smart Locks… but only if you go Interactive.
These are decent smart features, but if you're looking to truly transform your house into a smart home, we recommend checking out Vivint or ADT's offerings. Their equipment is pricier, and the monitoring isn't cheap, but you'll be able to set all sorts of home automations. Everything from smart lights to garage door controls, thermostats, and a whole lot more than SimpliSafe currently offers. Then again, sometimes simple is better.
How it Stacks Up Against the Competition
After extensively testing SimpliSafe Interactive, we found that it offers the ideal balance between affordability and function. We can see spending upwards of $20-$25 per month for a DIY system… but not much more. Of course, if we're getting a more robust home security experience — with indoor/outdoor video, powerful home automations, etc. — then we'd spend more. But as far as DIY systems go, we think SimpliSafe is a no-brainer.
A step up from SimpliSafe would be Frontpoint Security, a DIY competitor that's twice the cost at $49.99 for their Ultimate plan. Although it's pricier, one advantage Frontpoint Ultimate has over SimpliSafe Interactive is Z-Wave compatibility. So if you're a smart-home buff, it's something to consider. Frontpoint also offers 100% cellular monitoring, which is the best connection type out there.
Then, a step down from SimpliSafe is Ring Alarm, another popular DIY option. The Ring Protect Plus Plan costs $10 monthly and includes video and some smart home integrations. Just note that with Ring Alarm you won't get visual alarm verification, which can be worth its weight in gold if someone breaks into your home.
Here's How SimpliSafe Interactive Measures Up
| Monitoring Plans | SimpliSafe Interactive | Ring Protect Plus | Frontpoint Ultimate |
| --- | --- | --- | --- |
| 24/7 Professional Monitoring | Yes | Yes | Yes |
| Connection Type | Wi-Fi, Cellular Backup | Wi-Fi, Cellular Backup | 100% Cellular |
| Response Times (based on our experience) | Fast ~20 seconds | Standard ~30 seconds | Standard ~30 seconds |
| Smartphone Controls | Yes | Yes | Yes |
| Video Support | Yes | Yes | Limited |
| Visual Alarm Verification | Yes | No | No |
| Voice Controls (Alexa & Google Home) | Yes | Yes | Yes |
| Z-Wave Compatible | No | Yes | Yes |
| Monthly Price | $10.00 | $24.99 | $49.99 |
Honestly, we love Frontpoint and Ring (both make our top 10 list!), but we still think SimpliSafe offers the best all-around value. If you're concerned about limitations in the home automations department, don't be. We're betting that SimpliSafe continues to build out their integration offerings in the coming months and years. In fact, we're seeing it already.
Final Thoughts On SimpliSafe Interactive
The question remains: is SimpliSafe Interactive the Swiss Army Knife of monitoring plans. Well, we'd say so. It does a lot of things pretty darn well. And although it isn't the "sharpest" system we've tested, it offered us plenty of value at $24.99 per month.
Our only real gripe was with the limited outdoor video options. SimpliSafe doesn't sell an outdoor camera yet. But this isn't a complaint about their monitoring — it's targeted more toward their equipment offerings. And it's definitely not a deal-breaker for us, as there are lots of great standalone outdoor cams on the market today.
When the dust settles, we think you'd be hard-pressed to find a better equipment package and monitoring plan for the price. SimpliSafe simply does it better.
Sours: https://www.safehome.org/security-systems/simplisafe/interactive/
SimpliSafe's latest home security system can apparently be fooled by an affordable wireless emitter that mimics the frequency of its door and window contact sensors. The YouTube channel LockPickingLawyer posted a video demonstrating how it can be done, and, unfortunately, it looks very easy to do — as easy as pressing a button to make sure an alarm won't go off when someone breaks into a house.
The host explains that SimpliSafe's sensors communicate with the base on the 433.92MHz frequency, which is very popular among other consumer electronics, like garage door openers, baby monitors, and more. Most of those products aren't powerful enough to interfere with SimpliSafe's system, but a $2 emitter apparently is.
When one of these sensors is normally tripped, the system will initiate the alarm process. But as the video demonstrates, a powerful-enough emitter can block out that process, meaning that the base won't receive a signal when, say, pushing open a door. It seems like this cheap, easy-to-acquire device is powerful enough to override what the sensor is communicating to the base.
SimpliSafe disputes that the device is vulnerable, telling The Verge that its base station isn't actually fooled when the sensors are overwhelmed with wireless interference in this way — the company says that they should proactively send an alert to your phone when they detect interference. In fact, SimpliSafe claims the LockPickingLawyer is deliberately showing us an unusual and unlikely scenario where it's possible to get through with a $2 device.
Here's the company's full statement:
The video is misleading, and it doesn't apply to how security systems work in real life.

As the video demonstrates, SimpliSafe systems are engineered to detect this kind of interference.

In this video, the videomaker finds a precise frequency, signal strength, and orientation of system components in which they can thread the needle of blocking system communication without triggering an alert.

In real life, this is unlikely. Because signal strength degrades unpredictably depending on distance and landscape, it would be very difficult for anyone to hit on the "right" strength without triggering an alert.

In addition, the setup the videomaker demonstrates (in which the sensors, base, keypad and "jammer" are all close together) does not resemble the setup of an actual home. In other words, prior knowledge of the layout of the motion sensors, door sensors and base station in the customers home and a rehearsal of how to move about the home would be necessary to confidently select a strength that will both jam and not be detected. In order for a real bad actor to effectively interfere with the system in this way, they would likely have to already be inside the home and have had ample practice.

We take very seriously anything that might interfere with our mission of keeping every home secure. We have the ability to tune the detection parameters and regularly release security and usability updates, making it increasingly difficult for anyone to use this type of attack.
But speaking to The Verge, the LockPickingLawyer says he didn't have to tune the $2 device in any way to get it to reliably bypass the alarm system — it did that right out of the box, and though it sometimes triggered an interference notification, it never triggered an alarm.
"The farthest from the base station I tested was about 60 feet (through two walls), and it worked the same as shown in my video," he writes, when asked about SimpliSafe's accusation that it wouldn't work in a real life scenario where the sensors are spread out further apart.
He continues:
SimpliSafe takes issue with the system components being arranged close together during the video. That was a necessity of filmmaking, not a physical limit of the exploit. In my testing, I carried sensors away from the base station to the far reaches of my home, then conducted the same tests with the same device and obtained the same results. If anything, testing at realistic distances showed a more significant problem insofar as the SimpliSafe system was less likely to detect the interference.

SimpliSafe's other criticism is that someone would need prior knowledge of the system's arrangement to avoid the detection of interference. The company is attacking a straw man. What is necessary to avoid detection of this exploit was outside the scope of my testing. In fact, my video explicitly notes that SimpliSafe may detect the interference. Detection of interference, however, never triggered an alarm in my testing. It only sent an "alert" that the resident may or may not investigate. As such, my video specifically advised owners of this system to take these alerts seriously regardless of how many prior alerts they've received as a result of non-malicious interference. It's also important to note that if the system owner doesn't have security cameras with which to investigate, the alert is of very limited usefulness. This is why I recommend the system be used in conjunction with security cameras.
In a response, SimpliSafe told The Verge that "We're all on the same page that jamming is a technical reality in the wireless space," suggesting that similar alarm systems from other manufacturers might also be affected.
Google, for one, claims its Nest Secure will actually sound the alarm when it detects jamming. The company gave us this statement:
We have designed Nest Secure with issues such as jamming in mind. For example, if we detect jamming while the system isn't armed, the Info button will light up to alert the user and they will not be able to arm the system until it is resolved. If Nest Secure is armed and jamming occurs, the siren will sound instantly and the user will also be notified on their phone.
SimpliSafe says it plans to address concerns by 1) fine-tuning its detection algorithms to try to distinguish potential burglars from random interference, and 2) allowing SimpliSafe's $25-a-month video monitoring service to investigate suspicious interference by checking your home's cameras — assuming you pay for that service and have cameras installed.
When asked for a statement on whether the contact sensors included in its SmartThings Home Monitoring Kit were susceptible to jamming, Samsung declined to comment. However, SmartThings isn't billed as a security system and it does not offer a professional monitoring services, like the others. We're still waiting for comment from other alarm companies, and we will continue to update this post once we hear back.
Update, August 13th at 10:58AM ET: Added that Samsung declined to comment on the matter, as well as details about SimpliSafe's next steps.
Sours: https://www.theverge.com/2019/8/7/20758529/simplisafe-home-security-system-flaw-compromise-lockpickinglawyer
Simplisafe keypad red button
Narcisista encubierto
Security Surveillance ; Home Security Systems; SimpliSafe Panic Button - Built-in Silent Panic Feature - Compat; SimpliSafe Panic sale Button - Feature Compat Silent Built-in SimpliSafe Panic sale Button - Feature Compat Silent Built-in $13 SimpliSafe Panic Button - Built-in Silent Panic Feature - Compat Electronics Security Surveillance Home Security Systems Button,Electronics , Security ...
While relatively inexpensive, Simplisafe is a full-featured security system with simple installation and professional monitoring starting at $14.99 a month. What is in the vivint starter kit? The basic Vivint Starter Kit provides a touchscreen control panel, two entry sensors, a water sensor, and a motion sensor.

The Keypad for the original SimpliSafe is larger. The middle button the top row of buttons will be blue, not white. There will also be a red button at the very bottom. If you don't see the blue or red button, then you own the SimpliSafe generation 3. You can also tell by the sensors. The sensors on the original system are rectangular and ...

It includes a main door sensor, motion sensor, SimpliSafe base station, and keypad. As with all plans, buyers can add on SimpliSafe products: a video doorbell (with two-way audio and motion alert) for $169, and SimpliSafe camera for $99. The camera offers motion alerts and you can stream live feed from your app.

Create a Ring of Security inside and outside your home with Ring Doorbells, Cameras and Security Systems, so you can monitor your property from your phone.

RELATED: How to Install and Set Up the SimpliSafe Security System. To do this, start by pressing the menu button on the keypad, keying in your master PIN, and then selecting "System Settings" from the list (it should already be highlighted). Scroll down and you'll see four different settings for the various delay types.

The problem I am also unable to arm/disarm simplisafe. I had no problems previously. Pressing the "arm home" button (either with a PIN provided or without) reports: 2020-08-09 18:17:34 WARNING (MainThread) [homeassistant.components.simpl...

Ring Alarm is a DIY home security system for any house or apartment. Ring Alarm gives you the option to enable 24/7 Ring Alarm Professional Monitoring and is equipped with battery backup and LTE cellular backup to ensure the system is always up and running even if your power goes out or broadband is unavailable (with a Ring Protect plan).

SimpliSafe lets you monitor everything remotely via cellular and Wi-Fi connectivity (optional), with or without a monthly plan. SimpliSafe is completely configurable, with prices that start from ...

The Keypad will provide you with a warning when any batteries to your wi-fi safety system are low in an effort to exchange them. To change the batteries in your sensors or Keypad, push up on the entrance of the sensor (within the path of the blue arrow) - the again will keep on the wall and the battery(ies) will probably be uncovered.

Feb 27, 2020 · The siren will emit a short tone after about 3 to 4 presses of the OFF button. The tone signals you have synced the device. Knowing how to reset the SimpliSafe siren is essential to troubleshooting your alarm system. What happens if the base is red? or if you need to reset your base station? Keep reading to find out!

It can be activated by either simply pushing the button or by typing in a pass code and then the panic button. The traditional control panel is disappearing from systems. Simplisafe has separated the keypad from the control panel as a security measure but there is still a panic button on the keypad you can push.

Smoke Detector- Four red blinking lights (slowly) and a solid amber lit button. 2 : 7 years 39 weeks ago by Januari: 7 years 38 weeks ago by Kelley: Entry sensor in away mode: 1 : 7 years 39 weeks ago by cajuncj: 7 years 38 weeks ago by Kelley: Panic buttons on keychain and keypad: 1 : 7 years 39 weeks ago by southhavenjen

It can be activated by either simply pushing the button or by typing in a pass code and then the panic button. The traditional control panel is disappearing from systems. Simplisafe has separated the keypad from the control panel as a security measure but there is still a panic button on the keypad you can push.

Keypad: Many wireless alarm systems have an Achilles heel, if a burglar smashes the keypad quickly enough, the police don't get alerted. SimpliSafe took the "brains" out of the Keypad and put them into a separate Base Station, which is hidden somewhere in your home or office building; 2x Motion Sensors: Detects motion within 30 feet. The ...

The Arlo Pro Three Camera System is a great wireless, easy to set up, and app compatible option. It is a Certified Pre-Owned unit, and while it is available in different customizable packages with different numbers of cameras, the three-camera system is what will be focused on here as it is most comparable to the other options on this list.

|
Bmw r1200gs low seat
Sours: https://utd.passionetrail.it/simplisafe-keypad-red-button.html
The twins (Practice mode) FULL GAMEPLAY
A home security system like SimpliSafe is only as good as to the extent it can protect your home. This is inherently connected to how emergencies are dealt with, including how and when authorities are notified.
In the case of an emergency, you want to be sure that the appropriate authorities are notified and that they will respond on time—especially when it comes to emergencies involving the police.
Does SimpliSafe call the police? SimpliSafe will call the police after the alarm has been triggered and if the homeowner is using one of SimpliSafe's paid monitoring plans. If the alarm is deactivated within 30 seconds by the homeowner either by using their PIN or informing SimpliSafe staff, SimpliSafe will not call the police.
That would be the short and sweet answer. However, there are a few caveats that people should be aware of when dealing with home security systems like SimpliSafe when it comes to police dispatch.
Do Police Respond to Home Alarms?
Experts agree that a home security system is an excellent crime deterrent. However, not all burglars will care whether a home has a security system or not.
So one question needs to be answered, which is, do police actually respond to home alarms?
The police will not automatically be informed if a self-monitored home security system has been triggered. The alarm siren can attract a lot of attention, including that of a police officer that may happen to be in the same area. However, the responsibility lies entirely in the hands of the homeowner or the passersby to inform the police.
Professionally monitored home security systems are different. Since a security team monitors the system, they can inform the police of an alarm event, which means the police can respond promptly.
However, even in these cases, the police may not respond very quickly or at all in some instances.
The problem lies in the high rates of false alarms, and some police departments may require proof that there is a crime in progress. (This can be either audio or video recording, for example.) A triggered alarm is usually not considered proof of a crime.
According to this study, the police may not respond or will not guarantee a response to a high percentage of the triggered alarm in the big cities. This percentage is around 30% but can reach upwards of 70% for cities with a population of over 1,000,000.
Conversely, confirmed alarms by reputable security companies usually have faster and higher response rates by the police.
It is recommended to check with your local police department and enquire about their procedures when a home alarm is triggered. These procedures can vary a lot depending on where you live.
Does SimpliSafe Always Call the Police?
SimpliSafe will not immediately call the police if an alarm goes off. When an alarm goes off, the SimpliSafe monitoring team receives a notification. Their professional monitoring team works 24/7, so it does not matter if it is day or night.
After an alarm has been triggered, there is a 30-second entry delay during which the homeowner can deactivate the alarm using their PIN. If the alarm gets deactivated by the homeowner during these 30 seconds, no police will be dispatched.
However, if the alarm is not turned off within 30 seconds, the monitoring team will receive the notification and attempt to contact the homeowner.
The homeowner then can cancel the alarm and prevent police from being dispatched by providing a previously agreed-on "safe word".
In any case, if it is a true emergency or the monitoring team cannot reach the homeowner, they will call the police and have a unit dispatched to the address. (Typically, SimpliSafe will try contacting only the primary account number, but they can also try calling some of the provided emergency contacts.)
In certain cases, SimpliSafe may not call the homeowner after an alarm has been triggered.
For example, if an alarm has been triggered during the Practice Mode, SimpliSafe will not call you. The Practice Mode lasts 72 hours after the first activation of your SimpliSafe security system.
SimpliSafe will still receive the notification, however, they will not act on it. This is done to allow homeowners to have some stress-free time where they can install, test, and learn how the security system works without causing multiple back and forths between the homeowner and the monitoring team.
The Practice Mode should not be confused with the Test Mode, which is a user-initiated mode. That being said, if an alarm were to be triggered while the system is in Test Mode, SimpliSafe may call the police.
In certain instances, you may also not receive SimpliSafe's call. This can happen if their number is blacklisted on your phone or your telecommunications provider has implemented different security features connected to preventing automated robocalls.
In the case of a triggered alarm, SimpliSafe may call you from 1-855-693-4911 or 1-800-633-2677. The first number is the new number SimpliSafe calls from, while the second one is the old number they used to call from. It is recommended to whitelist both numbers.
How Quickly Will SimpliSafe Call the Police?
Now that you know the typical protocol and how it works, you may be wondering how long, generally, will it take for SimpliSafe to call the police.
The actual response time will vary somewhat depending on a number of different reasons.
However, how quickly SimpliSafe will call the police will depend on a few main factors:
The entry delay
The time needed for the monitoring center to be notified
The time needed to contact the homeowner.
The entry delay for SimpliSafe systems is about 30 seconds. If the alarm is not deactivated during the first 30 seconds, then the monitoring team will be notified, which can take on average about 15 seconds. At this point, the security team will try reaching the homeowner by calling them usually between 2 and 4 times if they are not picking up.
The average length to pick up a phone is no more than a minute or so. So if the homeowner does not pick up their phone, we are looking at an additional 2 to 3 minutes delay after the alarm has been triggered.
This means that between 45 seconds to 5 minutes may pass before SimpliSafe calls the police after an alarm has been triggered.
On top of that, the police will also need some time to respond, which can vary a lot. Typically it is about 10 minutes on average for verified alarms.
However, for unverified home alarms, the response times can be significantly slower, sometimes up to 120 minutes. In addition, some police departments may not even respond to automated and unverified home alarms.
Do All SimpliSafe Monitoring Plans Come With a Police Dispatch?
SimpliSafe offers a few different monitoring plans that customers can choose from. Since SimpliSafe aims to offer more customizability and freedom to their customers, they work a little differently.
Currently, there are four different ways you can have your SimpliSafe home security system work. These are:
Self-monitoring plan (no monitoring plan)
Standard monitoring plan
Interactive monitoring plan
Video camera(s) subscription
With the self-monitoring plan, you do not pay any monthly fees. With this plan, the owner is keeping track of their security system. In other words, the security system is not connected to the SimpliSafe monitoring center, and they will not be notified in any way if an alarm goes off.
The standard monitoring plan offers all the features the self-monitoring plan does. However, now the system is connected to a monitoring center that will be notified in the case of an emergency. They can call the police if necessary. (This also includes fire and medical dispatch.)
The interactive monitoring plan builds on top of the standard monitoring plan offering better integration with other devices and more features and capabilities.
The camera subscription is exactly what it sounds like—it is ideal for people who want to use only cameras and don't need other security devices or sensors. The camera subscription comes with a priority police dispatch if needed.
All SimpliSafe paid plans offer police dispatch. In other words, SimpliSafe will call the police when needed if owners are subscribed to the standard and the interactive monitoring plans or have an active camera subscription.
The only instance when SimpliSafe will not call the police is if the owner is using the self-monitoring plan, in other words, not using any monitoring plan at all.
Do You Need an Alarm Permit For Your SimpliSafe System?
Homeowners should keep in mind that local governments may require them to have an alarm permit if they intend to use professionally monitored home security systems.
Alarm permits are required due to the otherwise high number of false alarms. False alarms are not just causing higher expenses to police departments but can also be a safety and security hazard, causing a distraction to police officers while there may be a more serious emergency happening somewhere else.
In certain cases, your local police department may require your alarm permit registration number before dispatch.
Check your local laws and regulations. Some places may require different permits for police and fire alarms or yearly renewal.
Not having an alarm permit is usually considered a misdemeanor, and homeowners may be subjected to hefty fines or even serving jail time. That being said, even homeowners who have acquired an alarm permit can be fined for false alarms.
Conclusion: Does SimpliSafe Call The Police?
We hope that you've enjoyed our article on does SimpliSafe call the police? We certainly did. Hopefully, it will give you more insight into how these home and security systems work, and how to use them.
Also, congratulations on joining our growing community of security experts. If you have any questions or additional insights, please feel free to leave comments below.
Be sure to read our related articles about SimpliSafe:
Does SimpliSafe Spy on You?
Top 6 SimpliSafe Alternatives
Does SimpliSafe Require WiFi?
Categories SimplisafeSours: https://smartlocksguide.com/does-simplisafe-call-the-police/
Practice mode simplisafe
SimpliSafe Pricing: Home Security Packages
This page gives you a ton of objective information about the SimpliSafe brand itself, including equipment and monitoring prices, packages, and overall value. We also compare SimpliSafe's pricing and package information to other top home security companies in the industry.
| Package and components | Price |
| --- | --- |
| The Haven (base station, keypad, key fob, four entry sensors, two motion sensors, auxiliary siren, panic button, freeze sensor, smoke detector, water sensor) | $342 |
| The Knox (base station, keypad, key fob, six entry sensors, two motion sensors, auxiliary siren, smoke detector) | $314 |
| The Hearth (base station, keypad, key fob, three entry sensors, motion sensor, auxiliary siren, smoke detector) | $262 |
| The Essentials (base station, keypad, three entry sensors, motion sensor) | $181 |
| The Foundation (base station, keypad, an entry sensor, motion sensor) | $160 |
| Refurbished system (base station, keypad, two entry sensors, two motion sensors) | $207 |
How Much Does SimpliSafe Cost?
We cover SimpliSafe's equipment, monitoring, and storage costs below.
Equipment Packages
Although you can create a customized system from SimpliSafe, they offer a number of packages that range from around $160 all the way up to $342. In addition, you can create a custom system from SimpliSafe. If you're looking for an apartment security system or a system for a small house, for instance, it may make sense to purchase just a base station, entry sensor, and motion sensor.
The SimpliSafe packages include savings though, so we'd recommend checking them out first, especially SimpliSafe Prime Day deals and SimpliSafe Black Friday deals. Whatever you choose, we like that SimpliSafe gives its customers so many options. Learn more in our SimpliSafe FAQs.
FYI: If you live in an especially cold climate, we recommend looking elsewhere for an outdoor camera, as SimpliSafe's outdoor camera is only rated for temperatures of above 20 degrees Fahrenheit.
The Haven— $342
Components: Base station, keypad, key fob, four entry sensors, two motion sensors, auxiliary siren, panic button, freeze sensor, smoke detector, water sensor
The Knox— $314
Components: Base station, keypad, key fob, six entry sensors, two motion sensors, auxiliary siren, smoke detector
The Hearth— $262
Components: Base station, keypad, key fob, three entry sensors, motion sensor, auxiliary siren, smoke detector
The Essentials— $181
Components: Base station, keypad, three entry sensors, motion sensor
The Foundation— $160
Components: Base station, keypad, an entry sensor, motion sensor
Refurbished System— $207
Components: Base station, keypad, two entry sensors, two motion sensors
If you want to create your own system from scratch, here are the prices:
SimpliSafe Equipment List
To see exactly what we thought of SimpliSafe's components in practice, read our full SimpliSafe security system review.
Monitoring Options and Pricing
Now we know what you're thinking. After paying nearly $300 for equipment, how much is SimpliSafe going to cost you per month?
Well, the short answer is, you don't have to pay any monthly fees with SimpliSafe, and still you can live-stream footage from your home. As a bonus, you also get alerts and smart home integrations. For some people, this may be sufficient, as you can contact the police if you see a break-in happening in real-time. Trouble is, you won't be able to show any footage to the police, as the free plan doesn't come with video storage.
For those of us who want video storage, SimpliSafe offers paid plans. The cheapest plan provides unlimited cloud storage for just $4.99 a month. You can get unlimited storage on up to five cameras for $9.99 a month. Or, you can get storage on up to 10 cameras for $24.99 a month. That plan, the Interactive Plan, also comes with 24/7 professional monitoring, environmental alerts, and cellular backup.
Unlike self-monitoring, where you are responsible for your home's security, 24/7 professional monitoring means that a team of people is available at all times to check in if any of your alarms go off and verify if an emergency is happening. If that's the case, they can contact the proper emergency services for you, be it the police, the fire department, or even your local hospital.
Cellular backup, on the other hand, ensures that your system will stay on even in the event of a power outage. So while we appreciate that SimpliSafe gives you options, your best bet is to get 24/7 monitoring and cellular backup. Let's talk a little bit more about each option.
SimpliSafe Monitoring Breakdown
| Features | Free plan | Camera recordings only, one camera | Camera recording only, five cameras | Standard Plan | Interactive Plan |
| --- | --- | --- | --- | --- | --- |
| Learn More | View Plan | View Plan | View Plan | View Plan | View Plan |
| Livestreaming | Yes | Yes | Yes | Yes | Yes |
| 24/7 Professional monitoring | No | No | No | Yes | Yes |
| Cellular connection | No | No | No | Yes | Yes |
| Environmental monitoring | No | No | No | Yes | Yes |
| Remote control | Yes | Yes | Yes | Yes | Yes |
| Notifications | Yes | Yes | Yes | Yes | Yes |
| Secret alarms | No | No | No | Yes | Yes |
| Video verified alarms | No | No | No | Yes | Yes |
| Unlimited cloud storage | None | 1 camera | 5 cameras | None | 10 cameras |
| Smart home integrations | Yes | Yes | Yes | No | Yes |
| Monthly price | Free | $4.99 | $9.99 | $14.99 | $24.99 |
You can pay anywhere from $0 or $24.99 a month with SimpliSafe depending on the plan. No matter which plan you choose, you can live stream footage, control your system remotely, and get real-time alerts. If you want additional services, though, they cost more. Get started.
Secret alarms notify only certain people when the system detects a problem; the base station's siren doesn't go off. Video verified alarms provide you with a video clip along with your notification if motion or a person is detected. Finally, though, you get the assurance that comes with 24/7 professional monitoring.
All of SimpliSafe's plans are month-to-month, so you won't have to commit to a long-term contract. This isn't the case with older security companies like ADT and Vivint, so this is a huge advantage of SimpliSafe.
Did You Know: With cellular backup, you don't have to worry if your Wi-Fi network goes down. Your base station will switch to a cellular connection and continue working.
How Does It Compare?
In terms of equipment and monitoring costs, SimpliSafe is at the lower end of the pricing spectrum with professional monitoring and cellular backup costing around $25 a month. We've seen some more traditional brands range from $40 to $60 a month. Many of them require long-term contracts as well, with some contracts as long as five years.
In terms of both cost and term length, SimpliSafe is affordable and flexible. While its monitoring costs aren't the absolute lowest on the market (we've also seen monitoring for as little as $10 a month), SimpliSafe is still very affordable. The brand also runs several specials and sales throughout the year, including a limited-time 30% off all new systems plus a free (refurbished) SimpliCam.
Our Favorite Features
DIY or professional installation through an authorized third-party: SimpliSafe is easy to install, even if you're not a security expert like us. Most of the system is wireless, so sensors are as easy as peel-and-stick. However, we like that professional installation is also an option, through a third-party installer, for just $79.
24/7 professional monitoring and cellular backup available: Around $25 a month gets you professional monitoring, cellular backup, unlimited cloud storage on 10 cameras, secret alarms, environmental monitoring, and more.
Integrations with Alexa and Google Assistant: Those in the Amazon and Google smart home ecosystems can command their SimpliSafe system using their voices alone. One note: Alexa has a lot more capabilities than Google Assistant.
Packages range from about $160 to $342: You can also create a customized system as well, but we recommend buying a package to access savings. As far as pricing goes, SimpliSafe is one of the more affordable companies around in terms of both equipment and monitoring costs.
Works with Nest thermostats and August smart locks: Users can connect their SimpliSafe components with smart thermostats and locks from Nest and August, respectively, automating their smart homes.
Home Automation
SimpliSafe works with Alexa and Google Assistant, the two most popular voice assistants from Amazon and Google, respectively. Here's exactly what users can do with each.
Alexa
Using Alexa, users can arm their security system in either home or away mode, or check the status of their security system. Here are the commands for each:
Away Mode
Alexa, ask SimpliSafe to arm my system in away mode
Alexa, tell SimpliSafe I'm going out
Alexa, tell SimpliSafe I'm leaving
Alexa, tell SimpliSafe to turn on
Home Mode
Alexa, ask SimpliSafe to arm my system in home mode.
Alexa, tell SimpliSafe to lock up.
Alexa, tell SimpliSafe good night.
Alexa, tell SimpliSafe I'm going to bed.
Check Status
Alexa, ask SimpliSafe if my house is secure
Alexa, ask SimpliSafe if I am protected
Alexa, ask SimpliSafe for my current status
Alexa, ask SimpliSafe what's shakin'
These skills only work with the latest version of SimpliSafe and users must pay for the professional monitoring plan to use it.
Google Assistant
Those in the Google smart home ecosystem can have the Google Assistant arm their SimpliSafe security system in either home or away mode, the same as Alexa. You can say either "arm security" or "set security to arm". Again, this integration is only available with the 24/7 professional monitoring plan1.
Note: Although SimpliSafe works with Alexa and Google Assistant, the Alexa integration is much more robust in terms of capabilities.
Aside from voice assistants, SimpliSafe works with Nest thermostats2 and August smart locks3 as well, allowing you to automate actions. For example, you can turn your Nest thermostat down automatically or have your locks close automatically when you put the system into away mode.
Overall Value
SimpliSafe is one of the more affordable smart home security brands on the market today, but its prices for professional monitoring aren't the cheapest we've seen (that honor would go to Ring Alarm, which has plans for as little as $10 a month).
In terms of both equipment and monitoring, SimpliSafe doesn't break the bank. You can do quite a lot for no money at all, in fact. As for those that want 24/7 professional monitoring, SimpliSafe is reasonably priced.
FAQ
With so many security system offerings, we understand if you have more questions about SimpliSafe's pricing. Here, we answer some of the frequently asked questions about SimpliSafe.
How much does a SimpliSafe home security system cost?

A SimpliSafe home security system costs $137 to $293 if you buy a pre-built package. However, you can also build your own system by adding individual components to a free base station and keypad.

| Component | Price |
| --- | --- |
| Base station | Included free in all packages |
| Carbon monoxide sensor | $49.99 |
| Entry sensor | $14.99 |
| Glass break sensor | $34.99 |
| Key fob | $24.99 |
| Keypad | Included free in all packages |
| Motion sensor | $29.99 |
| Panic button | $19.99 |
| SimpliCam (indoor camera) | $99.00 |
| Siren | $60 |
| Smoke detector | $30 |
| Temperature sensor | $29.99 |
| Water sensor | $19.99 |
| Wireless outdoor security camera | $169.99 |
| Yard sign | $3.99 |

Which SimpliSafe plan is the best?

The best SimpliSafe plan is the 24/7 professional monitoring plan, which costs $24.99 a month. For that price, you get all the best features of SimpliSafe, such as professional monitoring, cellular backup, smartphone access, integrations with Alexa and Google Assistant, and video monitoring with cloud storage for up to 10 cameras. View plans below.

| Features | Interactive Plan | Standard plan | Camera recording only, 5 cameras | Camera recordings only, 1 camera | Free plan |
| --- | --- | --- | --- | --- | --- |
| Livestreaming | Yes | Yes | Yes | Yes | Yes |
| 24/7 professional monitoring | Yes | Yes | No | No | No |
| Cellular connection | Yes | Yes | No | No | No |
| Environmental monitoring | Yes | Yes | No | No | No |
| Remote control | Yes | Yes | Yes | Yes | Yes |
| Notifications | Yes | Yes | Yes | Yes | Yes |
| Secret alarms | Yes | Yes | No | No | No |
| Video verified alarms | Yes | Yes | No | No | No |
| Unlimited cloud storage | Yes | No | 5 cameras | 1 camera | None |
| Smart home integrations | Yes | No | Yes | Yes | Yes |
| Monthly price | Yes | $14.99 | $9.99 | $4.99 | Free |

Does SimpliSafe require a monitoring service?

SimpliSafe does not require a monitoring service. With a free plan, you can view live footage from your cameras. However, the system doesn't provide alerts unless you purchase the camera monitoring or 24/7 professional monitoring plans.

Where can you buy a SimpliSafe home security system?

You can buy a SimpliSafe home security system directly from SimpliSafe's website or on Amazon.
Sours: https://www.security.org/home-security-systems/simplisafe/
Duck Spinning To Geometry Dash Practice Mode Song 10 Hours
It's no secret that technology has taken over home security. The Ring alarm system is one such example of this, and it can be an excellent solution for keeping your family safe.
However, like any product on the market, there are some pitfalls to consider before buying. In this article, we will discuss five reasons why Ring might not call when your alarm goes off so you can make an informed decision about whether or not Ring is right for you!
You Disarmed the Alarm Before the Monitoring Center Called
If you disarm your system before the monitoring center can call in response to an alarm, there will not be a phone call with some alarm companies. This happens with Ring. The company does this to prevent unnecessary calls in case of accidental alarms. In such cases, none of your emergency contacts will be alerted, and no emergency responders will come to your home.
However, if the alarm didn't go off accidentally and you disarmed it before getting a call, you'll need to find a different way to get in touch with Ring. You'll need to use another method of alerting emergency services such as a landline or cellphone that can't easily be disconnected from its service provider.
Nonetheless, if you're interested in the Ring Alarm, this shouldn't be a deal-breaker. You see, Ring has introduced a new feature known as Confirmation Call. When you turn on this feature, your first emergency contact will receive an automated call even if you disarm your alarm after it goes off.
The Confirmation Call may not be a perfect solution. Still, it does give you more control over whether or not someone who accidentally triggers the alarm should have their location tracked by police and other emergency responders when they're likely just going about their day and don't pose any threat.
How to Turn Confirmation Call On or Off
So, how do you take advantage of this handy feature? To turn Confirmation Call on or off, follow the steps below:
Open the app
Go to Menu
Tap on settings
Tap monitoring settings
Toggle the confirmation call on either on or off.
Source: Ring Support
You're on Practice Mode
The monitoring company does not call a confirmation number after someone triggers your alarm when you are in Practice Mode. The purpose of Practice Mode is to give you a chance to see how your system works and for the monitoring company to confirm that it is working. However, if you trigger a false alarm during the Practice Mode period, you'll receive an automated call from the monitoring company.
Also, with Practice Mode turned on, the Ring app will always show False Alarm Event as an option in "Alerts from Neighbors" tab of the Home screen. The Practice Mode lasts seven days, but you can exit any time by changing your monitoring status.
How to Change Your Monitoring Status
As we've mentioned, the Practice Mode lasts seven days. However, if you want to exit before the period elapses, you can do so. Just make sure you're done with the trial period because you can't re-enter it.
If you want to change your monitoring status, follow these steps:
Go to the Ring app
Head on to Menu
Tap settings
Tap monitoring
Tap monitoring type
Choose the type of monitoring you want.
If you choose the professional monitoring option, you'll be prompted to choose either a Primary or Secondary contact. Additionally, you'll have to include a verbal password.
If you're on Practice Mode, you'll be required to confirm that you want to exit before you do.
If you're in Professional Monitoring and want to shift to Self Monitoring, tap Self Monitoring and confirm that you'd like to exit Professional Monitoring.
If you're in Self Monitoring and want to shift to Professional Monitoring, tap Professional Monitoring and confirm that you'd like to exit Self Monitoring.
Source: Ring Support
Your Base Station Has Lost Connection
Another reason Ring may not call when your alarm goes off is because your base station has lost connection. If you have a Wi-Fi issue, the Base Station may not connect and signal Ring's servers that there was an alarm event.
If this is an ongoing problem with your WiFi, it might be worth looking into upgrades or changes in router settings to see if that resolves the issue. However, this shouldn't be a cause for concern because a backup solution kicks in within a few minutes when the base station loses connection.
Wrapping Up
As you can see, there are a few reasons why Ring Alarm may not call when your alarm goes off. We hope this article has helped you understand the different causes for alarms that don't trigger calls from Ring. If you've been having a recurring issue with not receiving calls, we recommend contacting Ring Support.
Source: Ring Support
Sours: https://smarthomestarter.com/ring-alarm-why-no-one-called-3-reasons-why/
You will also be interested:
Troubleshooting SimpliSafe
skip to main content
How to get the most out of SimpliSafe
Subscribe to our Youtube channel for more videos like this one! Learn how to protect your home, your loved ones, yourself and your belongings.
Protect your property
Sign up for our weekly newsletter to get the latest deals, home security tips, and in-depth reviews.
SimpliSafe security system troubleshooting
How do I reset SimpliSafe?
SimpliSafe systems sometimes stop working after losing the cellular connection to the base station. You can re-establish a connection with a simple reset:
Unplug the base station.
Remove the battery cover on the bottom of the device using a Phillips-head screwdriver.
Remove one battery for at least 10–15 seconds before putting it back in.
Put the battery cover back on.
Plug the base station in and wait a minute or two for a new connection.
Arm your system to test that it works properly.
Why is my SimpliSafe red?
The SimpliSafe base station uses colored LED lights to show the system's status:
Red means a minor error or a recent alarm.
Blue means the system is armed.
Amber indicates an ongoing system update.
White represents test mode, setting changes, and setup.
How do I get SimpliSafe out of test mode?
You can enter and exit test mode using the menu on the SimpliSafe Keypad. The system will not contact dispatch while test mode is active. Test mode allows you to check that your sensors and connection to the monitoring center work properly.
SimpliSafe also has a practice mode that temporarily disables professional monitoring for 72 hours after first activating your system. This helps you familiarize yourself with the system free of false alarms.
Why is my SimpliSafe sensor not responding?
SimpliSafe sensors won't work correctly if the battery is too low, they're still in the box from your order, or the device is too far from the base station.
Keypad out of range
Just like SimpliSafe's sensors, the keypad won't work if it's too far from or isn't paired with the base station. You can tell if the keypad is too far away by looking at its built-in display, which shows Keypad Out of Range.
SimpliSafe camera troubleshooting
How can I fix a bad Wi-Fi connection?
Most SimpliCam issues stem from a poor Wi-Fi connection:
Check that the power cable is plugged in and that your home internet is functional.
Check that the camera has the latest password to your network.
Make sure your camera isn't too far from the wireless router. Consider buying a Wi-Fi extender like the TP-Link AC750 if moving the camera closer isn't an option.
SimpliSafe doorbell troubleshooting
How do I fix a broken video doorbell?
If your SimpliSafe Video Doorbell Pro stops working, you can perform a soft reset, hard reset, or reinstall the device.
Soft reset: press the small button on the back of your doorbell before putting it back on the charging mount to reboot.
Hard reset: press the large button on the back of your doorbell for 10 seconds before putting it back on the charging mount to reboot.
Reinstall: remove the doorbell before following the installation instructions again—this is useful if you missed an installation step the first time.
Contact SimpliSafe customer support if these solutions don't fix your doorbell.
How do I adjust my doorbell's motion sensitivity?
You can adjust the motion sensitivity in the settings section of the SimpliSafe app and the online portal. Adjusting the doorbell's motion sensitivity cuts down on excess notifications. Turning off notifications doesn't deactivate alerts from visitors pressing the doorbell button.
SimpliSafe smart lock troubleshooting
How do I unlock the door if the battery dies?
Because the SimpliSafe Smart Lock uses your existing deadbolt, you can unlock your door using a key at any time. The smart lock sends occasional notifications when the batteries start to die so you know when to replace them.
What do I do if the installation screws are too long?
SimpliSafe provides shorter screws upon request through the customer support department.
Related articles on SafeWise
Product prices and availability are accurate as of the date/time indicated and are subject to change. Any price and availability information displayed on Amazon at the time of purchase will apply to the purchase of this product. Safewise.com utilizes paid Amazon links.
Certain content that appears on this site comes from Amazon. This content is provided "as is" and is subject to change or removal at any time.
Written by
John Carlsen
John is a technology journalist specializing in smart home devices, security cameras, and home security systems. He has over eight years of experience researching, testing, and reviewing the latest tech—he was the Smart Home Editor for Top Ten Reviews and wrote for ASecureLife before joining SafeWise as a Staff Writer in 2020. John holds a Bachelor's degree in Communications, Journalism emphasis from Utah Valley University. In his spare time, he enjoys hiking, photography, cooking, and starting countless DIY projects he has yet to complete.
Read More
Back To Top
Sours: https://www.safewise.com/simplisafe/troubleshooting/
580
581
582
583
584