Jut curious as to why I don't see much love for aguilar?

I use a db750 and db212 but I may be swapping that out for 10's soon.

Although I'm really beggining to find that amps dong matter much to me, it's mostly the bass and way I play it, and I feel everything sounds good as long as I use the right bass and finger style.

I have tried GK but have seen way to many problems with them.

Tried markbass, had a few problems with mine, loves te vle and other knob, tone was great just not my style

Tried ampeg, feel ss are cheap though I like the graphic eq and the tube heads can be a little too dark.

Aguilar is one of the last American companies and I find their db750, warm smooth yet has brightness, though I compared my lm to a ag500 for the few seconds my little mark would stay on, I found the markbass to have more soul, definatly made the ag500 sound sterile, markbass was warmer.

Anyone else here using aggy?
Sours: http://forums.ernieball.com/
Finest Small Bass Amp Heads (Our Picks Under $900)
Recently updated on December 15th, 2020
Checked for availability of amp heads on both Amazon and Sweetwater. As of this date, all entries are current. Minor changes to tables and formatting were also made.
QUICK HIT: Roundup of small bass amp heads, all ideal for easy transportation and under a $900 retail price tag.
First, to be sure we're all on the same page: A bass amp head is not the same as a bass combo amplifier.
Combo amps have a speaker, power amp and preamp built in, while an amp head has only a preamp and power amp, which must be paired with a separate speaker cab.
I'm assuming that you either have access to, or plan to buy, a bass speaker cab.
Best Small Bass Amp Head Roundup
We partner with Sweetwater to provide links to gear we recommend at no extra cost to you. If you shop through the orange buttons, we may get a commission that helps support our site. Thank you. 
IDEAL FOR: Studio, live performances, multiple speakers cabs, all styles and all skill levels
Blend control is a great feature

Balanced and unbalanced line outs

Active and passive switch
Footswitch can control drive and clean use

On the high end of our price limit
While the front panel might look a little cryptic at first, it's fairly easy to decipher the unique labeling. Per the user manual, the OB1-500 bass amp head has a three-band EQ (bass, mid and treble) and a footswitchable blend and gain control.
Volume, treble, mid and bass controls.
An active/passive input switch is also included. The user manual quickly deciphers the front panel:
Key for the front panel symbols on the Orange OB1-500 amp head. Image via Orange
The amplifier is built entirely with analog circuits, so for you purists out there, you'll have no digital parts to dampen your enthusiasm. Note that the "Blend" control allows you to blend your clean and drive signal, acting as a balance knob for your distorted sound. The footswitchable aspect allows you to turn the drive on or off entirely.
Unboxing the OB1-500 bass amp head.
Matching with a speaker cab
The wattage and impedance for the OB1 measures the same as Fender's Rumble 500 amp head.
With that in mind, here are a few cabs that I would recommend.
All these speakers are 8 ohms, meaning you could double any one of them (hook one into each speaker output) for a 4Ω load. Moreover, the wattage of each one meets or exceeds 500W.
Back panel features
The back panel of the Orange OB1-500 amp head. Image via Orange
There's no effects loop on the back of the OB1, though this isn't likely to impact most bass players. Note the line output (labeled #2).
This output sends an unbalanced signal after the EQ and blend controls but before the master volume. This would allow you to send the signal to a PA system and be uninfluenced by the volume of the power amp. There's also a balanced XLR output with a ground and lift button (noise reduction).
Highlight Features
500 watts and 8Ω
Unbalanced line out
Blend control
Balanced XLR line out
2. Aguilar Tone Hammer 500
IDEAL FOR: All skill levels, all styles, set-it-and-forget bass players and bass pedalboards
Great tone right out of the box

Dual mid controls

Balanced XLR output
Effects loop
Gain and drive controls

The Aguilar Tone Hammer 500 is our third consecutive bass head that maxes out at 500W and 8Ω impedance. Like the Rumble 500, you mid EQ is parsed into two different sections:
Mid Freq
Mix Level
You'll also notice both a "Gain" and "Drive" knob on the front panel. Gain is controlling the volume of the preamp section (while the "Master" knob controls overall output at the power amp) and the "Drive" knob engages an over-driven sound. Aguilar also moves the balanced XLR output and a send/return effects loop to the front panel, instead of the back. The back is simply two speaker outputs and a tuner jack.
The back panel of the Aguilar Tone Hammer 500.
On some versions of the Tone Hammer, you'll see a -10db button, which is essentially an active/passive switch. Press it in for active pickups or leave it as-is for regular, passive pickups. That version of the Tone Hammer 500 is pictured below.
Some versions of the Tone Hammer 500 add a -10db signal cut button.
Who is it ideal for?
Aguilar gear is well-designed and often praised for its easy-of-use, allowing the musician to focus elsewhere. The Tone Hammer 500 is no exception and is a great fit for bass players who like to set things without having to worry about excessive tinkering. It sounds great out of the box and doesn't need much (if any) setup tweaking.
The effects loop is a nice bonus for those who have pedals, but overall this bass head is a universally-sensible purchase, especially since it often hovers in the low-cost $650 price range.
Speaker cabs?

Once again, the output and ohm load for this amp is the same as the previous two, so I'll refer you to the cabs I recommended there as accommodating for this amplifier as well.
Highlight Features
500 watts and 8Ω
Dual Mid controls
Effects loop
Balanced XLR line out
4. Ampeg Portiflex Series PF-350

IDEAL FOR: All styles, all skill levels, active pickups, acoustic basses and studio recording
Limiter and db cut buttons

Front headphone and aux jack

Effects loop
Fantastic price point

Less EQ options than similar heads (Rumble 500, for example)

This is the first small amp head we've listed thus far, to deviate from 500W and 8Ω. Instead, the Portiflex PF-350 maxes out at 350W and 4Ω impedance. However, there are both 500W and 800W versions of the Portiflex available. Since we're focusing on small bass heads, we'll stick with the 350. Controls are quite simple on the front panel.
Gain
Bass
Midrange
Treble
Volume
Once again, Gain is controlling the signal strength at the preamp level, while volume is the master signal control at the power amp level. You'll also notice a button labeled "pad" that gives you a -15db cut. This is the equivalent of having an active input.
The "Limiter" button adds a limiter circuit, which is basically a safeguard against clipping, to make sure that your signal stays clean. If you're using a distortion pedal or boost of some kind, this is a good feature to take advantage of. Audio in (for an MP3 player) and a headphone jack are also included.
Compatible speaker cabs
Since our ohm load and wattage have both changed, I'll go through a new run of speaker cabs that would be compatible with this amplifier. First, let's review what the user manual has to say about the speaker inputs:
Speaker recommendations for the Portiflex PF-350 bass head. Image via Ampeg
So, we're looking for speaker cabs that meet the following guidelines:
16Ω, 8Ω or 4Ω
At least 350W (or greater) power handling
The following cabs would all suffice:

1. Siesmic Audio 46G

Impedance: 8Ω
Power: 500 watts
Headroom 150 watts
2. Korg RMMAG 414T 4x10 Cab
Impedance: 4Ω
Power: 450 watts
Headroom 100 watts
3. Ampeg Pro Neo Series Bass Speaker Cab

Impedance: 8Ω
Power: 550 watts
Headroom 200 watts
4. Orange OBC115 Bass Cab
Impedance: 8Ω
Power: 400 watts
Headroom 50 watts
PF-350 back panel features

Back panel of the PF-350 bass head amp. Image via Ampeg
The back panel of the PF-350 is fairly basic, providing two speaker outs, a balanced XLR line out and an effects loop.
Ideal user and price
While it's similar in flavor to the Aguilar Tone Hammer, the PF-350 is better equipped to handle active electronics, which is worth considering if your bass's pickup runs off a battery.
Particularly if you play an acoustic bass, this amp could be a good fit, simply basic of the db cut and the limiter options. You should also consider that this bass head is the cheapest on ours list running under $300.
This makes it a good target for players on a budget, or those who might want to invest more heavily in a new speaker cab. However, all skill levels and styles should buy confidently. This one is a fantastic value all around.
Highlight Features
350 watts and 4Ω
Limiter and db cut buttons
Effects loop
Balanced XLR line out
5. Hartke TX600 Tube Bass Head

IDEAL FOR: All styles, skill levels, tube snobs, passive pickups, studio bassists and outdoor performance scenarios
Great price point

Compression included

Ability to bypass power or preamp section of amplifier
Aux and headphone inputs

At 600W, the TX600 is the loudest bass head we've seen thus far, making it a nice fit for outdoor performances or those who play in venues that call for more volume. Front panel features include the following EQ options:
Bass
Shape
Frequency
Treble
Passive and active inputs, along with an onboard compressor are also worth noting. Gain controls volume at the preamp level while master controls volume at the power amp level. Hartke throws in an aux and headphone jack as well.
All-tube circuitry
The TX600 is also the first bass head we've seen powered by an all-tube circuit. The Class A tube circuit (12AX7) is the same used in the LH series, which is a far more expensive Hartke offering.
The LH100 and the TX600 share the same Class A tube circuits. Image via Samson
Predictably, this gives the TX600 a much warmer and more full tone than what you'd get out of a solid state amp. For bass, I think that's a more accommodating sound.
Possible speaker cab pairings
At 600W and 8Ω impedance, the TX600 is slightly more limited in terms of speaker cabs. The tricks will be to stay above that 600W threshold, which negates a lot of the bass cabs we've already looked at. You can use the following graphic to match impedance levels for multiple cabs:
Impedance calculations for the Hartke TX600. Image via Hartke
Notice none of the total impedance calculations exceed 8Ω. Hartke does have what they call the HyDrive bass cab series, some of which (not all) are compatible with the TX600. We'll start there.
1. Hartke HyDrive 410
Impedance: 8Ω
Power: 1000 watts
Headroom 400 watts
2. Gallien-Krueger Neo 412
Impedance: 4Ω
Power: 1200 watts
Headroom 600 watts
3. Orange OBC410
Impedance: 8Ω
Power: 600 watts
Headroom 0 watts
4. Markbass New York 122
Impedance: 4Ω
Power: 800 watts
Headroom 200 watts
TX600 back panel

The back panel of the TX600 is a little different than what you might be used to.
First, you have two speaker outputs, where one is a regular 1/4" and the other is a Speakon jack. They're still parallel (you can use either one) but it's recommended you use the Speakon jack whenever possible.
To the left, you have three additional jacks:

Preamp out
Power amp in
Direct out
The preamp out feeds in post preamp, but allows you to bypass the power amplifier portion of the TX600, in the event you'd prefer to use an external power amp, perhaps via a PA system. The "power amp in" jack is exactly the opposite, as it allows you to bypass the TX600's preamp, in favor of using an external preamp. The "direct out" allows you to go straight into a mixing console, as you might expect.
Highlight Features
600 watts and 8Ω
Active and passive inputs
All-tube circuits
Onboard compression
6. TC Electronic BH 550

IDEAL FOR: Effects fanatics, the tinkering bass players, studio players with a diverse clientele, the under-$500 club and all skill levels
Bass tuner is an underrated feature

Great price point

Versatile tone profile
TonePrint-compatible means plenty of sounds and effects options

I'll let you read about the TC Electronic Tone Print feature separately, since it's a fairly involved matter, all it's own. To summarize:
If you're the type of bass player who is into banking effects, it'll be something you'll use a lot. Those who like a simple setup without a lot of fuss to go into their EQ probably won't use it nearly as much. The rest of the front panel is similar to the others we've looked at, though TC Electronic does add a bass tuner, which gives this amp head a major bump, in my opinion.
Other perks on the front panel are a gain knob, a mute switch and dual mid controls.
The back panel

Back of the TC Electronic BH550 bass head.
The back panel has a lot of goodies worth mentioning as well, including a class two speaker out, the USB connection for TonePrint effects, an AUX in jack, a balanced headphone jack and a balanced XLR output. There's also a pre/post EQ switch, which allows you to send the signal via the balanced XLR out, either before or after the preamp mix.
For under $500, this bass head is surprisingly feature-rich. If you do decide to use the TonePrint feature for effects, here are a few of the "legend" bass tones that you can download and use.
Combining all of these features and available tone profiles gives you one of the more versatile and dynamic bass heads on this list. As I alluded to previously, it's best suited for bass players who like to experiment with a lot of different tones, perhaps a session bassist who has clients in a number of different genres.
Getting creative with the BH550 is easier than most other small bass heads. An effects loop would be a nice touch, but the BH550 still makes a case to be the best small bass head for players who utilize effects.
Matching bass amp to cabinet
The RS and K cab series from TC Electronic are the recommended external speakers for the BH550. I'll defer to TC Electronic's simple recommendations on this one. Basically, any two from the RS or K series.
Cab configurations are easy if you stick with TC Electronic's brand name. Image via TC Electronic
Here are a couple links to these cabinets on Amazon:
You can use other cabs with similar specs, just make sure to double check the ohm load and total wattage. The BH550 is named according to a total output of 550W, so keep that in mind when cab shopping, if you deviate from the TC Electronic in-house recommendations.
Highlight Features
550 watts and 4Ω
Bass tuner
Balanced XLR out
AUX and headphone jacks
How I put together these lists
These lists are compiled based on several factors, recommendations and research strategies.
In a general sense, they highlight a broad community consensus.
In other words, I don't look for obscure or "under the radar" gear just for the sake of being different. Best-selling bass gear sells for a reason; namely, that people trust it and have found it to be a reliably good value. Thus, I try to target gear that is already well-liked, widely trusted and reputable within the guitar and bass community.

Those are the products I include in this lists and others like it.
Further, companies do not pay Guitar Chalk, me, or any of our contributors to put their gear in these posts. These are not paid reviews or compensated suggestions. Money, has no say in what makes it onto each list. In simple terms, I'll do the following:
Identify a need
Set a budget
Research thoroughly
Match gear with the proper context
What matters when you're buying a bass amp head?
The options you have with bass amps are a little simpler than guitar amps. For instance, you usually don't need more than one channel and onboard effects are often omitted. The perks you do want come fairly standard. Here are the ones to look for:
Active and passive input
On-board compression
Headphone jack
Balanced XLR output
Gain control
Specs to keep an eye on would include the following:
Wattage
Ohm measurement (most are 8 or 4 ohms, which needs to coordinate with your speaker cab)
Number of speaker outs (usually one or two)
Line out (if you need to go straight to a mixer or PA system)

What's the difference between an active and passive input?
Some bass amps will have two inputs, labeled passive and active. Others will have a switch, that allows you to just switch between the two on the same input. Here's what the "active" and "passive" labels mean in this context:
Active: Typically drops the signal strength, perhaps by -10db or so, to avoid clipping.
Passive: Leaves the signal's output as-is for low to medium output bass guitars
All this means is that the active input (or switch) is giving you a cushion for using an active pickup, which might have a stronger output. These are, predictably, called "active pickups." Active pickups are typically powered by a battery of some sort, as the following diagram shows:
An active bass pickup will typically have a battery hooked up to it. Image via Darren-Criss.org
For most bass guitars, you'll be dealing with passive pickups, which can be plugged into any input, passive or active. The issue is that a passive instrument doesn't need an active input or switch.
It's overkill.
At the same time, a bass with active pickups might be better accommodated by an active input, but can function without one. For most, it's a  matter of trial and error. Whichever sound you prefer, active or passive, is fine. Just note that the difference is a small, but noticeable, signal reduction.
Refresh my memory on a bass amp head setup
As I mentioned earlier, a bass amp head is just a preamp and power amp without a speaker. Your speaker cab will need to be added to your bass head before you can use it. Thus, a small bass head rig will have the following components:
Bass guitar
Bass amp head
Bass speaker cab
Processors (optional)
The signal chain will look something like this:

A rig setup with a small bass head and speaker cab from TC Electronic. Image via BassGuitarRocks.com
Once the cab and amp head are paired, the two function as a single unit, just like a bass combo amplifier would. Pedals or effects processors are, of course, optional.
How do I know my cab will match my bass amp?
You're either buying an amp to fit a cab, or you're going to follow your amp purchase with a new cab purchase. Either way, the two have to play nice. How can you be sure they will?
We mentioned earlier that one of the specs you'll want to keep an eye on is ohms (indicated by this symbol Ω), which are used to measure impedance. Typically a bass cabinet will be one of the following:
Now, here's what you'll need to figure out:
How many watts of power will my amp put out in different impedance modes?

Will the cab can handle the wattage load coming from the amplifier for the given impedance rating?
To make sure we iron these two things out, we can follow this step-by-step process:

Note your amp's output for the following ohm loads (or whichever ohm loads are supported by the amp): 4, 8 and 16 ohms
Locate the speaker cabs recommended ohm load (this is usually on the back input plate)
If you can't find this information on the amp or the cab itself, check the manufacturer's website and documentation for each product.
Note that it's always a safe bet to use a speaker cab with a wattage rating 2x that of your amp's top wattage rating for the given ohm load. This is also called "headroom."

For example, a 100 watt amp would pair safely with a 200 watt speaker cab.
You can use a cab that matches the wattage of your amp, though you'll need to avoid turning the amp up too high (probably not past six or seven) and avoid effects that increase decibels, like booster pedals.
In short, match the ohm load, then go for a cab with higher wattage.

Ohm loads, multiple cabs and the math of parallel wiring
If you have a bass amp head that supports 16 and 8 ohm loads, it's best to start with a 16 ohm speaker, because it actually gives you room to add more cabs. It sounds weird, but adding two 16 ohm cabs actually cuts your ohm load in half, dropping it down to eight.
With an amp that supports 16 and 8 ohm loads, two 16 ohm speakers equal an 8 ohm pair.
The same would apply for an amp that can handle an 8 or 4 ohm load. In that situation, you'd want to target an 8 ohm cab, since it would theoretically allow you to expand your bass rig to include a second cab down the road.
If you don't want the extra cab, the lower ohm rating (4 in that case) would be fine. It's just something that, along with the wattage, should be considered as you shop.
What if I need to go straight to a PA system?

In any instance where you might need to run your bass straight into a PA system, the first thing you need to is understand the difference between a line out and speaker out jack.
Line out
Speaker out
A speaker out sends a "speaker level" amplified signal, while a line out sends a "line level" signal. This means the line out essentially bypasses the power amp, leaving your mixer and PA system to amplify the bass signal.
So, if you need a bass head to accommodate, you'll need to make sure that the "line out" feature is included. Speaker outs, which are always included in a standalone bass head, are not going to work, as they will overload the mixer and cause your channel to clip.
Other bass amp resources
If you need more help researching your purchase or just want to delve deeper into the topic of bass amps, here are a few resources I'd recommend:

Your Thoughts and Questions
Have thoughts or questions about the gear in this article? Did I forget something you want to bring to my attention? Feel free to leave a comment and I'll check it out. Thanks for reading.
Works Cited
"Your Signal Path at a Glance." Bass Guitar Rocks. N.p., n.d. Web. 13 Sept. 2016.
"Bass Guitar Pickup Wiring Diagram." , Active Bass Pickup Wiring Diagram For Guitar. N.p., n.d. Web. 13 Sept. 2016.
"Active vs. Passive Pickups." Onvi Lab. N.p., n.d. Web. 13 Sept. 2016.
Cabs, ByTim From EarCandy. "Finding the Right Speaker Cab." Reverb.com. N.p., 13 June 2016. Web. 13 Sept. 2016.
By Jeff Gorham | Bio Thursday, May 27th, 2010. "Speaker Impedance: How to Properly Match Your Amp Head with Cabinets." No Treble: Nothing But Bass. N.p., n.d. Web. 13 Sept. 2016.
Ampeg PF Heads. N.p.: Ampeg, n.d. PDF.
Sours: https://www.guitarchalk.com/best-small-bass-head/
Q: Damian, what's in your rack and why? The last time I had a paying gig, I could just roll in my Acoustic 360, plug in, and play. Now I'm trying to get back in to playing just as a hobby. What do you need for today's amplification?
A: Personally, I'm an Aguilar guy. I have both a Tone Hammer 500 and an AG-500 and will typically choose the one that'll work best for the room I'm playing. I usually run them through either my DB-410 or through one or two DB-112's.
I occasionally play with a tube pre-amp that a friend made me, and I'll run that through the effects loop of the power amp. That's primarily because I only have solid state stuff right now, and I like to throw some tube gooey-ness in there for certain gigs.
What you need really depends on your playing situations. Personally, I play at least 200+ gigs a year with dozens of different bands in every kind of room, so I need to be versatile with my setup. I try and cover all of the bases, so to speak.
There are a number of good combo amps (amps wherein the power amp and the speaker cabinet are one unit, self-contained). If you are pretty much only going for one type of sound in a limited number of settings, this might be a fine way to go. Aguilar, Ampeg, MarkBass, TC Electronic, Marshall, Eden, Hartke, Genz Benz, Fender, Peavey… almost every bass amp manufacturer has a combo amp available. Often, a 300 watt head paired with a 112 or 210 will get you through most situations.
I prefer to mix and match my cabs so I can be as small or large as I want for any given room. For this reason, I have an assortment of cabs (10 and 12 inch speakers), a rack with my AG-500 Aguilar head and a rack mount tuner, a pelican case with my TH-500 head, and a rack with my custom tube preamp for when I want to run through that for that kind of sound.
For the most part, my set up is pretty basic. I only just started throwing a tube pre in the mix for gigs that would benefit from it. I intend to buy a DB-751 again when I can – fantastic sounding hi-power stuff.
For most bassists, especially those who don't necessarily want to throw every dollar at their rig – or who don't gig all that often – you may just want to start with a good combo amp. If you like a little more versatility and don't mind spending just a bit more, here is my suggestion:
Get a few different cabinets (I love the sound of my 112's strung together)
Get a good amp. I wouldn't bother going separate pre and power sections unless you really know what you want. I would suggest a minimum of 500watts at 4 ohms.
With a 112 or 210, you can have a nice smaller rig for restaurants and rehearsals without having to roll your "refrigerator" rig out with you every time you play. Plus, with the addition of one more cab, you'll be able to cover any loud-volume gigs you may have. Two 112's (or a 210 and a 115) sound fantastic to my ears.
Now, which amp is a whole other discussion and one that ultimately you will have to explore for yourself. Be sure to read up on power amps, ohms, speaker loads, and so on, to make sure that you don't accidentally over drive your new head. I melted the board on my Eden WT800 years ago when I first started touring because I just kept adding cabs to it and was running it way harder than it was meant to be run. I eventually destroyed the amp out of ignorance after a few years. I'm amazed it lasted that long now that I understand what I was doing.
Here is a great article about how to match your amp head and cabinets too.
Readers, what do you recommend? I'd love to hear your thoughts and suggestions. Share them in the comments.
Have a question for Damian Erskine? Send it to [email protected]. Check out Damian's instructional books, Right Hand Drive and The Improviser's Path.
More from No Treble
Sours: https://www.notreble.com/buzz/2013/10/09/deciding-on-an-amp-a-discussion-for-bass-players/
Aguilar db112 vs ampeg bxt 210 cab shootout
Choosing between the Aguilar TH500 and the Mesa Subway D800 is a dilemma that bassists are all too familiar with. These two 'category giants' have locked horns for the better part of the last decade, much to the bewilderment of bass players.
The Aguilar TH500 sounds mid-rich, gritty, and vintage with an affable and musical tone coloration. It is a unique and celebrated sound that always retains a wooly-ness – a bit of hair that gives is a gritty character but doesn't let it sound absolutely clean.
The Mesa Subway D800 is transparent and modern with noticeable brightness and an extended high-frequency range. It has an open tonality and great dynamics but can't approximate the punch and grit of the TH500.
Both the TH500 and D800 are venerated amps, however. Many bassists have owned both, and the consensus is that tonal preference is the primary deciding factor that determines which of these bass amp heads will dominate your rig.
Before our head to head comparison, let's briefly look at the salient features of each amp.
Aguilar TH500 Overview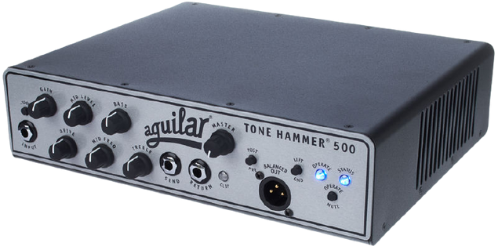 The TH500 is emblematic of the Aguilar sound and is colored with girt and vintage warmth.
| | |
| --- | --- |
| Type | Class D Solid State Preamp |
| Power rating | 250 watts (8 Ohms) & 500 watts (4 Ohms) |
| Weight | 4 lbs |
| Made in | USA |
The TH500 has been around longer and it is venerated for its tube-like and/or old school sound. It has been the mainstay of many great rigs and recordings over the years, and it continues to dominate the category because of its 'familiar' tone and vintage oomph.
Despite its popularity, it doesn't work in every musical context. For one, it cannot enter the clean territory without breaking up at high volumes. It would be silly to expect it to approximate the clear/transparent tones of a GK MB800 or Mesa Carbine (or even the D800). 
However, that isn't what it was designed to do. The TH500 was designed to sound like nothing else in the market, and it still manages to retain that. It is one of the best 'non-tube tube amps' for the money.
The Aguilar has depth in the sub-bass and thick highs but it isn't designed to be clear or transparent. "Thick" hints at the compressed high-end frequency. Compressed doesn't mean that it is bad, though. You can still get a range of tones from the EQ panel. It just means that even as the tones change radically, the tonal character will remain the same.
If you don't like the tonal character, none of those different tones will work for you. 
Mesa Subway D800 Overview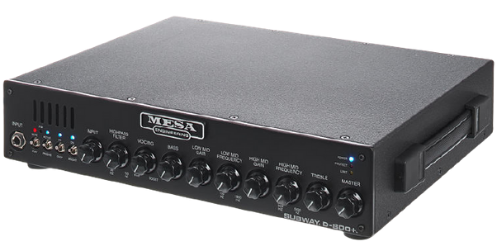 The Mesa D800 is an exemplary lightweight class-D amp with great headroom, volume, and tone sculpting. It shines in the clean-punch department but falls short on grit.
| | |
| --- | --- |
| Type | Class D Solid State Preamp |
| Power rating | 400 watts (8Ohms) & 800 watts (4Ohms) |
| Weight | 5.5 lbs |
| Made in | USA |
The D800 is a no-frills unit with high quality components, self-explanatory controls, and meticulous design packaged in a light and affordable unit. It offers incredible power, a complex voice, variable-frequency response with a copious amount of headroom.
The voicing ranges from flat to a "smiley-face" tone once you crank it up, with boosted lows and treble and a somewhat tame and tempered midrange at higher settings. 
It sounds great in various styles and genres but will need some experimentation with the control-knobs to find a sound that will work for you. 
The D800 is a versatile unit and if you are familiar with their other amps – you will understand what I mean when I say it can go from Walkabout to Carbine rather easily.
The D800 is designed to pair with the Mesa Subway Ultra-Lite cabs that have neodymium drivers and a horn tweeter. This matching leads to wide-ranging tones with ample power and high fidelity.
Now that we have a basic understanding of the two units, let's compare the the key features of these two bass amps.
TH500 vs D800: construction
Mesa and Aguilar are two big names in the bass amp world, and both amps are no doubt well made in every aspect. They have high quality components, great circuits, and durable casing. They are portable, look elegant, and fall in the 'ultra-lightweight Class D' category. 
The TH500 is the lighter of the two and fits easily in a pouch or laptop bag. However, the difference isn't substantial. Overall, they both are top class units – rock-solid and reliable amps.
TH500 vs D800: tone
You know exactly how different the inherent color of both units is when you set both amps to flat. TH500 has a heavy roll-off in the high-end and the treble range sounds fat but compressed. The mids on the Tone Hammer have the 'Aguilar personality' that can be described as gritty and vintage sounding. 
However, the TH500 is hi-mid heavy and the 3-band EQ doesn't allow you to cut or boost hi-mids or lo-mids. The amp also lacks the high-end clarity and deep lows of the D-800.
Mesa scores on versatility – the D800 is very clean and packs a lot of range in its sensitive 4-band EQ. The gain allows enough grit to add a rancorous edge to the bass tone. It can fit into the beefy rock end of the tonal spectrum but not as convincingly as the TH500. 
The deep switch can also come in handy when you want to boost low frequencies and lower the HPF cutoff.
Mesa also edges out the TH500 on EQ sensitivity and tone sculpting. The TH500 is good for the vintage sound and can do the "mild break up" using the gain, drive, and mid controls. But the Control Panel is unintuitive and it takes a while to figure out how these three knobs interact with each other (and the sound).  
Aguilar has more tone coloration than the relatively transparent D800. Conversely, many bass players describe this TH500 'color' as fuller and more musical as compared to the 'sterile' transparency of Mesa. Subjective as this may sound, tone color is certainly a big reason for TH500's success.
Again, Aguilar has more punch, especially in the mids. The Subway 800 isn't as good when it comes to punch. It does clean very well but has very little growl, which is great for modern tones, fusion, and jazz. However, if you play rock you may find that the TH does a better job at punching through.
TH500 vs D800: versatility
Based on the tone assessment, it wouldn't be unfair to say that the D800 is more versatile. Mesa offers more ease of use in dialing tones and the wider frequency response and extra headroom are also useful in certain situations.
The TH500, like a Precision Bass, is known to do 'that one thing' and it does it really well. This doesn't imply that it is not flexible at all, but rather it highlights that the TH500 is famous for its coloration and gritty (often called wooly) tone – which is warm, thick, and mid-rich. If you want versatility from an Aguilar, you should consider the AG700 (more on that later).
TH500 vs D800: power
Dollar for dollar, the D800 seems to be the better bargain. Yes, it is true that it has marginally more power to offer, but don't confuse wattage with volume, a common misconception. Despite the difference in wattage, there is very little difference in volume. 
The main point to consider is, do you want the tone to break up or do you want it to sound clean and transparent at high volumes?
TH500 vs D800: price & value
Both units are priced similarly and fall in the $700 – $800 range. The used market price is also similar. Despite comparable pricing, the watts are different. 
The TH500 has headphone and aux inputs, which can be important to someplayers. The D800 has an FX loop with a 6db gain. 
Besides this, there is no sizable difference in build quality, component quality, and power between the TH500 and the D800. Therefore, your style of music and tonal preference will likely dictate your choice.
Other amp alternatives
Aguilar AG700
The AG700 is worth mentioning as an alternative to the TH500. It has the same capabilities as the Mesa D800 when it comes to producing the deep lows but it sounds significantly brighter than the TH500. It also stays clean at higher volumes. Moreover, you get move power, an additional 2.67 ohm, and a more intuitive EQ panel.
Once you hit high powder, the AG700 loses the 'Aguilar color' and gritty/wooly tone and begins to sound more clean and sterile, which is good if that is the sound you are looking for. You can add the grit/grind with an overdrive pedal.
GK MB800
The Gallien Kruger MB800 can also be a decent alternative to the Mesa. It sounds clean and natural, and offers more headroom with richer lows than the D800. The D800 offers more versatility, easier tone sculpting, and sounds less hi-fi (more organic).
Tecamp Puma 500
The Tecamp P500 is close to the clean and transparent sounds of the D800. It has the same openness, clarity, and responsiveness as the D800. The price is roughly the same, and you can find a good used unit around $500. 
Aguilar TH500 vs Mesa D800: final words
As is always the case with gear, it is ideal to test the two amps out with your gear because your rig will interact with their sounds in unique ways. 
They both sound stellar through a variety of cabinets. If you have the chance, try each unit using at least two or three different cabs and drive them hard to observe their break up, headroom, and high-end clarity.
***
Photo credits:
Featured images: courtesy of Aguilar and Mesa Boogie
Categories Bass ampsSours: https://groovewiz.com/mesa-d800-vs-aguilar-th500/
Vs aguilar ampeg
.
6 Class D bass amp comparison:Bergantino、Aguilar、Epifani、Markbass、Darkglass
.
You will also be interested:
.
608
609
610
611
612